The Film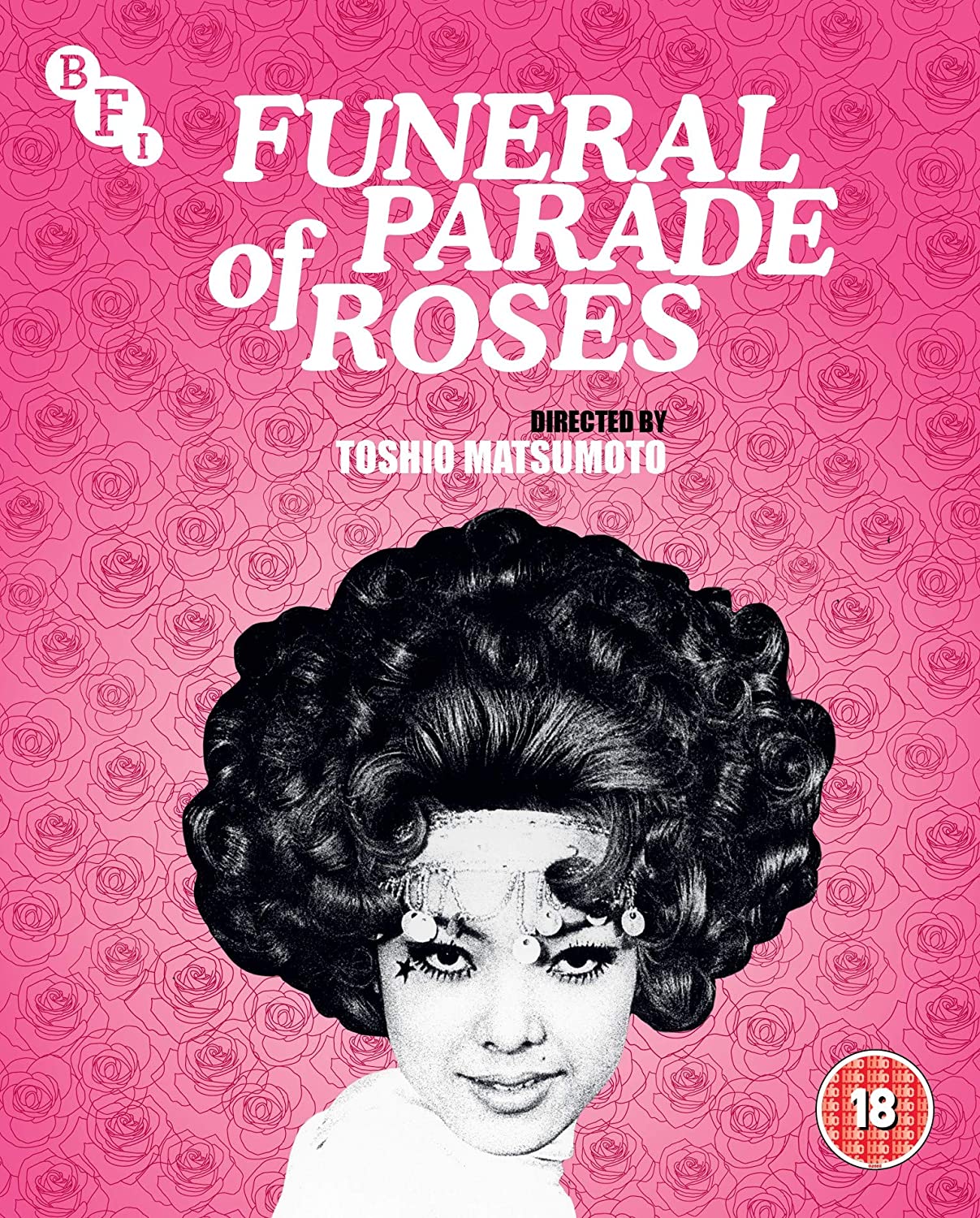 "Funeral Parade of Roses" 「薔薇の葬列」 (1969)

Describing the plot of experimental filmmaker Toshio Matsumoto's first feature film is quite difficult. Not following a traditional storytelling structure and mixing both narrative fiction as well as documentary interludes in a non-linear format, there isn't an easy way to tell people what it is. It has long been on my personal list of favorite films because there is nothing quite like it anywhere else. When recommending it to friends, the question is always "What is it about?", to which my only answer is "You just have to see it." But as this is a review, I can't just start and end with that. Therefore I'll have to break it down with the important aspects.

Eddie (played by Peter) is young person working at a gay cabaret club in Shinjuku, who is in a relationship with Mr. Gonda (played by Yoshio Tsuchiya), a much older man and the manager of the cabaret. Gonda is not only having a relationship with Eddie, but also with Leda (played by Osamu Ogasawara) the "mama" of the club and the boss of Eddie.

Eddie sometimes has flashbacks of a painful childhood, in a broken household where the father left him as a young boy and his single mother would have visits by men for comfort. There was abuse from some of the male lovers and also from his own mother as well during this time. His homosexual awakening was immediately shut down by a beating from his mother when she caught him in front of her dresser and make-up counter where he was practicing kissing by using the mirror. Things eventually turn for the worst when Eddie had his revenge and knifed his mother to death along with one of her visiting lovers. These violent past moments are seen throughout the film in various moments and snippets in a non-linear fashion creating a sense of disturbance for the viewers not quite sure on how to handle the visuals, just as the character of Eddie is feeling during times of panic. Viewers are at times shown a quick glance at a woman in pain with blood gushing from her abdomen for no reason. Other times it's a photograph burning where the faces are.

In the present present period of the film, Eddie is a fashionable young transvestite (which I will use the pronoun of "she") and has various "outsider" friends - from pot smoking hippies, Che Guevara-loving philosophers, avant garde filmmakers, and others from the fringe of late 1960s society. She isn't in a singular relationship with Gonda, as there are times in which her sexual relationships with others (such as the American soldier Tony (played by Don Madrid) is seen. Her life may seem carefree and joyous as showcased in the drug induced dancing sequences and hijinks around town, but death seems to always be following her around. A funeral sequence, a hearse driving by, an art theater group demonstrating against the destruction of the environment, as well as the flashbacks to the bloody murder - they are all everywhere and anywhere looming around Eddie, and foreshadowing one of the most shocking endings in all of cinema.

During the narrative portions, Matsumoto often cuts in various interviews with people. Sometimes they are the performers like Peter or Ogasawara discussing the roles, how the shooting is going, and even giving away spoilers. At other times, there are interviews with real gays and transgender people about how they view themselves and about themselves. One sequence even shows the filming of the film with the director and the staff in the shot, with the director yelling "cut" and the BTS cameras would still be rolling. Breaking of the fourth wall is a constant case, which may confuse some viewers but one never feels truly lost in the narrative.

What makes things much more of a puzzle is how the film is shot in a non-linear fashion, with some sequences even being repeated again. In addition, Matsumoto also includes clips from his own avant garde films with the characters watching them, the title of the film randomly appearing in quick frames, ambiguous quotes on screen, homages to slapstick from the days of silent cinema like the Keystone Cops, manga style stillframes with quote bubbles, and anything else he could throw at the screen. Yet somehow with this mishmash of ideas comes a vibrant and inspiring orgy of imagination. The dizzying cinematography of Tatsuo Suzuki takes the viewers on a wild ride with gritty handheld sequences as well as dreamlike flows in others. Composer Joji Yuasa gives the film a haunting sound with its electronic tones, as well as throwing in some psychedelic feedback induced rock music.

While many place "Funeral Parade of Roses" at one of the most important films dealing with gay culture, it is much more than that. Gay characters may be at the center, but this is a landmark in fringe and experimental cinema, breaking grounds in mixing techniques and destroying the form of traditional narrative while still having a central narrative and story. The main actor Peter, whose given name is Shinnosuke Ikehata was born On August 8th, 1952, and just turned 17 when the film was released in Japanese cinemas in September 1969. Working as a dancer in a gay nightclub in his teens, he was given the nickname "Peter" from Peter Pan. While Matsumoto was looking for real gay actors to portray the roles in his upcoming film, some of the staff recommended Peter and history was made. Interestingly as he was only 16 during the shooting of the film, the sequences of his youth were not played by a different actor but basically himself without makeup and it works absolutely seamlessly. The makeup and fashionable wardrobe in the modern sequences make him look much older than his actual age, and certainly was a figure that made heads turn regardless of gender or sexuality. Peter would become a full fledged celebrity and gay icon in Japan through cinema, television, magazines, and other forms of media. She had prominent roles in "Zatoichi Goes to the Fire Festival" in 1970 and most international audiences know her best as Kyoami the jester in Akira Kurosawa's "Ran", in a surprising asexual role rather than something flamboyant as she was known for. For over 50 years she has been a cultural cornerstone in acceptance of gay and trans culture, but surprisingly in May of 2018, she decided that she would take a break from the limelight and retire the name "Peter". From April 2020, She came back with her given name Shinnosuke Ikehata (while still retaining her fashionable looks as always(, focusing on blogging and wellness during the COVID-19 pandemic. Matsumoto was born on March 25th 1932 and started in documentary and avant garde filmmaking at the age of 23. While he only made a handful of narrative feature length films, he made dozens of works in short films, art installation pieces such as multi-projection screen works, and was a famed photographer, publisher, and art professor. He died on April 12th 2017 at the age of 85.

Though "Funeral Parade of Roses" was made and released independently by ATG (Art Theatre Guild), there are quite a few prominent figures that appear in the film as themselves. Filmmaker Masahiro Shinoda appears in a club scene talking to the characters. Director and artist Toshiya Fujita in the payphone sequence. One of the most recognizable television film critics in Japan Nagaharu Yodogawa makes a sudden appearance in the end praising the film that the audience is watching, along with his trademark sign off "Sai'nara, Sai'nara, Sai'nara!" (which can be seen here, with his intro and outro for the Japanese television screening of "Project A" (1983)). "Funeral Parade of Roses" was released in Japanese cinemas on September 13th 1969. The film was first released on DVD by SPO in Japan in 2004, which included a director's commentary, director's interview, a gallery, cast and crew info, and the trailer. The film was first released on home video outside Japan by Eureka Entertainment in the UK as part of the Masters of Cinema series. The commentary, interview, gallery, and trailer were ported over with added English subtitles for the extras plus a lengthy booklet. The film was given a Blu-ray release in Japan in 2014, remastered in HD by King Records and losing the DVD extras except for the trailer. (The coverart was a massive spoiler of the ending and did not have the beauty of the coverart used on the DVD releases. In 2017, Cinelicious Pictures in the US overtook a 4K restoration of the 35mm negative with a limited theatrical exhibition, then released on Blu-ray later in the year. In 2019 Carlotta Films in France released the 4K restoration transfer on Blu-ray. Now in 2020, the 4K restoration has arrived in the UK by the BFI.

Note this is a region B Blu-ray set.

Video


The BFI presents the film in the original theatrical 1.37:1 aspect ratio in 1080p AVC MPEG-4. As stated, the original 35mm film was restored in 2017 by Cinelicious Pics in 4K. For a film shot on a tiny budget by an avant garde group more than half a century ago, the transfer looks absolutely splendid. The black and white transfer is pure black and white with a very beautiful grey level , showcasing great detail in all sequences whether indoor or out. Cuts, scratches, debris, flicker, and other issues have been removed while still leaving a healthy amount of film grain for a natural look. Very few instances of damage remain, but they are on extremely rare occasions. Strangely, cue blips every eleven minutes or so are still visible and these have not been removed which is an odd choice. Usually cue blips are placed in prints rather than on the original negatives, but as it seems in this case was in the original materials. While these can be removed digitally, Cinelicious opted not to do so. The film ends with the restoration credits as well as a dedication to Matsumoto, who passed away the year it was restored. The film is on a dual layer Blu-ray (unlike the single layered US Blu-ray) and has quite a good amount of breathing room for the film's transfer.

The film has a runtime of 105:03 with restoration credits.

Audio


Japanese LPCM 2.0 mono
The original mono track has also been given a restoration. Clicks, pops, hiss, and other sound issues have been removed while still retaining fairly good fidelity considering its origins. Music can sometimes be fuzzy and loud at times but the dialogue sounds very good throughout. The track was also remastered by Cinelicious from the original 35mm optical track.

There are optional English subtitles in a white font, which are easy to read and free of errors.

Extras


This is a two disc set with the film on DISC ONE and the extras spread on both discs.


DISC ONE

Audio Commentary by Chris D.
Punk musician and writer of "Outlaw Masters of Japanese Film" Chris D. gives a solo commentary for the film, and like many of his other commentaries, they are informative though a bit on the boring side. Sounding half asleep, there are quite a few blank spaces within and some information not going in depth enough. He discusses about the making of the film, the time period it was set in and the references made including the cameos and the symbolism. He gives biographical information on the cast and crew, but going through Peter's biography and not mentioning "Ran" and her continuous iconic status for the last fifty years seems like an oversight. Note this commentary was originally on the Cinelicious US Blu-ray.
in English LPCM 2.0 with no subtitles

Trailers (with Play All) (5:49)
- Original 1969 Japanese Theatrical Trailer (3:31)
- Restoration Trailer (2:17)
Two trailers are provided - the original and the restoration. The original trailer has been fully restored like the film itself and is just as great looking in quality. The original trailer has optional English subtitles while the newer trailer has burned-in English subtitles.
in 1080p AVC MPEG-4, in 1.37:1, in Japanese with English subtitles


DISC TWO

8 newly remastered avant-garde short films by Toshio Matsumoto (with Play All) (105:30)
- "Nishijin" (1962) (24:55)
- "The Song of Stone" (1963) (24:29)
- "Ecstasis" (1969) (11:08)
- "Metastasis" (1971) (8:09)
- "Expansion" (1972) (14:07)
- "Mona Lisa" (1973) (3:02)
- "Siki Soku Ze Ku" (1975) (7:47)
- "Atman" (1975) (11:49)
A series of Matsumoto's short films from before "Funeral Parade of Roses" and after are presented here. "Nishijin" focuses on kimono weaving in Kyoto and how the traditional work is becoming an automated form with the younger generation moving away from the old fashioned industry. "The Song of Stone" is a sparsely narrated short featuring photographs by Ernest Satow which were taken for LIFE magazine in the coastal town of Ajicho in Kagawa prefecture, showcasing the rock sculptures of Masayuki Nagare. "Ecstasis" is the full version of the short film seen in "Funeral Parade of Roses", featuring Peter and Toyosaburo Uchiyama with feedback heavy electronic music and repeated dizzying fashion. "Expansion" and "Mona Lisa" sees Matsumoto experimenting with electronic manipulation of images, with some of "Ecstasis" being repeated again in "Mona Lisa" in an even trippier colorful ride. "Siki Soku Ze Ku" is a short featuring a mantra written on screen character by character and eventually with images interscut. Finally "Atman" (which is written that way in English but the Japanese seems closer to "Artman") is a fever tripped look at a Hannya masked figure in blazing contrasted colors, with a hypnotic score by Toshi Ichiyanagi who also composed the music for "Metastasis", "Expansion" and "Siki Soku Ze Ku". Some of the shorts are in Japanese with subtitles while some of the shorts are without dialogue.
in 1080p AVC MPEG-4, in 1.33:1, in Japanese LPCM 2.0 with optional English subtitles / Music LPCM 2.0 with no subtitles


Booklet
A 32 page booklet is included. First is the essay "Timeline for a Timeless Story" by musician and writer Jim O'Rourke as an analysis of the film. This essay was also featured in the Eureka DVD booklet from 2006. "Time, Space and Gender in Funeral Parade of Roses" by the BFI's Espen Bale is a very detailed look at the background of the film, the subtext and much more. Next is "Toshio Matsumoto: The Shape of the Avant Garde" is a biography written by Hirofumi Sakamoto with Hiroshi Eguchi and Koji Kawasaki. Then there are full film credits, information on the short films written by Hirofumi Sakamoto, Bonus features information, notes on the presentation, acknowledgements, and stills.


All of the disc based extras were previously on the US Cinelicious Blu-ray with the only difference being the booklet. The Blu-ray from Carlotta in France had its own exclusive French language extras which were not ported here. Interestingly the DVD extras from SPO and Eureka were not ported here. Matsumoto's commentary was very informative, deconstructing the filmmaking process while also giving insight into the time period and the minute details spread throughout. Most likely not included due to rights issues, it is a much better commentary than the one on the US and UK Blu-rays.

A clip of the film's comical fight scene, courtesy of the BFI and the restoration trailer, courtesy of Cinelicious have been embedded below.





Overall


"Funeral Parade of Roses" is without a doubt one of the most intriguing and most original feature length art films in cinema, made with guerrilla tactics, mixing comedy, horror, documentary and everything else possible in a gay Oedipus Rex fantasy. The BFI Blu-ray features an excellent transfer of the 2017 4K restoration with a good selection of extras. Highly recommended.
| | | | | |
| --- | --- | --- | --- | --- |
| The Film: A+ | Video: A | Audio: A- | Extras: B | Overall: A- |