The Film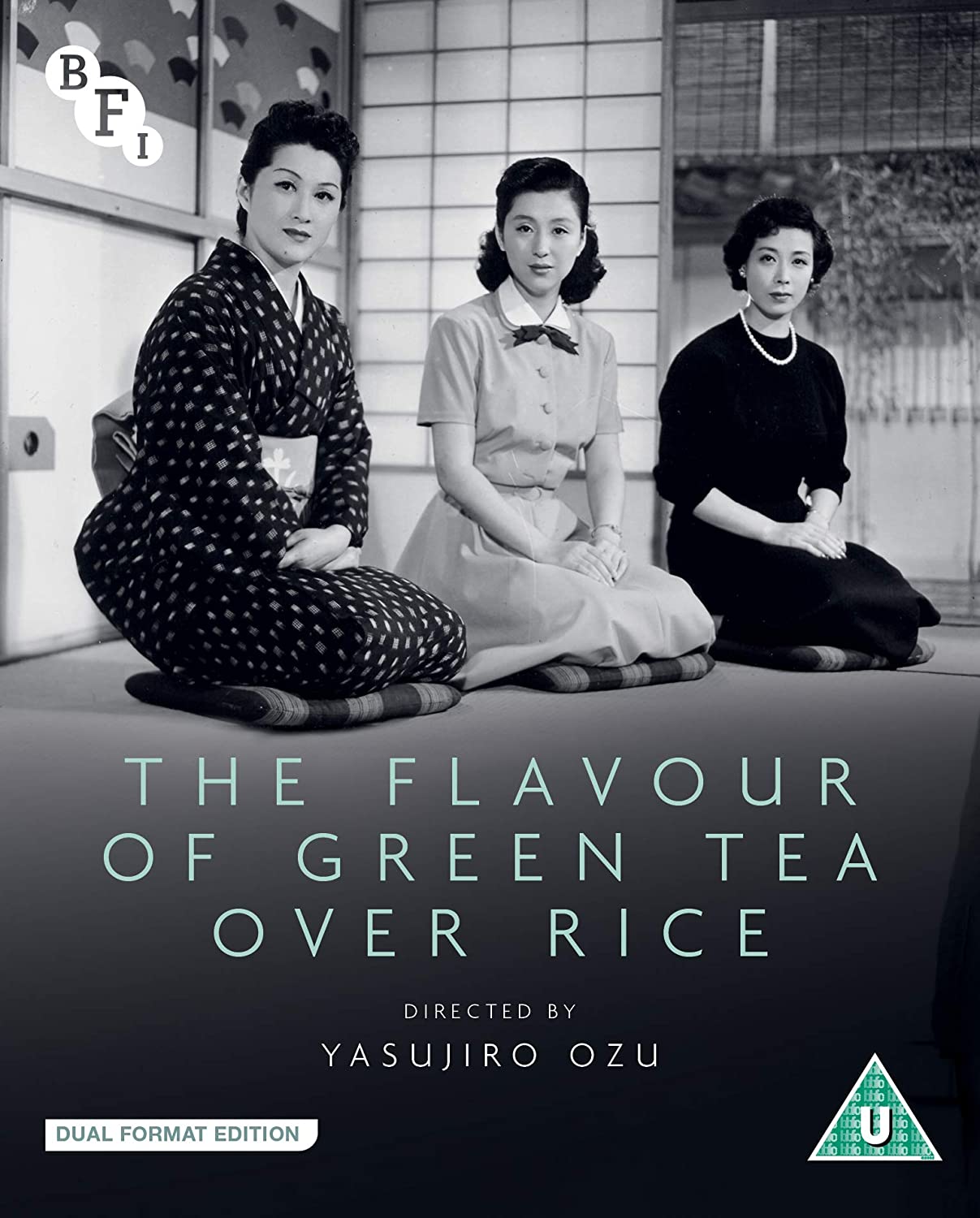 "The Flavour of Green Tea Over Rice" 「お茶漬けの味」 (1952)

Mokichi (played by Shin Saburi) and Taeko (played by Michiyo Kogure) are a married couple going through a small crisis in their marriage. A middle aged couple without children, they are quite well off with servants working in their home with Mokichi having a comfortable high paying office job. But things have been stale in their relationship, and that has been giving their niece Setsuko (played by Keiko Tsushima) a negative look towards marriage. While Setsuko's parents set up interviews for arranged marriages, she is not looking forward to the encounters. But after meeting Mokichi's young subordinate Noboru (played by Koji Tsuruta), Setsuko starts to rethink about her ideas of love and marriage, but will it change anything for Mokichi and Taeko?

Back in the late 1930s, Yasujiro Ozu and Kogo Noda wrote a screenplay entitled "He's Going to Nanjing" about a husband's life before his deployment for war. Military censors requested changes to the script to be more patriotic, to which Ozu refused and eventually shelved. Years later the script was resurrected, retooled as a businessman with marriage woes suddenly having to go to South America for business. Ozu was planning to have actor Shin Saburi play the role of the young husband back in 1939, and the idea was kept for the reworking done in 1952, under the new title "The Flavour of Green Tea Over Rice". In some ways, this story is like a sequel to a film that was never made. Instead of the husband's time prior to deploying for war, in the new script there are mentions of his service during the war as a squad leader in Singapore. A chance encounter with former soldier Hirayama (played by Chishu Ryu) now running a pachinko parlor in the city, the scene of the two reminiscing about the war is a reminder of past and a a message for the future. The sequence is a small one and is bot hugely consequential in the overall plot, but an interesting one nonetheless and is able to introduce a small role by Ryu who played in almost every Ozu film from the silent period onward.

"The Flavour of Green Tea Over Rice" is a typical Ozu film in look and in narrative tone. Visually it is filled with his undeniable trademarks. Steady and stilted shots of characters in a fixed frame. The camera positioned low to the ground and characters often speaking directly to it. Shots are very geometrical in positions of characters, items in the frame, and in lighting. For the narrative it is linear without jumps in time, characters have dialogue that is lean and natural, relying on pauses and awkwardness of situations for character development. Characters are everyday people, like ones we would see in our own families, workplace colleagues, or the usual friends. No villains, no heroes, but the trials and tribulations of everyday life. While things like technology and fashion look dated, what remains true with Ozu's family dramas are that family drama is something that never changes over time and over cultures. All families have generational conflicts. All families have little issues that may cause greater trouble than they should. Ozu and Noda crafted some of the most wonderful and natural stories about characters and relationships throughout their long period collaborating. It's ironic that Ozu never married in his short life of only 60 years. It's almost as if he thought of himself as having multiple families already through the films he created in his career.

Made following the critical and commercial success of "Early Summer" in 1951 and the landmark "Tokyo Story" in 1953, "The Flavor of Green Tea Over Rice" isn't quite as strong as those two films in its narrative, though it still stands as a wonderful piece of work, with a heartfelt ending that is certainly its biggest highlight. Things may have worked a little better if the story centered with Setsuko as a daughter rather than a niece character, as it does seem odd that Mokichi and Taeko have no children at their age and somehow their marriage has somehow stayed fair for all the years. There is no mention of them not being able to have children, but if that had been a factor it would have made their interactions with their niece become more interesting, with the couple learning late with what it means to have paternal instincts. Like many of Ozu's films there are some great secondary characters in the story. Taeko's friend Aya (played by Chikage Awashima who runs a boutique in Ginza has some interesting encounters with her talks of her "bonehead" husband and comical interactions. Ryu's character reluctantly entering the pachinko business shows a great rift between the upper and lower class while bridging the gap with his old squad leader Mokichi. Even the servant Fumi (played by Yoko Kosono gives the small role some character in her limited appearance.

Even though the film talks about marriage issues, this is not a yelling or screaming match as seen in many other stories dealing with the same issues. No bursts of tears, no violent intense scenes. Instead the audiences are given an almost ideal sense of how a marriage should work. Dialogue between the subjects and an understanding of each other's feelings with simplistic methods. The title of the film refers to the dish "ochazuke", a simple meal which consists of topping warm rice with seaweed, dashi, Japanese pickles, and pouring hot green tea over it. One of the simplest meals to make even with variations for the topping, it's a taste that is commonly associated with "home" like miso soup or Japanese curry would be. If one were to ask "Where can I have the best ochazuke?" everyone will simply answer "My mom's house" or "My grandmother's house" easily. Ochazuke does make an important role in the story near the end, and like any Ozu film, the simplest things are what make us feel happy. What brings tears to the eyes are those that hit close to "home", and filmmaking is not about flashiness or breaking convention. And Ozu is one that can somehow pull it off with grace every single time.

"The Flavour of Green Tea Over Rice" was released in Japan on October 1st 1952. It was not a major awards winner though Shin Saburi won Best Actor at the Mainichi Film Concours. Like many Ozu films it did not receive any international distribution until after the death of Ozu. In the home video age the film received a DVD release in Japan by Shochiku alongside all of Ozu's surviving films in the early 2000s. In the 2010s Shochiku gave the film and other Ozu works new restorations, with "The Flavour of Green Tea Over Rice" getting a 4K treatment with festival screenings in 2017. A Blu-ray release followed in summer of 2018 in Japan by Shochiku (released alongside the restoration Blu-rays of "Early Spring" (1956) and "Tokyo Twilight" (1957)). The restored version also came to Blu-ray in 2019 by the Criterion Collection in the US and by Carlotta Films in France. It has finally reached the UK by this dual format release from the BFI.

Note this is a region B Blu-ray / region 2 PAL DVD set

Video


The BFI presents the film in the original theatrical 1.37:1 aspect ratio in 1080p AVC MPEG-4 A 35mm fine grain element was used for the restoration by Shochiku in 4K in 2017. Considering the importance of Ozu's films over the years, it was always a shame to see less than ideal looking transfers of his works during the VHS and DVD era. In the 2010s, a number of the director's works were given 4K and 2K restorations and screened at festivals alongside re-releases on Blu-ray. This restoration of "The Flavour of Green Tea Over Rice" has quite a few positives but also some negatives about it. With Ozu known for his static camera setups, the image is very stable and looks wonderful in that regard. The black and white image has been cleaned as well, removing dust, cuts, speckles, and other damage in the frame, giving it a very clean looking image. The greyscale looks fairly good with a good amount of darkness in the blacks and brights in the whites. What seems to be the problematic issue is the very digital looking image, with film grain being virtually non-existent in certain scenes. Some mild flickering can be seen in certain objects or clothing patterns which can also be distracting. Overall the image is also not as sharp as it should be either. To say, this is much better looking than previous DVD transfers of the film, but it doesn't feel quite right.

The runtimes including the restoration credits at the start are 115:55 on the Blu-ray and 111:11 on the DVD, accounting for 4% PAL speedup.


Audio


Blu-ray:
Japanese LPCM 1.0 (restored)
Japanese LPCM 1.0 (unrestored)
DVD:
Japanese Dolby Digital 1.0 (restored)
Japanese Dolby Digital 1.0 (unrestored)
The BFI presents both restored and unrestored audio tracks on both discs. Like the image, the restoration of the sound also had some issues. The original unrestored audio track is hissy and crackly with some occasional pops throughout. The dialogue and music sounds fairly good, though like many Japanese films of this period, there are limitations with the microphone pickups and fidelity can sound a little flat. For the restored audio track, the soundtrack was filtered to remove the hisses and other soundtrack damage, but this also caused the dialogue and music to also be filtered to sound flat and low. When characters speak it sounds as if the characters are talking with half of their mouths closed. Neither of these audio tracks are ideal, but overall for my personal taste the unrestored audio track is the better choice. The hisses and scratches in the background are not too distracting and the voices sound much more natural. On the Blu-ray the tracks are in uncompressed mono while on the DVD they are in Dolby Digital.

There are optional English subtitles in a white font for the main feature, which are clear and easy to read.

Extras


This is a dual format set with the film and extras on the Blu-ray in HD and repeated on the DVD in standard definition PAL.


DISC ONE (Blu-ray)

Audio commentary by critic and Asian-cinema expert Tony Rayns
A leading film critic especially in Asian cinema for quite a number of years, this new commentary track by Rayns is as he puts it a daunting task, as discussing about Ozu's works tends to be repeating a lot of information already known to film fans. Regardless, he is able to bring a lot to the table, including information and biographies of the cast and crew, the importance of the very few instances of tracking shots, the history of the script and the changes made, the similarities of the story with Ozu's earlier film "What Did the Lady Forget?", the motivations and narrative structure and even some of the flaws that were seen by critics. Another excellent commentary by Rayns as expected.
in English Dolby Digital 1.0 with no subtitles

"The Mystery of Marriage" 1932 short (33:32)
This 1932 film from British Instructional Films and directed by Mary Field featuring nature sequences by F. Percy Smith is a documentary short comparing the courtship process in nature. There are some scenes with live action actors in scripted portions while intercut with scenes within nature - from mold to insects to larger mammals and reptiles. The picture quality can be slightly rough with scratches and flickering throughout, and for sound some hiss and pops, but is still in a fairly watchable state. Note this short is also available in the BFI short films DVD set of "The Joy of Sex Education" (later reissued under the title "The Birds and the Bees".
in 1080p AVC MPEG-4, in 1.33:1, in English LPCM 1.0 with no subtitles

"The Good Housewife 'In Her Kitchen'" 1949 short (9:00)
This public information film by the Central Office of Information starts off as a standard seeming educational short with a female host explaining the use of refrigerators and food handling in a brightly lit staged kitchen. But it suddenly takes a turn when it's realized that it is all an actual film set, and a more reality based postwar English family's kitchen is showcased, starting the explanations over. The short has a fairly scratchy soundtrack with the dialogue portions.
in 1080p AVC MPEG-4, in 1.33:1, in English LPCM 1.0 with no subtitles


DISC TWO (DVD)

Audio commentary by critic and Asian-cinema expert Tony Rayns
"The Mystery of Marriage" 1932 short (32:09)
"The Good Housewife 'In Her Kitchen'" 1949 short (8:13)
The extras are repeated in standard definition.


Booklet
A 24 page booklet is included with the first pressing. The essay "The Still Lives of Yasujiro Ozu" by the late writer Tom Milne appears here, which does not particularly address "The Flavour of Green Tea Over Rice" but about Ozu's style and films in general in the lengthy piece. There are full film credits, special features information, notes on the presentation and acknowledgements along with stills.


As stated before, the film received Blu-ray releases in Japan, the United States, and France before this one. The Japanese release had no extras on the disc. The US Criterion release has the 1937 film "What Did the Lady Forget?" plus an excellent visual essay and a documentary short about the working relationship between Ozu and Noda. The French release is exclusive to the "Ozu en 20" boxset of twenty films, featuring a multitude of documentaries, featurettes, and more, though none are specifically for the film itself. The BFI's commentary is excellent, but the choice of having some non-Ozu related vintage content as extras are interesting but slightly feeling out of place.

Overall


"The Flavour of Green Tea Over Rice" may not be in the upper tier of Ozu's most celebrated works but is still a wonderful and heartfelt film about the simplicities and complexities of love and marriage, as well as a look into the generational divide. The BFI dual format release features an excellent commentary track alongside some interesting though not directly related vintage shorts. The transfer is on the compromised side for the video and audio, but the release still comes as recommended.
| | | | | |
| --- | --- | --- | --- | --- |
| The Film: B+ | Video: B- | Audio: C | Extras: B | Overall: B |