Britannia Hospital (Blu-ray) [Blu-ray]
Blu-ray B - United Kingdom - Powerhouse Films
Review written by and copyright: Rick Curzon (7th June 2020).
The Film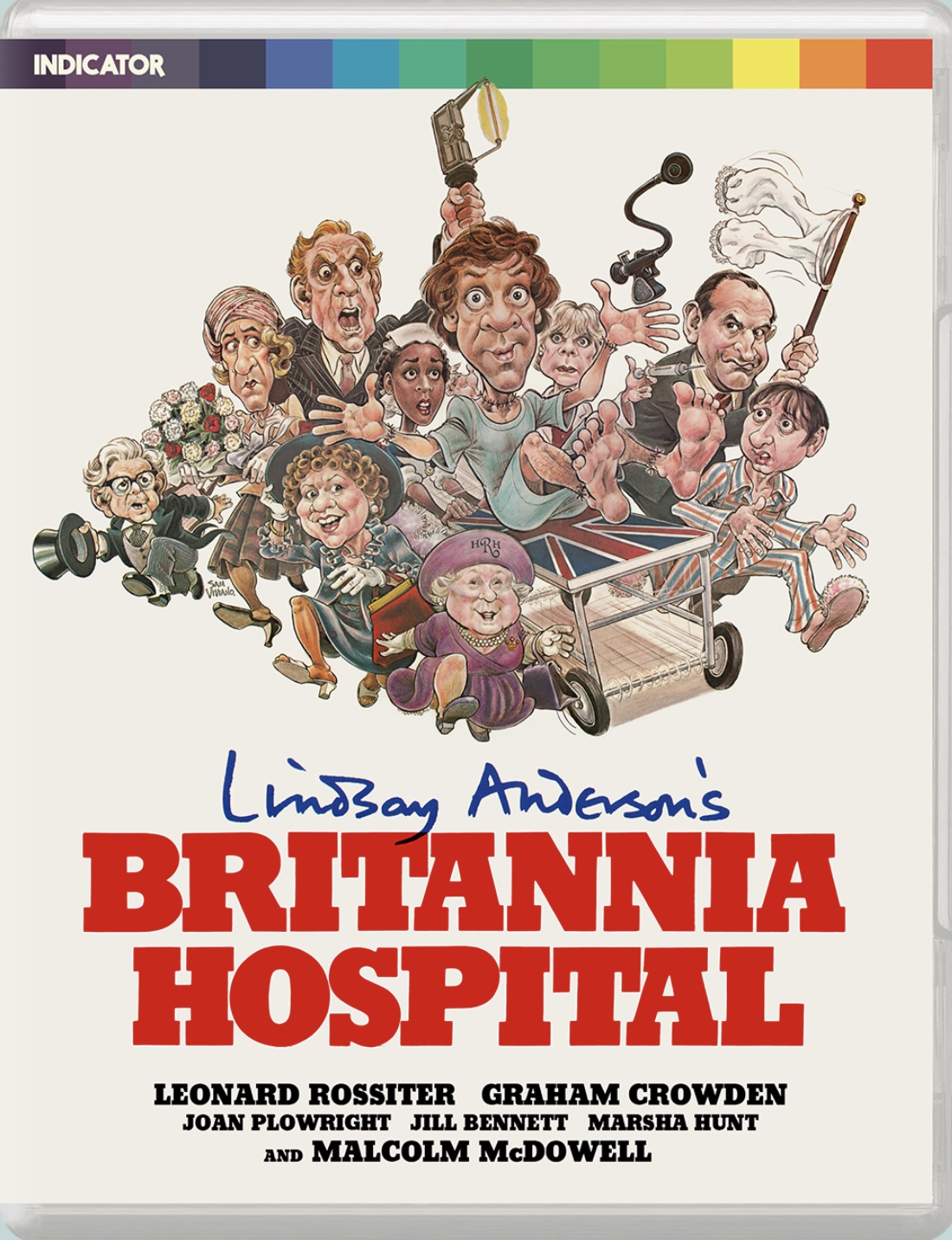 The concluding instalment in Lindsay Anderson's Mick Travis trilogy, following If.... and O Lucky Man!, Britannia Hospital finds the filmmaker casting a sourly satirical eye over Thatcher's Britain.

With a phenomenal cast at his disposal – everyone from Alan Bates (Georgy Girl) and Joan Plowright (Time Without Pity) to Robin Askwith (Confessions of a Window Cleaner) and Mark Hamill (Star Wars) to Malcolm McDowell (A Clockwork Orange) reprising the role of Travis – Anderson trains his sights on royalty, trade unions, the media, and scientific research in typically uncompromising fashion.

Video


A day in the life of a UK NHS London hospital as they prepare for a visit from the Queen Mother. All the while dealing with industrial action, protests about an African despot being treated there privately and bomb blast victims from terrorist action in London arriving. Hack reporter Mick Travis (Malcolm McDowell) is trying to infiltrate the building to do covert filming of the hospitals resident mad scientist (Graham Crowden) and his Frankenstein-like experiments.

Heavy-handed but brilliant satire on mostly the UK and it's culture (specifically the NHS) but also takes side swipes at British geopolitics. It targets so much that a great deal falls by the wayside and could be seen as a much more bitter comic satire than say Airplane (1980) but similarly to that anarchic film, it throws gags, wit and just about everything at the screen in the hope that something will stick.

It's a sequel to If ... (1968) and O Lucky Man (1973) continuing the stories of various characters from those films here. I've not seen those earlier, more highly regarded classics but coming to Britannia Hospital fresh means I may well have more respect and regard for it that others have historically. It seems to have been relatively hard to see and forgotten about in the face of director Lindsay Anderson's earlier two films.

It does flow in fits and starts, is overlong by about twenty minutes and has no characters with any real depth or likability ... but did get quite a few giggles from me and the odd laugh out loud moment; I certainly had a silly grin on my face for much of it's length which is probably what Anderson intended. It's brilliantly directed and beautifully photographed by Mike Fash and ultimately felt to me like a more ambitious sci-fi Carry On Doctor (1967). Great fun and a film I'll definitely revisit.

This is a stunning looking film given a masterful transfer by Studio Canal and expert handling from Powerhouse Films; the encode by David MacKenzie and Fidelity in Motion is perfect maintaining a healthy film like grain field throughout.

The colour palette is by turns vibrant, naturalistic and pastel shaded depending on the requirements of individual scenes but at all times Mike Fash's cinematography is first class and polishes up nicely here. Flesh tones favour the natural end of the spectrum with no overheated oranges in evidence. Skin and fabric textures are very detailed; detail in distant backgrounds is also very satisfying.

Black levels and contrast are beautifully supportive of each other with no signs of crush and plenty of shadow detail. Whites are oure with no gamma bias in evidence; the scenes in Graham Crowden's inner sanctum and operating theatre really kick out with plenty of vibrant colour gel lighting and tremendous levels of contrast between dark and light. Detail in the coloured washes, including red, is also satisfying.

This is a very accomplished film visually and Powerhouse's handling is just as inspiring.

1080/24p / MPEG-4 AVC / 1.85:1 / 116:25

Audio


English LPCM 1.0
Subtitles: English HoH

The accompanying booklet states:


StudioCanal's HD remaster was the source of this Indicator edition. The film's original stereo audio was remastered at the same time.


It's not in stereo but in mono and Powerhouse present this very robust 1.0 mono track beautifully. It's a layered, textured soundtrack or about as textured and layered as is possible for early 1980s mono. Dialogue is always clear with no distortions even during loud crescendos. The score is supportive but fairly lowkey unless playing variations on Rule Britannia.

Subtitles for the hearing impaired are excellent.

Extras


"The British History Entertainment Project (BEHP) Interview with Lindsay Anderson Conducted by filmmakers Alan Lawson and Norman Swallow on 18 April 1991" plays as an alternate audio track over the film (116:15)

Anderson is very fine form discussing the British film industry, his origins, anti establishment filmmaking and his whole life and career get a look in. Very listenable and filled with essential information; as close to an audio commentary as we're likely to get as Anderson died in 1994 before commentaries took off in a big way.

"Healthy Reputation: Robin Askwith on Britannia Hospital" 2020 featurette (20:34)

Cheerful little piece covers Askwith's career with particular focus on his friendship with Lindsay Anderson who discovered him whilst he was still at school.

"Biles Apart: Brian Pettifer on Britannia Hospital" 2020 featurette (8:27)

The veteran actor recounts how he got the role in Britannia Hospital and his relationship on set with Lindsay Anderson. Anderson was apparently an easy going director who had a great rapport with his cast and crew and was very decisive in his choices. Pettifer also enjoyed working with Leonard Rossiter who apparently didn't entirely get in with Anderson. Rossiter got the role originally written for Arthur Lowe who was too ill to take a larger role (he has a funny cameo). He also discusses the films flaws (no central leading role) and it's bad reception at the time (bar in France and Argentina).

"A Cut Above: Michael Ellis on Britannia Hospital" 2020 featurette (11:01)

Ellis worked on all three films in the Mick Travis trilogy. He covers his career and work with Anderson and about how he specifically got the job on Britannia Hospital. He also discusses how Anderson took little heed from producers and their suggestions for "improvements".

Theatrical Trailer (2:55)
Teaser Trailer (1:39)

Standard promo pieces.

Britannia Hospital Image Gallery: Original Promotional Material (28 images)

Decent little HD gallery.

40-page liner notes booklet by Peter Cowie, an archival interview with Lindsay Anderson, extracts from the diaries of Anderson and screenwriter David Sherwin recounting the production, an overview of contemporary critical responses, and film credits

Typically essential booklet about the film; worth the price of the disc all by itself frankly.

Packaging


Standard clear Blu-ray case as used by Powerhouse Films.

Overall


Lindsay Anderson's imperfect but still brilliant satire on (then) contemporary Britain gets the deluxe treatment from Powerhouse Films as part of their beloved Indicator series. As we've come to expect from this company, they've taken a very good off the shelf master and presented it on it's best behaviour wigh superb image and sound. Given the source which is in superb nick, they're given this largely forgotten cult classic it's best ever home video release. Shy of a 4K UHD release this isn't going to look any better. Extras are as good as we can expect shy of a feature-length documentary that analyses the trilogy. Top marks all round.

Yet another candidate for a disc of the year; a just.
| | | | | |
| --- | --- | --- | --- | --- |
| The Film: A | Video: A+ | Audio: A+ | Extras: A+ | Overall: A+ |

---
DVD Compare is a participant in the Amazon Services LLC Associates Program and the Amazon Europe S.a.r.l. Associates Programme, an affiliate advertising program designed to provide a means for sites to earn advertising fees by advertising and linking to amazon.co.uk, amazon.com, amazon.ca, amazon.fr, and amazon.de.