The Film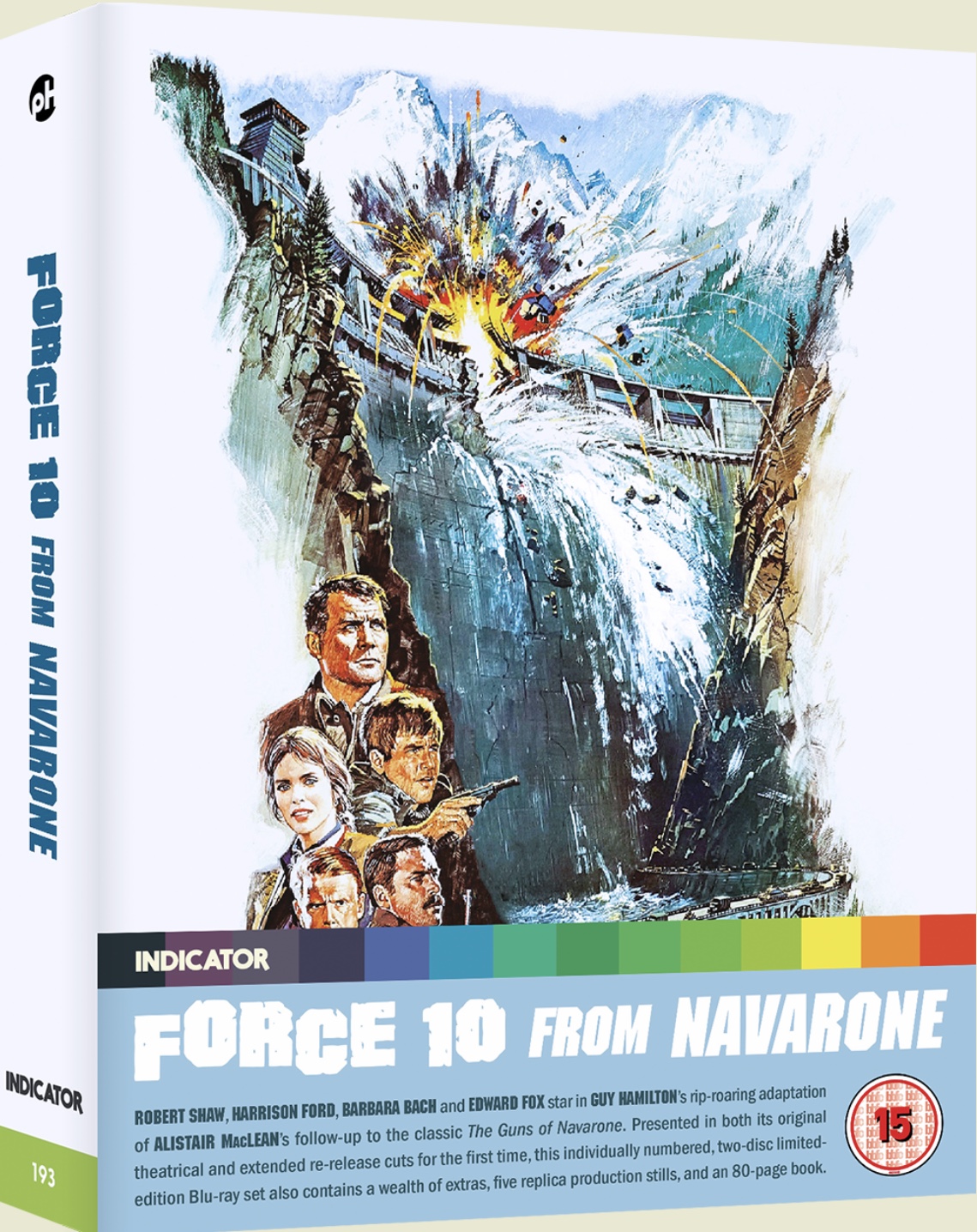 Robert Shaw (Young Winston), Harrison Ford (Raiders of the Lost Ark), Barbara Bach (Short Night of the Glass Dolls) and Edward Fox (The Day of the Jackal) star alongside Carl Weathers (Rocky), Richard Kiel (Moonraker) and Franco Nero (Django) in this star-studded high adventure.

Directed with an assured hand by Bond veteran Guy Hamilton (Battle of Britain), this rip-roaring adaptation of Alistair MacLean's follow-up to the classic The Guns of Navarone sees the elite cadre of commandos embark on a secret mission deep in the Yugoslavian wilderness, during the darkest days of World War II.

Video


I first saw Force 10 from Navarone on HBO around 1980 when I lived in Rochester New York but it wasn't until I moved to the UK in 1983 when I read the MacLean book along with most of MacLean's other books. Over the decades this has become one of my primary go-to comfort films; one of the last all-star WWII epics that had been so popular with audiences throughout the '50s and '60s. I had only seen The Guns of Navarone (1961) perhaps a year or two prior to Force 10 and Guns was always my favourite of the two. However, after Raiders of the Lost Ark the younger me felt that Force 10 was very much in the same orbit.

Watching it again in this beautifully restored and curated edition (given an exceptional encode by David MacKenzie by the by) I was struck at how beautifully shot by Chris Challis this film was. It's suffered not only re-edits and poor re-voicing at the time of release but prints have mostly been lacklustre on the various editions I've owned, including the '90s laserdisc which was where the restored director's cut first had a public airing.

The colour palette favours naturalistic, earthy tones throughout with the English and Yugoslavian* landscape featuring plenty of luscious greens. Military fatigues play a prominent role in the visual palette and are a nice contrast with the warm flesh tones. There is a slight pinkish quality indicating a slight bias in the palette but it looks vivid and by design. Skys are a vivid blue, the location work is excellent and comes off better here than in any previous edition of the film I've seen. Hamilton and Challis frame the action for Panavision beautifully with lots of deep focus allowing plenty of detail across all focal planes.

Detail is exceptional and both black levels and contrast are well managed to create an image with a fair amount of an almost 3D feel to many sequences. Highlights are always balanced with no blowouts and blacks have plenty of shadow detail. Being shot on photochemical 35mm film in anamorphic Panavision ratio Force 10 is filled with lovely grain which has been expertly handled by the encode. It's mostly pretty fine only getting a little courser in some of the darker scenes; skies can be fairly grainy as well but this is all very natural for the format. I saw no signs of age and wear beyond a little flicker during the dam bursting sequence on the theatrical cut and no digital tinkering.

Incidentally, one of the big criticisms levelled at the film over the years has been inconsistent day for night grading. This has been drastically improved for both editions and the film looks slicker and more professional now.

Force 10 from Navarone has never looked or sounded as good as it does here in the restored director's cut. The image is simply beautiful in every way. My comments apply to both versions which seem to have been jointly restored.

1080/24p / MPEG-4 AVC / 2.4:1 / 125:59, 118:35

* Yugoslavia broke up during the Yugoslav Wars (1991-2001) and now consists of six different countries: Croatia, Serbia, Montenegro, Kosovo, Slovenia, Bosnia & Herzegovina and Macedonia.

Audio


English DTS-HD Master Audio 5.1 (director's cut only)
English LPCM 2.0 Stereo (director's cut only)
English LPCM 1.0 (both versions)
Subtitles: English HoH

Originally made in Dolby Stereo (represented here by the 2.0 Stereo version) as befitting a big budget prestige entertainment at the time; but, like Star Wars before it, most cinemas probably played the 1.0 down-mix (available on both versions here). All prior home video releases had the mono mix, including the Image Laserdisc which premiered the restored director's cut back in the '90s.

The mono mix does it's job very well being florid and robust (love those two descriptives!) but the stereo is really the original and is obviously a major improvement with proper separations and some rear activity in the surrounds when played via ProLogic II on a 5.1 amp. However, the real gem is the 5.1 up-mix which takes the already fine stereo track and spreads it all around the sound stage very satisfyingly. This first appeared on the old MGM / Fox BD in 2009, was ported over to the 2020 Kino re-issue and has correspondingly been included here.

All of the tracks maintain dialogue clarity mainly focussing on the front soundstage (obviously no choice with the mono); Ron Goodwin's superb martial score gets spread out a bit with the 2.0 and even more with the 5.1. I could detect no distortions on any of the tracks although the 2.0 does sound a tad hollow when compared to the 5.1. Make no mistake, this isn't a modern remix with additional ADR and the will never compare to a bang up to date 5.1 or an Atmos track. But, it does spread the score and effects around nicely especially during the plentiful action interludes. Depth and range is present but as with any track on a film made before 5.1 became the default for theatrical releases it will be limited by comparison to something like SPECTRE (2015).

The theatrical cut fares less well in the sense that the re-voicing done by various cast members stands out much more. Angus MacInnes has been dubbed by a different actor which doesn't work so well for him and because Shaw died in August 1978 his ADR was done by an impressionist and it doesn't quite work, never did. I believe that the alternate narration and the clumsy ADR have hurt the film's reputation; making it sound a bit sloppy.

However, with all the choices provided by Powerhouse Films, all bases are covered and therefore short of a complete rebuild from the sound stems (if they even exist) it can't get any better than we have here: A+

(Subtitles are excellent and welcome for those who are sadly hearing impaired)

Extras


Audio commentary by historians Steve Mitchell and Steven Jay Rubin (2020)

This track has been ported across from the recent US Kino BD. Both commentators are old pros at this sort of track and both have written books of various film subjects (I've read Rubin's Bind books). Lots of great info on both the 1968 book on which this film is based and obviously the film itself. Mitchell is more focussed on the military aspects and the book; Rubin more on the actors and Hollywood aspects.

"'... this is a Giant Movie'" 1978 featurette (21:24)

A vintage behind the scenes promo piece that would've been shown in cinemas and perhaps on TV in the run up to release. It focuses on filming in Jersey which was done for pickups and additional filming when the weather turned bad in Yugoslavia.

Oliver Unger (producer) discusses the overall production and whether it's on time and on budget (it's not and has already gone over it's $10 million allotment), some English extras paid £8 per day waiting to shoot the scene where German soldiers discover Edward Fox hanging by his parachute, Eddie Stacey (stunt coordinator), is seen doing his stuff, Carl Weathers (actor) talks about the bitty nature and slow pace of making a film of this scale, we see Guy Hamilton directing the scene where Weathers kills a German, we see production of the scene at the Termoli airbase involving a Lancaster prop which is a big wooden painted cutout. We see the shooting of a scene where Robert Shaw abseiling down a cliff and the scene was apparently not going well. Is this a cut scene I wonder as I don't recall Shaw hairing about on a cliff?

Most interesting is a fairly extensive interview with Edward Fox discussing how he got into acting and is seen being patient hanging into his parachute, But most interesting are his comments about acting in theatre versus films and television. He has quite a practical, even cynical workaday approach.

An extremely fascinating piece and one in which interviewer (And narrator) Robert Hall doesn't ask dumb questions.

"Tour de Force: Angus MacInnes on Force 10 from Navarone" 2020 featurette (23:50)

Excellent career retrospective for character actor MacInnes who's appeared in a huge number of big and cult films in his time. We get plenty of details bout the troubled working and living conditions in Yugoslavia. His talk of all the drinking jibes with me experience at a Bradford Science and Media Museum screen talk with director Guy Hamilton. He was asked about his memories of working on For e 10 from Navarone and he began by saying "that's the film with all those awful men!". Having watched and listened to the extras in this set I can see what he meant.

"From Žabljak with Love: The Making of Force 10 from Navarone" 2020 featurette (27:42)

An unconventional and typically excellent making of retrospective but told from the point of view of folks lower down the pecking order and it's filled with just as much insight (perhaps more) than if we were to have bigger hitters being interviewed. We have Jim Dowdall (actor and Harrison Ford's stunt double), Terry Apsey (construction manager), Dennis Fraser (grip), Peter Robb-King (chief make-up artist) and Colin Jameson (chief hairdresser) giving a great account of the nuts and bolts of filming in Yugoslavia at the time with plenty if dirt being dished; Barbara Bach and Robert Shaw and Alastair MacLean don't come off well. The working and living conditions also come under heavy fire and I was also interested in the observations about the tensions in Yugoslav society that exploded in the civil war years later. Coupled with the above vintage on location report about as close to a full-bore making of as we're likely to ever get.

"A Life Behind the Lens: Christopher Challis" 2020 featurette (32:16)

Memories of Challis from those who worked with him: Sydney Samuelson (DP), Oswald Morris (DP), John Palmer (Camera operator) and Dennis Fraser (grip). You get a very good sense of what it was like to work with the man; seems to have been a very warm, generous human being as well as a great DO (director of photography). There are also excerpts from an interview with Challis from March 2009 and he turns out to be a very garrulous chap with plenty of trivia to impart.

"British Entertainment History Project: Ron Goodwin - Interviewed by Linda Wood on 21 May 1999" 2020 documentary (88:34)

Chunky, extensive feature-length interview ends up being a detailed documentary on Goodwin's life and career as told by the man himself. He's a great, lively, charismatic raconteur and is probably the jewel in this marvellous sets crown as it was so unexpected. There are actually two interviewers; a male goes un-billed.

I noticed the name Sue Malden as one who's thanked on the end credits; I wonder if she's the same lady who was largely responsible for preserving television productions, preventing their junking from the BBC archive in the late 1970s-early 1980s? Most famously episodes of Doctor Who.

"A Show of Force: An Analysis of the Different Versions of Force 10 from Navarone" 2020 featurette (24:51)

Superb new piece that details the differences between the two versions of the film. Why anyone would want to make the crass audio changes is anybodies guess. All of the re-voicing cheapens the film and the American opening narration is the absolute worst getting the film off on a very cheesy note. Visually the main difference is the opening and closing credits and thee are some differently edited moments and some bits where the score has been altered.

Super 8 Version (17:10)

Typically dodgy-looking HD rendering of the earliest home video version; a panned and scanned digest.

Original Trailers:
- UK Theatrical Trailer (2:42)
- US Theatrical Trailer (1:52)
- US TV Spot (0:30)
- UK Radio Spot (0:23)

A decent collection of vintage promo pieces.

Force 10 from Navarone Image Gallery: Original Promotional Material (58 images)

An excellent HD still gallery containing most, if not all, of the widely seen publicity stills plus additional goodies.

80-page liner notes book by Sheldon Hall, archival production reports including interviews with cast and crew members, an interview with actor Robert Shaw, recollections of the film's Yugoslavia shoot excerpted from the memoirs of cinematographer Christopher Challis and screenwriter George MacDonald Fraser, an overview of contemporary critical responses, and film credits

As usual with Powerhouse Films' releases, the book is a stunner. The kind of printed companion fans of this film have been dreaming of.

Packaging


Like other limited editions from Powerhouse Films, such as The Last Movie (1971), this edition has a hard card slipcase that holds a 2-disc, clear Blu-ray Keepcase and the 80-page softbound book.

Overall


One of my favourite WWII action films gets the deluxe treatment I always felt it would never get; Force 10 from Navarone being a film generally held in low regard by both the critical and film buff community forever comparing it to it's more illustrious progenitor. I couldn't be happier. Both image and sound are as good as can possible be shy of a UHD BD release and the extras are superlative and filled with interest and contextual material. We do get a great career retrospective with Angus MacInnes who also provides plenty of great info from the actor's perspective and we also get some vintage input from Carl Weathers and Edward Fox.

Speaking personally THE disc of the year so far bar none, and I've had the pleasure of reviewing some corkers thus far. I can't see this not being in my top ten come year end and will most likely be my number one then as now. Bravo Powerhouse Films!

| | | | | |
| --- | --- | --- | --- | --- |
| The Film: A | Video: A+ | Audio: A+ | Extras: A+ | Overall: A+ |