The Film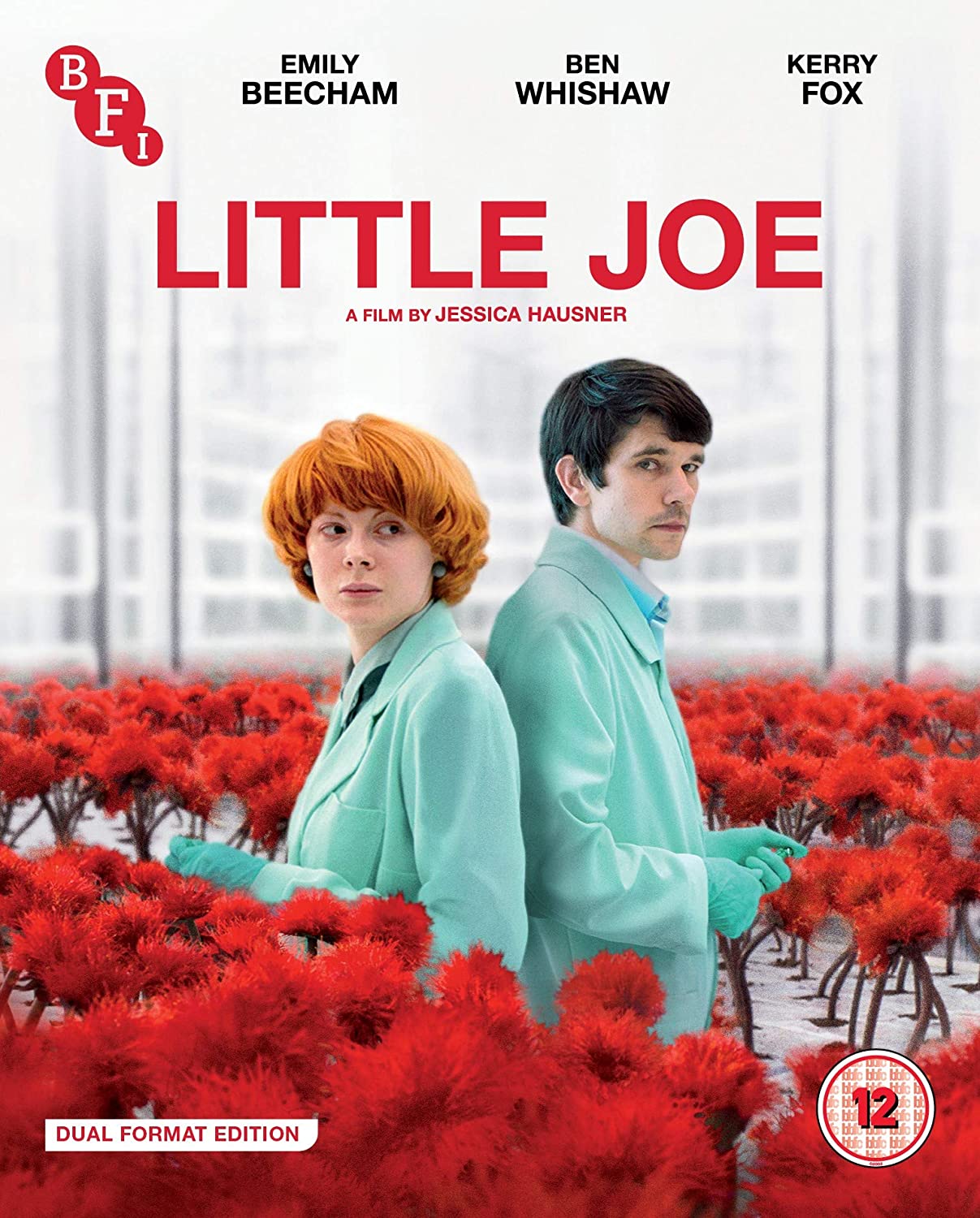 "Little Joe" (2019)

Alice (played by Emily Beecham) is a scientist at a plant breeding facility working on a project nicknamed "Little Joe", a genetically modified flower that is aimed to bring happiness to its caretaker. Interacting with it and taking care much more than a regular plant or flower, the pollen and aroma it brings is designed to ease and soothe, and tests seem to be going well, with plans for industry showcases and global sales on the horizon. The plant was nicknamed after Alice's pre-teen son Joe (played by Kit Connor), and as a single mother, Alice tries to make an effort to be both a loving mother and a strict worker but the lack of time makes things difficult as a family. While it goes against protocol, Alice takes a Little Joe home and has her son look after it, but this alongside some unusual behavior by coworkers and happenings in the facility lead to making Alice question whether the plant is actually bringing happiness or something different...

"Little Joe" on the surface sounds like a horror film premise, and the inspirations certainly come from it. But the visual style with bold and beautiful colors looks at home in a modern art gallery, and the lack of scares or other horror conventions make the film stand in a completely different place. Like "Frankenstein", it deals with a scientist's creation of new life and the unpredictable nature of its consequences. Like "Invasion of the Body Snatchers", it has characters becoming paranoid after spotting small changes between their friends and loved ones. And like "Little Shop of Horrors", a plant seems to awaken to have a mind of its own. In "Little Joe", the sense of paranoia is not sudden, nor is it a gradual build. There are some scenes that are staples of horror, such as one particular jump scare and one scene of a character getting locked in a room without escape. But the core of the story is basically the worries of motherhood metaphorically spread out. Alice isn't living the perfect life, as she goes to therapy to handle her doubts and her fears, dealing with the strained relationship with Joe's father Ivan (played by Sebastian Hülk, her fear of not being able to be by Joe's side as much as she can, and the stress from work ironically dealing with a plant that is to reduce stress.

One person that tries to side with Alice is Chris (played by Ben Whishaw), who is working with her on the Little Joe project and starts to develop genuine feelings for her, but she is more concerned about her own life at the moment and not bringing in a serious relationship to the fold. An unusual turn of events begins at the facility when the Little Joe plants at the facility start giving off a larger amount of pollen that expected, in turn weakening and killing the neighboring other plants. Scientist Bella (played by Kerry Fox) also experiences something odd, when her dog Bello also turns angrier after being in the same greenhouse as the Little Joes. It's not only Bella that starts to see changes in behavior. Alice starts noticing minute changes in everyone that was seemingly in contact with the pollen - from her son Joe who starts becoming distant from her. Chris pushing in closer to be with her yet also becoming more protective of the plants. While fingers can easily be pointed to the pollen affecting changes in behavior, everything seems to also have a rational explanation. Bello might have been angry at Bella for leaving him in a greenhouse alone and locked away for a period of time. Joe is at a pubescent age and he is changing physically and mentally, giving his time to his new girlfriend Selma (played by Jessie Mae Alonzo) and wanting to be closer to his father rather than his mother. Chris has always had feelings for Alice and he starts trying to be closer as he sees an actual future with her.

"Little Joe" does not a clear cut "villain" nor does it give full explanations. Depending on audiences some will believe the pollen is the one changing people from within. Others will say that it's all in the imaginations of the characters of Alice and Bella. It's debatable which is the truth, but the scary thing is in this era of COVID-19, there are things in the air which can infect us quickly and easily without full symptoms, and it could spread everywhere without knowledge. Though the film was completed and first screened in 2019, the amount of scenes with facemasks and signs ordering the use of facemasks is eerily predicting the world's situation in 2020.

Austrian director Jessica Hauser and French screenwriter Géraldine Bajard first collaborated on "Lourdes" in 2009, and both made their first English language feature with "Little Joe" in 2019. Like many of Hauser's previous films the central character is female and the difficulties she does through are not the easiest to define. The script of "Little Joe" does not give answers in a clear cut way nor does it feed the audience with what it might want to see, and the cinematography also accentuates the feeling. The visuals by cinematographer Martin Gschlacht uses very calculated tracking shots, sometimes dollying in between the characters in conversation that they are no longer in the frame. Others are careful left or right tracking shots, overhead shots, and the camera moves are beautifully fluid in motion, giving a sense of calmness like the Little Joes would give to its caretakers. In addition, the colors of the plants, the extreme cleanliness of the facility, the near perfect interiors seen without a single instance of clutter, the film looks incredibly nice and calm in every shot. The one aspect that might send uncomfortable vibes to audiences is the sound design, which includes random extremely high pitched electronic tones, and the use of traditional Japanese instruments courtesy of the late composer Teiji Ito, who made some incredible works for his wife and experimental pioneer filmmaker Maya Deren. Some may find the music unsettling, though others like myself find it more soothing but strangely out of place as the story takes place in modern Britain and the music feels like it was from Japanese festivals from centuries ago. As Hauser was a great fan of Deren's films and Ito's music, the borrowed soundtrack was a way of thanking her idol and exposure of the works to newer audiences.

"Little Joe" is a Austrian-German-UK coproduction, and was first screened at the 2019 Cannes Film Festival on May 19th, where Emily Beecham won the Best Actress award. Through the rest of 2019 the film was screened at various festivals worldwide, and later received a theatrical release in Austria on November 1st, 2019. Rolled out worldwide in the following months including the UK in February, the film won some major awards at the Austrian Film Awards, winning three out of ten awards for Make-up, Editing, and Production Design. As stated before, during the time of COVID-19 the idea of something in the air infecting people and the consequences is all too real, but "Little Joe" is much more than just the dangers of playing god, but the subtle effects of paranoia and the storms happening during the calm states.

Note this is a region B Blu-ray

Video


The BFI presents the film in the 1.85:1 aspect ratio in 1080p AVC MPEG-4. As stated before, the use of colors is exquisite in this production, and the colors certainly pop in this transfer. Reds, pinks, purples, greens, basically every color on the spectrum looks bold and solid throughout. The costume design, the set design are all visually appealing, and in the transfer there are no particular anomalies or troubles to be found. Basically nothing is to fault in the digital-to-digital transfer.

The film's runtime on the Blu-ray is 105:11.

Audio


English DTS-HD Master Audio 5.1
English LPCM 2.0 stereo
There are both lossless 5.1 and uncompressed stereo tracks are provided. The 5.1 track features great separation for the music and effects in the 5.1 soundscape, with the ear piercing tones spread out and the compositions by Teiji Ito sounding exquisite in a surround environment. Dialogue is almost always centered and well balanced throughout. The 2.0 stereo track also sounds fairly good, but if a surround setup is available the 5.1 track is obviously the way to go.

There are optional English HoH subtitles in a white font for the main feature, well timed and easy to read.

Extras


This is a dual format set with the film and extras on the Blu-ray and the content repeated on a region 2 PAL DVD.


DISC ONE

Cast & Crew Q&A (16:44)
In this Q&A from the London Film Festival screening on October 4th, 2019, film critic Geoff Andrew moderates a post screening event with Jessica Hausner, Emily Beecham, Géraldine Bajard, and costume designer Tanya Hausner. They discuss the science fiction origins of the story, the screenwriting process, the actors and their characters, the designs to make everything look "British", the music choices, and more, including taking some questions from the audience.
in 1080i 50hz AVC MPEG-4, in 1.78:1, in English Dolby Digital 2.0 with no subtitles

Jessica Hausner in Conversation (37:25)
This Q&A reunites Hausner with Geoff Andrew, taking place at the BFI Southbank on February 21st, 2020 following a screening of "Little Joe" and prior to special screenings of her earlier works. They discuss a bit more about the making of "Little Joe" while also talking about her film school days and wondering why female filmmakers were not being given equality in teachings. Plus there are discussions of her works "Lovely Rita" (2001), "Lourdes" (2009), and "Amour Fou" (2014), though note she does spoil the ending of "Lovely Rita" for those who hadn't seen it, including some of the audience that night. Hausner sounds fine when she speaks in her microphone, but Andrew's is slightly too loud leading to a bit of distortion.
in 1080i 50hz AVC MPEG-4, in 1.78:1, in English Dolby Digital 2.0 with no subtitles

"Emily Beecham on Little Joe" interview (2:23)
A short EPK interview with Beecham in which she talks about her character and the inspirations of the film. Sadly half of the interview is made up of clips of the film itself, leaving only a very short talking period for Beecham.
in 1080i 50hz AVC MPEG-4, in 1.78:1, in English Dolby Digital 2.0 with no subtitles

Trailer (1:56)
The quote heavy BFI trailer is presented here in its paranoia glory. The trailer has also been embedded below.
in 1080p AVC MPEG-4, in 1.85:1, in English Dolby Digital 2.0 with no subtitles

"The Birth of a Flower" 1910 short (7:46)
Pioneer nature documentary filmmaker Percy Smith's landmark short film using timelapse to showcase the growth of various flowers, presented in various tinted shots. The music is provided by Audio Network. Note this film is also available as a bonus film on the BFI Blu-ray+DVD set of "Minute Bodies: The Intimate World of F. Percy Smith".
in 1080p AVC MPEG-4, in 1.85:1, in English Dolby Digital 2.0 with no subtitles

There is a "Play All" function for the extras, which has a runtime of (56:34)+(9:42), with the first title combining the 1080i extras, and the second title having the 1080p extras together.


DISC TWO (DVD Copy)


Booklet
A 28 page booklet is included. First is a multi-part essay written by the director herself Jessica Hausner about the production and its different elements of interest. Next is a review of the film entitled "Jessica Hausner's Floral Frankenstein Horror" by critic Catherine Wheatley which was published in Sight & Sound in March 2020. "Flower Power" is another review from Sight & Sound, with this one written by Kate Muir. There are also full film credits, stills, special features information, transfer information, and acknowledgements.


A good selection of extras are provided, but I personally would have liked to see more on the behind the scenes, from B-roll footage, the special effects work with the plants, the visual designs, etc. There is currently a US DVD from Magnolia, with the sole extra being a Q&A with Hausner and Beecham.

The trailer courtesy of the BFI has been embedded below.


Overall


"Little Joe" may be marketed as a paranoia thriller or plant horror but it is in quite a different league of the norm, which is likely to divide audiences. But taking it in calmly and soothingly will give something unexpected for audiences in for the experience. The BFI dual format release has a stellar transfer in video and audio, with a good selection of extras.
| | | | | |
| --- | --- | --- | --- | --- |
| The Film: B+ | Video: A+ | Audio: A+ | Extras: B | Overall: A- |