The Film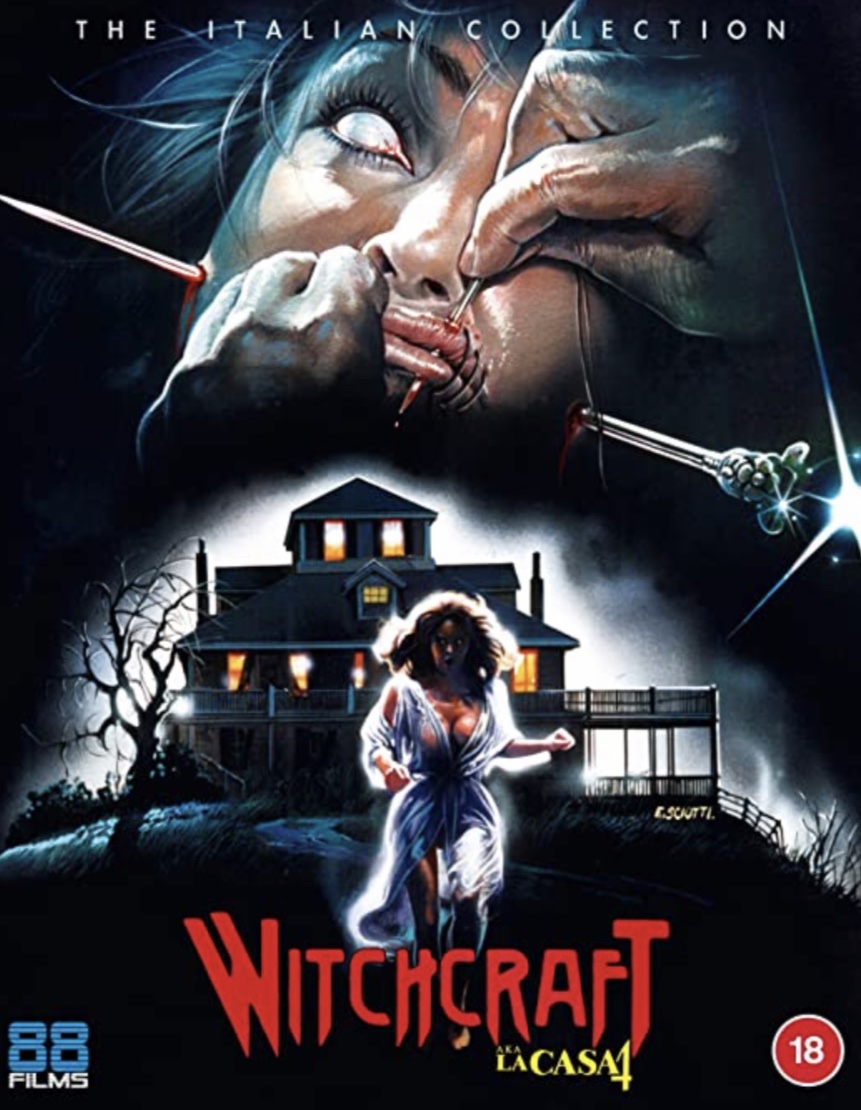 Starring The Exorcist's Linda Blair and Knight Rider's David Hasselhoff … director Fabrizio Laurenti (Crawlers) brings you a creepy tale of terror, witchcraft and sacrifice.

When pregnant Jane (Linda Blair) and her family visit a secluded island to check out a proposed real estate deal, things start to go wrong when they come across two trespassers, supernatural expert Leslie and her boyfriend Gary (David Hasselhoff). Forced to spend the night in a dilapidated house, the group are soon plunged into a nightmare of death and destruction at the hands of the powerful and mysterious Lady in Black (Hildegard Knef).

La Casa / Witchery / Witchcraft is a carnage fuelled splatter fest, a rabid romp incorporating hauntings, possession and unexpected twists and turns. An entertainingly rare find from video store hay day of Italian made scary movies, it will delight fans of late 80s horror, a weird and wonderful necessity for the cult collector.

Video


An American (Production Group)-Italian (Filmirage) co-production well directed by Fabrizio Laurenti with production sound (no dubbing).

The script is listless and episodic, putting it's cardboard characters through the haunted house motions, but it's nicely shot on great New England locations with a good score by Carlo Maria Cordio. There's plenty of atmosphere and some nasty moments - a demonic dream assault, someones lips being sewed up, two burnings and some gory wounds - to liven things up a tad. However, it lacks spark and although not a long film could've done with some tightening up. As is, an entertaining programmer.

88 Films seem to be using the same master (dating from approximately 2015) used by Shout! Factory in the USA for their double bill BD release with Umberto Lenzi's Ghosthouse (1988). It has signs of some DNR but otherwise reproduces the look and feel of this cheaply lensed production and the feel of it's cheaper film stock pretty well. I found the film's look generally pleasing with some fairly robust colour values but other more technically minded viewers may pick greater fault finding it a tad hazy, but that's the style of shooting. Grain is present and struck me as even but muted perhaps due to some DNR.

It's a low key, low contrast production with fairly matter of fact lensing. Colours are naturalistic with plenty of primaries coming through albeit with that pastel shaded '80s look. Flesh tones are generally pretty solid and stand out well. Black levels are deep and rich with some shadow detail in evidence although overall it's a rather soft looking film, but I stress that this is by design. This can lead some reviewers to think it looks waxy but I didn't feel that to be the case when I watched it (in total darkness around midnight in my 55" 4K display - the best way to view films like this!).

As I said, contrast is very lowkey but supportive allowing no highlights to blow out unless by design (the Witch-light effect). The encode is robust and showed no signs of clumping or digital splats; a good job, well done! The print is also free from any kind of age related artefacts or reel end markers.

About as good as we can expect given the off the shelf master used. The only way 88 Films could've improved this slightly would be to have allowed a whole BD50 disc for the film and moved the 160+ minutes of extras off to their own BD disc. But, I suspect that such a marginal title as this would not warrant the extra expense and higher price tag.

In any case, a job well done all round.

1080/24p / MPEG-4 AVC / 95:20

Audio


English DTS-HD Master Audio 2.0 Mono
Subtitles: English HoH

Mono soundtracks were still prevalent in 1988 and unusually for a Filmirage (or Italian B film for that matter) this was shot with direct sound on location in the USA. It's an unremarkable track in terms of it's sound design and range but remains exceptionally clear and robust having been restored along with the image circa 2015 for this master. I detected no distortions with dialogue always exceptionally clear; apart from Cummins who's diction is appalling ... but the recording of her dialogue is up to the standard of everyone else's, she's just garbled and mumbly. The score comes off well occasionally bleeding into the rear speakers which may be a phasing issue but in every other way this track is well up to standard.

Subtitles for the hearing impaired have been included. All of the extras have optional subtitles for any Italian language spoken; I noticed the odd typo in them but nothing major.

Extras


"Mirages and Witchcrafts: Interview with Fabrizio Laurenti" 2020 featurette (55:41)

The flagship extra on this disc covers the career of this little known director who seems to have mainly made Italian TV and documentaries since; Witchcraft was his first and only theatrically released feature. He got his passion for cinema from his dad who made Super 8 films and he studied photography and cinema at the Studio D'Arte of Pomezia which the emphasis on photography and documentary film. He had a stint working as a waiter in New York City living in the Lower East Side in a very immigrant-heavy area. It was here that he made his 1985 short The Immigrant (see below) with his girlfriend (later wife) actress Mary Sellers.

He covers his stint working for RAI New York, a radio station but that organisation was ridden with nepotism so he moved back to Italy (with Sellers) where he felt his career choices and chances were better. When Sellers got cast in the Filmirage production of Stagefright: Aquarius (1987) this led to Laurenti working for Massaccesi.

"Lighting Witchcraft: Interview with Gianlorenzo Battaglia" 2020 featurette (18:40)

A chunky piece in which the veteran DP starts off by saying how he first came to work with Aristide Massaccesi (AKA Joe D'Mato) who was the head honcho of Filmirage the company that made Witchcraft (Evil Encounters). Massaccesi was apparently a great bloke to work with who Battaglia feels could've been working in the upper echelons of Italian film production but made the mistake of turning to hardcore porn. He also discusses making the film in a fair amount of detail Initially mistaking Linda Blair for Bette Davis!

"The Witch's Mirage: Interview with Luigi Cozzi" 2020 featurette (16:47)

Rhe always affable and chatty Cozzi covers how he first came to know Massaccesi in the early summer of 1980 when the director was preparing to make some films in Santo Domingo and Cozzi was asked to write a script for another film that aped The Blue Lagoon (1980) also to be shot on that location (Voodoo Baby). He didn't meet Massaccesi again till later in the decade when he was working on his film Paganini Horror (1988) in pre-production. Cozzi was up to make Witchcraft (Evil Encounters) but they couldn't agree on the script so it was made by Laurenti instead. He got on well with Massaccesi who he felt was a lovely bloke personally and a knowledgeable, if cynical, filmmaker who made commercial product which was guaranteed funding rather than more salubrious fare which wouldn't.

"The Music of Witches: Interview with Carlo Maria Cordio" 2020 featurette (13:23)

Cordio started composing in the theatre for a play called Un fiore nero per Landigan (A Black Flower for Landigan) and this led to kore work in the theatre. He started working for Massaccesi on a film Cordio calls Inconscious in which he rescored the film completely for the foreign release and partially for the domestic Italian release. This led to his first complete commission for Massaccesi, Absurd (1981). He recalls Massaccesi as an easy-going, fun loving guy who always had a joke ready.

"The Sound of Witchcraft: Interview with Piero Parisi" 2020 featurette (14:57)

As is standard for the other interview featurettes this covers how the individual concerned (here Parsi) git into the business, how he met Massaccesi and how he came to work on Witchcraft (Evil Encounters).

"Return to Witchcraft: Before and After - Filmed and Edited by Fabrizio Laurenti" 2020 featurette (3:05)

Terrific little piece that revisits the films locations

"The Immigrant" 1985 short film with 1:31 introduction by director Fabrizio Laurenti (37:39)

Writer-director-cinematographer Laurenti introduces his American-lensed, English language short film made in 1985 and released in 1986. It's a creepy little monochrome Super 8 effort about drug addiction and vampirism shot in a New York City long gone. It can only look so good and is presented here on it's best behaviour.

Theatrical Trailer (3:00)

Sensationalistic trailer typical of Italian horror that cuts together all the action, emotional crescendos, nudity and gore in the film into one tight little package.

Comes with a reversible cover with choice of artworks

Essentially both artworks are the same but one has the US poster title (Witchcraft) and the other the Italian (La Casa 4 = The House 4). The film was released in Italy as part of the ersatz "The House" franchise which started when when The Evil Dead (1981) was released there as The House (La Casa). Other films such as House II: The Second Story (1987) were also retitled for the range. None of which obviously had any narrative connection.

A limited edition "Soft-Touch" O-Ring slipcover

This is a pleasent-to-the-touch slipcover that merely reproduces the main US titled cover on the sleeve.

A 12-page liner notes booklet "The Linda Blair Witchcraft Project: La Casa 4 - An Overview" and "Linda Blair : The Regan Years and Beyond" by Andrew Graves

Nicely produced booklet that has two articles. The second focusses on Linda Blair, her career and her involvement. However, the chunkier piece is a scathing review of the film itself ... with tongue in cheek. It doesn't really have anything constructive to say about the film beyond that it was cheap and in the view of Graves, shoddy. I think he's being pretty unfair. Every aspect comes under fire; continuity, a ting, cinematography, music; Graves even seems nostalgic for the crappiness of viewing it on VHS. It might have been better to find someone who could look at the positives more, especially in an essay accompanying the film in question; I feel sorry those involved in the film if / when they see this. The prose is well written and Graves obviously knows his stuff, but perhaps he wasn't the person to write about this particular film.

Packaging


Standard blue Blu-ray keepcase with the Soft Touch O-ring slipcover.

Overall


88 Films have done a great job in bringing minor horror item Witchcraft (Evil Encounters) to UK BD making the most of an older, problematic master provided by the Italian licenser (also used on the US Shout! Factory release). Image is well encoded by 88 Films but has some baked in issues but they've presented it as well as they can. It generally looks good and the sound is as good as it can be bar a very minor amount of phasing occasionally. The extras are a stunning package totalling a whopping 163:12 (in HD) and couldn't really be bettered (bar the very critical essay) in covering the behind the scenes on this obscure little horror flick.

If I had to criticise it would be that perhaps a second disc might have been allotted to the extras which would allow an even higher bitrate on the feature (already decent) and on the extras (obviously much lower in order to get it all on the disc). However, the extra cost incurred for a 2-disc set may have been prohibitive for such a minor cult title. In any case, this is a superb package that offers great quality and value for the collector and comes highly recomended.

Kudos once again to 88 Films who just seem to go from strength to strength with their releases.
| | | | | |
| --- | --- | --- | --- | --- |
| The Film: C+ | Video: B | Audio: A- | Extras: A+ | Overall: B+ |