Beyond Darkness AKA La Casa 5 (Blu-ray) [Blu-ray]
Blu-ray B - United Kingdom - 88 Films
Review written by and copyright: Rick Curzon (17th June 2020).
The Film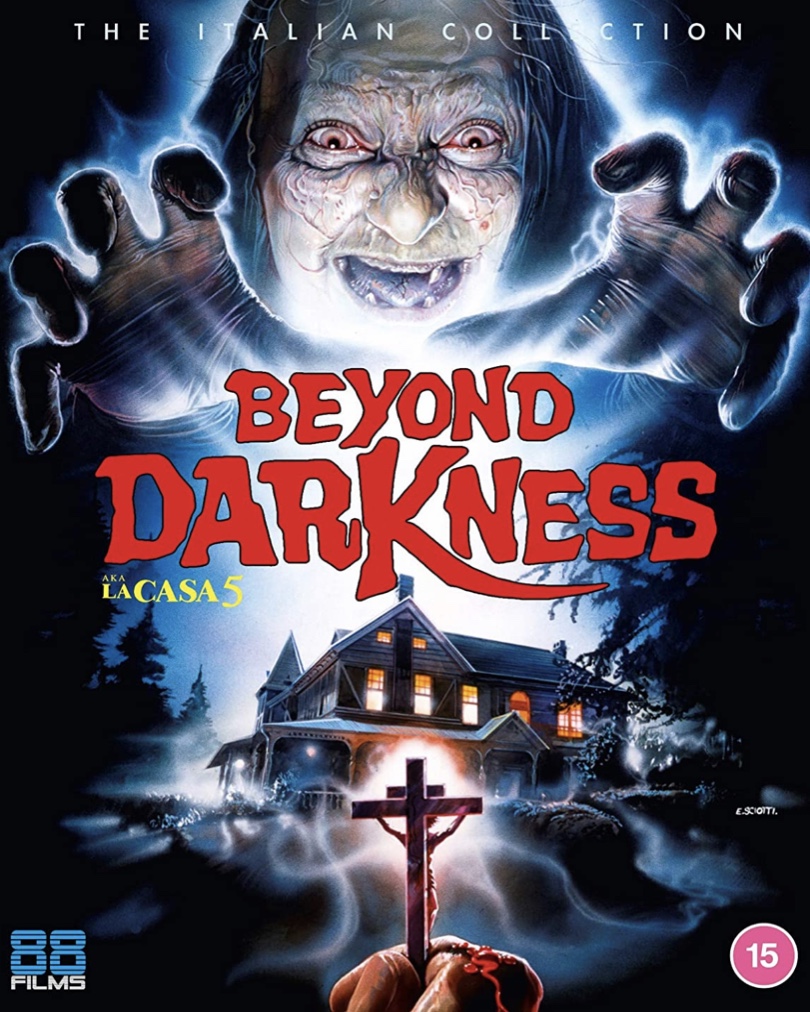 When a man of God and his loving family move into a new house, they think they've found the perfect home … until they discover that their new digs were once the location where a coven of witches were burned at the stake! It's only a matter of time before the radio starts blaring satanic chants and the cutlery takes on a mind of its own.

Will the awakened evil in this house have its final revenge, or can a plucky priest fend off what lurks Beyond Darkness?

This tale of terror comes from Claudio Fragasso, the director of Troll 2 (so you KNOW it's good!).

Video


Typically energetic, goofy mashup of The Exorcist (1973), The Amityville Horror (1979) and Poltergeist (1982) from the husband and wife scripting team of Claudio Fragasso and Rosella Drudi. Fragasso's direction keeps it all moving along at nice clip so it's never boring; they did this in the same year as their notorious turkey Troll 2. Needless to say this is a much, much better, more accomplished film, shot entirely on location in the USA as an American-Italian coproduction with direct sound and no dubbing. Mad as a box of frogs on acid and about as much fun.

This transfer is a slight step down on the one for Witchcraft (Evil Encounters) but much of that comes down to the way the film was shot at the time; hazy, late '80s cinematography, solid slightly muted, more naturalistic colours, hurried production and utilising cheap film stocks. There may also be some DNR baked into the master as grain is not really present. However, the overall appearance is generally pleasing.

Black levels at first seemed a little milky but I found that this was down to the brightness levels being a little high and after I turned them down on my display a couple of notches they improved dramatically. Shadow detail is generally very good although there is some intentional crush; that is to say the makers were probably aware of it due to the fast and dirty low budget lensing on a tight schedule. As with Witchcraft the contrast is fairly low key allowing detail in closeups to shine and no blowouts.

Flesh tones are strong if at times slightly pasty, as befitting that late ''80s style, especially in darker scenes; brightly lit exteriors fare better and more robust.

Audio


English DTS-HD Master Audio 2.0 Mono
Subtitles: English HoH

Sound is generally excellent with decent base and some range considering it's a flat mono track for a low budget film; dialogue is always clear and hearty and the score supportive. However, there are some sibilant issues and crackle distortion at the high end at times. Barbara Bingham's dialogue in the early dinner scene for instance and whenever there's a loud bang or a musical crescendo there is some mild crackle in the right speaker. When I channelled the sound to the 5.1 amp proper, as opposed to using the standard A.F.D. Auto setting which plays the

Extras




Overall



| | | | | |
| --- | --- | --- | --- | --- |
| The Film: | Video: | Audio: | Extras: | Overall: |

---
DVD Compare is a participant in the Amazon Services LLC Associates Program and the Amazon Europe S.a.r.l. Associates Programme, an affiliate advertising program designed to provide a means for sites to earn advertising fees by advertising and linking to amazon.co.uk, amazon.com, amazon.ca, amazon.fr, and amazon.de.