The Film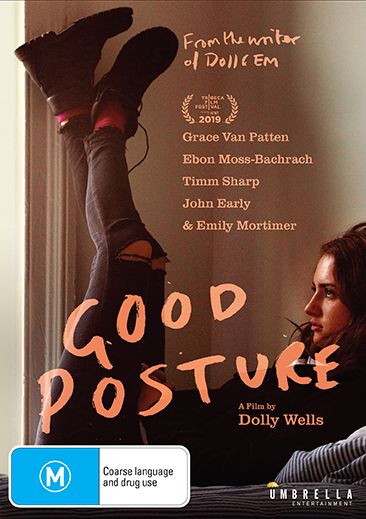 "Good Posture" (2019)

Lilian (played by Grace Van Patten) is a young woman in her early twenties that is lost in life. Her widower father (played by Norbert Leo Butz) has left New York for Paris. Her boyfriend Nate (played by Gary Richardson) decides to break up with her as she was becoming more and more reclusive. She moves in with old family friends Don (played by Ebon Moss-Bachrach and Julia (played by Emily Mortimer) who happen to live in the same Brooklyn neighborhood, and while Don is quite relaxed with his old friend's daughter staying with them, Julia is quite the opposite. She avoids as much contact as possible with Lilian and keeps to herself, and even becoming slightly jealous that her husband is giving some of his time to the houseguest rather than to the wife.

But after a late night argument has Don leaving the house, the sheltered Lilian is left alone with the equally if not more sheltered Julia. The two spend their time communicating by leaving written notes with a bit of spite between them, but upon learning that Julia was an accomplished writer that had become a recluse, it sets off Lilian on a fascinating trail of finding out who the writer is and what had happened to her.

Written and directed by actress Dolly Wells, "Good Posture" (name after the book written by the Julia character) is an indie dramedy that brings nothing particularly new to the table, with characters that suffer from emotional loss, losing direction and set in a hipster environment. But in a positive note, it is a story about characters that are not used to expressing themselves clearly, therefore it is easy to fill in the blanks with the audience's own losses or emotional traps, while still having enough backstories to the characters to have uniqueness. The relationship between Lilian and her father is not very well explained. Why is she getting by living in Brooklyn on her own without a job or school, apparently with him sending her money to make ends meet? When she messages him about some trouble with staying at Don and Julia's, her father is quickly willing to send her more money for an apartment on her own. Is there some guilt of not being able to be with her? Did he run off to Paris purposefully wanting to be away from New York? Does the guilt go back even further? Or is he just a rich guy that doesn't particularly care about things, thinking money will easily solve the issue? As for Lilian, some will argue with, why doesn't she get a job? Why is she relying on others so much rather than taking care of herself? Possibly because that is how she was brought up, or something like her mother's death hindered on her taking chances in life. Regardless of whatever the answers are, the story is about Lilian giving some meaning to her life and doing what others weren't expecting, but hoping.

There are parallels between Lilian and Julia are very apparent to the audience, but within the film itself, the two do not see, or would rather not see the similarities. As the film is told through the eyes of Lilian only, it's hard to see what Julia had gone through or what made her into a reclusive artist. But that is until Lilian suddenly comes up with an idea to make a documentary about Julia using literary critics and people that knew her as test subjects. As inspiring as it sounds, the idea of a person who knows nothing about making a documentary suddenly stating that she would suddenly make a documentary is almost "Full Monty"-esque, as her initial intention was to make her ex-boyfriend feel jealous. There is a great montage sequence of Lilian interviewing various candidates that would help her make the film a reality, with some being utterly serious and others being completely clueless, and it is there she would meet cameraman Sol (played by John Early) who is a standout in the supporting characters. Additionally, the character of George (played by Timm Sharp), the hired dogwalker is also an interesting character that helps Lilian in opening up even if he is more or less on the awkward side himself.

In a similar vein to the works of Noah Baumbach and Lena Dunham, the characters are borderline unbearable as they are interesting, with flaws that are sometimes too obvious and at other times much deeper. "Good Posture" is by no means perfect in its execution, but it certainly has its charms and is able to keep things afloat for the relatively short runtime.

Note this is a region 4 NTSC DVD

Video


Umbrella Entertainment presents the film in the 2.35:1 aspect ratio with anamorphic enhancement. The production was shot on anamorphic lenses and there are many instances of anamorphic distortion on the sides of the frame, making objects and figures tall and squeezed. Shot digitally, the production looks very good, with browns and pale colors taking the center stage, with some instances of brightly colored situations interspersed. Detail is strong and there are no particular drawbacks to the transfer itself.

The film's runtime is 91:44.

Audio


English Dolby Digital 5.1
Being a dialogue centered film, there film is mostly center speaker based. Dialogue is always clear
The soundtrack cues from The Breeders, Karen O among others sound very good, using the 5.1 soundscape, though mostly in the fronts, while the score by Heather Christian with piano cues and electronic beats also sounds quite good. It is well balanced and there are no problematic issues to speak of.

There are no subtitles for the main feature.

Extras


Unfortunately no extras are included on the disc. Though not available on the disc, the trailer courtesy of Umbrella Entertainment has been embedded below.



Overall


"Good Posture" has some good points to focus on, but doesn't feel fresh enough to separate it from hipster setting or other works that have inspired it. The Umbrella Entertainment DVD gives the film a good presentation with audio and video, but no extras are provided to supplement it.
| | | | | |
| --- | --- | --- | --- | --- |
| The Film: B- | Video: A | Audio: A | Extras: F- | Overall: C |