The Film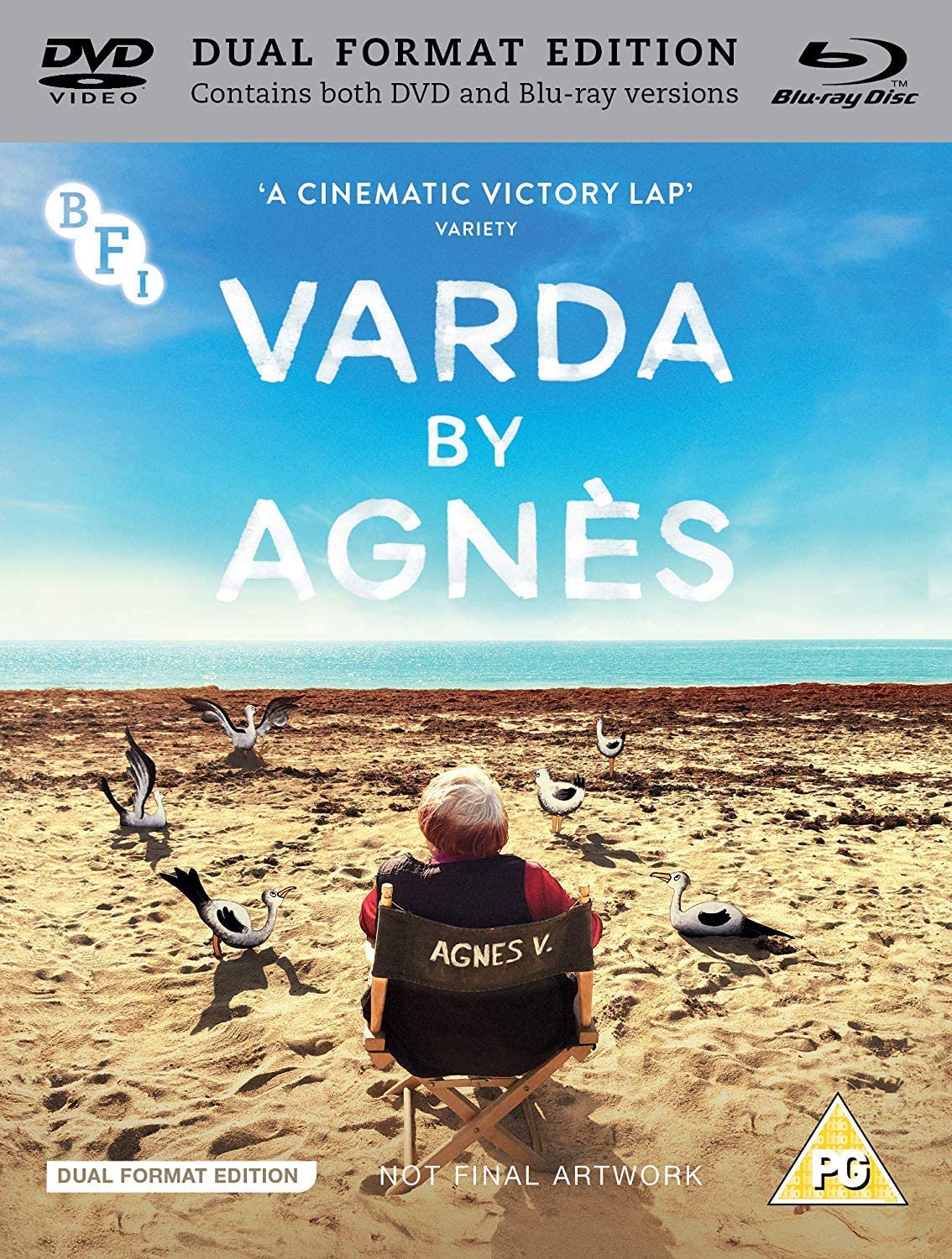 "Varda by Agnès" ("Varda par Agnès") (2019)

Photographer, artist, filmmaker Agnès Varda created some of the most creative, ambitious, socially aware, experimental, and heartfelt works in cinema and beyond through her very lengthy career, and it was a sad day when she passed away on March 29th, 2019 at the age of 90. The Belgian-born France based filmmaker was one of the pioneers of the French New Wave from the 1950s and one of the few female filmmakers in the director's chair, and throughout the decades and into the new millennium continued to work in various forms of art. From her eye in photography posted on her Instagram to art installations using multiple screens at museums, she had continued to work beyond the two dimensional realm of standard cinema in the new millennium with feisty creativity.

In "Varda by Agnès", Varda essentially makes the most meta and personal film of her entire career, by the subject being Agnès Varda career. The documentary film starts at a lecture she gives to a welcoming audience filled with film aficionados much younger than her. She discusses the three words that had guided her through life as an artist: Inspiration, Creation, Sharing. She shows her own film clips illustrating and complimenting her words, with examples of some of her proudest moments. From her multi-take introduction to meeting her uncle in San Francisco in "Uncle Yanco" (1967), a woman's look at life and possible death in a span of 90 minutes in "Cléo from 5 to 7" (1962), black beauty and power in the documentary short "Black Panthers" (1968), a teenage girl's lonesome and heartbreaking journey in "Vagabond", and the list goes on and on. Each clip demonstrates some of her creativity, from the editing techniques, the use of colors, the backgrounds of the characters and performers, the use of tracking shots, and not being afraid to take chances with going against conventions, whether in dramatic narrative pieces or in documentary works.

It's fairly interesting to see her demonstrate the use of tracking shots, as instead of in the theater with the audience, instead it cuts to outdoors where an actual tracking shot shown, filming a track with a cart and Varda sitting on it as she explains the process. The film frequently cuts back and forth to Varda indoors at her lecture, to outdoor scenes, other Q&As done, vintage clips of Varda giving explanations, and more, for a non-linear cut and paste structure. The talks are not in any particular chronological order, but more in line with her thoughts and themes rather than a standard timeline look at her works. In addition, in many occasions the film clips shown in between do not have captions to mark the titles, so while fans might know what the clips are, they are not meant to have audiences jot down names of the works to see, but instead having them memo what the context is. Essentially Varda gives a fascinating film school lecture using her own works as the materials, and who better to discuss everything than the artist herself? There is no moderator, there are no questions taken from the audience in the presentation. She has notes but oftentimes she gets sidetracked and skips over a few things here and there, but that is all part of her structure like her documentary works. Whatever happens happens, and in those situations something more interesting might arise.

Feminism and having strong females in her works were always key, as seen with Sandrine Bonnaire in "Vagabond" who is interviewed by Varda in one segment, Jane Birken in the artistic documentary portrait in "Jane B. par Agnès V." (1988), activist Kathleen Cleaver in "Black Panthers". Motherhood is also a common factor as seen in "Diary of a Pregnant Woman" (1958), Sabine Mamou as the single mother in Los Angeles in "Documenteur" (1981), or the "Kung Fu Master!" (1988) starring Jane Birken alongside her own daughter Charlotte Gainsbourg and Varda's own son Mathieu Demy (with the title coming from the video game "Kung Fu", as this is not a martial arts film). Mathieu Demy is Varda's son from her second marriage to acclaimed filmmaker Jacques Demy, and some of her works paid great tribute to her late husband who died in 1990, with 1991's "Jacquot de Nantes" based on his childhood, and also directing the documentaries "The Young Girls Are 25", revisiting Demy's landmark musical feature "The Young Girls of Rochefort" (1967) and the feature length "The World of Jacques Demy" in 1995.

Not to say all her works were successes, as she said. 1995's "One Hundred and One Nights" had an amazing cast of actors from Alain Delon to Robert De Niro but failed at the box office. She states some of her early works were not as great as some might think. But Varda doesn't stop at failure and instead finds inspiration from her experiences, as one of her important words has always stated. Always creative and never afraid to take risks, Varda truly represented not just one of the finest French New Wave filmmakers, not just one of the greatest female filmmakers, but one of the most important filmmakers of all time. "Varda by Agnès" may not have been planned as her final work but it perfectly cements what kind of filmmaker she was in the two hour runtime while also being a great closure by having her own words and thoughts look back at her extraordinary career. First screened at the Berlin International Film Festival on February 13th, 2019, the French release followed a month later on March 18th, 2019. Eleven days later, she died from cancer. Though she has passed away, her works still live on and her works will continue to inspire new generations, and for anyone looking for a gateway film, "Varda by Agnès" is an easy recommendation, making anyone who sees it want to delve deep into her filmography.

Note this is a region B Blu-ray / region 2 DVD set

Video


The BFI presents the film in the 1.78:1 aspect ratio in 1080i 50hz AVC MPEG-4. Most of the film is in 1.78:1, though film clips and vintage footage are in their original ratios with black bars in appropriate areas. The HD shot footage of Varda on stage or in other situations look absolutely great as expected. The clips of her works will vary due to age and source, but almost all of them come from fully restored sources and therefore look absolutely great. Film grain is kept intact with very little damage or other issues to be noted. Some of the behind the scenes footage or vintage clips shot on 16mm or 8mm will look much grainier with lesser colors, and video sourced footage will of course have its own blurry issues. Some of the transfers are also coming from interlaced sources and combing motions can be seen. But they are as good as they come and overall the transfer looks excellent.

The film's runtime on Blu-ray is 114:49 and on the DVD is 114:50, both running in the 25fps framerate.


Audio


Blu-ray:
French DTS-HD Master Audio 5.1
French LPCM 2.0 stereo
DVD:
French Dolby Digital 5.1
French Dolby Digital 2.0 stereo
Being a documentary production mostly filled with Varda narrating and most of her film works being in mono, there is very little for the 5.1 track to do in this production. There are occasional music tracks that spread to the lefts and rights but don't expect too much activity besides the center speaker. The 2.0 track is also similar in fashion with most of the film sounding in mono. On the more positive side, the microphone has recorded her very well in the lecture portions as well as her outdoor segments. The film clips might have some minor fidelity issues, but as with the picture the sound has been restored so there is little to be heard in terms of hisses, pops, or other damage.

There are optional English subtitles in a white font for the film. There are a few minor portions of English spoken but these are not subtitled.

Extras


This is a dual format set with the film and extras in HD on the Blu-ray and the content repeated in standard definition PAL on the DVD.

Blu-ray

"Agnès Varda in Conversation" 2018 BFI Southbank talk (82:39)
Recorded on July 10th, 2018 at the BFI Southbank, Varda gives a lengthy talk in English similar to that of her talks seen in "Varda by Agnès", along with film clips and examples of her museum installations shown. There is finally a short Q&A session with moderator Francine Stock at the last 9 minutes. The French film clips shown have burned-in English subtitles.
in 1080i 50hz AVC MPEG-4, in 1.78:1, in English/French Dolby Digital 2.0 with burned-in English subtitles for the French portions

"Agnès Varda: Filmmaker, Photographer, Instagrammer" featurette (11:31)
Talking through a handcrafted Instagram inspired cutout titled "Vardagram" at the top, Varda talks about being an Instagrammer in the modern era, while also discussing photography and the inspiration she received throughout the years with technological advances. The interview portions with her are in English while the occasional film clips are in French with subtitles.
in 1080i 50hz AVC MPEG-4, in 1.78:1, in English/French Dolby Digital 2.0 with burned-in English subtitles for the French portions

"Agnès Varda: Righteous Joy and Anger" visual essay (7:55)
Film critic Amy Simmons narrates this visual essay which focuses on Varda's lesser known but highly recommended works. Included are thoughts on "Diary of a Pregnant Woman", "Black Panthers", "Women Reply", and "Documenteur" alongside clips of other works like "Uncle Yanco".
in 1080i 50hz AVC MPEG-4, in 1.78:1, in English Dolby Digital 2.0 with no subtitles

Trailer (2:37)
The original trailer is presented with Varda's narration. While it's mostly in 1.78:1, clips in different aspect ratios are appropriately windowboxed. This is the English trailer with the English title attached.
in 1080p AVC MPEG-4, in 1.78:1, in French DTS-HD Master Audio 5.1 with optional English subtitles


DVD

"Agnès Varda in Conversation" 2018 BFI Southbank talk (82:39)
"Agnès Varda: Filmmaker, Photographer, Instagrammer" featurette (11:31)
"Agnès Varda: Righteous Joy and Anger" visual essay (7:55)
Trailer (2:37)
The same content in the PAL format.


Booklet
A 36 page booklet is provided in the first pressing, which includes essays by So Mayer and Isabel Stevens, a contemporary review, credits, notes on the extras and more. (The booklet was not provided for this review.)


This is currently the only Blu-ray edition of the film available, though it will be part of "The Complete Films of Agnès Varda" boxset from The Criterion Collection in the US, available in August 2020.

Overall


"Varda by Agnès" is a gorgeous and insightful personal look at Varda's work through her own eyes and words, and is a wonderful swansong to a lengthy and inspiring career. The BFI release has a great transfer and excellent extras making this highly recommended.
| | | | | |
| --- | --- | --- | --- | --- |
| The Film: A | Video: A | Audio: B | Extras: A | Overall: A- |