Tartuffe [Blu-ray]
Blu-ray A - America - Kino Lorber
Review written by and copyright: Eric Cotenas (1st July 2020).
The Film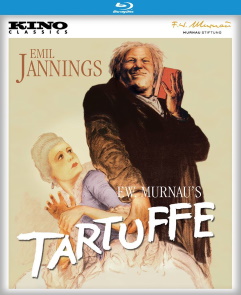 Elmire (Destiny's Lil Dagover) is looking forward to the return of her husband Orgon (Waxworks' Werner Krauss) from a trip, but she hardly recognizes him upon reunion. Gone is his cheerful and lusty demeanor. He is solemn and withdrawing, burying his nose in a copy of the Bible and shunning the luxuries of their home as extravagances from light bulbs, artwork, and furnishings to the extra staff of longtime family retainers who he fires apart from housekeeper Dorine (Lucie Höflich). The cause of this change is Tartuffe (Varieté's Emil Jannings), a strictly pious individual whose acquaintance Orgon has made on his trip and who he has invited into his home as a guest. Despite spending virtually every waking moment with Tartuffe, Orgon is blind to his hypocrisy, demonstrated in his gluttonous appetite and love of the grape, as well as his leering behavior towards Elmire. Dorine conspires with Elmire to expose Tartuffe's true self to Orgon, but Tartuffe is even more cunning, pushing Elmire to desperation as Orgon is on the verge of signing away his home and possessions to his duplicitous friend.

Adapted by Carl Mayer (Sunrise) from the play by Molière, F.W. Murnau's film Tartuffe feels less substantial and impersonal on the level of The Haunted Castle coming as it does after Nosferatu, Phantom, and The Last Laugh and largely pruned of extraneous characters like Orgon's daughter and her love interest. In place of this is a framing story which sort of turns the film into a chamber play within a chamber play as the tale of Tartuffe is used Hamlet-style by a young actor in disguise (Light Cavalry's André Mattoni) whose wealthy and ailing grandfather (Svengali's Hermann Picha) has been convinced by his scheming housekeeper (The Blue Angel's Rosa Valetti) to disown him for living a dissolute life and bequeath his estate to her instead. Murnau makes little of the artifice of the touring cinema telling of Tartuffe, simply cutting from a blank screen to the film within a film and back at the end. The performances of Dagover and Krauss are easily overshadowed by their better work in The Cabinet of Dr. Caligari and the cinematography of Karl Freund (The Mummy) seems less inspired than the production design of Robert Herlth (Faust) and Walter Röhrig (The Chronicles of the Gray House) which extends to a three story set for the interior of Orgon's mansion and a nice miniature exterior but that is seemingly more window dressing on the dime of producer Erich Pommer (Metropolis) for a project he might have felt had more pedigree than Faust on which Murnau had been in pre-production when Pommer put him on Tartuffe. If it is on a lower tier than other works of Murnau, it is still worth seeing as a Murnau film.

Video


Long unavailable on home video, Tartuffe had its first photochemical restoration in 2002 using a print of the American release version, and this was the source for Kino Video's 2003 DVD – reissued a year later in The F.W. Murnau Collection – as well as the source for overseas DVDs with the English intertitles replaced by German ones. The tinted nitrate print was subsequently donated by the Library of Congress to Berlin's Bundesarchiv-Filmarchiv and underwent a 2K restoration in 2013. The German and export negatives are all lost, so the restoration of the U.S. release was used along with a Swiss print to fill in missing portions of a dupe negative with German intertitles found at the Gosfilmofond in Moscow for a restoration finished in 2015. Given the patchwork nature of the materials and the combination of original amber tinted materials and digitally tinted black and white materials, the 1080p24 MPEG-4 AVC 1.33:1 pillarboxed fullscreen transfer of the German version (70:35) is rather inconsistent, with the German material looking really no better or worse than the transfer of the U.S. release version (64:11). While some of the better silent film restorations can look like they were shot yesterday, the restoration of Tartuffe does yield superior detail to the DVD but it still looks very much like ones general impression of a silent film (scratched, of inconsistent sharpness, flicker-y, and sometimes harshly contrasty).

Audio


The U.S. version carries over the Javier Perez De Azpeit piano score from the Kino Video release – its presence on the foreign DVDs confirming the source – presented here in LPCM 2.0 stereo while the German version features a new score by Robert Israel in both DTS-HD Master Audio 5.1 and 2.0 stereo. The U.S. version has original English intertitles and the German has original German intertitles translated by optional English subtitles.

Extras


The only extra is an audio commentary by film historian Troy Howarth in which he discusses the origins of the production, the differences between the source play and the adaptation, as well as production trivia.

Overall


If Tartuffe is on a lower tier than other works of Murnau, it is still worth seeing as a Murnau film.

---
DVD Compare is a participant in the Amazon Services LLC Associates Program and the Amazon Europe S.a.r.l. Associates Programme, an affiliate advertising program designed to provide a means for sites to earn advertising fees by advertising and linking to amazon.co.uk, amazon.com, amazon.ca, amazon.fr, and amazon.de.