Valhalla AKA Valhalla: Legend of Thor
R2 - United Kingdom - Signature Entertainment
Review written by and copyright: Rick Curzon (3rd July 2020).
The Film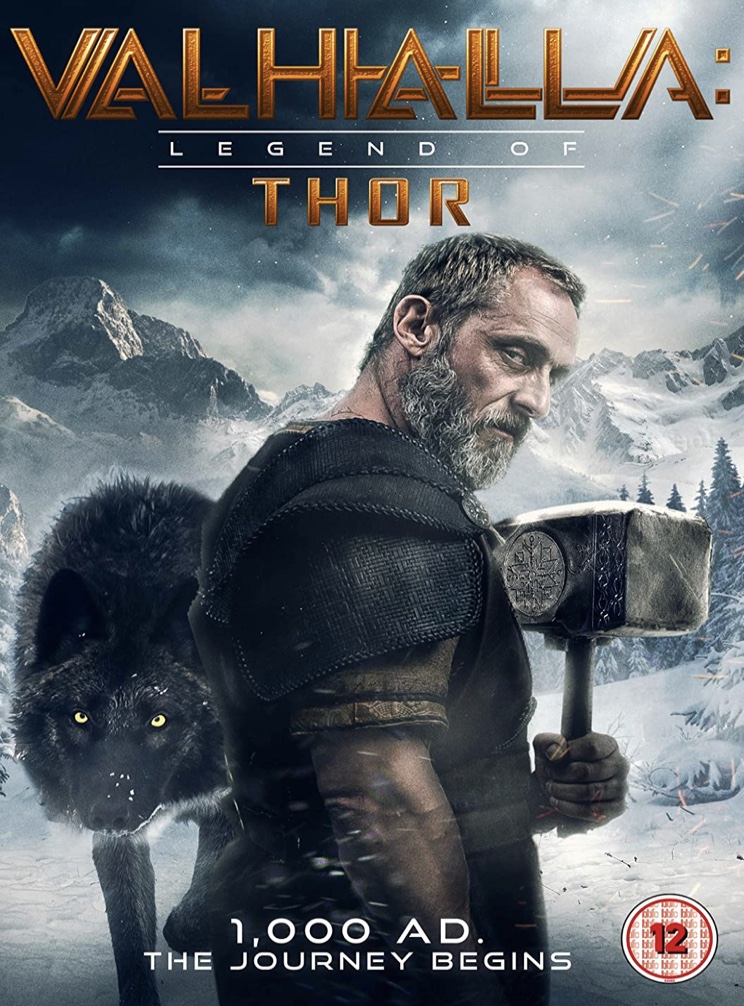 No man, woman or child may defy the gods.

When Thor and Loki seek refuge in the home of mortals, the youngest son fails to heed a warning from the gods. As atonement for the family's sins, the gods take the two youngest children under their wing and embark on an epic adventure from Midgard to Valhalla that will see them stare down ruthless giants, barbaric gods and the dreaded wolf Fenrir.

Ragnarok is coming...

Video


Thor (Roland Møller) and Loki (Dulfi Al-Jabouri) are travelling through Midgard and stay with a mortal family. When the children disobey the gods' orders, they're taken to serve in Asgard as servants as punishment. Along the way they encounter magical beings and great peril.

Hard edged, rationalist but engaging ... always interesting epic (from a comic source) about one of the legends of Thor and Loki and of the two young children they capture on their journey. I like the way the gods are very much of human stature here and not overblown in depiction. Spectacular and action filled when it needs to be with a good script and fine performances.

This is very much a family film ala the Hollywood superhero epics of recent vintage and I suspect has much greater resonance in Denmark where the ancient legends are more widely known. Scenery is truly spectacular and the SPFX of the creatures and vistas are well done. It's a low key version of the story; giants are just big dudes but there are other fantasy pleasures to be had like the immense, mystical wolf.

This would make for a great double bill with Nicholas Winding Refn's Valhalla Rising (2009). Fenar Ahmad's fine film is based on the popular Danish comic series first published in 1978 in strip form and the album from '79; adapted into a Danish animated feature in 1986.

The kind of film that cries out for as high a quality an image as can be obtained so this DVD only release from Signature Entertainment is disappointing in that it's just a DVD and not a BD. This is a recent digitally lensed production so has that slightly soft overall cast typical I find of digital productions; it lacks the grainy texture of photochemical film and that is a shame as you just can't beat that filmic look. Especially in a gritty epic like we have here.

The colour palette is naturalistic with richness and density ebbing and flowing according to the amount of available light. Flesh tones remain natural and satisfying. Interiors are darker, deeper, richer with deep shadows and rich black levels. I didn't notice any unintended crush but I'm sure that a BD or UHD BD would improve on the image immensely. The contrast is typically low key and supportive of detail with no blown out highlights; this is a dark film so detail is well presented with no real opportunities for blowouts.

For a DVD on a single layered disc this is as good as it gets = B+


PAL / MPEG-2 / 2.4:1 / 101:01

Audio


Danish Dolby Digital 5.1
Danish Dolby Digital 2.0 Stereo
Subtitles: English

The sound quality on this is an improvement on other Signature Entertainment DVDs that I've covered in that the volume level is higher and didn't require me to increase volume in order to hear what was being said. My system is perfectly set up and most recent DVDs I've had from Signature have required me to raise the volume from 20 (my normal setting) to 30 in order to understand dialogue and get the most out of the 5.1 tracks.

This is a typically excellent - if lossy - 5.1 track with great use of ambiance and score in the surrounds. Dialogue is mostly in the front centre; the subwoofer was engaged on several occasions both subtly and more majestically according to the flow of the story. Subtitles are provided but not for the hearing impaired, just standard translations of the Danish dialogue.

Top marks for a lossy Dolby Digital track = B+

Extras


Startup Trailers:
- The Iron Mask (1:40)
- Enemy Lines (1:38)

Two films that look entertaining, the first certainly is, as I've recently reviewed the Blu-ray release. However, paltry extras for a release that deserves much more contextual added value.

Packaging


Standard black DVD keepcase with a card outer sleeve that reproduces precisely the main sleeve art.

Overall


The film is great fun; engrossing, involving and well produced with excellent performances. A crying shame that the excellent image and sound being as good as we can expect for a modern, recent production on the format hasn't been granted a BD release. Consequently I can only grant both B+.

There are no extras to speak of, not even EPK puff pieces but material on the real legends of Denmark or the comics source would've been a huge plus. This is a cheaply obtained disc even on day one so obviously I highly recommend it. Reql enthusiasts will probably seek out a BD release from elsewhere around the globe.
| | | | | |
| --- | --- | --- | --- | --- |
| The Film: A- | Video: B+ | Audio: B+ | Extras: E | Overall: C+ |

---
DVD Compare is a participant in the Amazon Services LLC Associates Program and the Amazon Europe S.a.r.l. Associates Programme, an affiliate advertising program designed to provide a means for sites to earn advertising fees by advertising and linking to amazon.co.uk, amazon.com, amazon.ca, amazon.fr, and amazon.de.