The Film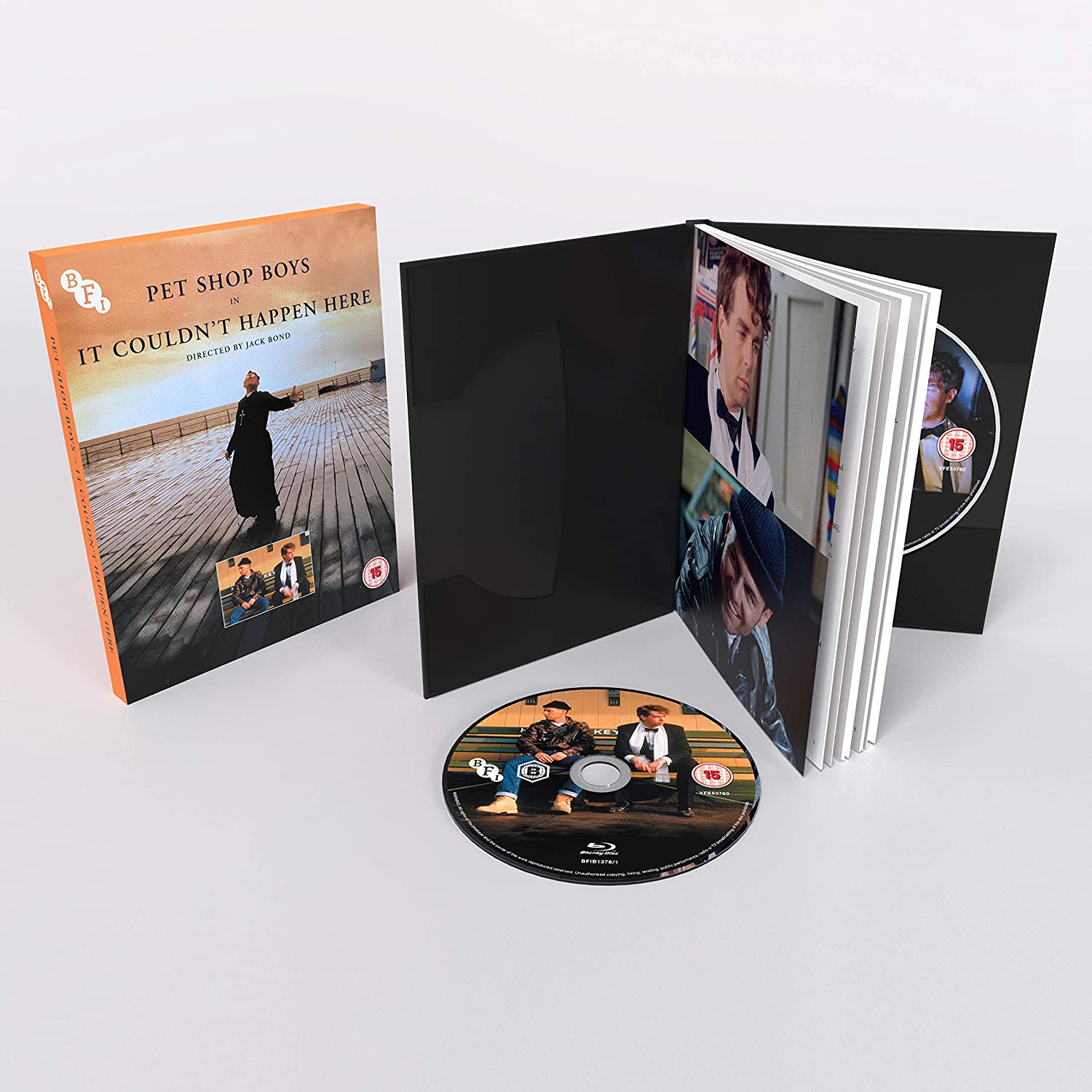 "It Couldn't Happen Here" (1987)

Electronic synth pop duo Pet Shop Boys scored with both critics and music fans with their 1986 debut "Please", with memorable hits like "Opportunities", "Suburbia", and "West End Girls", the last which topped the charts in their native UK, in the US, and in Canada. The album went platinum in the UK and the US and scored high on the charts in many other countries around the world. A follow-up album was highly anticipated, and their label EMI Records gave them an opportunity to promote their sophomore album with a extended long form music video release through their film division PMI (Picture Music International).

The duo, comprised of Neil Tennant and Chris Lowe, met with director Jack Bond and collaborated on the long form video, but with ideas expanding further, the project was looking to become a feature length production rather than a promotional piece. In the summer of 1987, Pet Shop Boys released the singles "It's a Sin" and "What Have I Done to Deserve This?" (featuring Dusty Springfield) which both hit high on the charts around the world, and it was in September that their second and highly anticipated album "Actually" was released. Soonafter, the duo were off to the seaside town of Clacton during hurricane season to film the accompanying feature film, originally titled "Actually" and eventually settled on "It Couldn't Happen Here".

So what is the story of "It Couldn't Happen Here", basically? A musical road movie is as easy as an explanation could be, but this is far from the ordinary. There are sexy nuns, hooligans beating down a phone booth, a blind priest during two young boys who also happen to be named Neil and Chris, a knife wielding serial killer on the loose, a car dealer with lightbulbs covering his jacket, a ventriloquist dummy that talks without the aid of his puppeteer, a disgruntled airline pilot, and even a man on fire just walking idly. Comprised of eleven songs by Pet Shop Boys played and lip synced by Tennant throughout, the tracks are not in the order of the album, but instead made up of songs from the new album "Actually" along with some tracks from "Please" and also an exclusive track with a cover of "Always on My Mind". The narrative is quite impossible to piece together. There are quick happenings here and there, with the Boys traveling from seaside town in their newly bought car, but with the odd and unexplained happenings on the way, sometimes not even involving the Boys at all, it's closer to channel flipping rather than one cohesive and linear piece. But somehow, it works.

MTV launched in 1981 which revolutionized the music industry by having musicians make promotional clips for their songs to be played on a dedicated channel. There were shows such as Soul Train and Solid Gold that had musicians perform on stage for real and/or fake audiences, but individual music videos meant the creativity could be put into individual short films. The United Kingdom were ahead of the Americans in the music video department, with many music shows already dedicated to showing pre-made music clips from the artists, and by the time MTV was ready to roll, the clips were dominated by the British new wave, as they already had a catalogue from the 70s onward. Experimental filmmakers were given free reign, and unconventional approaches taking inspiration from filmmakers outside the mainstream suddenly became the mainstream. Jump cuts that Jean-Luc Godard pioneered became the norm in music clips. The cut and paste styles, painting directly onto the film itself, and other radical techniques pioneered by Stan Brakhage were frequently used by up and coming filmmakers. Radicals of British cinema like Julien Temple and Derek Jarman found a great home directing music videos, with the latter directing "It's a Sin" and "Rent" for Pet Shop Boys. Many early music videos were where the focus was with the image of the artist and doing what couldn't be done elsewhere. From choreographed dance without a connecting narrative, cuts between performance to something else entirely, and sometimes shocking or in your face images flared with color and beauty or even ugliness.

Director Jack Bond was not known for his music video work but he had experience in music videos, but had lengthy experience in cutting film trailers, directing experimental film such as "Separation" (1968) and "Anti-Clock" (1969), plus directing various episodes of The Southbank Show. Along with co-writer James Dillon, the two worked with Pet Shop Boys on crafting the so called story with various scenarios pieced together, and have Tennant and Lowe perform as actors. Lowe being the always quiet member of the duo, is obviously given the least amount of lines (and surprising that he even was given lines at all), and it's safe to say that neither of them are particularly "good" as actors. Even Tennant stated that there was no preparation to the acting and basically just reacting and living in the surreal environment throughout. Even though the two were amateurs in the acting medium, they were surrounded by some talented names. Joss Acklund plays dual roles as the blind priest and as the murderer. Neil Dickson plays the pilot as well as the car salesman. Gareth Hunt plays the annoyingly comical Uncle Dredge, the postcard seller, and the ventriloquist that doesn't use the dummy. Barbara Windsor plays Neil's mother and also the bed and breakfast landlady. As for the numerous dance sequences, famed choreographer and pioneer in music video dance choreography Arlene Phillips created scenes ranging from burlesque dancing to ballet to ballroom dancing with well trained performers.

As for connections between songs and visuals, there could be interpretations, like "It's a Sin" being used in the burlesque show and the young boys watching, or "Always on My Mind" having a sinister edge with the murderer also singing along. Some critics and fans have even pointed out a political edge to the film, with the anxieties of the conservative Thatcher led government increasing its power at the time and the film was an opposition looking at breaking free. Some might see hidden messages or easter eggs throughout. Others might just see a series of scenarios with challenging and creative visuals and that would be all. The filmmakers and the Boys never gave a full on explanation or deconstruction of the film (and even in this Blu-ray/DVD set, the extras will not shed too much light either), but what makes "It Couldn't Happen Here" so interesting is that the visual style and the marriage of the music and image is an extensive and expanded look at how the music business was turning to the visual medium as a new form of promotional media, and letting creative sparks fly. Essentially the the 86 minute film is a long 1980s music video, and considering how bland the music video scene has turned in the 2000s with the downturn of MTV and music videos dedicated more to YouTube, "It Couldn't Happen Here" is an incredibly entertaining piece which has stood the test of time by not being part of a the norm.

The film itself was completed as a rough form at the end of 1987 for EMI Records, and clips from the film were edited together for a music video for "Always on My Mind", which topped the charts at Christmastime. Further editing including added narration by Tennant, and was finally given a theatrical release in the United States in May 1988 followed by a UK theatrical release in July 1988. Although the duo was riding high with their fourth single "Heart" from "Actually" being a chart topper, it didn't help with the $4 million production to become a theatrical hit. Some of the critics were not kind to the film, seeing it as a surreal film without a cohesive narrative and being basically "an MTV film" rather than a cinematic piece. It was issued on VHS and Laserdisc in the 1990s - a decade that saw Pet Shop Boys continue their success with gold and platinum sales even though the dominance of rock and hip hop pushed many other dance pop acts out of the spotlight. Interestingly the film was out of circulation during the digital age until now, with 2020 seeing a 4K restoration of the film and being issued on Blu-ray and DVD for the first time ever from the BFI in this lavish set for both old fans and for new generations.

Note this is a region B Blu-ray / region 2 PAL DVD set

Video


The BFI presents the film in the theatrical 1.85:1 aspect ratio in 1080p AVC MPEG-4. The original 35mm duplicate positive from Warner Music was remastered in 4K resolution, with the transfer supervised and approved by director Jack Bond and lighting cameraman Simon Archer. It may not say "original negative" for the restoration source, but the result is absolutely breathtaking. With the film being unavailable in the digital age and its best home video incarnation being the Laserdisc, this new restoration brings the colorful and imaginative production to a well deserved place for the shelves of fans and for future generations. Blues, greens, reds, blacks all look bold and crisp, detail is excellent throughout, damage is extremely minimal or non-existent, and film grain is kept consistent and intact. Most likely the film looks better here in the restoration than it did during its original theatrical run in 1988.

The film's runtime is 85:48 on the Blu-ray and 82:22 on the DVD accounting for 4% PAL speedup. While there are arguments on the positives and negatives regarding NTSC and PAL formats, here is a case where the PAL version does suffer due to the 4% speedup. All the songs that PSB fans are familiar with will run slightly faster than how it was recorded. The Blu-ray is definitely the way to go to experience the sound and visuals as intended.


Audio


Blu-ray:
English LPCM 2.0 stereo
DVD:
English Dolby Digital 2.0 stereo
The original stereo audio was remastered from the 35mm materials. Those hoping for 5.1 remixes or an upgrade might be disappointed with the specs, but the stereo track is very pleasing and sounding excellent throughout. All eleven PSB songs featured in the production are presented with broad stereo separation, echoes from Tennant's vocals are clear, and every synth beat sounds incredibly full. The dialogue and effects are also great, with voices being centered and always clear to hear. There are no issues with hisses or pops or other anomalies. An excellent soundtrack to compliment the excellent visuals.

There are optional English HoH subtitles for the main feature in a white font, captioning both the dialogue and the song lyrics.

Extras


This is a dual format set with the film and extras in HD on the Blu-ray and the content repeated in standard definition PAL on the DVD.

Blu-ray

Audio commentary with director Jack Bond, art director James Dillon and lighting cameraman Simon Archer (2020)
In this newly recorded audio commentary, Bond is joined by art director and co-writer James Dillon and cinematographer Simon Archer, credited as "lighting cameraman", with the three recalling the production from over thirty years ago. They discuss the bad weather encountered in Clacton during the production, details of the setups of the indoor scenes, the advice given to Bond by legendary director David Lean, the airplane sequences, and more. While there are good anecdotes here and there, the commentary has too many dead air spaces and the three just pointing and saying "look at that" rather than having more insightful details to share. A moderator may have made things run more smoothly.
in English Dolby Digital 2.0 with no subtitles

"West End Boy: Jack Bond" 2020 featurette (27:04)
Bond sits down for a solo interview in which he first discusses his childhood with an abusive father, his early days working at the BBC, encounters and works with some amazing talents including Bob Dylan and Andy Warhol, plus a great story of how he met David Lean. In addition he discusses how he got his position making a film for Pet Shop Boys and some details on the making of the film.
in 1080p AVC MPEG-4, in 1.78:1, in English Dolby Digital 2.0 with no subtitles

"It Can Happen Here: Arlene Phillips" 2020 featurette (25:35)
Arlene Phillips discusses her career in dance and dance choreography, highlighted by early works in film with "Can't Stop the Music" (1980) and "Annie" (1982), plus the birth of MTV giving her incredible opportunities working with Donna Summer, Whitney Houston, Sheena Easton, and of course Pet Shop Boys.
in 1080p AVC MPEG-4, in 1.78:1, in English Dolby Digital 2.0 with no subtitles

"Always on My Mind" 1987 music video (5:22)
Featuring clips of "It Couldn't Happen Here", especially the sequence in the car with the killer, the non-album single was covered by hundreds of artists over the years and has had many of them hit the charts, including Elvis Presley in 1972, Brenda Lee in 1972, and Willie Nelson in 1982. Commemorating the 10th anniversary of Presley's death, the Pet Shop Boys' version became the number 1 song during Christmas of 1987, and charted in the top ten in dozens of countries. Though the clip can be seen as a promotional vehicle for the film, the single and video was released more than half a year prior to the general theatrical screenings of the film, which probably left fans and viewers of MTV confused on the context.
in 1080p AVC MPEG-4, in 1.78:1, in English LPCM 2.0 with no subtitles

Trailer (2:23)
The original trailer has been reconstructed using footage from the 4K restoration which obviously looks and sounds excellent. In a rare case these days for the BFI, there are optional English HoH subtitles offered on this extra.
in 1080p AVC MPEG-4, in 1.78:1, in English LPCM 2.0 with optional English HoH subtitles

As it Happened
- Actually (second draft script) (96 images)
- It Couldn't Happen Here (release script) (1988) (177 images)
- It Couldn't Happen Here (lyric reference sheet) (32 images)
- It Couldn't Happen Here shot list (6 images)
- It Couldn't Happen Here image gallery (31 images)
An extensive series of stills are presented here, including the ideas for the production originally titled "Actually", detailed script notes, stills of posters and early video artwork, and more.
in 1080p AVC MPEG-4


DVD

Audio commentary with director Jack Bond, art director James Dillon and lighting cameraman Simon Archer (2020)
"West End Boy: Jack Bond" 2020 featurette (25:59)
"It Can Happen Here: Arlene Phillips" 2020 featurette (24:34)
"Always on My Mind" 1987 music video (5:22)
Trailer (2:17)
As it Happened
- Actually (second draft script) (96 images)
- It Couldn't Happen Here (release script) (1988) (177 images)
- It Couldn't Happen Here (lyric reference sheet) (32 images)
- It Couldn't Happen Here shot list (6 images)
- It Couldn't Happen Here image gallery (31 images)
The film and extras are repeated on the DVD in standard definition PAL.


Booklet
There is a 52 page booklet as part of the Digi-book packaging. First is a single page note from director Jack Bond. Next is an interview with Neil Tennant by the BFI's John Ramchandani entitled "Beautiful and Weird and Silly" in which Tennant looks back at the film's production. This is followed by two pages of dates and notes from Tennant's production diary from 1987 and 1988. "Don't You Wonder Sometimes 'Bout Sound and Vision" by Jason Wood is next, which puts the film in context against other films with recording artists. Anthony Nield of Powerhouse Films writes "Video Stars" about Pet Shop Boys, the film, and the time at the rise of music videos. Next is "I Heard It in the House of Commons: Everything's for Sale" by BFI's William Fowler, about the film and the political climate in the UK at the time. "Retrospective", written by Omar Ali looks back at the lengthy four decade career of Pet Shop Boys. There are text biographies on Jack Bond, Gareth Hunt, Barbara Windsor, and Arlene Phillips, full film credits, special features information, notes on the presentation, acknowledgements, and stills.


Prior to the release of the film theatrically, Pet Shop Boys and Jack Bond collaborated once more on a music video for "Heart", released in March of 1988. Shot in Slovenia, it was inspired by "Dracula" and starred Sir Ian McKellen in the vampire role. Unfortunately this video is not included in this set.


The restored trailer courtesy of the BFI is embedded below, with the only difference being the final moment of the film's title credit in the original trailer (and on the Blu-ray/DVD) being replaced with an ad for the Blu-ray/DVD set.



Packaging


The set comes in a 52-page liner notes hardback Digi-book case with slots for both the Blu-ray and DVD. The Digi-book is housed in a outer slipcase.

The limited edition Digi-book package sold out almost immediately after release date, and for fans that missed out the BFI are reissuing the set in a standard edition case in late July 2020

Overall


"It Couldn't Happen Here" is a crowning surreal music film that celebrates the visual and aural creativeness of the 1980s with Pet Shop Boys in their prime. It may not make sense, it may lack coherence, but it's a wild trip that never bores and continues to be mind blowing. Pet Shop Boys released their 14th album "Hotspot" earlier this year and even though they are about to enter their fourth decade in the music business, they are as creative and exciting as ever. It's a great time to be a PSB fan and this stellar BFI dual format set is easily one of the best discs of the year so far.
| | | | | |
| --- | --- | --- | --- | --- |
| The Film: A+ | Video: A+ | Audio: A+ | Extras: A | Overall: A+ |