The Film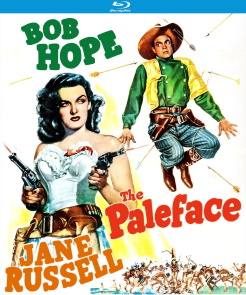 A group of bandits bust Calamity Jane (Gentlemen Prefer Blondes's Jane Russell) out of jail, but this is no altruistic act since Governor Johnson (The Man They Could Not Hang's Charles Trowbridge) and Commissioner of Indian Affairs Emerson (Road to Rio's Stanley Andrews) – along with his trigger-happy secretary Mr. Martin (Little Lord Fauntleroy's Jackie Searl) – need an experienced yet expendable agent to join attorney Hunter in Fort Deerfield to pose as a married couple to join a wagon train and sniff out the "white renegades" who have been selling arms to Chief Yellowfeather (Red River's Chief Yowlachie) in exchange for a full pardon (if she survives the mission). Jane agrees to the task but it is clear that she no more trusts them than Emerson and Martin do her. Upon arrival in Fort Deerfield, however, she discovers Hunter dead with a bullet in his back. Jane evades the men sent to kill her by slipping into a bathhouse, fleeing after ambushing them and ending up hiding in the wagon of correspondence dental student "Painless" Peter Potter (Boy, Did I Get a Wrong Number!'s Bob Hope) who is fleeing town after having his life threatened by a dissatisfied customer. After bullying fails to sway Potter, Jane uses her feminine wiles and tricks him into marriage. Jane keeps her eyes open along the trail, but she lets bewildered Potter take the credit as the hero when he fires literally blindly into the path of ambushing Indians and supposedly saves the entire caravan. Upon arriving in Buffalo Flats, while Potter is enjoying a hero's welcome, Jane seeks out Hunter's partner Hank Billings (Harvey's Clem Bevans). She knows that the arms dealers think Potter is the agent, and that they are plotting his death. With that in mind, Jane devastates Potter by dumping him, thinking the killers will be thrown off the scent if they think the federal agent has been eliminated. Potter is set up to be seduced by showgirl Pepper (The Odd Couple's Iris Adrian) and challenged to a duel by her jealous lover Big Joe (The Postman Always Rings Twice's Jeff York); however, she might just be moved to risk the mission to save the lovable sap, putting them both in harm's way.

One of the first vehicles for comedy star Hope coming right after the Bing Crosby/Dorothy Lamour Road to… series and only the third film of Russell – whose career began in 1941 with The Outlaw which was shelved repeatedly, shown sporadically, and banned in various states until its 1946 roadshow release – The Paleface very much starts out looking exactly like a classic studio B-picture western in its setup but quickly turns things on their head with Russell's introduction in the "outlaw" role (and it is indeed very easy for contemporary viewers to see just the sort of impact she had on audiences of the day) and maintaining the tension and suspense for a goodly amount of screen time during the first act until we meet Hope's hapless correspondence course dentist. The film keeps up a tension between the genre and comic elements; indeed, we fully believe that Calamity Jane may be ruthless enough to dispose of Painless when she no longer needs him however endearing his attempts to be brave are to her and the audience. The duel between Painless and Joe is played mostly straight with little comic bits and, while we no longer fear for the mortal peril of Jane and Painless during the third act (despite some grisly descriptions of their possible fates), the film switches its suspense from the dramatic to the comic as it draws out the mechanics of the explosive climax (followed by a shoe's-on-the-other-foot capper that courts bad taste). Director Norman Z. McLeod was a veteran of classic Hollywood comedy, having directed the Marx Brothers in Horse Feathers and Monkey Business, Danny Kaye in The Secret Life of Walter Mitty, Constance Bennett and Roland Young in Topper and its immediate sequel Topper Takes a Trip, as well as Hope, Crosby, and Lamour in their last venture Road to Rio just before The Paleface. Hope would play his own character's son and Russell as a different female outlaw in Son of Paleface (also starring Roy Rogers and Trigger). The film was remade in 1968 as The Shakiest Gun in the West with Don Knotts and Barbara Rhoades as Penelope "Bad Penny" Cushing rather than Calamity Jane.

Video


Released theatrically by Paramount Pictures, The Paleface was one of the studio titles that wound up with Universal Pictures through a television syndication package and released by MCA to VHS in 1985 and Encore Edition laserdisc in 1986. The film did not see DVD until 2002 as a single-disc edition, followed in 2003 as a Bob Hope Tribute Collection double feature with Sorrowful Jones, in 2010 as part of the Bob Hope: Thanks for the Memories Collection, in 2014 as part of the Bob Hope Classic Comedy Collection, and finally in 2017 in the Bob Hope: The Ultimate Movie Collection. Kino Lorber's 1080p24 MPEG-4 AVC 1.33:1 pillarboxed fullscreen transfer is exactly what one expects from a Universal catalogue title with windowboxed opening credits betraying it as an HD master prepped for DVD, with some nice Technicolor hues in the brighter parts of the image and the studio interiors while shadows of night (and "day for night") exteriors while the process photography and animation effects of Paramount effects man Farciot Edouart hold up as well as they can (being more impressive for their creative ambition).

Audio


The sole DTS-HD Master Audio 2.0 mono track holds up well, with crisp dialogue, music, and effects and the age-related hiss apparent even in Westrex's noiseless recording kept to a minimum. Optional English SDH subtitles are included.

Extras


Extras start off with an audio commentary by film historian and critic Sergio Mims who places the film in the context of Hope's career and notes the significance of him sharing an onscreen credit with Russell given the scandal of her Hollywood introduction in The Outlaw and how little work she had between the two films, as well as the important contributions of Hope's writing team to the screenplay by Edmund L. Hartmann (The Scarlet Claw) who would go to script a handful of subsequent Hope vehicles, particularly Frank Tashlin (who would subsequently write and direct Son of Paleface) and the members of the team who went uncredited on this film. His research also extends to the historical, revealing that Painless Potter was based on an actual dentist in the Old West with a traveling sideshow who would bet his patients their money back if they felt any pain (and used the show antics to drown them out for the other suckers). The disc also includes a Bob Hope "Entertaining the Troops" archival bit (6:20), "Command Performance 1945" (5:05) which has appeared on other Kino Lorber Hope titles including Road to Morocco, a "Buttons & Bows" sing-along (2:07) clip, the film's theatrical trailer (1:50) and trailers for three other Bob Hope films.

Overall


The Paleface does an incredible job at the start of convincing audiences that it is a studio B-picture western before unveiling the force that was Jane Russell and Bob Hope putting his comic spin on the genre.