Story of a Love Affair AKA Cronaca di un amore AKA Chronicle of a Love (Blu-ray) [Blu-ray]
Blu-ray ALL - United Kingdom - CultFilms
Review written by and copyright: Rick Curzon (20th July 2020).
The Film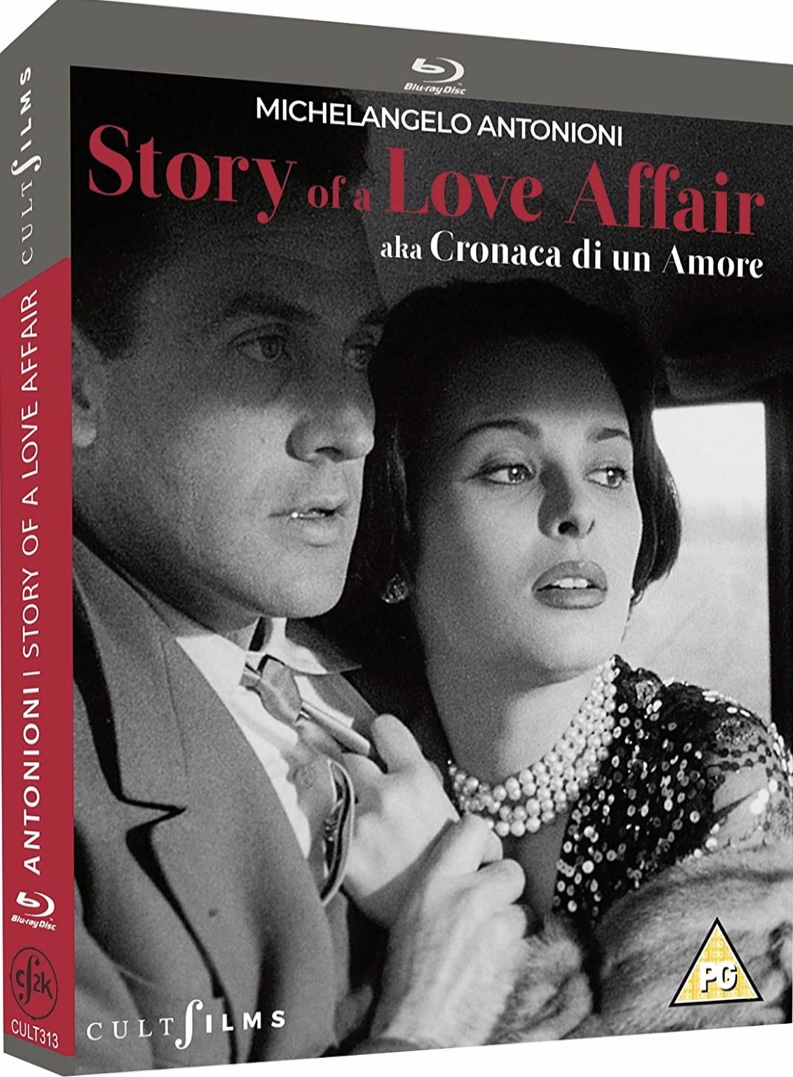 Antonioni is one of the most influential filmmakers of all times, indeed critics revere him as the creator of Modern Cinema. His STORY OF A LOVE AFFAIR, aka Cronaca di un Amore, is his first feature film, a Noir thriller with sensual themes of yearning and jealousy. It is considered a masterpiece by Scorsese, among others.

Paola (Lucia Bosč) is a strikingly beautiful young woman married to a rich older industrialist who decides to have her past investigated. The detective s enquiry reaches Paola s former lover, Guido, prompting him to seek her after seven years, and they reignite their passion.

Antonioni, who defined cool modernism on screen, chronicles the love affair, observing without judgement. His ground-breaking techniques - such as the long one-take sequence, later adopted by cinema greats - and scintillating B&W photography are presented here in HD for the 1st time, from a painstaking 2K restoration, finally doing justice to the director s masterpiece.

Video


Being a monochrome film gamma is most important and I could detect no bias; nice and inky. Black levels show no signs of crush and plenty of shadow detail with a more than decent grey scale. Contrast is very low key generally and allows detail to stand out and is generally very pleasing although there is some softness to the image overall. Mostly in optical fades and occasionally the density fluctuates but it's very rare; plenty of fine detail at all focal planes with legible textures on flesh in closeups and fabrics.

The grain field is ever present and generally very fine. However, on closer inspection there are signs of mild clumping here and there so the encode does struggle a little. I saw no signs of artefacts or other artificial enhancements and no film damage. In motion this is a strong transfer and especially at a good viewing distance will stand up well; I was watching on a 55' 4K display from a distance of 10'6" and it looked generally fabulous. On bigger displays the grain may be more botchy but is unlikely to bother the vast majority (A-).

1080/24p / MPEG-4 AVC / 1.37:1 / 102:36

Audio


Italian LPCM 2.0 Mono
Subtitles: English (optional)

Overall this is a solid, clear, front and centre albeit spread to the left and right speaker; dialogue has a mild canned, hollow quality typical of films shot silent and post synced - but, it syncs pretty well as most lip movement matches closely. The score is vivid most of the way but it does get a little distorted at the high end or when the music plays loudest; base is passable. There's very little range but this isn't surprising given the films's age and the method of assembling this mono track it gets the job done and is par for the course for similar tracks so most likely about as good as we can expect shy of an e pensive rebuild. Subtitles seem comprehensive and very readable, no errors that I saw (B).

Extras


"Identification of a Masterpiece" 2005 featurette (31:30)
"Identification of a Masterpiece by Tullio Kezich" 2005 featurette (22:23)

Two featurettes cutdown from the full 112:45 version; with approximately 44 minutes of material that is AWOL. These are unfortunately marred by a strange style of making whereby interviews have superimposed moving images which makes the images hard to follow and the interview subjects hard to focus on; the images are sometimes clips from the film but are also "echoes" of what we're seeing in screen! Most annoying. The featurettes have been upscaled to 1080/24p from the standard definition originals and have new HD credits made. There's plenty if great analysis and context here but it's undermined by the poor choices made by those who made the original. I suspect CultFilms have winnowed out the chaff and dine their best with these.

Interview subjects include Alessandro Cappabianca (film critic), Tulio Kezich (film critic) and Francesco Maselli (director, writer, film historian).

"Story of a Peculiar Night" 2005 featurette (18:36)

Another cutdown featurette from the 29:00 length full version first seen on the 2005 NoShame Italian DVD. This covers the premiere of the restoration. Very agreeable and valuable in that several of those involved with making this film who've since died are present. It's soft and fuzzy looking like all of the vintage extras presented here.

"Restoring a Masterpiece" 2005 featurette (8:32)

Short piece about the restoration fronted by Giuseppe Rotunno the director of photography on the film who supervised the 2004-05/restoration. It's hampered a bit by the ever present muzak and the decision to keep text captions eger present on screen when individuals are shown. Looks to me like it was shot letterboxed 1.78:1 within a 4x3 frame and has been zoomed to better film the HD frame. This leads to aliasing.

"Fragments of a Love Affair" 2005 featurette (5:45)

This NoShame piece is uncut and shows the film's locations in 2005; presented by Francesco Maselli.

Startup Trailers:
- The Innocent (0:44)
- 8½ (3:51)
- The Battle of Algiers (1:51)

Standard promos for other CultFilms releases. All seem to be modern trailers.

Packaging


Standard, clear BD case.

Overall


A classic slice of rather grim Italian Neo-Realist cinema gets the special edition treatment from CultFilms in the UK. A generally very fine HD presentation taken from an older master created from the 2004-05 restoration. Technical credits are mostly very strong (Image = A-) although the soundtrack is limited by the methods of the film's original production (B-). Extras are interesting but hampered by the way they were made back in 2005 although CultFilms seem to have tried to make the best of them (B).
| | | | | |
| --- | --- | --- | --- | --- |
| The Film: B- | Video: A- | Audio: B- | Extras: B- | Overall: B |

---
DVD Compare is a participant in the Amazon Services LLC Associates Program and the Amazon Europe S.a.r.l. Associates Programme, an affiliate advertising program designed to provide a means for sites to earn advertising fees by advertising and linking to amazon.co.uk, amazon.com, amazon.ca, amazon.fr, and amazon.de.