Woman in Black (The) (TV) (Blu-ray) [Blu-ray]
Blu-ray B - United Kingdom - Network
Review written by and copyright: Rick Curzon (28th July 2020).
The Show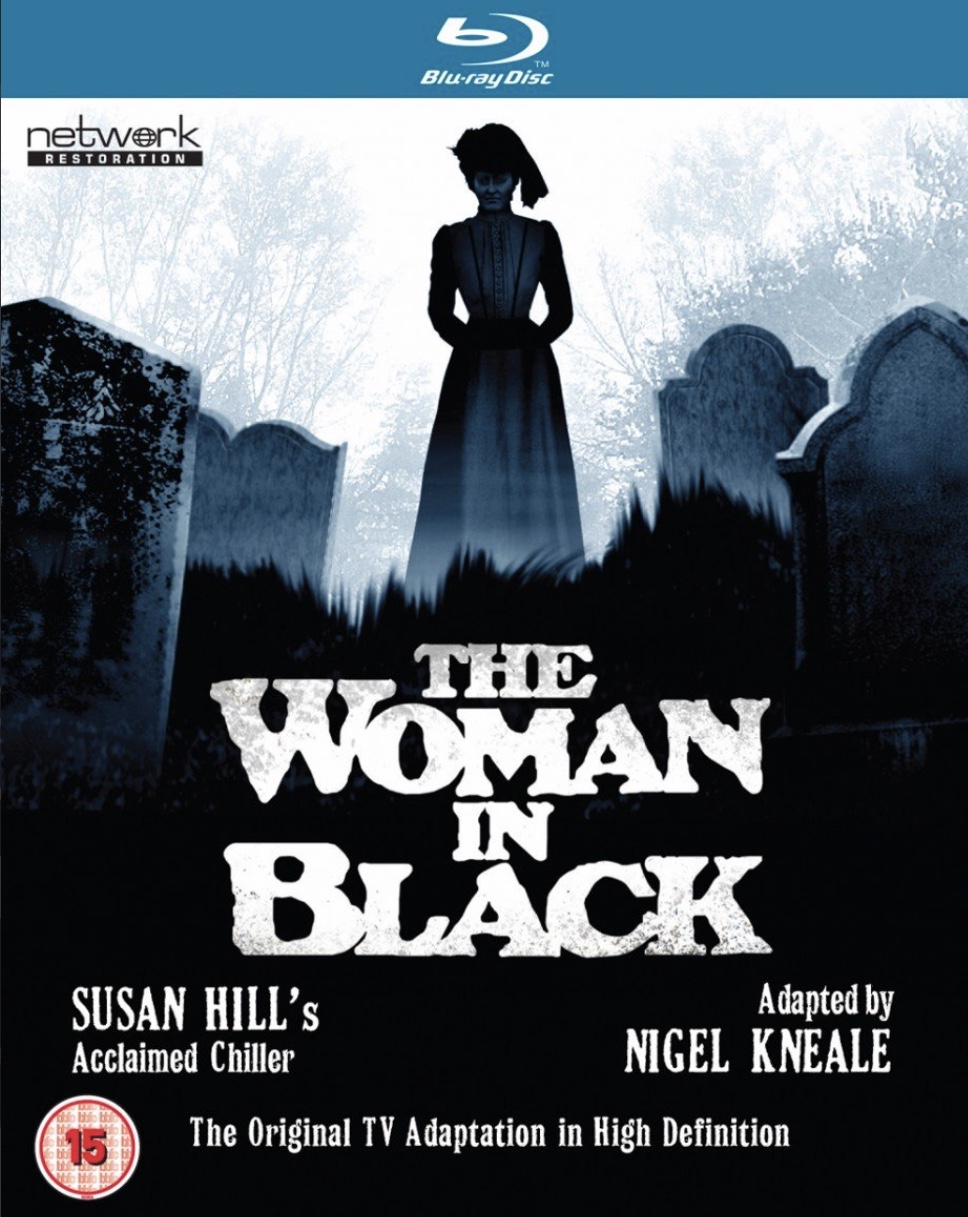 When a friendless old widow dies in the seaside town of Crythin, a young solicitor is sent in to settle her estate. Following cryptic warnings from the locals regarding the terrifying history of the old woman's house, he very soon begins to see visions of a menacing woman in black...

Atmospherically directed by BAFTA-nominated Herbert Wise and starring Adrian Rawlins as the unfortunate young solicitor and Pauline Moran as the terrifying revenant, this unsettling drama remains a high watermark for ghost story adaptations on British television and still retains its significant potential to shock.

Unseen for decades, Nigel Kneale's chilling adaptation of Susan Hill's best-selling novel has been painstakingly restored in High Definition by Network's award-winning in-house Restoration Team from original film elements for this long-awaited release.

Video


Much loved, and much desired on DVD let alone BD, TV movie adaptation of Susan Hill's 1983 horror novel that was first adapted for the stage in 1987 and since we've had the 2012 Hammer film starring Daniel Radcliffe and it's sequel. This has a patchy history on home video with a UK VHS release back in the day and a North American DVD in 2000.

Network's BD has been a long time in coming and has finally arrived. The film was written by veteran screenwriter (and author) Nigel Kneale, creator of the Quatermass franchise; and directed by superstar TV director Herbert Wise (I, Claudius). It was a critical and ratings success.

As was pretty standard for the time this was shot on 16mm film so is inherently softer, far less detailed and much more grainy that a 35mm production.

Colour values are very warm and rich throughout favouring that richer, more natural that we have these days; at least, more often than not. The 2012 film has that greyish, blueish, digitally colour corrected look popular with horror film makers these days. Flesh tones have that slight pinkish quality typical of much 16mm UK telly back in the day. Costumes and production design favours browns and blacks but when primaries do turn up they pop.

Blacks are deep and rich and shadow detail is very good, if typical of the format in that the lower definition means we do get some intended crush throughout in darker scenes. However this is by no means lacking in detail. Closeups obviously fare best with backgrounds suffering more. Contrast is agreeably lowkey allowing that detail to shine through, particularly in the more brightly lit daytime sequences.

Grain is generally too fine for a 16mm production and I think some DNR has been used to smooth it out; not large amounts but there is some. The encode seems to generally handle it although the misguided need to include the widescreen version means that some fine detail may have been lost to compression (and DNR).

I watched the proper, full frame version which was how this shot and intended to be seen. The newly created widescreen version simply mattes off the top and bottom of the frame and has been judiciously reframed shot-by-shot throughout. All my comments above apply, but it does mean that inherent issues like the softness and crush are exacerbated. Stick to the proper 1.37:1 version; the widescreen is purely an extra to please the luddites who simply must fill their TV screen (B+)

1080/50i / MPEG-4 AVC / 1.37:1 (102:18), 1.78:1 (101:43)

Audio


English LPCM 2.0 Mono
Subtitles: English HoH

By 1989 Nicam Stereo had become much more frequent but not here; we just have a simple 2.0 Mono track. However, it's a rock solid track with dialogue always sounding clear, music never intercedes and it has some agreeable bass. Being mono, it does lack the depth and range of a stereo track from around the same time. I heard no signs of age or distortions.

Subtitles are provided for the hearing impaired (A)

Extras


Audio commentary with Mark Gatiss, Andy Nyman and Kim Newman (2020)

Gabby, chatty, informative yaktrak with all three being big fans of horror and ghost stories. Nyman has much to say about how he got the role in it (his first "telly") and working with the various people involved. The other two recall how it was to be fans and see it on first broadcast, having seen the play and read the book and of course the subsequent 2012 film gets discussed. However the focus is quite rightfully on the 1989 film. Nyman is incorrect however in recalling that a DVD was available here in the UK; Newman sets him straight (it was a US release) and mentions the old VHS.

Image gallery (1:35)

Decent little gallery in HD.

Liner notes booklet by Andrew Pixley

Sadly, I didn't get a finished copy just a check disc and no PDF was sent so couldn't pass judgement. However, I'm very familiar with Pixley's peerless work and I suspect this booklet will be another feather in his cap.

Packaging


Standard, slimline, blue, clear Blu-ray case

Overall


A much anticipated release that gets a generally good audio-visual presentation that could probably only be improved on the BD by the removing of the widescreen version, increasing the bitrate on the main version and remove the DNR and allow the grain to be unleashed. Extras are not comprehensive but are choice (B-). I would've liked to have seen a retrospective documentary on the whole franchise starting with the 1983 book and taking in the play and the three films. It would've been great to have some involvement from author Susan Hill.

Highly recommended despite some issues mentioned above, this is easily the finest this beloved TV movie has ever looked (B+)
| | | | | |
| --- | --- | --- | --- | --- |
| The Show: A- | Video: B+ | Audio: A | Extras: B- | Overall: B+ |

---
DVD Compare is a participant in the Amazon Services LLC Associates Program and the Amazon Europe S.a.r.l. Associates Programme, an affiliate advertising program designed to provide a means for sites to earn advertising fees by advertising and linking to amazon.co.uk, amazon.com, amazon.ca, amazon.fr, amazon.de, amazon.it, amazon.es and amazon.se.