Rainy Day in New York (A) (Blu-ray) [Blu-ray]
Blu-ray B - United Kingdom - Signature Entertainment
Review written by and copyright: Rick Curzon (31st July 2020).
The Film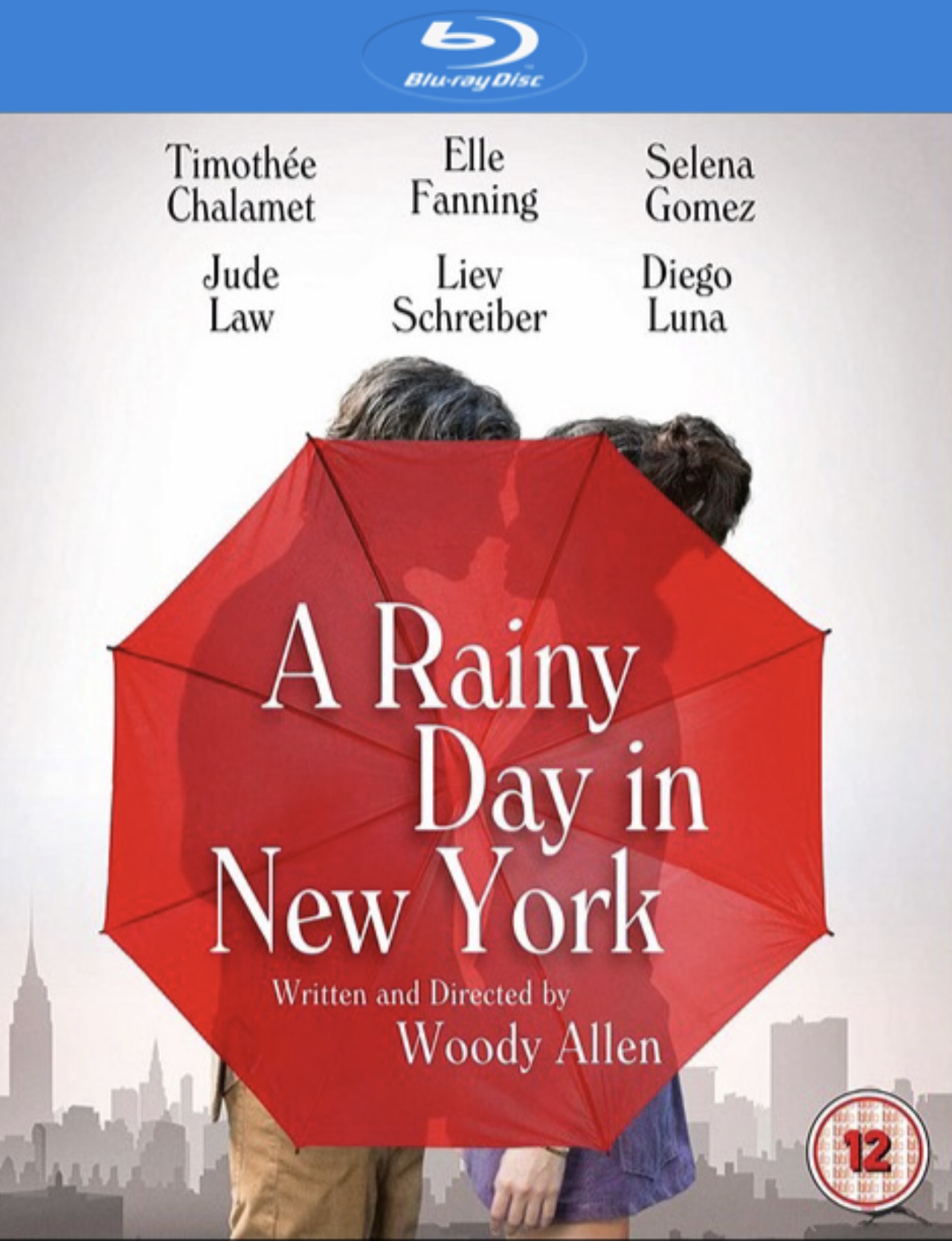 Woody Allen s romantic comedy A RAINY DAY IN NEW YORK tells the story of college sweethearts, Gatsby (Timothe e Chalamet) and Ashleigh (Elle Fanning), whose plans for a romantic weekend together in New York City are dashed as quickly as the sunlight turns into showers. The two are soon parted, and each has a series of chance meetings and comical adventures while on their own.

Video


As far as I'm concerned Woody Allen lost his mojo in the '90s with only Manhattan Murder Mystery (1993) and The Case of the Jade Scorpion (2001) having any personal appeal for me from that period and although I've seen plenty of his output Since the '80s the last one I saw at the cinema was Crimes and Misdemeanours (1989). The last chronologically I saw was Jade Scorpion and nothing after that moved me to seek it out.

I approached this film that has sat on the shelf since 2018 due to the recent reactivation of the 1992 controversy regarding Allen and I was hoping to be able to report that A Rainy Day in New York was a vintage effort, but alas it isn't. It struck me as a retread of all of his usual themes only played by a younger cast and this time I found them all annoying, unsympathetic and frankly insufferab. It was originally ready for release in late 2018 and is now two years old, a shame as it's not a bad film by any stretch but it is Allen by numbers. I think I've just outgrown his work and everything he has to say can be had in the first couple of decades or so of his career. I think if you're younger you'll get much more out of it.

A Rainy Day in New York is however a visual feast as lensed by the great Vittorio Storaro and has a wonderfully warm visual palette; even if it's in his eccentric, bogus Univisium 2:1 ratio. The colour values favour the warm end of the spectrum with bountiful reds, browns and well rendered flesh tones. Black levels are deep and rich with plenty of shadow detail throughout. Contrast is lowkey and supportive allowing detail at all focal planes to shine. It's been lensed with an intentionally soft, filtered look and is surprisingly, or perhaps not surprisingly, digitally shot.

There's little or now grain and the whole thing has been well encoded, even on close inspection I could see no signs of digital tinkering or errors in the encode. A strong presentation of a beautifully mounted film (A+).

1080/24p / MPEG-4 AVC / 2:1 / 92:44

Audio


English DTS-HD Master Audio 5.1
English LPCM 2.0 Stereo
Subtitles: English HoH

Woody Allen is notorious for favouring minimalist soundtracks; he was using mono right up till the 21st century and although A Rainy Day in New York does have both 5.1 and 2.0 Stereo options, this is a front-and-centre-heavy track. Sometimes music and ambient effects do creep into the rears but not much. It's a strong track and as good as it's possible to be given the film's and Allen's intentions; dialogue and music (jazz!) are too the fore and always clear and working in concert perfectly.

Subtitles gave been included and they're always welcome ... especially in a dialogue-heavy character piece such as this (A).

Extras


None. Once again, Allen strikes again; he believes that the film should speak for itself and we don't even get any startup trailers.

Packaging


Standard blue plastic, Blu-ray keepcase.

Overall


A barebones release as per the usual pattern for a Woody Allen film. Technical specs are well up to par and the film looks and sounds peachy in 1080/24p. There are no extras at all which is also expected given Allen's wishes that the film should speak for itself.
| | | | | |
| --- | --- | --- | --- | --- |
| The Film: C+ | Video: A+ | Audio: A | Extras: F | Overall: B- |

---
DVD Compare is a participant in the Amazon Services LLC Associates Program and the Amazon Europe S.a.r.l. Associates Programme, an affiliate advertising program designed to provide a means for sites to earn advertising fees by advertising and linking to amazon.co.uk, amazon.com, amazon.ca, amazon.fr, and amazon.de.