Calcutta
R1 - America - Kino Lorber
Review written by and copyright: Eric Cotenas (5th August 2020).
The Film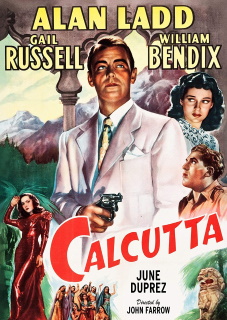 Flying the transport route over the between Chungking and Calcutta over the Himalayas is a job for the hardest of hard men, men like Neale Gordon (Shane's Alan Ladd), his partner Pedro Blake (Lifeboat's William Bendix), and their buddy Bill Cunningham (Fog Island's John Whitney) who only have time for women who are not clingy; that is, until Bill announces that he is getting married to pretty young American Virginia Moore (The Uninvited's Gail Russell). Neale, who keeps Calcutta nightclub singer Marina Tanev (And Then There Were None's June Duprez) on the side, is not pleased and skips Bill's engagement party only to learn the next day that Bill was found dead in alley strangled Thuggee-style but not robbed. Guilt-ridden Neale decides to take time off from work to find out what happened to his friend, in spite of the warnings of Inspector Kendricks (Night Tide's Gavin Muir). Neale takes an immediate disliking to Bill's fiancι, especially when she admits that she did not love Bill but was devoted to him because he loved her. Neale is also suspicious because of the diamond that Virginia claims Bill gave to her since he knows its worth and that Bill would not have been able to afford it. He traces the purchase to hard-as-nails jeweler Mrs. Smith (Blaze of Noon's Edith King) and discovers that Bill had a recent large deposit into his account signed by shady casino owner Eric Lasser (The Picture of Dorian Gray's Lowell Gilmore) who claims that Bill just had a lucky night at the tables. Pedro meanwhile follows a hunch involving Lasser's associate – importer/exporter Malik (Paul Singh) – leading Neale to discover the real reason Bill was killed and to question the motives of more than one interested party, including too nice Virginia who has either been abducted or absconded.

Looking like it was shot reusing exotic sets from a bigger feature, Calcutta would have B-feature written all over it if not for it actually being a vehicle for star Ladd who toiled away in uncredited roles at MGM and RKO before landing a contract with Paramount where his early career as a star was disrupted by the war and a seeming difficulty to place him in vehicles until the development of his now trademark hard-bitten persona that past "dames is trouble" into misogyny here; so much so that the charge that Neale is "cold, sadistic, egotistical" seems pretty accurate even though it is coming from a character he suspects of murder. Ladd's protagonist is so disagreeable – Bill's murder seems less like loss than an affront to Neale – and Russell's possible femme fatale so wooden that it is both hard to believe Neale would melt for her and possibly be caught off-guard. Bendix has little to do as Neale's partner, but the supporting characters and cast are more interesting: from Durpez's lounge singer (the "nice gal" of noir who both pines for the hero and gives him advice in his interest in a supposedly more interesting woman) and King's jeweler to Milton Parsons (The Haunted Palace) as the observant hotel clerk (the latter shockingly uncredited given the amount of his screen time and dialogue). About the only thing that the story has to it is the ending that asserts the film's noir leanings for the unobservant few who might get caught up in the romance.

Video


Released theatrically by Paramount, Calcutta wound up with Universal through an MCA television package from the fifties but has been hard to see since. The film is also available on Blu-ray in the Film Noir: The Dark Side of Cinema IV boxed set with An Act of Murder and Six Bridges to Cross. Perhaps because the latter two films had already been available on DVD-R as part of Universal's Vault Series, Calcutta is the only one of the three films in the set that Kino has also released on DVD (there is no DVD equivalent to the Blu-ray set). The progressive, non-anamorphic 1.33:1 image is handsome enough, free of age-related damage and only subject to the usual increased grain of opticals with deep blacks showing the burgeoning influence of noir (cinematographer John F. Seitz also lensed Double Indemnity, The Big Clock, Night Has a Thousand Eyes, and Sunset Blvd.). The DVD may do for casual fans, but the Blu-ray boxed set might be worth a little extra money for the HD encode and two other films.

Audio


The sole audio option is a Dolby Digital 2.0 mono track that boasts clear dialogue recording, supportive but not particularly ambitious sound design, and one of Universal's generic orchestral scores where only the composer with a certain percentage of tracks (library or original) was used – in this case Victor Young (The Quiet Man) while the work of Charles Bradshaw (Sullivan's Travels) goes uncredited – and optional English SDH subtitles are also provided.

Extras


The sole substantial extra is an audio commentary by film historian Nick Pinkerton who provides some background on Ladd's career – including his height hindering his earlier attempts to break into show business – and notes that the film (which was shot in 1945 but not released until 1947) functions as a bridge between Hollywood's wartime thriller and the film noir genre, especially for Ladd (who would heat up the screen with Veronica Lake in The Blue Dahlia). Pinkerton also discusses the career of director John Farrow (who also directed Ladd and Bendix in China and Two Years Before the Mast), observing that jobbing director Farrow was never regarded as a stylist but his fondness for long takes has been noted and points out some effective uses of it in this film. The disc also includes the film's theatrical trailer (2:19) and trailers for other Kino Lorber releases.

Overall


Looking like it was shot reusing exotic sets from a bigger feature, Calcutta would have B-feature written all over it if not for it actually being a vehicle for star Ladd.

---
DVD Compare is a participant in the Amazon Services LLC Associates Program and the Amazon Europe S.a.r.l. Associates Programme, an affiliate advertising program designed to provide a means for sites to earn advertising fees by advertising and linking to amazon.co.uk, amazon.com, amazon.ca, amazon.fr, and amazon.de.