Confidence [Blu-ray]
Blu-ray A - America - Kino Lorber
Review written by and copyright: Eric Cotenas (20th August 2020).
The Film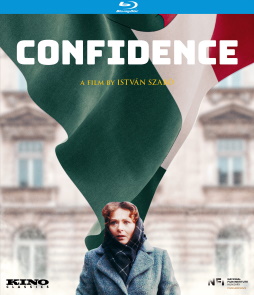 Oscar (Best Foreign Language Film): Hungary (nominated) - Academy Awards, 1981
Interfilm Award - Special Recommendation (Competition): István Szabó (winner), Silver Berlin Bear (Best Director): István Szabó (winner), and Golden Berlin Bear: István Szabó (nominated) - Berlin International Film Festival, 1980

During the 1944 Nazi occupation of Hungary, a young woman (Meeting Venus's Ildikó Bánsági) learns abruptly that her husband (Requiem's Lajos Balázsovits) is part of a underground revolutionary group and has had to go into hiding. She is told that she too must go underground and is given a new identity as Kata, wife of the similarly pseudonymous Janos Biro (Deliver Us From Evil's Péter Andorai) with who she must share a rented room in the house of an old couple (Oszkárné Gombik and Károly Csáki) sympathetic to their plight. Extremely wary of the possibility of exposure and distrustful of everyone, Janos bullies her into secrecy and insists that they withhold personal information even from each other. Janos is also extremely suspicious of Kata, and she grows increasingly resentful of the elaborate tests he devises to gauge her trustworthiness; although she too grows fearful and paranoid in her encounters with others. Isolated together mostly in the confines of their single room, Kata and Janos are drawn into a love affair built partly upon confessions about their real lives and shared escapist fantasies. Their happiness is short-lived, however, as the increasing Nazi presence and contacts with their spouses create more distrust and jealousy.

The seventh feature film of Istvan Szabo, the mesmerizing Confidence preceded the director's ascension to international fame with the Academy Award-winning Mephisto, the first of three collaborations with actor Klaus Maria Brandauer (Never Say Never Again). The exteriors are stuffed with extras and period detail in a manner that does not suggest the greater focus on the claustrophobic rented room setting was a purely budgetary choice. Szabo's regular cinematographer Lajos Koltai (Academy Award nominee for Malena) bathes most of the exteriors and interiors in oppressive blue tones with the occasional hellish reds and more saturated blue gels, while lighting the main characters in increasingly warmer tones (from lamplight, candlelight, and daylight streaming throw windows) as they achieve both physical and emotional intimacy (when they are alone, however, Koltai once again lights them in colder tones). Bánsági and Andorai are riveting presences who have continued to make appearances in Szabo's subsequent higher-profile work. The narrative gives us nothing objective of the characters' pasts beyond what they reveal to one another; this is particularly interesting in Janos' case since his distrust stems from being betrayed to the Nazis by lover (although the flashbacks suggest his paranoia may have set him running without any external confirmation). The intimate nature of this chamber piece alludes to the greater power of political and social oppression and persecution to erode our ability to connect with one another, to experience and face adversity together, and to cement individuals into rigid roles through anxiety and fear about their ability to survive and function.

Video


Released stateside theatrically by New Yorker Films and in the U.K. by Cinegate, Confience was difficult to see in English-friendly form until Second Run's well-supplemented 2012 DVD. Although derived, along with Kino Lorber's concurrent releases of Mephisto and Colonel Redl from "4K restorations by the Hungarian National Film Archive" - along with concurrent editions of Mephisto and Colonel Redl - I'm not sure what to think of the new transfer. It is brighter and warmer than the earlier master but at the cost of the blue cast of the DVD transfer which gave the film a chilly ambience and the characters a suitably unhealthy pallor given their situation (also lending a bit of a chill to a sequence that looks like a recreation of Fuseli's "The Nightmare"). Not all of the scenes are so different, so one wonders if the earlier transfer had some shots that were not color-corrected or if the newer grading disregarded an intentional touch. Either way, the drama is so compelling that the film should be seen in any form at least once.

Audio


The DTS-HD Master Audio 2.0 mono track has also been remastered, sounding a bit cleaner than the DVD edition with some post-sync more evident than before. The soundtrack is not a particularly ambitious or enveloping experience, drawing more suspense from silence than ambience. Optional English subtitles are provided.

Extras


While the film has been remastered, Kino Lorber has not taken the opportunity to produce any new extras for the film. While the Second Run DVD had an interview with the director, here we have "The Central Europe of István Szabó" (3:11), a promotional clip reel of Szabó films and "Remembrance of Production Designer József Romvári" (6:11), an audio interview with by Szabó by production designer József Romvári (Evita) daughter Sophy Romvari in which the director muses on Romvári's talent with anecdotes about the three films. The disc also features a Kino Repertory Theatrical Trailer (1:39) for all three films.

Packaging


Of more interest than the video supplements is the booklet with introduction by István Szabó and essay by film critic Bilge Ebiri in which Szabó briefly reflects on the production and story while Ebiri offers up appreciation and analysis of a film with a specific historical period that nevertheless presents a "kind of allegory about how we approach the unknowability of existence."

Overall


Often forgotten in light of director István Szabó's international triumph with Mephisto, the earlier Hungarian submission for Best Foreign Film Oscar Confidence is a more intimate yet no less emotionally-intense experience.

---
DVD Compare is a participant in the Amazon Services LLC Associates Program and the Amazon Europe S.a.r.l. Associates Programme, an affiliate advertising program designed to provide a means for sites to earn advertising fees by advertising and linking to amazon.co.uk, amazon.com, amazon.ca, amazon.fr, amazon.de, amazon.it, amazon.es and amazon.se.