The Film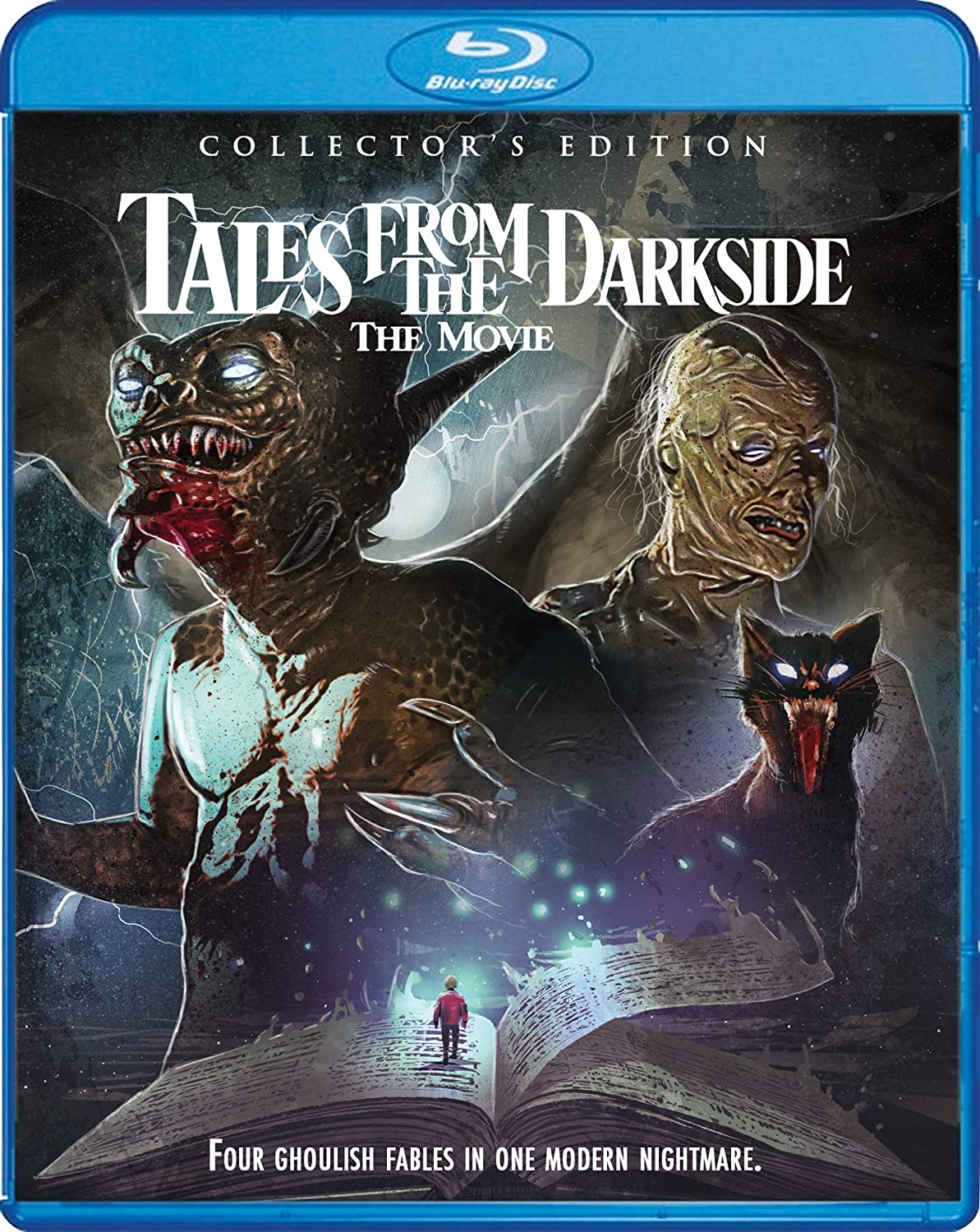 When two of the biggest names in horror – George A. Romero and Stephen King – collaborated on a film the resulting picture became a legitimate classic, "Creepshow" (1982), and its sequel, "Creepshow 2" (1987), went on to become a cult favorite. Fans lamented a proper third entry never materialized but the thing is… it kinda did. Although "Tales from the Darkside: The Movie" (1990) is ostensibly based on the television series of the same name it has more in common with the previous anthologies shepherded by Romero and King. Frequenter Romero composer John Harrison stepped behind the camera (and the keyboard), handling directing and composing duties while Romero and Michael McDowell scripted stories generated by King and Sir Arthur Conan Doyle. It was a murderer's row of horror talent.

The wraparound concerns a seemingly typical housewife (Deborah Harry) preparing for a dinner party… only her main course is a young boy, Timmy (Matthew Lawrence), whom she plans to eviscerate and stuff before cooking him in her massive oven. Timmy, eager to stall her plans, offers to read a story from her favorite book, "Tales from the Darkside", which she left in his cell. And so, Timmy cracks open the huge anthology and recounts these three tales of terror…

"Lot 249" has always been my favorite of the, er, lot. Steve Buscemi stars as Edward Bellingham, a grad student who has been in competition with Lee (Robert Sedgwick) for a scholarship – which Lee just won (stole) with the help of his sister, Susan (Julianne Moore in her debut). Andy (Christian Slater) is Susan's brother but a somewhat neutral party in the fight. Edward doesn't take kindly to being cheated and his revenge comes in the form of a resurrected mummy sent out to do his bidding.

In "The Cat from Hell", a hitman (David Johansen) is hired by a wealthy wheelchair-bound senior (William Hickey) who will pay $100,000 if the man can kill a black cat that has taken up residence in the palatial estate. The job seems easy enough but after learning the cat has been responsible for multiple deaths this seasoned pro suddenly finds himself on the other side of his profession.

Finally, "Lover's Vow" finds a penniless artist, Preston (James Remar), confronted by a winged demon after leaving the bar one night, when he's forced to make a pledge never to reveal what he has seen here for the rest of his life or else he'll be killed. Soon after making his promise Preston meets a woman (Rae Dawn Chong) on the street whom he escorts home out of safety concerns – though the two quickly form a deep bond. Cut to 10 years later and Preston's life has done a complete turnaround… but the thing he saw that night still eats away at him.

There is such a powerhouse team behind this film it would have been nearly impossible for it to be flat-out bad, and it's just the opposite: this movie rules. The talent behind the camera no doubt attracted the talent in front of it and as a result the segments are littered with popular and acclaimed actors. Steve Buscemi is an actor who can make just about any material work but when he's given good writing like this the verbal sparring that results is just as fun to watch as, say, seeing a man get lobotomized with a coat hanger. The casts in the segments are small and nobody is a slouch. Harrison never lets a story overstay its welcome and the pacing on this 93-minute feature is quick without feeling rushed.

The first two segments rely more on strong acting and dialogue than FX work (though fantastic work is still featured in both, especially that classic mummy design) but the film makes sure to end on a high creative note when a grotesque transformation sequence shows off all the glory that practical FX has to offer, courtesy of KNB (who else?). The scene isn't short either and the level of skill required to pull off everything shown is a reminder why KNB is considered one of the best teams in the industry.

Oh, and for you film score nerds (me included) who loved Harrison's work on "Creepshow" and "Day of the Dead" (1985) know that he composed music here for the final segment. Harrison didn't do many scores but two he completed for Romero are among the most listened-to in my collection.

Video


No information regarding the 1.85:1 1080p 24/fps image is listed, so it's likely this is whatever master Paramount supplied to Scream Factory but even without any confirmation of a remaster of improved scan this is a considerable upgrade over the ancient DVD. Colors have more life and the distinction between palettes on each story is more evident than ever. Black levels are nice and dark without veering into grey. Fine detail allows for the practical effects and stellar production design to be more clearly examined. There is a healthy layer of film grain that adds a filmic touch without making the image noisy.

Audio


As per usual, Scream Factory has included an English DTS-HD Master Audio track in both 2.0 stereo and 5.1 surround sound. The multi-channel track has a fuller sound but the rear are used sparingly enough that little immersion will be missed if the stereo option is selected. Dialogue is centered and balanced, with no signs of hissing, pops, crackling, etc. Score levels are commensurate with the dialogue and there's never a battle for space in the sound field. Subtitles are available in English SDH.

Extras


There are two audio commentary tracks – Co-Producer David R. Kappes has a solo track, while a legacy audio commentary track features Director John Harrison and Co-Screenwriter George A. Romero.

"Chapter One – From Small Screen to Big Screams" (1080p) is the first of six featurettes that were clearly chopped up for… some reason. This piece runs for 16 minutes and 20 seconds.

"Chapter Two – Rising Stars and The Walking Dead" featurette runs for 17 minutes and 41 seconds.

"Chapter Three – That Damn Cat!" featurette runs for 16 minutes and 51 seconds.

"Chapter Four – A Vow to Keep" featurette runs for 25 minutes and 42 seconds.

"Chapter Five – The Order of Things" featurette runs for 14 minutes and 2 seconds.

"Chapter Six – The Test of Time" featurette runs for 13 minutes and 11 seconds.

A theatrical trailer (180p) runs for 1 minute and 57 seconds.

Two TV spots (SD) run for a total of 1 minute and 6 seconds.

Three radio spots run for a total of 1 minute and 35 seconds.

Still Gallery (SD) runs for 3 minutes and 59 seconds.

"Behind-the-Scenes" Still Gallery (SD) runs for 4 minutes and 9 seconds.

"Behind-the-Scenes" Footage Compilation (SD) runs for 11 minutes and 5 seconds.

Packaging


The single disc BD-50 comes housed in a standard Blu-ray keep case. The cover art is reversible. A slip-cover featuring new artwork is included on first pressings.

Overall


Horror anthologies are a weakness of mine, especially when they're as well made as this. The combined might of famous forces doesn't always produce solid gold but Romero and King prove once again to be a winning combination when teamed up with George's usual cohorts. This'll probably be one of my favorite releases of the year because I really do love watching this film and this is a great release.
| | | | | |
| --- | --- | --- | --- | --- |
| The Film: B+ | Video: B+ | Audio: A- | Extras: A- | Overall: B+ |