The Film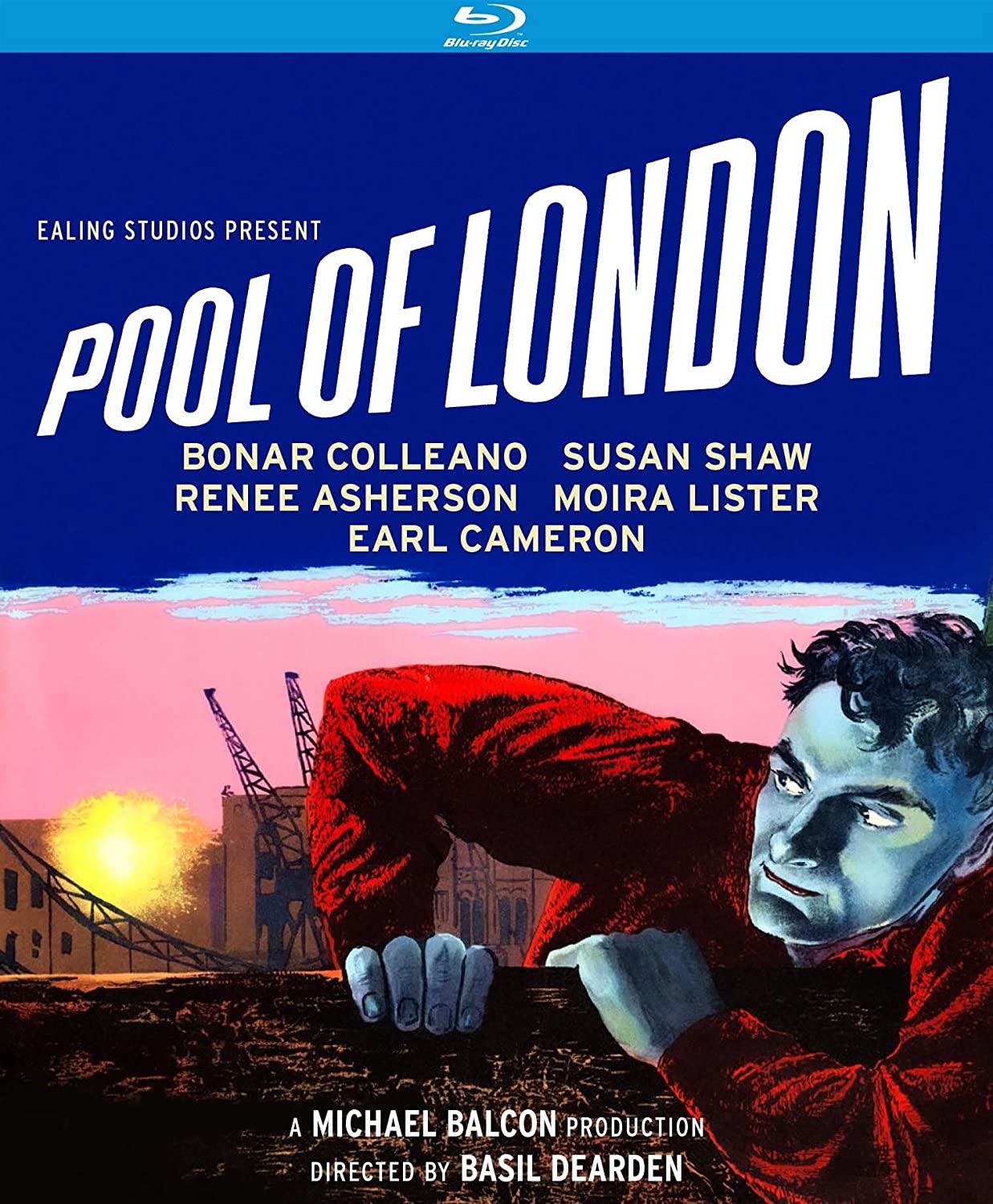 This film was a new one to me, but after viewing it, I am now an enthralled fan for this British Noir. Filmed for Ealing Studios in 1951, this is Noir light with moments of romance and some comedy mixed into the engaging plot, but it should be noted for being the first on screen inter-racial relationship in a British film. Screenwriters Jack Whittingham and John Eldridge should be commended for creating a plot that features point on characters as well as some suspenseful moments that are edge of the seat sequences that feature on location areas in London. Director Basil Dearden surely demonstrates that he was a masterful technician and his resume is impressive; "The Blue Lamp" (1950), "Violent Playground" (1958), and "Sapphire" (1959). This is an early example of the classic heist film that will evolve from this groundbreaking example, producing films such as "Rififi" (1955) all the way up to present day offerings such as Steven Soderbergh's "Ocean's" series (2001-2007) and countless others. Utilizing Gordon Dines amazing cinematography, this is noir done properly with dim wet avenues and menacing shadows on London's mean streets. There is plenty of style presented in this film and new viewers will be delighted by the incredible cast featuring Bonar Colleano as sailor Dan MacDonald and his pal Johnny Lambert (Earl Cameron); an affable Jamaican that learns that trouble is all too easy to find and it doesn't matter what color your skin is. The two men are sailors aboard the cargo ship The Dunbar and they are in port for a weekend stay. Things start out innocent enough, but we learn that Dan is involved in some small-time smuggling, usually nylon stockings and cigarettes, however that only leads to more serious offenses.

The duo makes their way to the theatre where Johnny has a chance encounter with ticket taker Pat (Susan Shaw) a white woman who comes to his defense when a bouncer mistakenly assumes that Johnny is trying to avoid paying for admission. Dan is in the theatre completing a transaction with a small time hood when he is introduced to an acrobat Charlie Vernon (Max Adrian) that has the inside scoop on a safe that contains a handsome cache of diamonds that requires that Dan smuggles them aboard the ship so they can be delivered to Rotterdam. This is the main plot, but we are also introduced to other characters that help flesh out the drama and makes the storyline believable. We see Dan hookup with his regular squeeze Maisie (Moira Lister) and we are introduced to the pining Sally (Renée Asherson) who is the sap for sailor Harry (Leslie Phillips); we meet Trotter (James Robertson Justice) who doesn't leave the ship, but holds up with three bottles of Brandy and a copy of The Oxford Book of English Verse. The use of the actual London settings enables us to travel back in time to when the ports of Tower Bridge were a major thoroughfare. Throughout the film we are treated to a visual feast as we see many locales, some that no longer exist such as Camberwell Palace, and a few notable ones that includes the Houses of Parliament, the British Library and the Greenwich Observatory.

A detail that I enjoyed about the film was the natural attraction between Lambert and Pat; their relationship is easy going and the film doesn't make a huge deal out of their magnetism, the director avoids making a big deal out of the potential romance and lets it play itself out effortlessly. Remember that this was 1951 and here we have a black man cast as one of the leads; it would not be until 1967 that Sidney Poitier would star in "To Sir, with Love" which makes the topic of race a major issue. There is a great moment when Lambert brings up the issue of color: "You wonder why one man is born white and another isn't. And how about God himself? What color is he? And the stars seem so close and the world so small in comparison to all the other worlds above you. It doesn't seem to matter so much how we were born." True Nuff! "It shouldn't matter, but it does. Maybe some day it won't."

Getting back to the plot, MacDonald is approached by a gang of mobsters that pressure him into agreeing that he will smuggle a package aboard the ship. Prior to this agreement, MacDonald is caught attempting to smuggle several packages of nylon stockings off the ship for his girl, the gold-digging Maisie. MacDonald knows that he is a marked man and he innocently asks his pal Lambert if he would not mind bringing something aboard. Neither man is aware that the package is worth $20,000 of diamonds. The minute that the ship pulls into dock, the customs officials are on board and they interview each ship member if they have anything to declare. The mobsters, Mike (Christopher Hewitt) and safe cracker Alf (Alfie Bass) have teamed up with acrobat Vernon who we see performing at the theatre; he does an act that involves leaping from a great height down to the stage and this talent shall come in handy when the men rob the museum of the diamonds.

The heist part of the film is highly suspenseful as we see Vernon leap from one building to another, thus circumventing the alarm system by entering through a skylight. Vernon is told to disable a night watchman and then open the main gates to allow the gang inside. As in all Noir films, there is a slight misstep which leads to the gang's downfall: a bottle of milk is left outside the gate and a passing patrolman notices it. As the policeman phones in to the station house, we see Alf blow the safe with some dynamite. As Vernon is attempting to exit, the unfortunate watchman wakes up and he is accidentally killed when his head strikes the stairs. The gang flees out of the building as the alarm bells begin to sound and a squad of police cars start to arrive on scene. What follows is a tense chase scene through the deserted London streets and we are treated to a nerve-wracking pursuit as the mobsters try to escape. We see the mobsters crash the car in the Rotherhithe Tunnel and the acrobat attempts to evade capture by nimbly climbing the bomb crashed buildings to the rooftop. There he meets his end as he attempts to leap from the roof to a hanging pipe ultimately falling to his death. With the mobsters apprehended, we see a call go out for a dragnet to capture MacDonald.

Meanwhile MacDonald who has been wounded has managed to escape by storing himself away aboard a passing ship. Prior to stowing away, MacDonald and Lambert have words, but later MacDonald's conscious is bothering him because he realizes that Lambert will surely get harsher treatment than he would; MacDonald leaves the ship and makes it ashore. Time is running out as both men are struggling to make it aboard The Dunbar, however MacDonald finally sees Lambert ahead of him and calls out to his friend. MacDonald does not reveal the contents of the package; he simply says that he made a mistake and asks for it back. The final scene is MacDonald turning himself over to the authorities as Lambert shoves off on his final voyage. Roll the credits!

Video


Kino has utilized a dual-layered disc which does reveal slight damage in parts but otherwise this is a remarkable production. Presented in 1.33:1 HD 1080p 24/fps using AVC MPEG-4 compression, the use of shadows is impressive and helps convey a feeling of danger. The images are crisp, and the film appears not to have aged at all aside from appear a tad dark this is a fairly decent image.

Audio


English DTS-HD Master Audio 2.0 Mono, John Addison's original score is well represented on a clean audio track and even though the film does not feature any serious accents. I appreciated the option of the English subtitles.

Extras


A brand-new audio commentary track is supplied by Entertainment Journalist and Author Bryan Reesman. This commentary track is filled with plenty of additional information regarding both the participants of the production but also many facts regarding the locales utilized.

Interview with Actor Earl Cameron (8:55) Surprisingly articulate and possessing a remarkable memory the actor speaks about getting his big break almost by accident.

"On Scene Locations Feature with Film Historian Richard Dacre"(18:06) featurette includes current day locations juxtaposed with clips from the film, one can see how much has remained the same and how much has changed over the years.

Packaging


Packaged in a standard Blu-ray keep case.

Overall


this is a notable Film Noir and the wonderfully moody shots by cinematographer Gordon Dines really shine. The shadowy streets of London have never looked more ominous. An excellent screenplay by Jack Whittingham and John Eldridge reveals the human foibles of a heist gone wrong.
| | | | | |
| --- | --- | --- | --- | --- |
| The Film: A | Video: A | Audio: A | Extras: B | Overall: A- |