The Film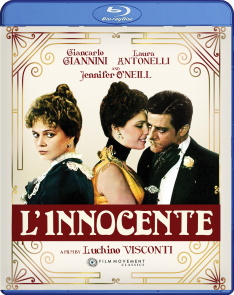 David (Best Music): Franco Mannino (winner) - David di Donatello Awards, 1976

Aristocratic Tullio (Swept Away's Giancarlo Giannini) and Giuliana (Simona's Laura Antonelli) have long lived a marriage of convenience, with Tullio repeatedly testing their relationship as "friends" with his affairs; none have been as serious, however, as his infatuation or obsession with widowed Countess Teresa Raffo (The Summer of
'42's Jennifer O'Neill). When Teresa bristles at Tullio's reluctance to be too affectionate with her in the presence of his wife, she baits him by entertaining the interest of older Count Egano (Last Tango in Paris' Massimo Girotti), Tullio agrees to go away with her. Concerned about his social standing, Tullio asks Giuliana to support him (twisting her conviction that marriage should be protected at all costs). Giuliana agrees for Tullio's sake, but the whispered gossip at social events wears on her and she falls ill, recovering only with the acquaintance of handsome writer Filippo d'Arborio (Live Like a Cop, Die Like a Man's Marc Porel) who she meets through her brother-in-law Federico (Didier Haudepin) who arrived home from the army just in time for Tullio to charge him with looking after his wife. As much as Teresa wanted Tullio to give her his full attention, Tullio is frustrated to learn that Teresa loathes his possessiveness. When Tullio returns home, however, he wants Giuliana to prevent him from seeing Teresa again even though he knows he cannot resist her. It is only in his pursuit of Teresa at various social events that he learns that recovered and busy Giuliana is not where she says she has been (at least, according to Teresa). Giuliana's newly-acquired air of mystery proves attractive to Tullio; that is, until she becomes pregnant and Tullio struggles with whether he can raise the child of another man.

Director Luchino Visconti's penultimate film Conversation Piece would have been a fitting end to the director's career, uniting as it did Visconti stars Burt Lancaster (The Leopard), Silvana Mangano (Death in Venice), and Helmut Berger (Ludwig) and his usual offscreen collaborators – including scenarists Enrico Medioli (Rocco and His Brothers) and Suso Cecchi D'Amico (Bicycle Thieves), cinematographer Pasqualino De Santis (The Damned), art director Mario Garbuglia (Boccaccio '70), and editor Ruggero Mastroianni (Amarcord) – in a chamber piece for a physically-ailing director; yet, Visconti persevered for one more film, L'innocente dying during post-production. Visconti had originally wanted to direct source author Gabriele D'Annunzio's "The Child of Pleasure" but could not get the rights from producer Marco Vicario, so the completed screenplay was retooled as an adaptation of third novel. It would be facile to associate the author's late life fascist politics with the hypocrisy of the protagonist who only becomes as interested in his wife as he is his mistress when she is transformed by her own affair (after putting the onus on her to keep him from desiring his mistress) – although the protagonist is Tullio, the author in his youth seemed to have more in common with Filippo, including an aristocratic mistress with whom he had two children out of wedlock – since all of the characters are trapped by the same conventions and double standards of the period. Giuliana is a devout Catholic who consents to Tullio's faithlessness because she values protecting the image of their marriage, has an affair herself, and refuses to get an abortion because of her religious beliefs. Teresea proclaims herself as a free woman; and, indeed, she is free to see whoever she wants as a widow, but it is likely her social rank that allows her to escape the same scorn for carrying on with married men that Giuliana might endure (but Tullio would not for his affairs). Although the title of the novel is usually translated in English as "The Intruder", one wonders if the innocente of the title refers to the film's only truly defenseless victim. Although shot through with the usual Visconti visual touches, the film feels compromised not so much by his absence in post-production but because wanted to make a different film altogether. O'Neill and Porel would also appear together the same year in larger roles in Lucio Fulci's The Psychic. Future Walerian Borowczyk muse Marina Pierro (The Strange Case of Dr. Jekyll and Miss Osbourne) has a small supporting role.

Video


Released theatrically by Analysis Film Releasing – a distributor whose credits range from My Brilliant Career and Mephisto to Caligula, Basket Case, and Maniac, L'innocente was difficult to see subsequently apart from a panned-and-scanned VHS from Connossieur Video in the nineties. Nouveaux Pictures' British DVD was letterboxed but non-anamorphic and rather poor-looking while Koch Lorber's anamorphic American DVD did away with the green-tinge of the PAL transfer but was not significantly more detailed. While British label Cult Films' Blu-rays output has been uneven, their 2017 edition was a nice leap forward in color and detail, and that same master appears to have been used for Film Movement's 1080p24 MPEG-4 AVC 2.35:1 Blu-ray in which the saturated colors of the art direction and costumes are that much richer with the more balanced and solid whites and blacks, and there is more textural detail apparent in set design, wardrobe, and facial features while exteriors evince some light diffusion. A 4K scan might be even more visually enveloping, but this current HD master is free of the defects associated with Italian HD masters.

Audio


The sole audio option is an LPCM 2.0 Italian mono track which sounds rather narrow in dialogue and effects while the music has a bit more expanse. The post-synchornization work of both English-speaking and foreign actors can be a little loose, but that is a fault of the original mixing rather than the master. Optional English subtitles are provided.

Extras


Apart from the film's theatrical trailer (1:26) and trailers for three other Film Movement releases, the only other extra is "Reframing L'innocente" (12:54), a video essay by author Ivo Blom who penned a book on Visconti focusing on the cinematic and classical art references in Visconti's films. Here, he discusses the film's sets, wardrobe, and cinematography, noting both use of artwork in the film as subtext as well as imagery that references the sculpture of Medardo Rosso.

Packaging


Packaged with the Blu-ray is essay booklet by author Dan Callahan who provides some context to the source novel and its author as well as an appreciation of the film.

Overall


While Visconti's punultimate film Conversation Piece seemed like a fitting close to his career, L'innocente's attempt to harken the glory days of The Leopard on a more intimate scale is not without interest.