Tenderness [Blu-ray]
Blu-ray ALL - United Kingdom - Second Run
Review written by and copyright: Eric Cotenas (29th August 2020).
The Film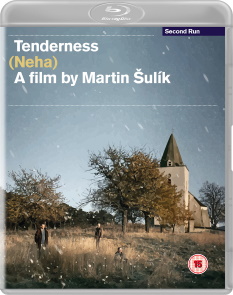 After a violent fight with his father that he cannot recall – as indifferently reported by his mother – twenty-year-old Simon (Géza Benkő) leaves the family's rural farm and flees to Bratislava where he takes a room and spends his days studying English or anatomical texts without any evidence of pursuing a formal education. One night in an otherwise empty hotel restaurant, he makes the acquaintance of older couple Viktor (György Cserhalmi) and Mária (Dekalog's Maria Pakulnis) by way of the latter flirting with him on a dare from her partner. They invite him back to their apartment where Viktor humiliates Mária by showing Simon a home move of a camping trip in which he catches her nude in a shower, culminating in Mária yelling at Viktor and striking Simon for watching the film. Simon feels the dysfunctional couple only to find them waiting for him on his doorstep the next day when he returns from jogging. As he becomes a third wheel on various excursions, Simon feels tested and goaded by Viktor about his possible sexual interest in Mária which he denies to the point of trying not to appear gallant even when she looks to him for comfort and sympathy. As things seem to break down quicker between the couple in Simon's presence – with Mária finally throwing Viktor out, illustrated by her tasking Simon with helping her move not just his belongings but the entire armoire containing his clothing and those home movies into the hallway outside the apartment – Simon starts to feel tested by both when Viktor takes him to meet deaf Marta (Iva Bittová) whose husband abandoned her and her daughter, and who Viktor serves as surrogate lover. Only after Simon finally succumbs to Mária's indirect overtures does Viktor fly into a rage; whereupon, Simon is unsure whether he is still an encroaching outsider or has become part of their martial psychodrama.

The feature film sole directorial debut of Martin Sulík (The Garden) – following The Position, co-directed by Vlado Balco – Tenderness feels simultaneously timeless in its setting yet rooted in the aftermath of the Velvet Revolution with Simon seeming to be waking up from twenty-odd years of "normalization" preserving the status quo of the Communist regime. His seeming amnesia about the fight with his father – the first shot of Simon falsely implies a failed suicide attempt – suggests that he does not know what he is rebelling against, and his journey of self-discover seems similarly aimless. That he falls in so quickly and so messily with the older couple is a seeming acknowledgement of his need for connection suggested when he lies to Mária when she asks if he has a girlfriend back home; so much so that he seems to regress to an infantile state when he flees back home where his father's rough treatment of him at that point seems to be an attempt to rouse him into any kind of action. His protective impulses towards her are not so much a conservative reaction to the sexual liberalization of the past decades any more so than the reveal of Mária's past on film by Viktor is a justification for his treatment of her. Treated as a coming-of-age tale, Tenderness seems to be about the initiation of a character who did not realize how rigid his conceptions of morality were until he must yield to be part of the complexities and compromises of adult life, becoming part of a triad that is semi-familial and semi-sexual. It is left uncertain whether there will be any further sexual interaction between Simon and Mária while Viktor might be an older version of Simon equally unsuited to the previous regime in which he was relegated to a voyeur and definitely not a representative of an authoritarian regime either in manner or in profession, seemingly lacking in a profession despite his middle-class look and appreciation for higher culture that Mária lacks. The film is as invigorating and stimulating a debut as fellow Slovak filmmaker Stefan Uher's revolutionary sophomore effort The Sun in a Net, with some parallels to Knife in the Water in the tension between the two males, or the chamber pieces of Ingmar Berman if the protagonist were the angry young man rather than the devouring middle-aged artist figure.

Video


Seemingly undistributed outside of Slovakia, Tenderness comes to Blu-ray from a new 2K restoration by the Slovak Film Institute and approved by the director and presented in 1080p24 MPEG-4 AVC 1.66:1 widescreen. The lighting and color scheme are very somber, and there is a slightly warm bias in the skintones but that appears to be deliberate while detail reveals itself in both the Eastern Bloc urban settings and the countryside as well as in the facial features of the central trio who are the only recipients of close-ups.

Audio


No complaints about the Slovak LPCM 1.0 mono track in which dialogue is clear and the minimalist scoring of Vladimír Godár has an unnerving presence. Optional English subtitles are provided.

Extras


Extras start off with "On Tenderness" (26:13), a 2020 Slovak Film Institute documentary on the film featuring director Sulík, writer Ondrej Sulaj, cinematographer Martin Strba, composer Godár, and dramaturgist Zuzana Tatarová in which they discuss the film in the context of the changing regime, offer different interpretations of the film's religious subtext and the theme of fathers and sons that run through the director's first three films which form a sort of trilogy. They note that it was also one of the last films shot at Slovenská filmová tvorba Koliba before the monopoly on film production was dissolved and private funding became the main means of getting projects off the ground. The disc also includes Sulík's 1989 short "Hura" (27:55).

Packaging


Packaged with the disc is a 20-page booklet with new writing on the film by film historian Peter Hames which offers appreciation and analysis of the film - drawing parallels with Knife in the Water and Funny Games, as well as providing background on Sulík's subsequent filmography.

Overall


Shot in the aftermath of the Velvet Revolution, Martin Sulík's debut feature Tenderness is somber chamber piece that is both invigorating and stimulating.

---
DVD Compare is a participant in the Amazon Services LLC Associates Program and the Amazon Europe S.a.r.l. Associates Programme, an affiliate advertising program designed to provide a means for sites to earn advertising fees by advertising and linking to amazon.co.uk, amazon.com, amazon.ca, amazon.fr, amazon.de, amazon.it, amazon.es and amazon.se.