The Film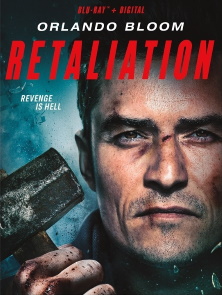 Dearly beloved, avenge not yourselves, but rather give place unto wrath: for it is written, Vengeance is mine; I will repay, saith the Lord. Therefore if thine enemy hunger, feed him; if he thirst, give him drink: for in so doing thou shalt heap coals of fire on his head.

The only thing demolition worker Malky (Kingdom of Heaven's Orlando Bloom) trusts are his own hands, hands which take a particular satisfaction in knocking down St. Michael's church with a sledgehammer, hands which caress his on-and-off girlfriend Emma (Wrong Turn 3: Left for Dead's Janet Montgomery), and hands which do self-harm to the armor of muscle and tattoo he has erected over his soul; that is, until one night he catches sight in his local hangout of the priest who abused him as a child. His mother (Hot Fuzz's Anne Reid), who cleaned the church for twenty years, denies that anything bad happened to her son by the priest ("He was never anything but lovely to us. He's got a family. Do you know that? He's got nephews, he's got nieces. He doesn't deserve this"), instead blaming his judgmental manner on the trouble he has had in the past, serving a two year prison sentence during which she had to endure neighborhood gossip and fend for herself. He does not trust Emma enough to tell her the truth, instead driving her away from him and then drawing her back. His work buddy Jo (Chernobyl's Alex Ferns) turns a blind eye to Malky's increasing instability because it was for him that Malky served his prison sentence. The only person who seems to understand is enigmatic street preacher Paul (The Fifth Element's Charlie Creed-Miles), a victim of sexual abuse himself who "found God" after years of prison and psychiatric confinement, and tries to help Malky find a way to exorcise his demons; however, after Malky drives away or otherwise loses everyone who matters in his life, the only guidance he may take from the Bible is the "vengeance is mine" part of Romans 12:20.

Filmed under the title Romans – in reference to the Bible passage about revenge as well as to an earlier short film Romans 12:20 by directors Ludwig Shammasian and Paul Shammasian in which the protagonist (Doomsday's Craig Conway) apparently really did rain hot coals on the head of his abuser – Retaliation is based on the true life experiences of its screenwriter Geoff Thompson; however, for a film with the latter title released stateside by Saban as part of their Lionsgate deal with a tagline "Revenge is hell", Retaliation belies its surface advertising as an action film and is a surprisingly nuanced look at an adult male dealing with childhood sexual abuse in a culture more inclined to blame the victim (even Paul may be hitting the wrong note with Malky with the tired line "God didn't abandon you, you abandoned him"). Those viewers who may have cottoned on to the nasty side of Reid's protagonist in the old age romantic comedy series Last Tango in Halifax will find her passive-aggressive turn here is all Malky needs to prevent him from trusting his girlfriend and the best buddy for whom he served a prison sentence with the truth; and Malky's "I'm just tired" starts to sound like less of a dismissive excuse than a tragic world-weariness as the film goes on. The usually lightweight Bloom does indeed carry the film, sometimes the only character onscreen for extended monologues that show an emotional range that belies his character's hard exterior, making his casting choice in no way a compromise for a name star. The ending might seem like a letdown for those who are expecting physical retaliation; and, if the short version did indeed go in a more violent direction than Thompson may have been in a different emotional place when penning this feature version; as it is more about finding a way out ("Don't you think you've carried this Satan for long enough? And it's not even your Satan to carry") with the metaphorical raining of hot coals upon the head of his abuser more moving and dramatically satisfying even if the resolution might have emotionally-scarred another young character. As Romans, the film is a disarming psychological drama about a difficult subject; as Retaliation, the film is a surprisingly strong title in the Saban catalog.

Video


Shot in high definition with Hawk Scope anamorphic lenses - lenses with a 1.33x anamorphic squeeze for 16:9 sensors as opposed to the 1.7x for 35mm film full frame - Retaliation has a typically modern look with a neutral to cold bias throughout with the only warmth coming from onscreen light sources, and of course there is plenty of lens flare which is a desired feature of anamorphic lenses designed for video.

Audio


The sole audio track is a DTS-HD Master Audio 5.1 track that is largely focused on the front channels in dialogue-heavy scenes, with the surrounds used not only for ambiance but also for the demolition scenes in which the cacophony of noises seem to be the most relaxing of environments for the protagonist. Optional English SDH and Spanish subtitles are also included.

Extras


Extras include an audio commentary by co-writers/co-directors Ludwig Shammasian and Paul Shammasian who discuss the contributions of Thompson, the aforementioned short film version and how in the intervening years they did more research with abuse survivors and incorporated elements of victim blaming and denial by family members, knowing the project was a hard sell to actors, as well as the important contributions brought by the actors to their own characters (including an entire new draft developed with the input of Bloom). They also note that it is the acting which dictated the camerawork and coverage of scenes rather than the editing, and that some of the more unpleasant scenes in the film were actually the easiest to shoot. Some information overlaps with "Brutality and Honesty: The Making of Retaliation" (21:21) in which we get more background on Thompson – who also mentors abuse survivors – as well as the cast and crew discussing some of the wider themes of the film including relationships and trust. The disc also includes trailers for other films available both from the menu and as startup content.

Packaging


The retail copies are packaged with a slipcover and digital copy code.

Overall


As Romans, the film is a disarming psychological drama about a difficult subject; as Retaliation, the film is a surprisingly strong title in the Saban catalog.