The Film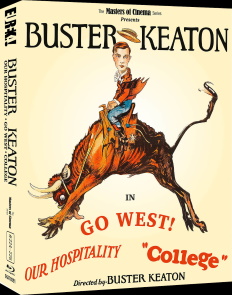 "Presented from stunning 4K restorations, The Masters of Cinema Series presents three more films by the great Buster Keaton in their UK debuts on Blu-ray."

Go West: "Some people travel through life making friends wherever they go, while others—just travel" such as Friendless (Sherlock Jr.'s Buster Keaton) who is well on his way to becoming a hobo, pawning all of his worldly possessions for $1.65 and moving on from Indiana to New York where the hustle and bustle of the crowds nearly crushes him to death. Hopping another train, he decides to "go west" and an accident involving his sleeping quarters inside a potato barrel deposits him in the middle of nowhere Arizona. Stumbling onto the Diamond Bar Ranch, Friendless poses as a cowboy to get hired by the owner (Howard Truesdale) and repeatedly demonstrates his ineptitude milking cows, rounding up cattle, and even trying to get a square meal. Incurring the contempt of the rancher's daughter (Kathleen Myers), Friendless is destined to remain so until he pulls a stone out of the hoof of Brown Eyes, a cow bound for the slaughterhouse when she stops giving milk. The ranch owner has run out of options and plans to sell his herd, but his corrupt foreman (Ray Thompson) decides to steal the herd for more profit, and it is up to Friendless to save the day when all he wants is to keep his friend from being made into hamburger.

Buster Keaton's sixth feature film is unusual in its striving for pathos for a Keaton protagonist. They are usually somehow alienated from the world – usually by their own ignorance or arrogance – but Friendless is literally stomped on and abused by the world here; as such, his friendship with a cow is surprisingly touching, and the lengths to which he will go to save her lead to a typically ambitious and energetic climax involving Friendless running around Los Angeles dressed in a red devil outfit trying to rustle up escaped cattle down streets and in and out of shops in almost a reversal of his attempt to outrun hundreds of prospective brides in Seven Chances. Keaton's assistant Lex Neal would next move up to writer, scripting Keaton's adaptation of the stage play Battling Butler before collaborating with Harold Lloyd on The Kid Brother.

Our Hospitality: Despite the efforts of family man Joseph Canfield (Joe Roberts) to "Love Thy Neighbor as Theyself," the longstanding feud between the Canfields and the McKays claims its latest victims when his wild younger brother James (Trail of Kit Carson's Tom London) and John McKay (One Million B.C.'s Edward Coxen) manage to gun each other down simultaneously, leaving the latter's wife (Jean Dumas) a widow with a one-year old son Willie (Buster Keaton Jr.) and Joseph Canfield embittered. Mrs. McKay takes Willie to the city to live with his aunt (Kitty Bradbury) ignorant of the feud back home. Twenty years later, after his mother has died, Willie (Keaton) receives word that he has inherited his father's property and decides to go back home; whereupon his aunt apprises him of the feud. Naturally, his fetching traveling companion turns out to be Joseph Canfield's daughter Virginia (Passion Flower's Natalie Talmadge), although he does not realize this until he has accepted her invitation to dinner and overhears her father telling his two grown sons (Francis X. Bushman Jr. and Craig Ward) that they cannot shoot him so long as he is a guest in their house, Willie decides to take extended advantage of their hospitality.

A quite ambitious feature from comedian Buster Keaton following a string of two-reelers and his first feature Three Ages – which the extras mention had been conceived as three stories so that it could be spit up into shorts if the feature-length version as unsuccessful – Our Hospitality is an ambitious and engaging comedy from "The Great Stone Face" opening with a legitimately tragic prologue played entirely straight rather than sending up the still fresh story of the Hatfields and the McCoys before shifting tonally towards as soon as grown-up Willie McKay envisages a grand estate of the shack the audiences know he will encounter. The love story is as much fodder for comic sight gags as the attempts of the brothers Canfield to kill Willie – leading up to some comic stunt work audiences would more likely have expected of Harold Lloyd – and yet the film is dramatically satisfying. Although an initial claim to historical detail in the recreation of 1830s New York with the card establishing the location citing fidelity to "an old print," seems like a nod to D.W. Griffith, the film's highlight is the journey from New York aboard a recreation of a British Stephenson's Rocket which was picked by Keaton over the U.S. DeWitt Clinton for the greater comic possibilities he saw in it. Like the locomotive and its hilariously perilous tracks, historical detail recedes in focus as the settings and story serve the mechanics of comic vignettes from furtive glances to misfiring pistols before a climax right out of the serials of the next decade. Talmadge was Keaton's wife at the time, and his father Joe Keaton appeared as the train engineer. The next ten years would be quite fruitful for Keaton as star and director of features, but he would soon be relegated back to shorts before taking on character and cameo roles through to the sixties (with perhaps the nadir of his career being the back-to-back How to Stuff a Wild Bikini and Beach Blanket Bingo).

College: Although he graduates from high school with a medal of intellect, Ronald's (Keaton) valuing of the brain over brawn alienates not only his classmates – including strutting quarterback Jeff (All Quiet on the Western Front's Harold Goodwin) – but also Ronald's unrequited love Mary Haines (Anne Cornwall) who he follows to state college. Although he must fund his tuition with odd jobs – in his case, normal ones that turn very odd, including all of the possible mishaps Keaton can encounter as a soda jerk – he finds more acceptance by the dean (Seven Chances' Snitz Edwards) who thinks Ronald's intellect can reform the "athlete-infested" campus; therefore, he must hide his newly-developed interest in sport from the older man. Ronald discovers that no amount of reading up can teach him to be a good athlete; however, his determination touches Mary even as he becomes the butt of jokes of his fellow athletes as he demonstrates his ineptitude at baseball, the long jump, hurdles, javelin and discus throws, and pole vaulting. Having lost the love of his life over his focus on smarts, the Dean tries to help by overruling the crew coach (Steamboat Bill, Jr's Carl Harbaugh) and making Ronald coxswain just before the big match which could determine if the college even has a future with a boating team.

With direction credited to future serial director James W. Horne (Captain Midnight) from a screenplay by Harbaugh, College was Keaton's comeback after the ambitious but financially unsuccessful The General. The reigns were tight on Keaton in front of and behind the camera, and the college romp genre would seem to offer Keaton little in the way of physical comic opportunities; however, the film was hugely successful even if its comic set-pieces are less ambitious in spite of Keaton's willingness to test his pain threshold. Keaton's protagonist feels like a shell of his earlier characters and Mary's shifting affections more of a plot device, but most of all the set-pieces lack focus. The baseball game goes on for a long time with the viewer unable to tell what is going on when Keaton is not in the frame – indeed, it is hard to tell which one he is despite his lesser height in some of the wide shots – and, although Keaton had used minorities for jokes in other films, the blackface gag here feels desperate. The climactic crew race is more successful, with Keaton steering the boat with his rear end through the waters and then unconsciously demonstrating his accrued athletic ability in a footrace to save his lady love from her beau who has turned from merely arrogant to quasi-rapist. Keaton's hand as director would go uncredited in his subsequent films before his career as an independent fizzled out in the sound era and he became a "gag consultant" at MGM.

Video


Go West's first home video release was on laserdisc as part of the second four-disc volume of Image Entertainment's "The Art of Buster Keaton" and the same David Shepard restoration was ported over to DVD by Image. For Kino Video's 2011 Blu-ray – a double feature with Battling Butler – the new HD master was struck from Library of Congress 35mm nitrate elements through arrangement with Douris UK, the company that had bought the Raymond Rohauer materials. Eureka's 1080p24 MPEG-4 AVC 1.37:1 pillarboxed widescreen presentation comes from a new 4K restoration completed on behalf of subsequent owners Cohen Media utilizing a variety of sources including the negative and some inserts in which generational loss is apparent like the card game sequence in which Keaton's features look bleached for a few shots – the shots of the bull earlier on are significantly grainier but that suggests optical enlargement in post-production rather than lesser materials – and the image appears to reveal slivers more picture compared to the older transfer which had a more consistent look from one source.

Released theatrically by Metro Pictures Corporation and the subject of a handful of reissues throughout last century, Our Hospitality received its first official home video release stateside from HBO as part of the "Thames Video Collection" followed by a 1989 laserdisc release from Image Entertainment, both utilizing an original release print from film archivist/hoarder Raymond Rohauer – who had established partnership with Keaton in 1954 to make his films available again – featuring a score by Carl Davis (The French Lieutenant's Woman) recorded in 1984. A restoration followed from Kino on Video in 1995 in a double bill with Sherlock Jr. restored from archival prints and featuring a new score by Donal Hunsberger. This double bill made it to DVD separately in 1999 and as part of the eleven-disc The Art of Buster Keaton. The Rohauer collection was eventually acquired by Douris Corporation who licensed the film to Kino Video in 2011 for their "Definitive Edition" 1080i60 Blu-ray shortly before the Douris assets were acquired by Cohen Media. Kino Lorber's remastered 2019 Blu-ray did not come from Cohen but from French company Lobster Films and the Museum of Modern Art as a 2K scan of a Blackhawk Films nitrate dupe negative. Comparison to screengrabs of the former edition revealed similar sepia tinting but a sharper image in which more detail is retained in the brighter areas of the frame (including facial features in medium and long shots). Eureka's 1080p24 MPEG-4 AVC 1.33:1 pillarboxed fullscreen transfer does indeed come from a Cohen Media-sponsored 4K restoration utilizing a Library of Congress nitrate positive and two second-generation duplicate negatives. The transfer drops the sepia tinting in favor of black and white and the image is in more variable condition than the Kino Lorber transfer but may still be the preferable one for eking out more detail in the long shots and sunny day exteriors than the tinted version.

College has had an equally windy home video history with a pair of laserdisc releases in 1991 from Image Entertainment and Republic Pictures Home Video, the former from the Blackhawk Films collection with an organ score by John Muri recorded in 1976 and the latter from the Paul Killiam collection with a piano score by William Perry recorded in 1972 followed by the 1995 David Shepard restoration in the third three-disc volume of "The Art of Buster Keaton" from Image. The Shepard restoration made by jump to DVD in 2001 licensed from the Douris Group while Kino Video's 2013 Blu-ray came from a Lobster Films restoration and Kino Lorber's 2017 double feature with Steamboat Bill Jr was derived from Lobster's later 2K restoration. Eureka's 1080p24 MPEG-4 AVC 1.33:1 pillarboxed fullscreen Blu-ray comes from another Cohen Media 4K restoration, this one utilizing a third generation safety dupe positive and a second-generation safety dupe negative, and it is the lesser of the three transfers due largely to the materials in which chemical decomposition on the elements duped was printed into the image. It is watchable, but it is not what one would hope for from a restoration.

Audio


Go West's LPCM 2.0 stereo track features a new score by Rodney Sauer and the Mont Alto Orchestra which is supportive and occasionally clever – musically highlighting Friendless' consideration of which destination to take from the railyard – while Our Hospitality brings back the 1984 Carl Davis score which had been replaced on the Kino Lorber edition by a Robert Israel piece. The Davis score is such that one does not notice it beyond its support of the film's emotions compared to the Israel piece which does draw attention to itself at times. College also has a new Rodney Sauer score – the Kino Video and Kino Lorber editions had the Muri score – and even he seems to be trying to invest some of the longer set-pieces with a bit more energy than the editing.

Extras


Go West is accompanied by an audio commentary by film historians Joel Goss and Bruce Lawton who note some reused sets from the Keaton studios, ask whether Keaton is aping Chaplin in summoning up pathos for his character or satirizing the tactic, pointing out the ways Keaton tried to rework the climax which he found lacking, and noting Keaton's use of the publicity departments at his studio and at MGM (also noting that Raymond Rohauer pointed out how to distinguish publicity photographs from evidence of cut scenes in Keaton's photo archive). In "A Window on Keaton" (28:20), film historian David Cairns looks at all three films – this featurette is best watched last – noting Keaton's use of minorities in the Los Angeles scenes of Go West, contrasting the unified story of Our Hospitality with the Three Ages narrative, and the lack of ambition in College while Miranda Gower-Qian chimes in on the notion of Keaton using women as "props" and compares Keaton's "real leading lady" in Go West to the more conventional ones. In "Go West: Filming Locations" (16:27), "Silent Echoes" John Bengtson notes the use of the same backlot settings for the New York and Los Angeles settings, the unchanged Kingman, Arizona locations, and even some camera trickery where a painted backdrop was used for some scenes and reused as different backgrounds in a handful of the publicity photographs, as well as revealing how glass mattes were used for the "go south" and "go north" scenes cut from the final release. The disc also includes a still gallery and the Hal Roach "Go West" 1923 comedy short directed by Len Powers (11:58).

Our Hospitality comes with an audio commentary by silent film historian Rob Farr who describes it as "the perfect Buster Keaton film," noting the family affair of the film's casting – not only with his father and son but also casting his wife, possibly not because she was an actress but because her sister Norma Talmadge was married to producer Joseph M. Schenck, the Hatfield/McCoy context, as well as the influence of the Harold Lloyd film Grandma's Boy and Charlie Chaplin's The Kid. Missing from the Kino Lorber release was "Hospitality" (50:09), an early workprint version of the film missing some sequences and featuring the prologue as a flashback. Keaton expert Polly Rose appears on an optional commentary track and suggests that the movement of the prologue to flashback was an experiment rather than the intended order due to physical markers on the degraded 16mm print source and the likeliness that, in learning to craft a feature narrative, Keaton and his crew might have worried about opening the film with straight drama and no laughs for the next eight minutes. Ported over from earlier releases is "Making Comedy Beautiful" (26:08), a video essay by Patricia Eliot Tobias in which the film historian discusses Keaton's interest in the pictorial backdrops of his stories, and delves into the historical research that went into crafting the film's setting (noting its accuracy with the Smithsonian requesting Keaton's recreation of an early bicycle because they did not have one, as well as areas where Keaton took creative license like the use of the Stephenson's Rocket due to the comic possibilities). The disc also includes a stills gallery.

While the Kino editions of College had a Rob Farr commentary, Eureka has "Silent Echoes" (9:55), a video essay by John Bengtson who compares then and now locations for the film, showing how Hollywood's architectural landscape has evolved, and seeking out evidence in the backgrounds of scenes and still photographs to reveal the usage of both University of Southern California and University of California, Los Angeles to make up the film's setting. More interesting is "The Railrodder" (24:50) a 1965 short film produced by the National Film Board of Canada that was not seventy-year-old Keaton's final role but could be considered his last silent role. In the film, Keaton plays an unnamed man who dives off London Bridge into the Thames and emerges from the Atlantic Ocean in Canada. He happens upon a railway maintenance motorcar and boards it on a scenic cross-country trip pulling every needed resource from a seemingly bottomless compartment. The film is full of scenic views of Canada most of us have never even scene – and some that we never will again – but it is Keaton's non-verbal reactions that touch the viewer. The film is accompanied by an audio commentary with director Gerald Potterton and cameraman David De Volpi at an audience screening in which they discuss the input of Keaton in front of and behind the camera, the many times they feared that Keaton would get himself killed when he refused to use a double, shots they wish they could have redone, and noting that the London shots and Keaton's bluescreen superimposition into them were the work of British effects artist Wally Gentleman (2001: A Space Odyssey). Also included is "Buster Keaton Rides Again" (55:31), a 1965 documentary produced concurrently with, the filming of "The Railrodder" in which we get to hear Keaton's voice as he and Potterton work out shots and discuss techniques – such as Keaton advising that Potterton should never ask a non-actor to act – as well as sequences of Keaton's joy in meeting locals in the various shooting locations and his wife Eleanor reflecting on Keaton's desire to keep working in spite of his repeated insistence that he will retire. This also comes with an optional audio recording of a post-screening Q&A with Potterton and De Volpi, as well as stills galleries for College and "The Railrodder".

Packaging


Housed with the discs is a 60-page collector's booklet featuring film credits, viewin notes, Blu-ray credits and a series of essays. In "Buster Keaton: The Move into Features", Philip Kemp looks at all three films while arguing that Our Hospitality should really be considered Keaton's first feature, Keaton's relationship with "Brown Eyes" in Go West and the troubled production of College with his dislike of Harbaugh's script and describing Horne as "absolutely useless." In "Coming of Age", Imogen Sara Smith discusses Our Hospitality. Smith had previously participated in a commentary on the Kino Lorber disc and covers some of the same material here, including the Hatfield/McCoy feud, the different approach to the film from Three Ages, the family casting and Keaton's chemistry with Talmadge, and the ambition of the film's action set pieces. In "Animal Magnetism", Smith observes that Keaton's use of parody is more burlesque than mean-spirited, here in the context of a western with a love story "between a cowboy and a heifer" while in "The School of Hard Knocks" she discusses College in the context of Keaton's increasing loss of artistic control. In "More Backlot Scenes from Our Hospitality", John Bengtson compares scenes from the film with vintage aerial survey views of the locations. "The Travelling Man" is director Gerald Potterton's one-page treatment to "The Railrodder" that he originally presented to Keaton while "On the Authenticity of Buster Keaton" by Chris Seguin is an appreciation of the short. The booklet also includes the bylaws of the "The International Buster Keaton Society" who are the owners of the "Hospitality" workprint as well as the audio commentary tracks recorded for "The Railrodder" and "Buster Keaton Rides Again".

Overall


Eureka's third Buster Keaton set is a mixed bag of the triumph Our Hospitality and The Railrodder along with the well-received College and Go West which are somewhat tainted in light of the direction of Keaton's career as the sound era loomed.