The Film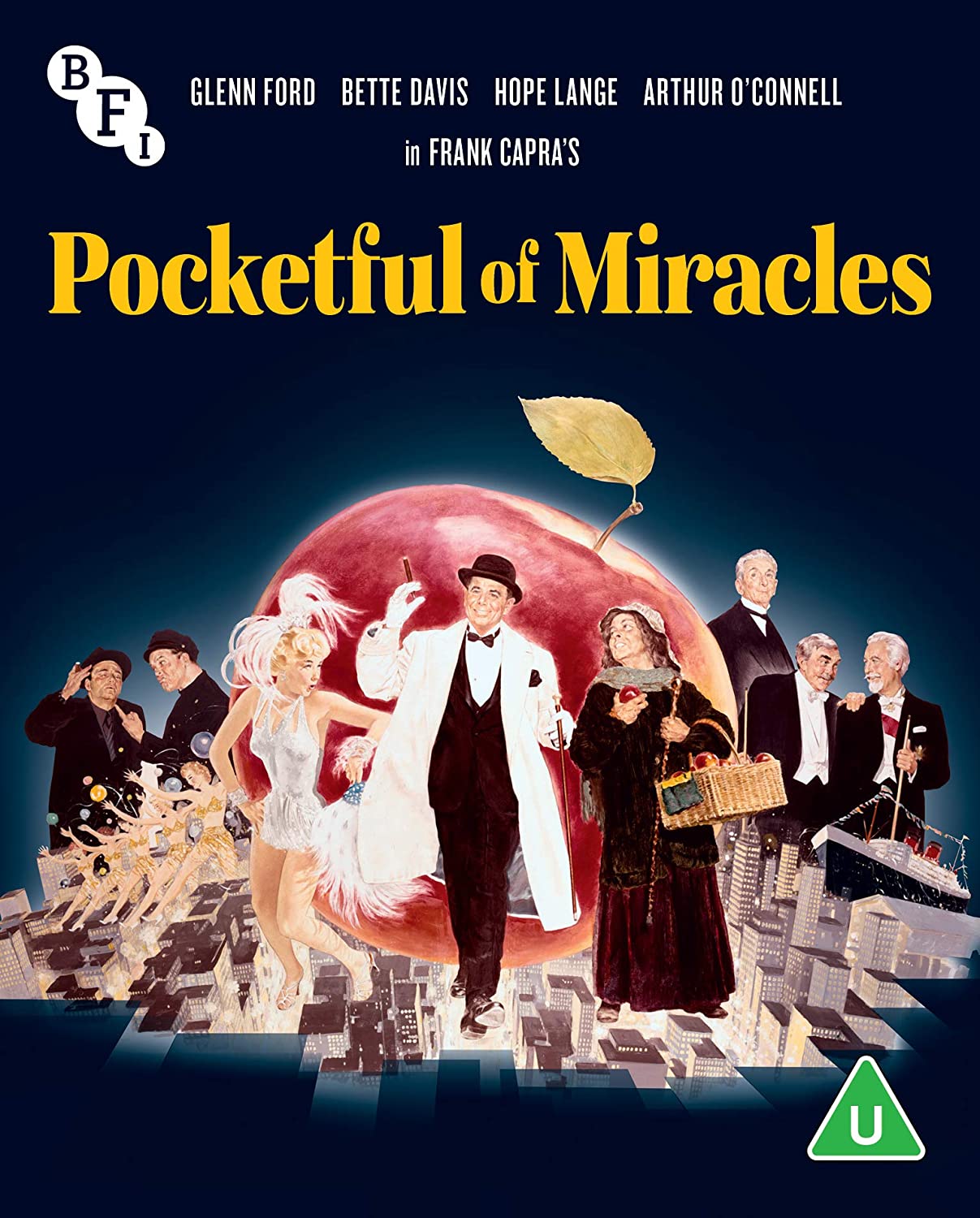 "Pocketful of Miracles" (1961)

Dave the Dude (played by Glenn Ford) is a New York gangster who frequently buys apples from Annie (played by Bette Davis), a very poor and raggedy woman who sells apples on the streets. The apples always give Dave good luck, but some unfortunate news falls when Annie receives a letter from her long estranged daughter. Her daughter Louise (played by Ann-Margret) who Grew up in a convent in Spain since she was a baby, writes to her mother that she has become engaged to Carlos (played by Peter Mann), a Spanish aristocrat and they are planning to visit New York to introduce the families. For years through letters, Annie has pretended to be one of the upper class, ashamed to admit she was single, unmarried, poor, and had to give up her daughter. Annie's street friends as well as Dave's fiancee Queenie (played by Hope Lange urge Dave to use his power and strings to help Apple Annie become a respectable lady for a short time while her daughter and her future in-laws come to visit. From borrowing a lavish apartment and giving Annie a full makeover, it's a Cinderella story with a twist.

Damon Runyon wrote the short story "Madame La Gimp" for Cosmopolitan magazine in 1929, a feel good story that encapsulated the depression era woes and placed a dreamlike happy spin in a sort of rags to riches tale. Director Frank Capra adapted the story into a feature in 1933 as "Lady for a Day", which became a massive hit and the first film in Columbia Pictures' history to be nominated for a Best Picture Oscar. 28 years later, Capra remade the film as "Pocketful of Miracles". Set again in the same time period of the late 20s/early 30s and same place in New York City, it was one of two films that the director decided to remake of his own works, the other being "Riding High" from 1950 being a remake of "Broadway Bill" from 1934. Though Capra had a slew of hits in the 1930s and his name as a director being able to draw in crowds, by 1961 he didn't have the same power as he used to. His films were not particularly successful with the public and they didn't have the critical appeal either. His previous film "A Hole in the Head" starring Frank Sinatra came after an eight year absence from film directing, but made enough of a profit that he was able get the long desired project to remake "Lady for a Day" off the ground, but it came with a lot of compromises.

As the original story's rights were tied to Columbia, Capra bought the screen rights for $225,000 in 1960 and made a deal with United Artists for remake. Attaching a star to the project turned out to be very difficult, with Sinatra passing on the role of Dave, as did Kirk Douglas, Jackie Gleason among others. Glenn Ford offered to help with the financing with the condition being that he would play the character of Dave. The character of Apple Annie was offered to Helen Hayes, Katharine Hepburn, among others until it was given to the struggling Bette Davis, who was past her starpower heyday and not in high demand at the time. Together they established Franton Productions for the film, which would be the first and last production to bear the name. With Ford having a heavy hand in the production, it also led to many disagreements including the recasting of Queenie. Though Shirley Jones had already been cast, Ford pushed to have Hope Lange for the role, who he was dating at the time. The script went through a number of rewrites with ideas being tossed around from changing the setting to the modern period and going to the countryside, but eventually it went back to its roots in the post depression era New York City. Storylines of characters were expanded, such as Dave first encounter with Queenie and details of their tumultuous relationship, Dave's stakes in the gangster world, and giving more to Apple Annie's street friends. But for the basic scenario, not a lot had been altered in the remake, with key scenes like Apple Annie's confrontation at the hotel receiving her letter, the elaborate makeover scene, and character names were almost entirely kept as they were with a few exceptions. Besides the fact that the remake was in widescreen and in color, plus a few added scenes there was not too much to distinguish itself from the original 1933 production.

One major standout of the remake was the role of Dave's right hand man Joy Boy played by Peter Falk. In the original film the character was named Happy and played by Ned Sparks who ironically was a pessimistic character that made wisecracking jabs at the whole affair, Falk gave the role wonderful edge, also playing with a cynical attitude and dark humor as an intimidating gangster would. Some of the best lines went to Falk and his presence and unmistakable voice gave a very memorable presence in the film. With the film giving Capra numerous headaches from preproduction onward, Capra claimed that Falk was a shining light on an otherwise troublesome production. With Falk's character groaning how the whole plan was never going to work, it was almost like the words were about the film's production rather than the makeover.

As for the story itself, it is a feelgood story of people of the lower class and local thugs coming together and doing something selfless and helpful, and that hasn't been changed at all. There are hilarious sequences throughout, such as Judge (played by Thomas Mitchell) posing as Annie's husband and the fiancee's father Count Romero (played by Arthur O'Connell) playing a game of pool, the reactions everyone has of Annie's transformation from ragged hag to gorgeous beauty, as well as the gangsters and dancers all trying to practice being polite through Dave's directions. There is a crucial point that is frustratingly missing in the film - both the original and the remake, and spoilers will have to be said about the ending.

Spoilers!
At the end of the film, everyone including high ranking politicians come to the ceremony for Apple Annie. Her daughter Louise and the Romeros are utterly convinced that Annie is a very respectable woman. Eventually Louise and the Romeros sail back to Spain that evening, and are happy to see Louise's side of the family. But what is the moral of the story? That lower class individuals cannot earn the respect of the upper class unless they pretend to be in the upper class? A makeover and elaborate disguises can be the answer to everything? What will eventually happen when the wedding is to take place? Will Dave have to shell out money again to ship Annie along with her fake husband Judge among a few others to Spain for the ceremony? How long would the charade have to last? From "Mrs. Doubtfire" to "A Bug's Life", they had stories of characters pretending to be someone else, and while things seemed fine for a while, the charade couldn't last forever. The truth was uncovered, but the characters had to prove that their intentions were good, even if the lying was not. Dozens of stories have a similar premise, but "Pocketful of Miracles" has none of that. Instead it tells audiences that they are basically nothing at the bottom and unless you can dress the part, become the part, and be accepted by the upper class, you're out of luck. While the story worked as a short story in a slightly fantastical Cinderella-esque setting in 1929, for a full length story, it doesn't have a satisfactory ending or message.

But in the end, is "Pocketful of Miracles" a good film? In essence, yes. There are excellent characters throughout with great performances, a lavish looking film with the colors of the setpieces and the costume designs by the legendary Edith Head, great memorable sequences throughout, and a joyous feel that Capra was known for. Audiences can see Ann-Margret in her feature film debut. Peter Falk before his iconic role in television's favorite detective "Columbo", and Bette Davis just before her comeback role in "Whatever Happened to Baby Jane?" are a few of many highlights. There are flaws, such as the added sequences not part of "Lady for a Day" making things drag slightly, and it's no doubt not one of Capra's best works, but it is still well made. Considering all the trouble that occurred behind the scenes, it should be commended that it actually came together in the end as a coherent and enjoyable piece of work.

The $2.9 million production was not a hit at the box office when it debuted in the United States on December 18th, 1961, not breaking even. Critically the reactions were mixed but it was still nominated for a few awards at the Golden Globes and Oscars. It was nominated for four Golden Globes, for Best Picture, Best Actress for Bette Davis, Best Actor for Glenn Ford, and Most Promising Newcomer for Ann-Margret, with the latter two being winners. At the Oscars, Peter Falk was nominated for Best Supporting Actor, as well as Edith Head for Costume Design, and Best Original Song being nominated. The film walked away with no Oscar statues. This would be Capra's final theatrical feature in his lengthy career. He directed one more film, "Rendezvous in Space", a short shown at the New York's World Fair in 1964, but basically retired from the movie business from then. He died in 1991 from a heart attack at the age of 94.

Note this is a region B Blu-ray

Video


The BFI presents the film in the original theatrical 2.35:1 aspect ratio in 1080p AVC MPEG-4. The transfer is from an HD master by MGM. One of only two color features that Capra directed, this one is certainly stylish in costumes and set pieces, and the transfer certainly looks pleasant. From browns, maroons, greens, the colors are slightly dark but look consistent, skin tones look natural, and light colors also look clean. The image is fairly clean with very little damage such as speckles and flickering to be found. It certainly could look sharper with a newer transfer, but overall the colors and the clarity are very good here.

The film's runtime is 137:05.

Audio


English LPCM 2.0 mono
The original mono track is presented uncompressed. Music, effects, and dialogue are evenly balanced, with dialogue sounding clear, and no instances of audio troubles like hisses or pops. Being a mono track of its era, there are limitations and some portions feeling quite flat, but it is consistent throughout with no particular distractions to speak of.

There are optional English HoH subtitles in a white font for the feature. They are well timed and easy to read, though they are not 100% complete, sometimes missing a word or two when the dialogue gets very speedy.

Extras


Audio commentary with film historian Jim Hemphill
In this newly recorded commentary, Hemphill discusses the troubled production from its origin with the short story and "Lady for a Day" plus the many issues it went through in the behind the scenes. He also discusses biographies of Capra and the rest of the cast and crew, the ill fated marketing of the film, where it stands in Capra's filmography, and more.
in English LPCM 2.0 with no subtitles

Image Gallery (7:50)
An automated slideshow featuring posters, lobby cards, promotional stills, and behind the scenes stills are presented without sound.
in 1080p AVC MPEG-4

"Pocketful of Archive Shorts" (with Play All) (33:48)
- "Street Scene - Men with Cart" (1898) (1:03)
- "Beggar's Deceit" (1900) (0:53)
- "Cunard Mail Steamer Lucania Leaving for America" extract (1901) (2:37)
- "American Liner 'Lusitania' Entering New York Harbour" (1911) (0:30)
- "Fruitlands of Kent" (1934) (11:39)
- "Love on the Wing" (1938) (4:26)
- "I Am a Reporter" (1961) (12:38)
A series of films from the BFI vault are presented here. First is a short featuring two men with an apple cart and a group of rowdy kids from 1898. The film is credited to early Welsh filmmaker Arthur Cheetham, though it is not 100% confirmed. "Beggar's Deceit" is a comical short featuring a beggar with a sign reading "crippled" but he can't fool the police. This short is by pioneering English filmmaker Cecil M. Hepworth. The next two newsreel shorts feature two ocean liners that made frequent voyages between New York and Liverpool, similar to the liner that Louise and the Romeros used to land in New York in the feature film. "Fruitlands of Kent" is an educational film by the influential Mary Field showcasing the orchards in various seasons. "Love on the Wing" is an animated short for the GPO directed by Norman McLaren, showcasing messages of letters in an abstract form. "I Am a Reporter" is a narrated short focusing on the ins and outs of a reporter in a small town. The first four films are silent but have library music accompaniment. Interestingly "Beggar's Deceit" also comes with an optional English audio descriptive track in Dolby Digital 2.0. "Love on the Wing" has the original music track without dialogue, and "Fruitlands of Kent" and "I Am a Reporter" have their original English audio tracks.
in 1080p AVC MPEG-4, in 1.33:1, Music or English LPCM 2.0 with no subtitles

Theatrical Trailer (2:58)
Ed Sullivan introduces the original US trailer which seems to be an upscale from a standard definition master. Itís not in the best of shape but not in the worst either. Some speckles across the grainy picture, but colors are fairly stable, and the sound is quite clear.
in 1080p AVC MPEG-4, in 1.78:1, in English LPCM 2.0 with no subtitles


Booklet
A 32 page booklet is included with the first pressing. First is the essay "A Pocketful of Trouble" by journalist Leigh Singer on the film itself, the troubles behind the scenes, and some of the highlights of it. Next there is a biography of Capra by teacher and author Maura Spiegel and a biography of Bette Davis by filmmaker and curator Sarah Wood. In addition there are full film credits, special features information, transfer information, acknowledgements, and stills.


The film was released on Blu-ray in the United States by Kino Lorber, with only a trailer as the bonus feature. The UK BFI release is the clear winner in terms of content. A clip of the film, courtesy of the BFI has been embedded below.



Overall


"Pocketful of Miracles" has a lot of charm that Frank Capra was well known for with great performances and a story filled with comedy and happiness. Though it may have its flaws especially with the moral of the story being extremely questionable, it's still a fairly fine piece of work even with its very troubled production. The BFI Blu-ray features a very good transfer with video and audio, an informative commentary and interesting short films as well. Very recommended.
| | | | | |
| --- | --- | --- | --- | --- |
| The Film: B- | Video: A- | Audio: A | Extras: B | Overall: B+ |