The Film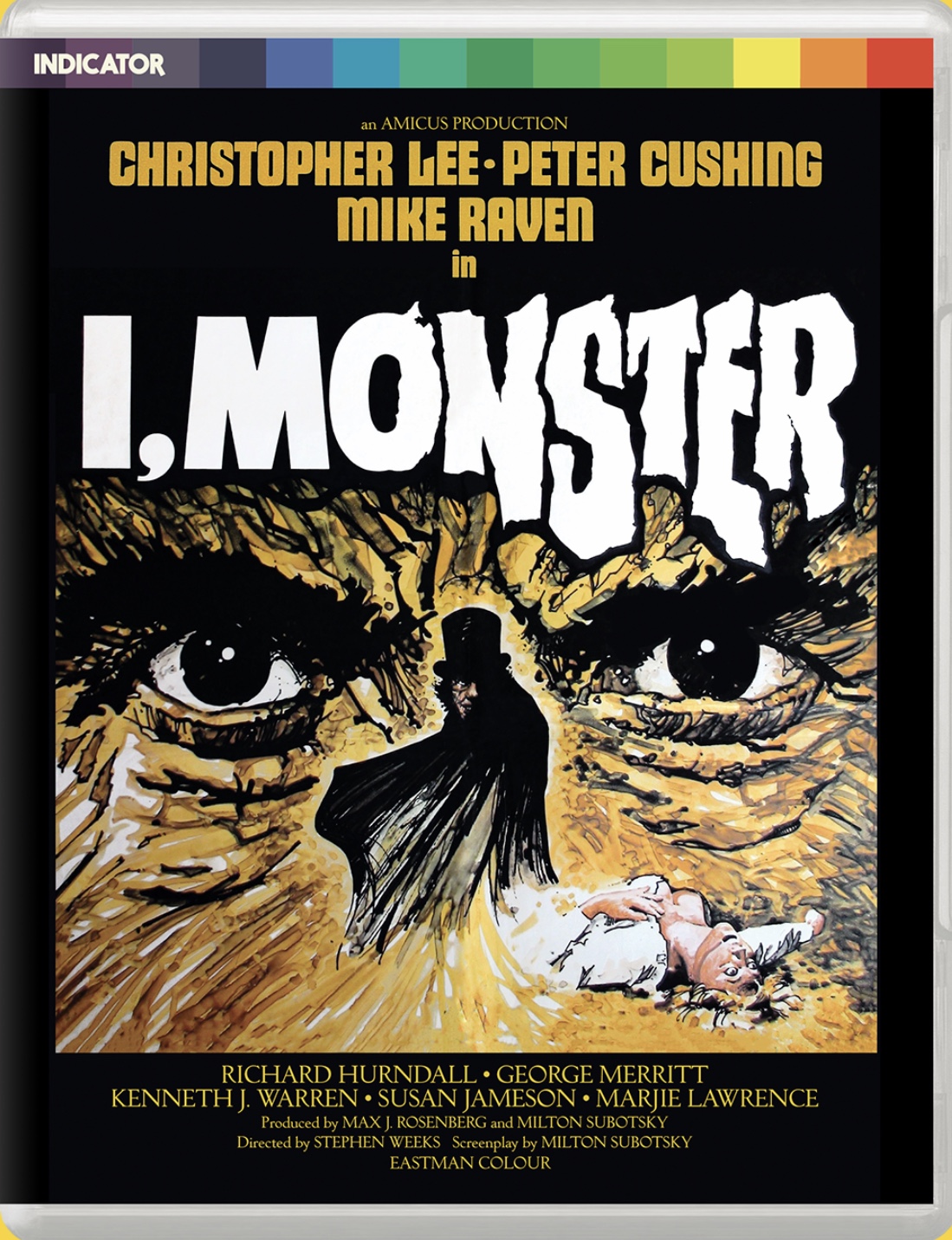 Horror icons Christopher Lee and Peter Cushing team up once again for an Amicus take on Robert Louis Stevensonís classic novella Strange Case of Dr. Jekyll and Mr. Hyde, with Lee occupying the role of the scientist and his deadly alter ego.

Directed by Stephen Weeks, making his first feature aged twenty-two, I, Monster presents an inventive take on an iconic tale.

Video


The strange case of Dr. Jekyll and Mr. Hyde (both Christopher Lee) ... only it's been renamed Marlowe & Blake!

A solid if slightly uninspiring treatment of the oft-filmed tale from Amicus, the main rival for Hammer's crown as THE biggest UK horror film makers of the period. I, Monster has a fine performance from it's leading man and overall this is a more faithful adaptation than most other attempts.

Carl Davis' score is serviceable but not up to his work on The Far Pavilions (1983) or The Phantom of the Opera (1925) which I found a disappointment. The cinematography is a bit dim and lacking in contrast and the whole film just lacks bite, punch ... pizzazz.

It's all a bit stagy, but is still well worth a look.

Whatever anyone thinks of the film itself, Powerhouse Films have done a great job with difficult and problematic elements.

Colours are rich and naturalistic but favouring a warmer cast, flesh tones are slightly pinkish and the production design comes off as very varied and colourful. Black levels are very deep with reasonable shadow detail but the film is rather darkly shot which leads to a fair amount of crush. As this is a new restoration of a CRI element supervised by Powerhouse Films I have to assume that it was intended by DP Moray Grant and director Stephen Weeks.

Contrast is extremely low key to the point where the image is a little flat at times, particularly in the club scenes with Christopher Lee, Peter Cushing, Mike Raven and Richard Hurndall. Again, it seems to have been the way it was made. Possibly a side effect of the failed Pulfric Effect 3D process or possibly down to budget and time. There's very little brightness in this film; even daylight scenes seem overcast.

The image does improve and become brighter as the film progresses and an extended exterior scene with Cushing and Raven that's attractively shot in twilight with a blue-grey cast. Grain is ever present throughout the film which is highly desirable giving it all a very film-like appearance. The print is pristine with no signs of damage at all. The encode is well up to the high standards of Powerhouse's other releases and there's no digital tinkering that I could detect.

I watched the extended edit of the film; the shorter theatrical version was restored by Powerhouse Films and the 5:19 extra (apparently in the first two reels) were sourced from Studio Canal's own HD master. I could see not variations in this extremely consistent restoration.

1080/24p / MPEG-4 AVC / 1.85:1 / 75:20, 80:39

Audio


English DTS-HD Master Audio 1.0
Subtitles: English HoH

A strong mono track typical of the period with a surprising amount of range and no distortions. The film is very dialogue heavy and it's always very clearly presented and easy to follow. Davis' score is well served and sound effects are distinct and clear. About as good as can expected given the limited source. Top marks.

Subtitles are for the hearing impaired and very well done.

Extras


Audio commentary with director Stephen Weeks (2020)

Weeks was a novice at the time and comprehensively covers what it felt like to work on his first film. He also goes into detail about the production itself, which wasn't an easy shoot for him. Lots of great trivia and ephemera.

Audio commentary with director Stephen Weeks and film historian Sam Umland (2005)

A vintage commentary that never saw the light of day until now. Mainly focussed on covering the film's conception but it has plenty of overlap with the other track, which isn't surprising but there's still lots of value here.

"The British Entertainment History Project (BEHP) Interview with Peter Tanner Part One: 1914-1939: Conducted by Roy Fowler and Taffy Haines on 6 August 1987" plays as an alternate audio track over the extended version of the film (75:05)

Part two is on The Beast Must Die BD release from Powerhouse Films. This fascinating discussion covers the first half of Tanner's career and the very early days of the British film industry.

"I, Maestro: Composer Carl Davis on I, Monster" 2020 featurette (18:08)

Comprehensive piece in which the composer discusses his score and working with director Weeks for whom he had a great working relationship and which has more recently been rekindled. Both specialise in the restoration of old houses and castles. Davis lives and works in Prague these days. Also interesting is Davis' thoughts on the scoring of period pieces; don't be contemporary in style, no electronics etc.

"Stephen Laws Introduces I, Monster" 2020 featurette (5:57)

Typically passionate and warm introduction from fan and venerable genre author Laws who has appeared on many of these releases of vintage Hammer and Amicus films. I was particularly taken with Laws discussion off who to pronounce Jekyll (it's Jee-kyll a Scottish surname!); apparently it was the 1941 film which seems to have changed the pronunciation.I will always watch this every time I re-watch the film going forward.

"Stephen Weeks Interviewed at the 9th Festival of Fantastic Films: Conducted by Author Stephen Laws in Manchester, 1998" 1998 featurette (15:47)

Vintage video piece with a much younger looking Laws interviewing the director.

"Philip Nutman Interviews Milton Subotsky" 1985 audio recording set to stills (181:50)

Extensive, career-spanning interview with one-half of Amicus done for an abortive book on Amicus, although some of it was used by Little Shoppe of Horrors magazine. Previously available on the bonus disc on the now out of print US Amicus boxed set from Severin. Set to stills and chaptered so the viewer can jump straight to favourite films should they wish. Sadly, Nutman passed away in 2013 and Subotsky in 1991.

UK Theatrical Trailer (3:01)
US Theatrical Trailer (1:47)
US Trailer with 2020 audio commentary with Kim Newman and David Flint (1:47)

Vintage promo pieces and the US trailer with alternate commentary.

Image Galleries:
- I, Monster Image Gallery: Stills, Lobbies and Promotional Material (131 images)
- I, Monster Image Gallery: Behind the Scenes Images (56 images)

Lavish, extensive HD galleries.

36-page liner notes booklet with a new essay by Josephine Botting, Milton Subotsky on I, Monster, an archival interview with Stephen Weeks, an overview of contemporary critical responses, and film credits

Thpically fine Powerhouse Films booklet with plenty of contextual added value.

Packaging


Standard clear Blu-ray case used by by Powerhouse Films.

Overall


Another winner from Powerhouse and one of THE most eagerly awaited releases of the year. I've never been the films biggest fan but there are plenty of others out there who'll lap up this wonderful release. Extras are second to none with the usual comprehensive booklet almost worth the price of the disc by itself. Highly recommended and it wouldn't surprise me if this disc is on several fans lists of best lf the year.
| | | | | |
| --- | --- | --- | --- | --- |
| The Film: C+ | Video: A | Audio: A+ | Extras: A+ | Overall: A |