The Film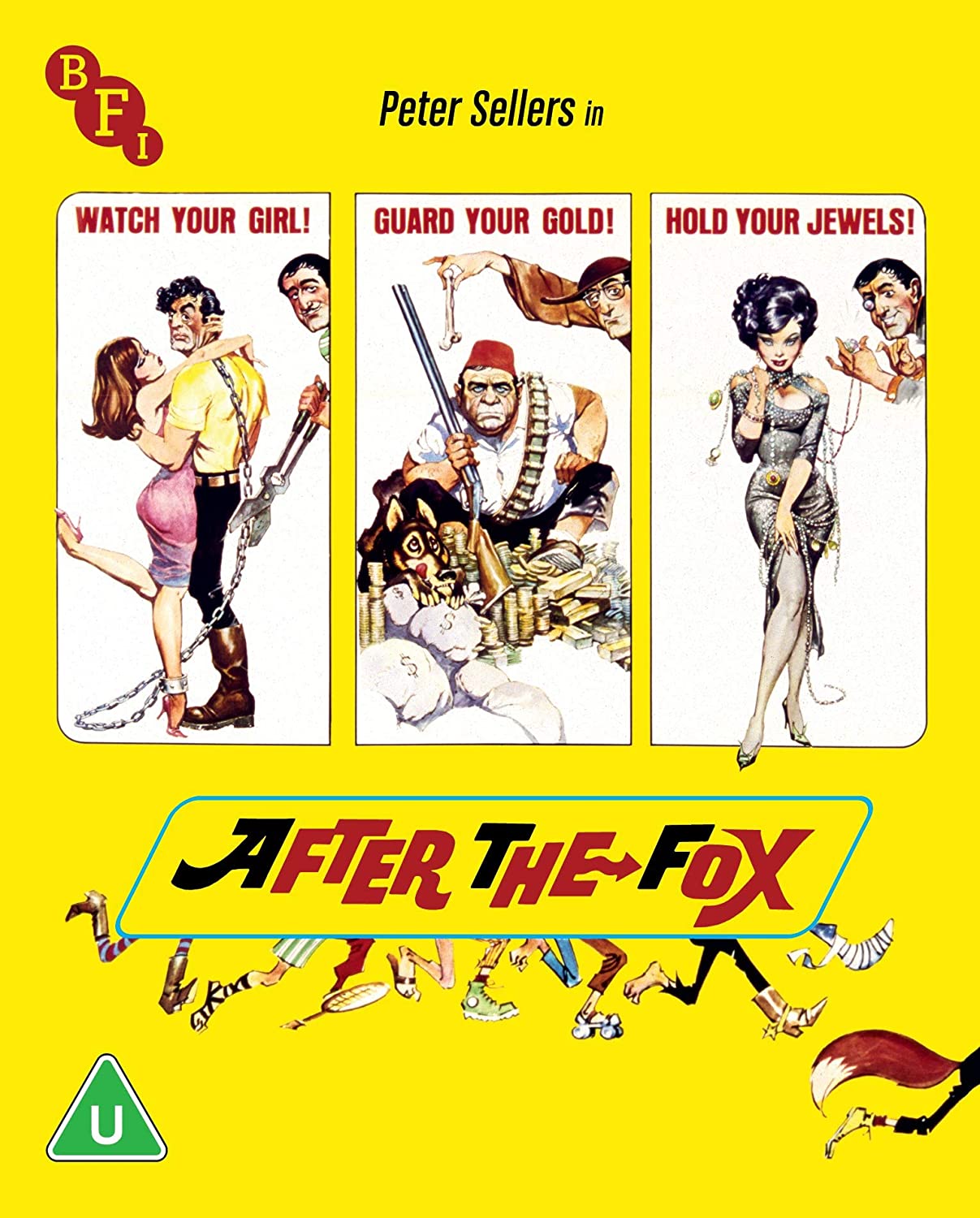 "After the Fox" (1966)

$3 million worth of gold was stolen in Cairo by criminal mastermind Okra (played by Akim Tamiroff), but he doesn't have the resources to smuggle it into Europe. He contacts Aldo Vanucci (played by Peter Sellers), known as "The Fox" and is a master of disguise to hatch a plan and for the deal to be split fifty-fifty. Vanucci concocts a plan to start a fake movie company with his goons and his younger sister Gina (played by Britt Ekland), and also enlist over the hill but still recognizable American actor Tony Powell (played by Victor Mature) to play the lead. The plan is to produce a sequence in which local villagers move a shipful of gold onto shore while disguising the act as part of the film. Though there is no script, no one with technical knowledge of filmmaking on the team, and Powell's agent Harry (played by Martin Balsam) skeptical of the production, and the police around every corner, The Fox seems to always have some tricks up his sleeve to keep the lie going.

Following the successes of "The Pink Panther" (1963) "Dr. Strangelove" (1964), and "What's New Pussycat?" (1965), Peter Sellers received multiple accolades including Oscar nominations for his unique take on bringing characters to life through his physical and vocal transformations between roles, and in some like "Dr. Strangelove", multiple characters within one film. His 1966 production "After the Fox" is incredibly notable for the figures that worked on the production. It was directed by actor and pioneering neorealist filmmaker Vittorio De Sica, the screenplay was written by famed writer Neil Simon, the music was composed by the legendary Burt Bacharach, and the creative title sequence was created by Maurice Binder. With incredible talent both in front of and behind the cameras, "After the Fox" was destined to be a hit, yet it remains more or less a footnote in Sellers' resume as well as others who worked on it. But was it all bad or just underappreciated?

Sellers plays one character in "After the Fox" but it could be considered two roles. First is the character of criminal Aldo Vanucci, who has his own principles as a criminal, being content in prison at the beginning of the film and being a model prisoner, by refusing keys from his visiting goons and even smuggling goods out of prison ironically. But he also has a heart for his family, and learning that his sixteen year old sister is not coming home after school and working, it sends him into a frenzy, but a calculated one - in which he slips through the cracks with his disguises out of prison and out to search for his younger sister. During these early portions, Vanucci disguises himself as a doctor and a priest, but it's when he steals a film crew's tools in a comical sequence featuring De Sica himself as a filmmaker, that his disguise goes beyond that of a simple costume. Going by the name Federico Fabrizi, a neo-realist director with the looks of Jean-Luc Godard, the charm of Marcello Mastroianni, with a touch of overexcitement, Vanucci becomes a stereotypical Italian filmmaker with passion and character, perfectly created for and adapted by Sellers in every way. Seeing Vanucci con an entire town into a gold smuggling operation and by tricking the film star played by Victor Mature are wildly insane yet somehow work within the context of the story and its setting. Things are not to be taken too seriously. From Vittorio De Sica yelling that he needs "More sand!" in the middle of a film setpiece in a desert, the inept police officers who are easily bribed, and goons that are dumber than the average minion, the whole film is a cartoon rather than reality.

But the bigger issue comes from Sellers being far and beyond the towering star. Sure, Victor Mature does a great job as an overzealous washed up film star excited to be in an actual production, but he is no match or parallel against Sellers. The rest of the supporting cast like Ekland and Balsam do an admirable job, but Ekland is slightly miscast as an Italian and sister character (while she was actually married to Sellers at the time and just had their first child), and Balsam doesn't have too many scenes to count. Vanucci's trusty goons are generic background pieces and barely do anything memorable. There are a lot of similarities between Vanucci and the character of "Lupin the Third" with the disguises, the search for riches, and always evading Interpol, but what makes Lupin work well are the different characters around him. His trusty partners are characters of their own with wildly different personalities and techniques in criminal behavior. The Interpol agent Zenigata who is always on Lupin's tail is a great watch as well. In "After the Fox" the sole focus is on Sellers as Vanucci, and in essence no one can carry the support.

Sellers previously worked with De Sica as an actor in 1960's "The Millionairess" and was also a fan of his film "Bicycle Thieves" as a director. With De Sica being well known and highly acclaimed for his work in neo-realist dramas, it seemed like an odd choice for directing a comedy piece, and especially with the language barrier there were some arguments behind the scenes with the direction. Comedically speaking, some parts work while others fall flat. There are some absolute gems of hilarity in the film, but in other occasions, the jokes fall flat with awkward timing or just possibly dated humor. "After the Fox" has a lot of great ideas and fun scenes, but overall just didn't have enough push around Sellers' character from others to carry it further.

"After the Fox" was released in September 1966, first in Italy under the title "Caccia alla volpe" with an Italian dub, and later in the month in the UK with the intended English audio. Besides the voices, the Italian dub track interestingly had an entirely different score, with Piero Piccioni's music rather than Bacharach's. Sellers' performance was a highlight of critical appraisal, as well as Mature's performance. But overall the film didn't attract audiences and was a failure worldwide. Though it has its fans and some positive praises, it works best as a film to showcase Peter Sellers and not much else. And in some ways, that is more than satisfactory.

Note this is a region B Blu-ray

Video


The BFI present the film in the theatrical 2.35:1 aspect ratio in 1080p AVC MPEG-4. The transfer comes from MGM/Park Circus. The transfer is fairly good though it has signs of imperfections. The colorful locations of Italy's cities and beaches look very nice with bold colors of the scenery and the costumes. Skin tones of characters are consistent and accurate looking. Film grain is always visible and there is no artificial sharpening of the image, looking very naturally filmlike. On the downside, there is some amount of damage and dirt visible, from scratches to speckles, in some scenes more than others. It could certainly look better with a fresher transfer, but for the majority it looks quite strong and the negative points are not very distracting.

The film is uncut with a runtime of 103:35.

Audio


English LPCM 2.0 mono
The original English language track comes uncompressed. As an Italian-English coproduction, the film was shot entirely in English, with the Italian actors phonetically speaking English on set and most of the performers redubbed by English actors in post-production. Mouth movements are well synchronized and thicker accents have been made intelligible while retaining a bit of the accent. As for the quality, the mono track sounds very good, with music and effects being well balanced with the dialogue. The English audio has the Burt Bacharach composed score and sounds great with clarity throughout. The audio has been remastered to remove hisses and pops, sounding quite clear throughout.

There are optional English HoH subtitles for the feature in a white font.

Extras


"After the Fox: A Socially Distanced Interview" 2020 interview with Britt Ekland (15:14)
This new interview has Ekland at home interviewed through an online video chat during the COVID-19 lockdown, discussing
her career and the film. She talks about her early career in theater, meeting Sellers and working with him during the production of "After the Fox", plus memories of De Sica and Mature, as well as her life during the pandemic. The video quality can be a little rough due to the circumstances, but she is still able to tell a great amount of memories about Sellers and the production.
in 1080p AVC MPEG-4, in 1.78:1, in English Dolby Digital 2.0 with no subtitles

"Peter Sellers: Master of Disguise" 2020 video essay (14:30)
The BFI's Vic Pratt narrates this video essay, which plays over an image gallery that includes posters, promotional stills, and behind the scenes photos of "After the Fox". Pratt gives biographical information of Sellers' career from radio and film in which Sellers was able to cunningly and masterfully use his vocal and physical techniques to bring so many characters to life.
in 1080p AVC MPEG-4, in English Dolby Digital 2.0 with no subtitles

"DDR Magazin Nummer 11" East German 1962 propaganda newsreel (12:17)
This English language newsreel from East German features the arts and culture including architecture, children's sports festivals, and most interestingly, famed filmmaker Vittorio de Sica visiting a theater.
in 1080p AVC MPEG-4, in 1.33:1, in English Dolby Digital 2.0 with no subtitles

"Robbery" 1897 silent film fragment (0:35)
This fragment of a film produced by early film pioneer Robert W. Paul has two men in a field, with one pointing a gun at the other defenseless man.
in 1080p AVC MPEG-4, in 1.33:1, Music Dolby Digital 2.0

"The Man with the Velvet Voice: Maurice Denham" (with Play All) (72:41)
- "The Last Rhino" 1961 CFF film (55:28)
- "Go as You Please ... in Britain" 1975 short (17:13)
Actor Maurice Denham appears in a small role as the chief of Interpol in "After the Fox", and the BFI has curated two curiosities featuring the voice of Denham. First is a Children's Film Foundation production "The Last Rhino", shot on location in Kenya. This features two young English children alongside their uncle on a Savannah where a large rhino is supposedly on a rampage. While all the adults are ready to take out the wild animal, the children set off on a quest to preserve and help it instead. Denham dubs the voice of the uncle in this film and is uncredited as a dubber. "Go as You Please ... in Britain" is a short film by British Transport Films featuring a traveler using the unlimited train pass to visit all over the country and snapping photos, including the town of Llanfairpwllgwyngyllgogerychwyrndrobwllllantysiliogogogoch in Wales. As with the previous film, Denham serves as voice only, being the narrator of the short. Both films are in fairly good condition, in color with minimal wear and tear, and the sound is also fairly good on both.
in 1080p AVC MPEG-4, in 1.33:1, in English Dolby Digital 2.0 with no subtitles

Theatrical Trailer (2:48)
The original English trailer featuring the theme song by The Hollies is included here.
in 1080p AVC MPEG-4, in 1.85:1, in English Dolby Digital 2.0 with no subtitles


Booklet
A 24 page booklet is included for the first pressing. First is the essay "An Outsize Character: Peter Sellers and After the Fox" by the BFI's Vic Pratt discussing the film's production and where it stood in Sellers' career. "Would You Credit It? The Opening Titles of After the Fox" is by cinema programmer Dr. Deborah Allison, discussing the clever animated credits. "Rome from Home: Hollywood on the Tiber" is by author Howard Hughes of how many Hollywood productions used Rome for film production in the golden age. There are also full film credits, special features information, acknowledgements, and stills from the film.


The film was previously released on Blu-ray in the United States by Kino Lorber and in Germany by Koch Media. The US release has the trailer as well, plus the trailer with commentary by Larry Karaszewski from "Trailers from Hell", which can be seen here. The German release has the original trailer and some galleries, and interestingly also includes the Italian audio track, with the alternate music score.

A clip of the film, courtesy of the BFI has been embedded below.


Overall


"After the Fox" has an incredible roster of talent in front of an behind the camera, but is entirely a Peter Sellers vehicle, leaving everyone else in the dust. It can be laugh out loud hilarious in scenes, but it feels inconsistent even with its cartoon-like tone and wackiness, leaving much of the other talent behind. The BFI Blu-ray features a good transfer in both audio and video, with some good extras as well. Recommended.
| | | | | |
| --- | --- | --- | --- | --- |
| The Film: B- | Video: B+ | Audio: A- | Extras: B- | Overall: B |