Crown Vic AKA Bulletproof
R2 - United Kingdom - Signature Entertainment
Review written by and copyright: Rick Curzon (23rd September 2020).
The Film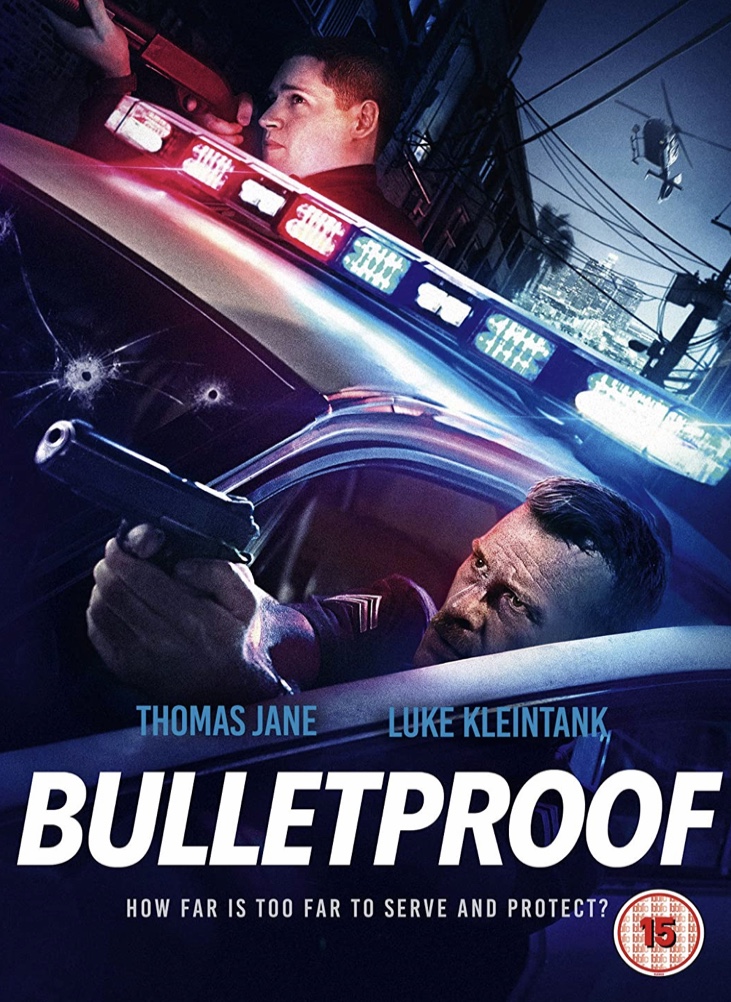 An intense, gritty and riveting crime thriller following two LAPD officers as they hunt down two cop killers on the loose, in a city about to boil over. Training Day meets End of Watch, Bulletproof is a brutal look at the extreme danger and unthinkable sacrifices police officers face when they commit to serve and protect the public. Starring Thomas Jane (The Mist) and Luke Kleintank (The Man in the High Castle).

Video


An old, salty pro in the LAPD (Thomas Jane) is given a rookie (Luke Kleintank) to take out on nighttime patrol ... his first. It's a fraught first night for the poor schmo and as the night progresses their conflicting philosophies come into focus as the older man tries to prepare the younger for the thankless role of patrol cop in the crime zone.

Meanwhile, a couple of heavily armed and armoured robbers are causing havoc and killing cops; you just know that our patrol cops and the robbers are going to party at some point during the night.

This is actually a film called Crown Vic and gets it's name from the Ford Crown Victoria Police Interceptor driven by the US and Canadian police forces from 1991-2011 (the film seems to be set in 2009). Sadly, it's yet another marginal, small film to get a bogus retitling to attempt to make it seem like yet another action flick. It's an excellent film despite the fact it offers little that is new, but it does the same old same old exceedingly well; twenty years ago this would've been playing on the big screen and would probably have done pretty well being a modestly budgeted production given some big marketing and push.

Brilliantly written and directed by Joel Souza and produced by actor Alec Baldwin, this is a winner all the way with a gorgeously lensed nighttime setting by Thomas Scott Stanton. It has a moody neo noir vibe that reminded me the ambiance seen in the likes of Collateral (2004) and Nightcrawler (2014); it's a crying shame that Crown Vic hasn't received a worldwide multiplex release. Although it's being sold as an action film in the US and this marketing is emphasised by the UK retitling, it's much more of a drama. The action when it does come is well handled, but the conversations between pro and rookie are where the meat is at, as both men having very different approaches to life learn to respect each other. If you're looking for a film that offers up complete originality and subsequently to shake your cinematic experience by being innovative then this isn't for you. It's similar in some respects to Training Day (2001) and End of Watch (2012).

Now, I've not seen Training Day but I did read the detailed synopsis online and all I can say is that Crown Vic is a far less contrived effort; more low key, more realistic. It's also similar to End of Watch but superior.

Happily the DVD from Signature Entertainment is a very good affair that's getting top picture and sound marks - for the format - from me.

The colour palette is very rich favouring a warm, slightly stylised naturalistic reality. Flesh tones are strong and concise throughout the film which is set entirely in the wonderfully etched noirish evening-nighttime. Neon lights and streetlights provide a nice counterpoint and the black levels are deep, dark and stygian. Shadow detail is pretty decent for DVD and I saw no unintended crush. Contrast is low key but supportive with plenty of scenes running the gamut from light to dark within the frame and no signs of blow outs and loss of detail.

Being a modern, digitally lensed production there's no signs of any damage at all and it's well encoded for the format with signs of digital tinkering. I didn't even notice any signs of posterisation in the darkness. Obviously, when stacked up against an HD or UHD version this transfer will seem wanting but given that it held it's own on 55" 4K display well.

PAL / MPEG-2 / 2.4:1 / 106:02

Audio


English Dolby Digital 5.1
English Dolby Digital 2.0 Stereo
Subtitles: None

The soundtrack is, like the image, about as good as we can expect given it's in a lossy format. I found that I had to crank the volume up a not h or three in order to get the most out of it. Dialogue is mostly very clear, although on a couple of Thomas Jane's speeches I did find myself rewinding and cranking the sound up to hear. Sadly, no subtitles for the hearing impaired have been included.

As per usual, the 5.1 is more robust and has a degree of depth not found in the basic 2.0. Surround activity is always present with plenty of in-car ambiance coming through. The subwoofer kicked it satisfyingly in the bigger moments and the fine score by Jeffery Alan Jones had it's beefy bits as well i heard no distortions or other issues; a fine track.

Extras


Startup trailers:
- Mortal (2:02)
- The Bay of Silence (2:14)

The usual dispiriting startup trails for other Signature Entertainment titles.

Packaging


Standard black DVD Keepcase.

Overall


Crown Vic is crying out for a special edition BD or UHD BD, but here in the UK we're only getting a DVD and with a bogus, cheap retitle. Image and sound are great for standard definition and there ate no extras. At present, this has had a BD release in the USA and Germany, what a shame not in the UK.

As is usual for Signature Entertainment the day one price is very, very cheap (Amazon have it currently at £7.99) so great falue and highly recomended.
| | | | | |
| --- | --- | --- | --- | --- |
| The Film: A | Video: B+ | Audio: B+ | Extras: E | Overall: B- |

---
DVD Compare is a participant in the Amazon Services LLC Associates Program and the Amazon Europe S.a.r.l. Associates Programme, an affiliate advertising program designed to provide a means for sites to earn advertising fees by advertising and linking to amazon.co.uk, amazon.com, amazon.ca, amazon.fr, amazon.de, amazon.it, amazon.es and amazon.se.