The Film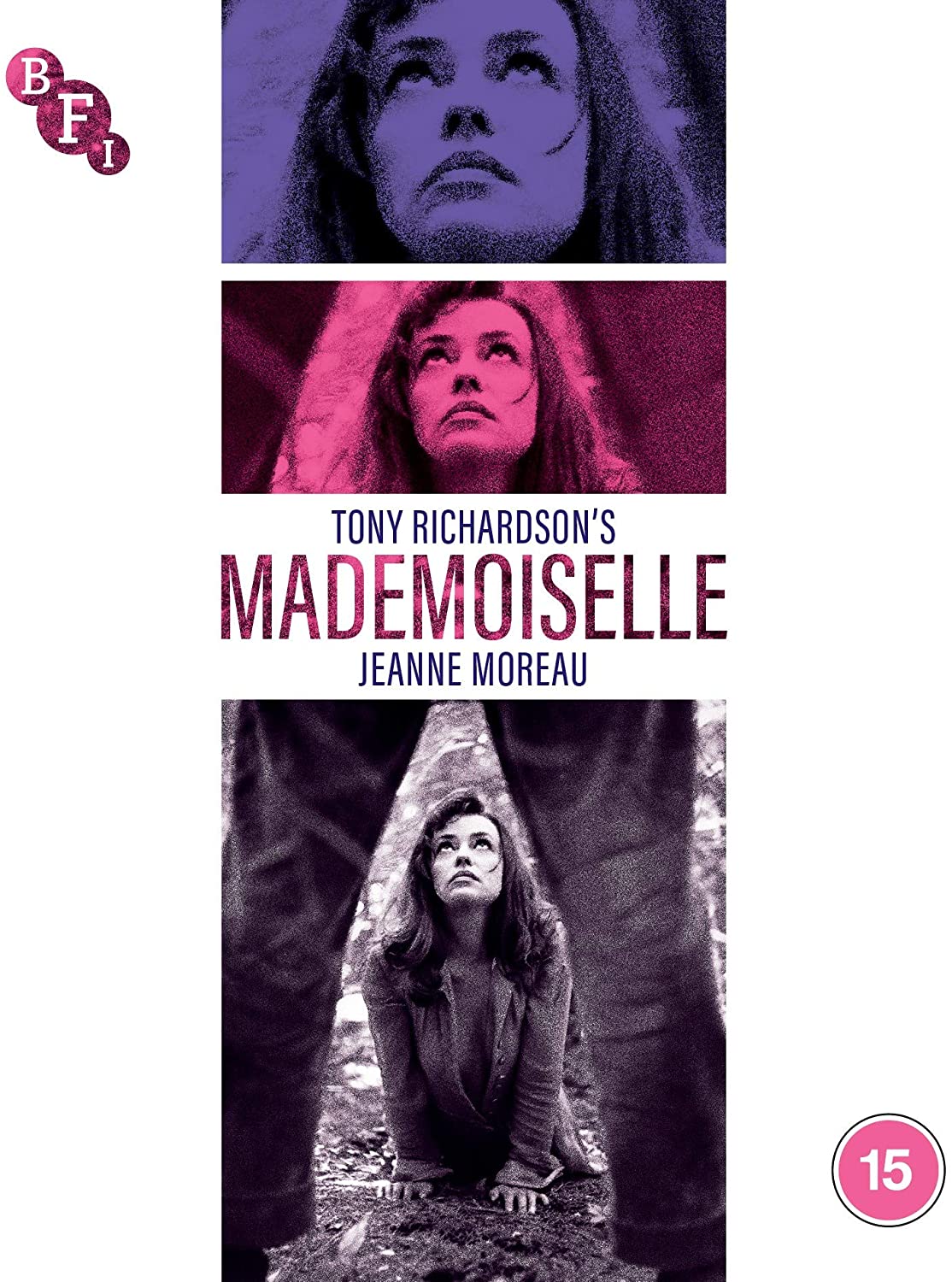 "Mademoiselle" (1966)

In a remote French village, a schoolteacher and city hall worker (played by Jeanne Moreau) may seem like a pure and upstanding citizen, but there is a shockingly darker side to her. She starts fires in barns, deliberately poisons the village animals, and even unleashes a flood. The townsfolk immediately set their suspicions on the Italian woodcutter Manou (played by Ettore Manni), who is temporarily living in the town with his son Bruno (played by Keith Skinner. Even though Manou is one that helps during the town during the various crises, the prejudice against the outsider is strong. But what is the mademoiselle's purpose for starting these troubles and what are the consequences?

Woodfall Films was riding on a high wave of critical and commercial successes with works such as "Tom Jones" (1963) and "The Knack...and How to Get It" (1965) sweeping Oscars and the Palme D'or respectively. Its most prolific filmmaker Tony Richardson's next film was the divisive "Mademoiselle" in 1966, which was booed at Cannes receiving scathing reviews and only having a very limited theatrical release in the UK. But was it deserving of such hate and what was the reason for the negative backlash in its initial run?

Based on the writer Jean Genet's story of the same name and adapted by Marguerite Duras for the screenplay, the story looks at themes of repression, obsession, racism, and sex through the eyes of various characters. With the title being "Mademoiselle" one would think that the eyes would be focused on and through the main female character, who is not given a name. The audience sees her actions from lighting barns on fire, crushing the eggs of a bird nest, and unlocking the dam to start a flood, there are also sequences of her stroking her legs while wearing high heels, putting on make-up slowly. But as to why she is a pyromaniac and why she is doing such destructive deeds are never fully told. There are flashbacks to her starting her first fire which was an accident, but was that really something that triggered her to do it again? There was obviously much more to her character's @ast and her intentions, but leaving it out is an unsatisfying way of presenting a main character or a villain for that matter. A lot of time is set on her character and her actions before and after, including shots of her slowly putting on make-up, her arriving back at the scene of the arsons to try and "help". But more interesting might be the scenes of the Italian father and son and their struggles.

The harsh interaction between the widowed father and son is not a fully loving one, and the schoolteacher's involvement makes things more difficult. Her encounter with Manou in the forest for the first time is sexual in nature but not one that involves sex. She feels lust for him but cannot bring herself to express her true feelings for him face to face. Instead much of the repressed feelings are lashed out on the son Bruno, as she frequently picks on him or gives him trouble in the classroom. The effect she has on the family does eventually turn tragic, and there isn't a happy ending to anyone.

The balance between the time between characters is not particularly equal, and as for cinematic technique, Richardson went completely minimal in the visuals and aural setting. The widescreen black and white cinematography by David Watkin is completely static for each and every shot. There are no tracking shots, no zooms, no camera movement whatsoever, making each frame look like a wide photograph or painting rather than cinema. For the sound, there is no score at all. The only music comes from Latin chanting by churchgoers during a procession, and every sound is from nature. Whether it is the sounds of animals, the wind howling, or the water flowing, there is no accent placed with a score. This can sometimes work as there are quite a lot of films that use no original score. On the other hand there are some films where the score is disruptive of the main action, drowning out the main story and performances. In the case of "Mademoiselle", if the film was shot with movement, with color, and with music it would have made it an entirely different beast. Would it have improved things? It's questionable without a comparison, but without a score and some sequences with a slow pace, the narrative can stall at times. In addition, the blatant symbolic references to sex from the tall trees, the chainsaw, the snake wrangling among arms, are very obvious as many have pointed out but they are not at all out of place, fitting with the theme and the characters.

"Mademoiselle" does have good performances from the leads but there is too little to keep the narrative intact and too little to weave the morals and actions together. There are positive points to be said and some critics have been very praising of the film, but overall it is easy to see why it didn't have the appeal that other Woodfall productions had. Even with its mostly negative reception, it was able to win a BAFTA for Best British Costume and was also nominated for Best British Cinematography.

Note this is a region B Blu-ray / region 2 PAL DVD set

Video


The BFI presents the film in the theatrical 2.35:1 aspect ratio in 1080p AVC MPEG-4. The transfer comes from an HD master by Metro Goldwyn Mayer and Park Circus. In comparison to the earlier Woodfall production releases that the BFI has put on Blu-ray, this one is a bit of a disappointment. The hard black and white image has quite a lot of damage visible throughout the duration, from speckles to scratches to water damage and other markings. The grey levels can be flickering in some scenes, black levels sometimes look crushed leaving details left in shadows, and there are some blurry moments as well. On the other hand some sequences look absolutely stunning in detail, framing is very good with the static shots feeling still and not wobbly, and a healthy amount of film grain is visible throughout. More effort could have been made with a full restoration, but that is not to be found here.

The film's runtime is 103:36 on the Blu-ray and 99:17 on the DVD accounting for 4% PAL speedup.

Audio


English/Italian LPCM 2.0 mono (Blu-ray)
English/Italian Dolby Digital 2.0 Mono (DVD)
The original mono audio is presented uncompressed on the Blu-ray and in Dolby Digital on the DVD. The film was shot in France with a mostly French cast. The Italian speakers speak together in Italian. For the theatrical release the French actors were dubbed by British voiceover actors so their mouth movements are in sync though for most they are not their original voices. Moreau was the only one to have her own voice in both the English and French dubbed versions. The BFI Blu-ray only offers the English audio track and not the French language dub. The audio fares better than the video with clarity throughout, though there are some limitations to be heard with fidelity. There are no major issues like hisses or pops to speak of for a fairly well balanced track.

There are optional English for Italian portions and English HoH subtitles for the main feature in a white font. The default is the English for Italian portions, which also happen to translate other things like French signs and text in town. Both are clear and easy to read without errors.

Extras


This is a dual format set with the film and extras in HD on the Blu-ray, and repeated in standard definition PAL on the DVD


DISC ONE (Blu-ray)

Audio commentary by film scholar Adrian Martin
In this newly recorded commentary, Martin discusses about the film in detail from the praises to even the negativity surrounding it. From the history and attached names like Louis Malle, Joseph Losey, Marlon Brando and others, the production's artistic merits with minimalism and the symbolism, the changes made from the original story to script, and much more. He reads quite a few quotes from critics that are less than flattering, and Martin does acknowledge the flaws the film has. It's a very interesting commentary that looks at multiple views and not just the praises.
in English LPCM 2.0 with no subtitles

"Keith Skinner: Remembering Mademoiselle" interview (36:02)
In this new interview from August 2020 with the former actor, Skinner recalls his start as a child actor from "A Hard Day's Night", filming "Mademoiselle" in France, his recollections of the shoot and the harsh reception, and also his life after acting becoming an authority on the history of Jack the Ripper.
in 1080p AVC MPEG-4, in 1.78:1, in English LPCM 2.0 with no subtitles

"Doll's Eye" 1983 film (74:26)
"Doll's Eye" was co-produced by the BFI and Channel 4 and directed by Jan Worth. Screened during Channel 4ís "The Eleventh Hour" in 1983, the film focuses on three women in London - Jane (played by Bernice Stegers) a researcher, Maggie (played by Sandy Ratcliffe) a sex worker, and Jackie (played by Lynne Worth) a telephone operator and also working as a babysitter for both Jane and Maggie's children. With the troubles the women go through in daily life, it is also coupled with narration by various "men" giving a harsh and cruel contrast to what women must face. Though it is a fascinating piece of work and something that probably would find difficulty in being shown on broadcast television these days, it's strange that it is included as a supplement to "Mademoiselle". None of the cast or crew overlap, the setting is different, even the themes are not the same. The film would have worked better as a Flipside release from the BFI, perhaps with Worth's first film "Taking a Part" from 1979.
in 1080p AVC MPEG-4, in 1.33:1, in English LPCM 2.0 mono with no subtitles

Image Gallery (6:00)
An automated slideshow gallery featuring behind the scenes stills and promotional posters, with some rare stills in color. This is presented without music or narration.
in 1080p AVC MPEG-4

Original Theatrical Trailer (2:00)
The original trailer with no dialogue is presented here in a cropped aspect ratio.
in 1080p AVC MPEG-4, in 1.33:1, LPCM 2.0


DISC TWO (DVD)

Audio commentary by film scholar Adrian Martin
"Keith Skinner: Remembering Mademoiselle" interview (34:36)
"Doll's Eye" 1983 film (71:27)
Image Gallery (6:00)
Original Theatrical Trailer (1:55)
The film and the extras are repeated on the DVD.


Booklet
A 36 page booklet is included. First is the essay "Revisiting Mademoiselle" by freelance writer on television and film Jon Dear, discussing the production, the themes, and reception. Next is "Forbidden Dreams: Jean Genet and Cinema" by author Jane Giles about the writer of the film and his other works. This is followed by a selected filmography of Genet with notes on each film. "Grandeur et decadence d'un petit commerce de cinema (or, The Rise and Fall of Woodfall" is by critic Neil Young about the film company. "Doll's Eye" comes with lengthy notes on the production by Jan Worth. There are full film credits for both films, transfer information, acknowledgements, and stills.


A clip of the film from the BFI has been embedded below.



This BFI release of "Mademoiselle" marks its worldwide debut on the Blu-ray format.

Overall


"Mademoiselle" may have some fine performances from the leads but ultimately is a work from Woodfall films that doesn't have enough to maintain its stay. The hugely negative reception on its 1966 release may not be a surprise, but there are still some positives to be found. The BFI dual format release has a fair but underwhelming transfer, a fascinating commentary and interview, and an odd inclusion of an unrelated bonus film with the package.
| | | | | |
| --- | --- | --- | --- | --- |
| The Film: C | Video: C+ | Audio: B+ | Extras: B | Overall: C+ |