The Blue Eyes
R0 - America - indiepix
Review written by and copyright: Eric Cotenas (28th September 2020).
The Film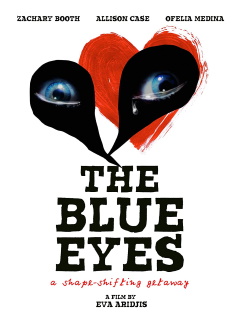 Paul (Nick and Norah's Infinite Playlist's Zachary Booth) and Karen (The Young Pope's Allison Case) arrive in Chiapas on vacation to trace the travels of his late anthropologist grandfather fifty years before. At a local village market, Paul is drawn to the stall of a mysterious old woman (Before Night Falls' Ofelia Medina) who sells him a bracelet with a jaguar tooth and unsettles him with her gaze and her grasp. At a local restaurant, Paul befriends a Xoloitzcuintle – a hairless dog that the Aztecs believed to guide men into the underworld – and Karen is suitably unnerved by the creature when it turns up at their next hotel a hundred miles away. Karen is even more disturbed when Paul falls ill and then starts hallucinating a naked young woman (Claudia Santiago) that no one else can see. After a vivid nightmare in which Karen is torn apart by wild dogs, she wants to go home and is fully prepared to leave without Paul when she sees him in the arms of the naked young woman. She puts aside her petty jealousy, however, when Mexican anthropologist Manuel (Erando González) tells her about the nahualismo (shape-shifting witch) and takes her to see Yixmal (Rafael Cortes), a Tzotzil villager who tells her about an incident involving Paul's grandfather and a local girl the villagers believed to be a witch. After Paul vanishes, Karen starts to believe that she and he are the victims of a diabolical curse and anyone who tries to help them is in mortal danger.

Set against ravishing backdrops and built upon subtle atmosphere over somewhat dodgy digital effects, The Blue Eyes – the second feature of documentary filmmaker/Narcos: Mexico staff writer Eva Aridjis – has a rather conventional plot spoiled by a surprising lack of momentum and urgency in its pacing. Booth has been good in other projects, but he and Case both seem to be floundering with middling dialogue as they are required to downplay the mysterious for the sake of staying in Mexico a little longer for more mysterious things to happen. Case is actually better when her character has to communicate with others in Spanish even though it is obvious that it is not her first language. When the film does start stacking up the genre convention – including character compelled to death by spells – in the third act, there is little in the way of stylistic flair to provide novelty, and not enough quirkiness to make the absurdity of the closing image as enjoyable loopy as similar silliness in more conventional genre fare from earlier eras. At best, The Blue Eyes might best be considered an experiment with generic form than an artistic triumph for its director and a footnote on the resumes of its cast.

Video


Photographed on high definition video, Indiepix's progressive, anamorphic, single-layer DVD is a serviceable encode of a film that is not aggressively-graded in terms of its color. Some fine detail is susceptible to noise but it is not distracting on the whole.

Audio


The LPCM 2.0 stereo track is well-mixed and free of distortion for dialogue, music, and sound design. English subtitles are burnt-in for both Spanish and Tzotzil dialogue, and seem unnecessary in the case of the former for the most part since a Spanish character translates some of the Tzotzil dialogue into English or Spanish for the bilingual heroine.

Extras


The sole extra is a trailer (2:09) for the film.

Overall


The Blue Eyes looks quite picturesque for a low-budget horror film but it is the lack of urgency in the plotting and execution that damage it.

---
DVD Compare is a participant in the Amazon Services LLC Associates Program and the Amazon Europe S.a.r.l. Associates Programme, an affiliate advertising program designed to provide a means for sites to earn advertising fees by advertising and linking to amazon.co.uk, amazon.com, amazon.ca, amazon.fr, and amazon.de.