The Film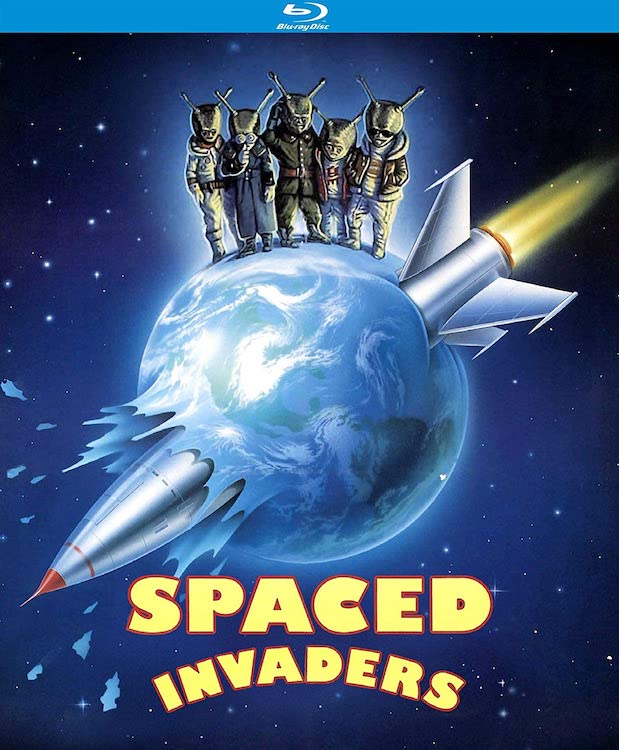 Aliens arrive on Earth and begin invading a small Midwestern town and a local old man, played by Royal Dano, and his dog are among the few who recognize this imminent threat. No, this isn't "Killer Klowns from Outer Space" (1988) – it's "Spaced Invaders" (1990), but what an oddly specific trait for two tenuously related films to share. The threat is much less real in this instance, with the cadre of killer klowns swapped out for a misfit band of Martians who only THINK Earth is under attack. Once again, Orson Welles' infamous 1938 broadcast of "War of the Worlds" is at fault for breeding paranoia; in this case causing a spaceship of nearby Martians to intercept a transmission of Welles' words and assume a planet-wide attack of Earth is already underway. The aliens don't want to miss out on the glory of battle so they stake their claim and make a landing in… Big Bean, Illinois – read: Small Town, U.S.A. The town's size is irrelevant, though, because the Martians' threats wouldn't be taken seriously anywhere – not on this day - because it's Halloween. Everyone just assumes they're kids in masks. Everyone except for a couple of actual kids – Kathy (Ariana Richards) and Brian (J.J. Anderson) – and the aforementioned old man, Wrenchmuller (Royal Dano).

This is a fun one. There isn't any Big Bad or looming threat, really. The biggest "threat" is the aliens themselves, who are trying to decide upon the best course of destruction. Most of the film is a series of awkward interactions with local folks, playing up the fish-out-of-water angle and finding humor in the aliens' amusement of our earthly ways. These aliens have distinct personalities, too; like they were raised on American pop culture. One of them is a rebel who sounds like Jack Nicholson. Another is a nerd. There's the serious one. Each fits a cinematic stereotype but it's funnier because, you know, they're Martians. And honestly, some of their material is genuinely good. The Martians splinter off early on, allowing the film to bounce around town as they make new friends and enemies.

What sold me most is the animatronics. These watermelon-headed men from outer space are highly expressive and, thanks to a person being inside the suit, they move like living things. CGI might be able to add further expressions but nothing beats seeing something tangible on screen, interacting with actors and scenery – you also never know what unexpected things can be captured on film when shooting with practical FX. There is no unknown quality with CGI, where every frame is more deliberately decided upon. In fact, most of the FX work here was done in-camera, meaning on the negative and on a set. Viewer opinions on the script can vary but nobody can doubt the level of effort put into making this little film.

In terms of human actors the only recognizable faces outside of Dano are a young Ariana Richards, a few years before she took a trip to "Jurassic Park" (1993), and Tony Cox, who isn't as foul-mouthed as usual in this PG-rated comedy. Everyone else is just a character actor making up part of the town fabric, all of whom pull their own weight when needed.

Where does the film lose me? It's a bit long in the tooth at around 100 minutes, especially when considering there isn't a pressing plot point or specific task which these aliens need to achieve. For that reason, the film can often feel like a series of awkward run-ins stitched together. It isn't until the third act when some sort of conflict is introduced but, really, it feels minor because the film has already made it clear nothing substantially awful is going to occur. And that's fine by me. Not every movie needs to be about saving a planet or stopping some rogue villain.

Video


Kino Lorber's Blu-ray comes five years after Mill Creek released their own edition and the 1.85:1 1080p 24/fps image here is likely the same master used in 2015. A fresh scan could have been beneficial here because there are a number of minor issues that add up to an average image. Contrast is washy, leaving some nighttime scenes looking grayer than true black. Film grain is variable throughout and occasionally spikes look a bit noisy. Scratches in the emulsion and dirt are visible, too, and cleaning that sort of stuff up is Remastering 101. On the plus side, colors generally look pleasing and the overall picture has a nicely filmic 90's look that I don't hate. I just feel that A/V quality should trump anything else on a reissued disc and the only changes to this one are in the bonus features department.

Audio


An English DTS-HD Master Audio 2.0 stereo track is the sole option and while there aren't any issues the track feels like it's lacking from a dynamic standpoint. The audio was originally mixed in Ultra Stereo, meaning the discreet channels needed for surround sound audio would have been available. Again, it's likely Kino Lorber simply dumped whatever they got from Mill Creek onto this Blu-ray and called it a day. Subtitles are available in English.

Extras


An audio commentary features co-writer/director Patrick Read Johnson, co-Writer Scott Lawrence Alexander, co-editor Seth Gaven, and second unit director Scott Andrew Ressler. Not bad considering no one asked for this.

"Fan One: Interview with Co-Writer/Director Patrick Read Johnson" (1080p) featurette runs for 16 minutes and 38 seconds.

"The Sheriff of Big Bean: Interview with Star Douglas Barr" (1080p) featurette runs for 8 minutes and 49 seconds.

"Spiff and Me: Interview with Star Ariana Richards" (1080p) featurette runs for 6 minutes and 13 seconds.

"Blaznee Speaks!: Interview with Actor Kevin Thompson" (1080p) featurette runs for 9 minutes and 13 seconds.

"Model Kits from Mars: Interview with Visual Effects Supervisor John Knoll" (1080p) featurette runs for 9 minutes and 52 seconds.

"Invasion of the Watermelon Heads: Interview with Alien Special Effects Supervisor & Creator John Criswell" (1080p) featurette runs for 9 minutes and 32 seconds.

"Spaced Invaders" original theatrical trailer runs for 2 minutes and 5 seconds.

There are Bonus trailers (SD) are included for the following Kino titles:

- "My Science Project" runs for 2 minutes and 9 seconds.
- "The Puppet Masters" runs for 1 minute and 45 seconds.
- "Deep Rising" runs for 1 minute and 25 seconds.

Packaging


The single disc BD-50 comes housed in a standard Blu-ray keep case. The cover art is reversible.

Overall


Does it sound lame to say this small town film has big time fun? Probably, but it's true, and I got a good dose of nostalgic 90's vibes from this Halloween-set sci-fi comedy. Those looking for a solid story won't be wowed but this packs in enough charm and eye candy (I never tire of watching good animatronics in action) to be entertaining and enjoyable. I only wish Kino had been able to remaster the video & audio.
| | | | | |
| --- | --- | --- | --- | --- |
| The Film: B | Video: B- | Audio: B | Extras: A- | Overall: B |