Eve AKA Eva AKA The Devil's Woman (Blu-ray) [Blu-ray]
Blu-ray B - United Kingdom - Powerhouse Films
Review written by and copyright: Rick Curzon (1st October 2020).
The Film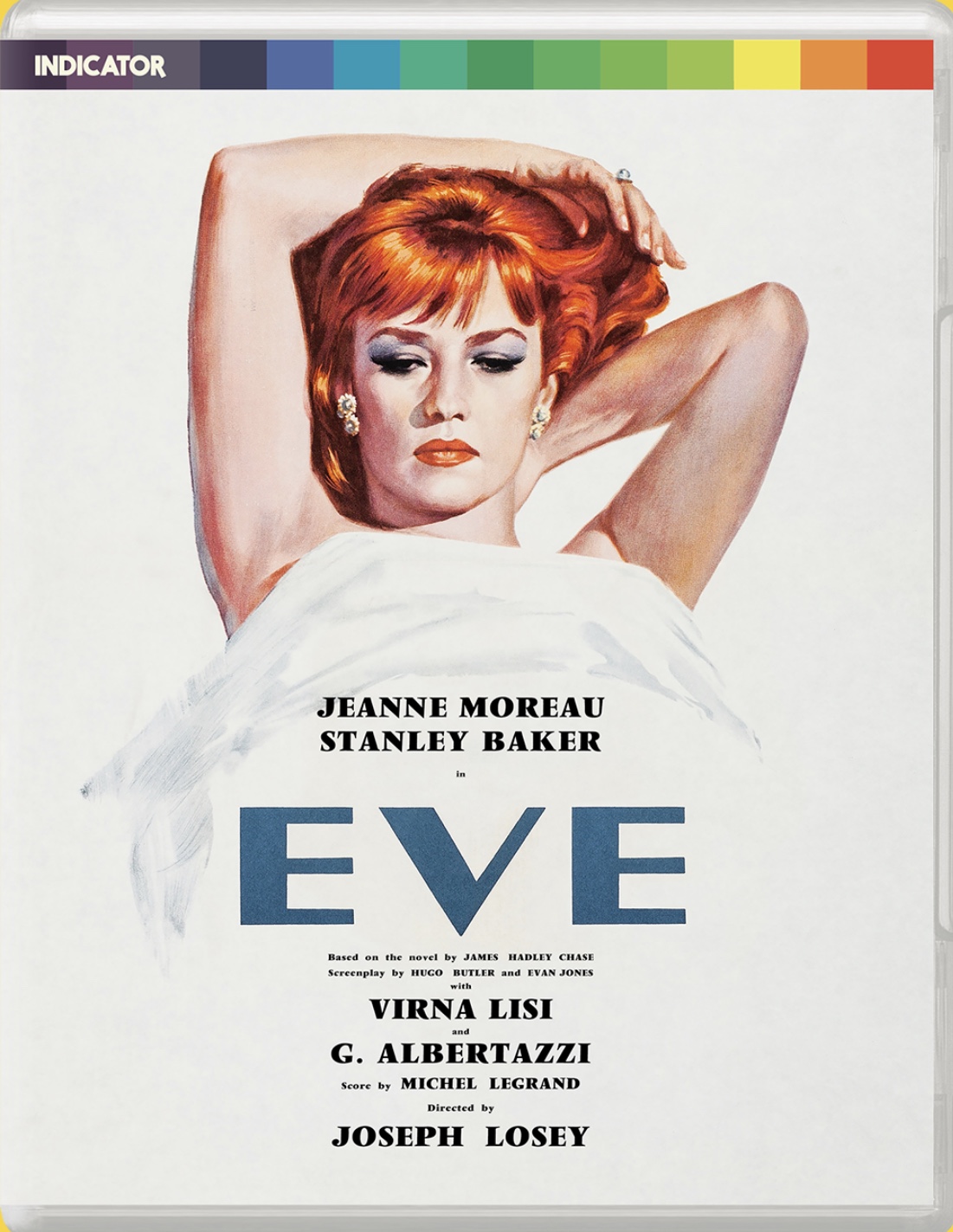 Jeanne Moreau (Jules et Jim) and Stanley Baker (Yesterday's Enemy) star as two lovers caught in a deadly affair in Joseph Losey's 1962 adaptation of the James Hadley Chase novel.

A highly personal project for Losey, Eve was blighted by producer interference, and was heavily cut for its general release under the title Eva.

Powerhouse Films is delighted to present the longest known version of the film for the very first time on home video in this definitive, world premiere Blu-ray edition.

Video


Arthouse drama based on James Hadley Chase's 1945 book, from UK-based American director Joseph Losey fresh off making Hammer's The Damned (1961) which had been troubled. Eve would be as well with multiple cuts appearing after Losey's lost 155 minute cut. Messed about by his producers, Losey was forced to reduce the film and it appeared in several shorter edits down the years.

It's not an easy film to like being lead by two rather unsympathetic leads; a troubled Welsh writer (Stanley Baker) and a (seemingly) money seeking French woman (Jeanne Moreau). It is however, beautifully shot in crisp monochrome and looks a peach on Powerhouse Film's new Blu-ray edition which restores the film to something closer to Losey's preferred version. We have four variants here ranging from 127 minutes down to 108.

The Eye Restorations - 1.85:1 (126:01, 126:32)

First off, I could detect No colour bias at all; just pristine black and white and looking glorious. Black levels are deep and rich throughout all variants with no unintended crush to be seen. Contrast is generally very supportive but early on in the longer 1.85:1 versions Baker's white tux did feel like it was a little blown out. I suspect that the different sources may account for some of the imperfections. This is a grainy film and the transfers uphold this look. The encode is superb and allows it all to breath in a very organically film like presentation; I didn't notice much print damage but the odd speck and blip was present. There's no signs of any digital manipulation but be aware that there are a couple of sequences where Scandinavian subtitles are permanently burnt in.

The Studio Canal Masters - 1.66:1 (109:11, 108:10)

More or less the same as the above albeit without the Scandinavian subtitled sequences. The image seemed a trifle less robust overall with the odd density issue. Not much more to add.

1080/24p / MPEG-4 AVC / 1.85:1, 1.66:1 / 126:01, 126:32, 109:11, 108:10

Audio


English DTS-HD Master Audio 1.0
Subtitles: English HoH

Audio is surprisingly sound with plenty of clear dialogue delineation and no distortions although by the standards of some other more robust mono tracks it is a slight tinny. Base is present but won't challenge anyone's subwoofer but gets the job done. Michel Legrand's score is well served with no issues to report.

Subtitles for the hearing impaired are present and extremely full.

Extras


"The British Entertainment History Project (BEHP) Interview with Reginald Beck: Conducted by Alan Lawson and Winston Ryder on 22 July 1987" plays as an alternate audio track over the Eye restoration (124:31)

Another exceptional, vintage recording that has Beck covering his career with plenty of focus on Losey. If you've heard any if these before you know it's a valuable additional and riveting listen.

"A Creation Myth: Neil Sinyard on Eve" 2020 featurette (23:31)
"All About Eve: Gavrik Losey on Eve" 2020 featurette (18:57)

Two new featurettes, both offering plenty of contextual value, both very specifically about Eve; especially Losey's view that his dad's film was "A very strange picture" he feels was tied up in his parent's complex relationship.

The Sinyard chat concentrates on how the film has been cut about over the years calling it a "mutilated masterpiece" and sets it alongside other films of a similar, tortuous road to the cinema screen as Greed (1924), The Magnificent Ambersons (1942), The Red Badge of Courage (1950) and (a favourite of mine) The Private Life of Sherlock Holmes (1970). Sinyard is always an intelligent commentator and worth a listen.

"The Many Faces of Eve" 2020 featurette (15:45)

Exceptional new featurette that discusses the different versions and restoration.

"Other Places: An Interview with Joseph Losey" 2020 featurette using material originally broadcast 26 January 1967 (French voiceover with optional English subtitles) (8:33)
"Appetite for Destruction: Jeanne Moreau on Eve" 2020 featurette using material originally broadcast 30 January 1972 (French with optional English subtitles) (4:44)

Two fascinating archival pieces made for French TV. The Losey interview has a French voiceover.

UK Theatrical Trailer (3:32)
French Theatrical Trailer (3:32)

Standard promo pieces.

Eve Image Gallery: Original Promotional Material (37 images)

Solid HD still gallery.

36-page liner notes booklet by Phuong Le, Joseph Losey on Eve, a look at the James Hadley Chase source novel, an overview of contemporary critical responses, Simona Monizza on the EYE Filmmuseum restoration of Eve, and film credits

Yet another exceptionally engrossing and contextually useful booklet; lots of added value here.

Packaging


Standard, clear Blu-ray case.

Overall


Another valuable restoration presented by Powerhouse Films of a film that has been largely very hard to see with only a long out of print US DVD being how many (including myself) first made Eve's acquaintance. Not an easy film, but a valuable one. Lots of great, detailed extras
| | | | | |
| --- | --- | --- | --- | --- |
| The Film: A- | Video: A | Audio: B+ | Extras: A+ | Overall: A+ |

---
DVD Compare is a participant in the Amazon Services LLC Associates Program and the Amazon Europe S.a.r.l. Associates Programme, an affiliate advertising program designed to provide a means for sites to earn advertising fees by advertising and linking to amazon.co.uk, amazon.com, amazon.ca, amazon.fr, amazon.de, amazon.it, amazon.es and amazon.se.