The Film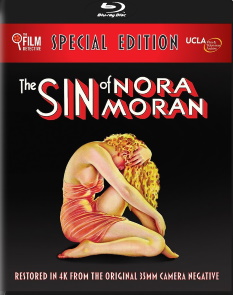 Discovering love letters from an unknown woman in the safe of her governor husband Dick Crawford (House of Wax's Paul Cavanagh), Edith (Abbott and Costello Meet the Killer, Boris Karloff's Claire Du Brey) goes to her brother District Attorney John Grant (Supernatural's Alan Dinehart) demanding to know the identity of the other woman with whom her husband kept a love nest in the next state over for nearly a year. John pleads with her to drop the subject; however, when she threatens to hire a private detective to investigate her husband, Dick reluctantly agrees to tell her about the other woman: Nora Moran (The Mummy's Zita Johann) who was sentenced to death in the electric chair for murder, earning the scorn of the public for stoically refusing to offer up any kind of defense or mitigating circumstances for the crime. Having discovered evidence of the affair himself, Grant did a thorough investigation himself of Nora and in retrospect has come to realize that her behavior is part of a pattern born of experience from her early days as an orphan adopted at age six by a childless couple (Harvey Clark and Aggie Herring), her happiness cut short at age seventeen by their deaths in a road accident, studying dance with the little money her adoptive parents left her and pounding the pavement facing endless rejection until she landed a position as window dressing in the circus of lion wrestler Paulino (The Ten Commandments's John Miljan). When a drunken Paulino rapes her one night after a show, she is able to escape through the financial help of alcoholic troupe member Sadie (Ann Brody). She flees to New York and ends up in a nightclub revue where she catches the eye of Crawford who courts her in secret, whisking her off to their countryside love nest where she stays a kept woman blissfully unaware of her lover's infidelity but fearful that her past may emerge; and when it does, she will take the blame no matter what the truth of the circumstances, merely thankful for the gift of a true happiness.

Coming nearly a decade before Orson Welles' landmark Citizen Kane, The Sins of Nora Moran stylistically suggests it was inspired by some of the same cinematic sources as the Welles film; although perhaps its W. Maxwell Goodhue stage play source "Burnt Offerings" may also have influenced the film's ambitious non-linear and often surreal staging. The film's opening setup as seemingly a bookend for an extended flashback but Grant's narrative interpretation of the events gives way to Nora's which in her sedated delirium in the hours up to her scheduled execution is interceded by characters who ask her how things might have gone differently if she had made different choices while she seems resolved to her fate, wanting to relive the truth over illusion (Nora's fallen woman is not a cynical victim of bad choices but of exploitation even in some manners she cannot comprehend). Sounds and voices that intrude upon her delirium from those looking after her and guarding her are twisted into portents of doom in the "flashback" to the point where we are uncertain if the sounds of Paulino's carnival outside the window of Crawford's cottage that terrify Nora are physically present or in her mind when she warns Crawford to leave before something bad happens. Although the film's style is expressionistic and the story anticipating situations and structures of later film noir, what surprises with this Pre-Code film is its frank depiction of humanity in which someone like Nora really could seem saintly in her resignation to her place in the world. While Paulino is the heavy, Crawford and Grant reveal themselves as weak-willed while Edith – who as the wronged wife would be designated as the sympathetic party after the Production Code went into effect – is exposed by her own brother as an opportunist with a hypocritical sense of propriety, regarding the "work" she did in her marriage as furthering her husband's career rather than anything sentimental. Better known for her turn as the reincarnated romantic interest of The Mummy, Johann is given the ultimate showcase despite the passivity of the role but she makes believable her tragic belief in the part she plays in the wrongful actions of others as filtered through her compromised recollection as she believes either rightly or mistakenly entirely abandoned by the good people in her life, including the orphanages Father Ryan (The Devil Doll's Henry B. Walthall) who she calls for in the hours leading up to her death. The Sin of Nora Moran was the penultimate directorial effort of Majestic Pictures' prolific producer Phil Goldstone whose studio brought viewers such Pre-Code horrors as The Vampire Bat and White Zombie, and whose final film as a director would be Damaged Goods, a sex hygiene scare film about the dangers of syphilis.

Video


Released theatrically by producer Majestic Pictures, The Sin of Nora Moran fell into obscurity until film collector/Independent-International head Samuel M. Sherman fell in love with the film at a collector's screening as a young man and eventually traded for a 16mm print. He later acquired the original 35mm nitrate negative and produced safety elements in 35mm and 16mm for a television package under the title Voice from the Grave which screened throughout the eighties. The original camera negative combined with some workprint elements were restored in cooperation with the UCLA Film & Television Archive and David Sheperd, and a digital master served as the source of Image Entertainment's 2001 DVD. More recently, a new HD master was struck from the restored materials and a DCP created for screening followed by this 1080p24 MPEG-4 AVC 1.37:1 pillarboxed Blu-ray which looks on par with some of the mid-tier studio restorations of films of the period. Some damage evidentially could not be painted out and has been left in but it is relatively minor. The clarity of the image is most evident in close-ups while opticals look a bit coarser – and optical effects are used for more than transitions in expressionistically conveying the perspective of the protagonist – and one is uncertain whether a couple bumpy edits are part of the original post-production, missing frames, or the insertion of material from other sources. For much of the running time, the curved corners of the frame are visible on all four sides while some shots where they are not visible may be evidence of the workprint inserts or slight zooming in for digital image stabilization (some subtle weaving and jitter is evident in some uncropped shots).

Audio


The RCA-Victor "high fidelity" sound recording and mixing sounds expectedly narrow on the disc's DTS-HD Master Audio 2.0 mono track but is generally quite clean-sounding, and one is not always certain whether dialogue being muffled by music is a stylistic effect or evidence of multiple audio elements being overlayed in transition. Silences in the film evince a trace of hiss rather than dropping out entirely like some overzealous digital audio noise reduction. Optional English SDH subtitles are included.

Extras


The sole video extra is "The Mysterious Life of Zita Johann" (17:19), an interview with film historian Samuel M. Sherman who recalls seeing the film in a collector's screening, obtaining a 16mm print through trade and screening it for actress Johann who provided him with plenty of anecdotal information about the shoot. He also recalls recruiting her for a guest appearance in Raiders of the Living Dead, a Brett Piper film titled "Dying Day" that had already been sold to cable and played in workprint form as "Dark Night" to raise funds for the "Raiders" version reshoots for its final theatrical and home video incarnation. Although he had started restoring the 16mm print for a syndication TV package, he eventually obtained the original 35mm nitrate negative from Hemisphere Pictures' Irwin Pizor (who would eventually leave that company to form Independent-International with Sherman) who happened to be the nephew of former Majestic Pictures head Herman Gluckman.

Packaging


Packed with the disc is a short booklet with an essay by Sherman illustrated by reproductions of newspaper press items on Johann from the period of the film as well as a press kit bio on her from Raiders of the Living Dead.

Overall


Once a lost film, The Sin of Nora Moran stimulates not only as a frank Pre-Code film but also in revealing that Orson Welles' Citizen Kane was not the first film to experiment so expressionistically with narrative chronology.