Irresistible [Blu-ray]
Blu-ray ALL - America - Universal Pictures
Review written by and copyright: Eric Cotenas (3rd October 2020).
The Film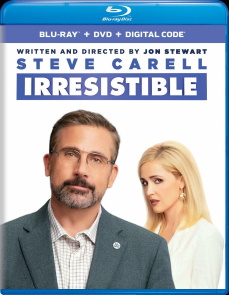 In the aftermath of the 2016 presidential election, hotshot Democratic Party strategist Gary Zimmer (The Office's Steve Carell), most arrogant of all in presuming a Clinton landslide wind against Trump, vanished from the public eye amidst much conservative media gloating. He reemerges, however, when video of a town hall council meeting in Deerlaken, Wisconsin in which farmer and retired Marine Colonel Jack Hastings (American Beauty's Chris Cooper) stands up for the town's immigrant population which Mayor Braun (The Belko Experiment's Brent Sexton) is prepared to throw under the bus amidst the dying town's increasing budget cuts and scapegoating. Zimmer believes he can push the American heartland to vote Democrat in the next election if he can convince Hastings to run against Braun in the town's mayoral election ("He's a Democrat, he just doesn't know it yet"). Zimmer descends upon Deerlaken and tries to ingratiate himself with the locals and make the case for Hastings to run, in spite of the skepticism about his motives by Hasting's daughter Diana (Blade Runner 2049's Mackenzie Davis). Gary soon discovers that Braun not only has the support of the Republican National Committee but that they are sending Republican Party strategist Faith Brewster (Insidious' Rose Byrne) to help Braun and stoke up the town's conservative attitudes; although Zimmer himself may inadvertently be aiding the enemy when his own team proves as out of touch with the Midwest as he had feared himself to be.

Suppose they gave an election and nobody came? Although helmed by The Daily Show's comedian and incisive political commentator Jon Stewart, Irresistible feels like Wag the Dog-lite in a world where Wag the Dog turns out to be a much more hard-hitting political satire than we believed it was back in 1997. Although credited as written and directed by Stewart, one is hard-pressed to figure out whether the end result was compromised by producer/distributor interference, the performers' reluctance to commit themselves to anything that might alienate a part of their fanbases, or Stewart taking a light-hearted approach to reach a wider audience. While the criticism that liberals are out of touch with what are believed to be "Midwestern values" while conservatives cynically appropriate them, and that "both sides" equally exploit their bases is valid, that the joke is ultimately on them here by way of an elaborate turnabout makes for a limp finale. Carrell has it in him to play a character such as Zimmer but he's pretty much a variation of Michael Scott here while Byrne in a blonde dye job is virtually unrecognizable and seems rather anonymous here; it may actually be fitting that the actors who do make a good impression here are veteran Cooper and relative newcomer Davis. The casting of supporting roles seems rather shallowly-considered, stocked as it is with the likes of too recognizable That '70s Show's Topher Grace and Natasha Lyonne (Slums of Beverly Hills) as the city liberals and Madtv's Will Sasso (in a more subtle turn than his Kenny Rogers impression) while the lesser-knowns could have done with more screen time as the locals. One comes away from the film thinking "If only its goals were not so modest as its production."

Video


No complaints about Universal's 1080p24 MPEG-4 AVC 1.66:1 widescreen encode - the aspect ratio seemingly chosen not so much for intimacy as to least compromise the framing of the archival news footage used in the credits and elsewhere - with deep blacks, some warm highlights in the Midwestern scenes, and more neutral coloring in the D.C. scenes.

Audio


The sole audio option is a DTS-HD Master Audio 5.1 track that is generally front-oriented with "conservative" use of the surrounds apart from crowd scenes and support for the music scoring (some source music like songs is deliberately tinny). Optional English SDH, French, and Spanish subtitles are included.

Extras


Extras are not particularly comprehensive but appropriate to the EPK treatment Universal affords most of its mid-tier titles. A series of deleted/extended scenes (20:34) turn out to be wisely-deleted superfluous bits, although one is not certain whether their inclusion really would have raised criticism about their lack of necessity while a gag reel (5:49) really only provokes titters in the cast. A trio of featurettes – "An Irresistible Story" making-of (4:12), "Campaign Comedy: The Cast of Irresistible" (3:39), and "Taking the Lead: Jon Stewart" (3:05) – focus mainly on Stewart's motivations for telling the story, his feelings about the casting – Carrell's suitability for the lead and being intimidated by directing Cooper – and the cast noting Stewart's knowledgeability about all things political (so much so that they of all actors take his direction to the point of parroting his style of delivery in the dialogue as seen in the behind the scenes video).

Overall


Although helmed by The Daily Show's comedian and incisive political commentator Jon Stewart, Irresistible feels like Wag the Dog-lite in a world where Wag the Dog turns out to be a much more hard-hitting political satire than we believed it was back in 1997.

---
DVD Compare is a participant in the Amazon Services LLC Associates Program and the Amazon Europe S.a.r.l. Associates Programme, an affiliate advertising program designed to provide a means for sites to earn advertising fees by advertising and linking to amazon.co.uk, amazon.com, amazon.ca, amazon.fr, and amazon.de.