The Film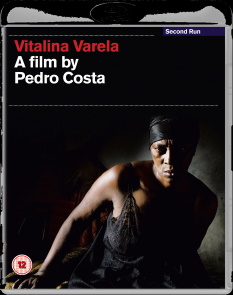 Prémio Autores (Best Film): Pedro Costa (nominee) - Autores Awards, Portugal (2020)
Silver Hugo (Best Feature Film): Pedro Costa (winner) and Gold Hugo (Best Feature): Pedro Costa (nominee) - Chicago International Film Festival (2019)
Best Actress: Vitalina Varela (winner), Golden Leopard (Best Film): Pedro Costa (winner), and Prize of the Ecumenical Jury - Special Mention: Pedro Costa (winner) - Locarno International Film Festival (2019)
Sophia (Best Film): Abel Ribeiro Chaves (nominee), Best Director: Pedro Costa (nominee), Best Actress: Vitalina Varela (nominee), Best Original Screenplay: Pedro Costa and Vitalina Varela (nominees), Best Cinematography: Leonardo Simões (nominee), and Best Sound: Hugo Leitão and João Gazua (nominees) - Portuguese Film Academy Sophia Awards (2020)

After twenty years apart from her husband, Vitalina Varela arrives in Lisbon to a welcoming party of mourners who tell her that her husband was buried three days ago, his house is not hers, and that she should go back to Cape Verde. Settling into her husband's house, which has been cleaned of both bloody bedding and personal belongings by the neighbors, Vitalina finds an environment that is at once the same as Fontainhas yet unfamiliar. As she contends with daily visits from specter-like well-wishing mourners and the very foundation of the house crumbling around her (and on top of her) – particularly galling since one of the mourners told her that her husband wanted the house to be just right before he sent for her – Vitalina's seething resentments about her husband's absence comes to the fore as she carries on not so much a monologue as a one-sided dialogue with the dead man about the life they were building together in Cape Verde (including the house she continued to build by hand while she was pregnant) and her disappointment seeing that the ambition that took him to Lisbon in search of work had waned until he became no different from the other immigrants who have fallen into listless routines – which now include daily visits until Vitalina loses her temper and refuses to see them anymore – waiting for alcohol to eventually claim their lives. Vitalina herself starts to succumb to an all-consuming isolation until she discovers among the immigrants a priest from her parish (Ventura) who experienced a crisis of faith after a bus accident involving multiple casualties he had moments before refused baptism – souls he believe still haunt him a continent away – the man who she discovers had been responsible for burying her husband without ceremony or contacting her ("He left with a clean soul. I sang him a nice sermon") who she now demands he say a mass for her husband… and for herself.

Like director Pedro Costa's Horse Money, Vitalina Varela is an extension of the world established in his Fontainhas Trilogy of films comprising Ossos, In Vanda's Room, and Colossal Youth; the trilogy itself inspired by Costa's documentary interest in the Cape Verdeans whose lives reshaped Casa de Lava from a straight remake of Jacques Tourneur's I Walked with a Zombie into what Vitalina Varela might be construed as a reverse remake. In the former film, a Portuguese nurse (Gang of Four's Inês de Medeiros) transports a comatose bricklayer (White Material's Isaach De Bankolé) from Lisbon to Cape Verde and arrives to discover no one to claim him, remaining there in search of the man's family until she starts to lose her own sense of self in the former colony. Vitalina Varela, who was introduced in Horse Money along with the true story of coming to Lisbon to discover her husband had died days before, is riveting in a "performance" of a truth shaped and reshaped by time, transfixing even as she herself is transfixed by the camera and the expressionistic low-key lighting of Costa regular Leonardo Simões that paints the Fontainhas in shafts of light and bottomless blacks; but it is a certain spark of life and rebellion in her eyes and voice that differentiates her from the haunted, prowling Ventura. At just over two hours, Vitalina Varela is no longer than some of Costa's other works, but the viewer's mileage may vary depending on how engrossing one finds the other films of which Vitalina Varela blends seamlessly in terms of visuals and sound design. If there is a fatal flaw, it would be the casting of Ventura as the priest. Like Varela, Ventura has performing a version of himself but we have come to recognize that persona to the point that it is just flat out odd to see him playing another "role" like an actual actor even if the true life character he is playing is someone from shared memories of Varela and Ventura (who are in some way related, either biologically or spiritually). With Costa's Fontainhas mise-en-scene starting to feel oppressively overfamiliar, one wonders what his next project will be and if it will exist in the same stylistic universe.

Video


Whereas Colossal Youth was shot on PAL DVCAM and Horse Money was apparently shot using the PAL Panasonic DVX100 camera and finished in HD - although Costa's claim that it was HD suggests that he might have misstated the model of camera - Vitalina Varela was lensed on an Arri Alexa studio camera with a dynamic range suited the range of light and shadow in the location scenes, and Second Run's 1080i50 MPEG-4 AVC pillarboxed 1.33:1 encode has a nice sense of depth and detail even in shots comprised largely of shadow that never seem to flatten or block up in any noticeably distracting manner.

Audio


The LPCM 2.0 stereo track is serviceable for a dialogue-heavy film, but the DTS-HD Master Audio 5.1 track demonstrates a very considered sound design of subtle surround atmosphere that suggests the presence of others in the neighboring houses without offering comfort. Optional Engilsh subtitles are free of errors.

Extras


Extras start off with an introduction by critic and author Chris Fujiwara (4:14) who notes the timeliness of the film's theme of thinking critically about the way one inhabits their space, as well as the feeling in the film of people having fallen out of time and Varela's desire "re-enter time." The major extra is an interview with director Pedro Costa (78:08) in conversation with Maria Delgado recorded at the ICA Cinema, London, March 2020 in which he discusses meeting Varela during Horse Money, working with her before the film and during the production to shape the story, and his fears about having her engage with painful memories – leaving it up to her which ones she felt were necessary to confront – and he also cops to the casting of Ventura as a different character as being "Hollywood" thinking having to do with his uncertainty about having Varela occupy the screen alone for two hours. He does note that the real life basis of the character Ventura plays is one who was known to both performers. The disc also includes "Pedro Costa: Companhia" (12:26), a short film about Costa's installation exhibition at the Serralves Museum, Porto in 2018, as well as four teasers for the film.

Packaging


Housed in the case with the disc is a 24-page booklet featuring writing on the film by Daniel Kasman starting with an appreciation of the film that also comments upon the casting of Ventura as another character, noting the power of the performance while also finding it an "undue interruption." The bulk of the booklet is a text interview by Kasman with Costa who discusses meeting Varela, Ventura embodying "somebody else's torment," Costa's collaboration with Varela, the theme of isolation, and Simões lighting scheme for the locations.

Overall


Pedro Costa's Vitalina Varela is at once compelling and overfamiliar, by turns masterful and flawed in ways that are perhaps ultimately illuminating to the existential crises of its characters.