The Film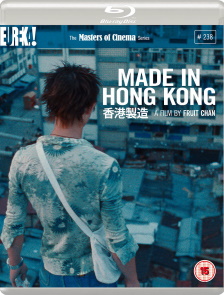 New Currents Award (Best Film): Fruit Chan (nominee) - Busan International Film Festival (1997)
Golden Bauhinia Best Picture (winner), Best Director: Fruit Chan (winner), Best Screenplay: Fruit Chan (nominee) - Golden Bauhinia Awards (1998)
Golden Horse Award (Best Director): Fruit Chan (winner), Best Original Screenplay: Fruit Chan (winner), Best Feature Film: Doris Yang (nominee), Best Leading Actor: Sam Lee (nominee), and Best Film Editing: Fruit Chan (nominee) - Golden Horse Film Festival (1997)
Hong Kong Film Award (Best Picture): Andy Lau (winner), Best Director: Fruit Chan (winner), Best New Performer: Sam Lee (winner), Best Screenplay: Fruit Chan (nominee), and Best Film Editing: Fruit Chan (nominee) - Hong Kong Film Awards (1998)
Film of Merit (winner), HKFCS Award (Best Director): Fruit Chan (winner), and Best Film (nominee) - Hong Kong Film Critics Society Awards (1998)
Swissair/Crossair Special Prize: Fruit Chan and Andy Lau (winners) - Locarno International Film Festival (1997)

A high school dropout, Mid-Autumn (Bio-Zombie's Sam Lee) has become a debt collector for Brother Wang (Sang Chan). Mid-Autumn is different, however, he has got a brain and he is not lazy; or so he claims. His mother (Doris Yan-Wah Chow) has tired of excuses as to why he cannot take a real job and would rather beg her husband – who is living with his mistress and their child – for money than take the "dirty money" Mid-Autumn skims off his collections. Conversely, social worker Miss Lee (Siu Chung) remains eternally optimistic about the prospects of Mid-Autumn and lovelorn Keung (Wai-Chung Wu) who is trying to turn over a new leaf to court the older woman. Mid-Autumn sees himself as a caring "big brother" in protecting mentally-handicapped Sylvester (Little Cheung's Wenders Li) from bullies, although the beatings he administers to Sylvester's tormentors and his attempts to badger the other teen into kicking them when they are down do not seem any different from the tactics rival collector Fat Chan (Tat-Yee Chan) teaches the school youths that follow him around on jobs. When Sylvester is attacked by bullies once again, Mid-Autumn visits him at the hospital only to learn from the staff that Sylvester had two envelopes on him stained with blood that does not belong to him; whereupon he learns that Sylvester stumbled upon the body of high school student Susan Hui (Ka-Chuen Tam) who jumped off an apartment building. Subsequently, Susan's ghosts starts to haunt Mid-Autumn through a series of wet dreams, but he is uncertain about what she wants. While trying to collect a husband's gambling debt from his wife (Carol Lam Kit-Fong), Mid-Autumn meets the woman's daughter Ping (Neiky Hui-Chi Yim) who at first offers herself to him hoping to cancel her father's debts but then shows up on his doorstep and joins his and Sylvester's endeavors to deliver Susan's letters to their recipients. When Ping reveals that she is dying and in need of a kidney transplant, Mid-Autumn thinks Susan's continued haunting is pushing him towards fulfilling a purpose in life; but a failure of nerve triggers a series of events which lead Mid-Autumn to the point where he wants to "shock the world."

After working his way up in the industry and helming two unsuccessful directorial efforts, director Fruit Chan (Dumplings) found his career stalled and he was forced to return to the position of assistant director while he attempted to develop his third film as a director outside the industry (although with the support of actor Andy Lau's production company). Shot in 1996 with the handover of Hong Kong less than a year away, the film does address in a roundabout way tensions with mainlanders – including some who blame them for business failures or intermixing for domestic strife – while Mid-Autumn's youthful outcry seems so much more than a narrative parallel to the limitations Chan may have felt imposed upon him as a filmmaker. He charts broken families where adults can run away and start "Life, Take 2" while their children have lesser prospects, literally as potential organ donors in their dead-end business as debt collectors who eventually will become the killers the adults already believe them to be; with Susan's suicide seeming to be the only other alternative or inevitability. The film's scenes of Mid-Autumn as a hitman find Chan experimenting with visuals and music in a manner that at first seems cliché but are reflective of the character "playing" at the role – which is in a way, a more "adult" role than he has been inhabiting. Much more moving is the actual violence that ensues in which however much Mid-Autumn justifies his attacks, they always feel misdirected as if he is venting it onto anyone who seems bad to him until he only has himself to physically harm. It is a despairing message for what ultimately turned out to be the mulit-award-winning film that established Chan as a talent. Although the film has a sort of early Wong Kar-Wai feel to it, Chan has not had quite the same international crossover, with his first English-language, American production Don't Look Up being a visually-striking but ultimately poor remake of the superior Japanese horror film Ghost Actress from Hideo Nakata (Ringu).

Video


Given its only English-friendly theatrical release in the U.K., followed by a VHS release, Made in Hong Kong has largely been unavailable on home video until its recent 4K remaster which premiered on Blu-ray in China (with optional English subtitles) and Japan before Eureka's 1080p24 MPEG-4 AVC 1.85:1 widescreen Blu-ray. Restored by L'Immagine Ritrovata in Bologna with color correction done back in Hong Kong, Made in Hong Kong looks very much like a film shot on short ends and expired film stock. Some scenes are deliberately tinted blue while practical fluorescent lighting gives other scenes a slight green tinge. Blacks are deep and shadows sometimes crush in the run-and-gun photography but the gritty textures of the locations comes through with well-defined grain suggesting that this imperfect look is faithful to the production and Chan's intended grading.

Audio


The sole audio option is an LPCM 1.0 Cantonese track in which voicevers come through clearly and music selections have nice presence while production dialogue is subject to the original recording situations on locations without any kind of crowd control or buffering of city noise. The optional English subtitles offer slight variations from the Chinese release's translation (the more evocative "Life: Take 2" over "retake").

Extras


Extras start off with an interview with director Fruit Chan (47:20) in which he discusses his dissatisfaction with his impersonal directorial efforts Five Lonely Hearts and Finale in Blood, and his desire to make something outside the mainstream, deciding on a budget a quarter of the HK $2 million budget quoted to him by colleague Kei Shu – on whose Hu Du Men Chan was working as assistant director – finding support and a production office through actor Andy Lau, asking Sing-Pui O (Ip Man) to be cinematographer since he too was experiencing frustration with his move to directing, getting leftover and expired film stock from various industry connections, and casting friends, friends of friends, and people off the street (lead Lee was discovered on a roller-skating rink while Yim was discovered at a disco). He also discusses the 1997 handover and how the tensions he documented in the film were intended to reflect the state of the country in 1997, while the year itself when it came along inspired two films he feels form a trilogy with Made in Hong Kong: Little Cheung and The Longest Summer.


Also included is an interview with producer Doris Yang (7:16) who was working as an accountant outside of the industry when Chan contacted her about budgeting and seeking additional funding. During the production, she was in Beijing providing financial support and not on the shoot, but she provides some impressions of working with Chan over the next two decades. The interview with producer Daniel Yu (12:54) who at the time of the film was the Chief Operating Officer at Andy Lau's production company. He recalls the dearth of opportunities for filmmakers during the period outside of Category III films, Chan's economical crewing choices – Yu did a little bit of everything on set as line producer and actor Lee was also the camera crew's clapper – and comments on his admiration for Chan and his desire to be independent as a filmmaker. The extras close out with a short interview with Marco Muller, former director of the Locarno Film Festival (4:29) who recalls going to the Hong Kong International Film Festival and having the film recommended to him even though it had been rejected by the festival selectors. He recalls his enthusiasm for the film which differed from the Hong Kong New Wave films and inviting Chan and Lau to Locarno for the film's first international screening.

Packaging


While Eureka usually provide a .pdf copy of their booklets for review, the collector's booklet featuring new writing by film historian Alexandra Heller-Nicholas and Tony Rayns, Fruit Chan's director's statement from the film's original 1997 press release, and an interview with director Fruit Chan from 2017, after the film's restoration has not been provided.

Overall


Fruit Chan's first truly indendent film Made in Hong Kong is a youthful outcry, the sentiments and convictions of which run deeper than simple narrative parallels to the limitations he may have felt imposed on him by the industry.