This Gun for Hire [Blu-ray]
Blu-ray B - United Kingdom - Eureka
Review written by and copyright: Eric Cotenas (14th October 2020).
The Film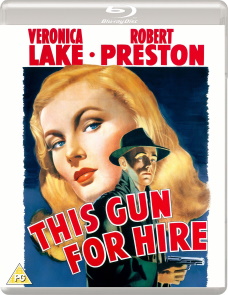 Hitman Raven (Calcutta's Alan Ladd) has just murdered chemist Albert Baker (Johnny Guitar's Frank Ferguson) for a chemical formula on behalf of shady go-between Johnson (Hangover Square's Laird Cregar) who pays him off in cash. Johnson subsequently reveals himself to be Nitro Chemical executive Willard Gates who is badgering the police into finding the man responsible for a payroll robbery, having set up Raven to take the blame once he tries to pass one of the marked bills. Raven evades the police and starts on Gates' trail to pay him back for his double-crossing and discover the identity of the man behind Gates' machinations. Although Gates is unaware that blonde bombshell singing musician Ellen Graham (I Married a Witch's Veronica Lake) who he has hired for his night club has been recruited by Senator Burnett (The Grapes of Wrath's Roger Imhof) who suspects Gates of being involved in foreign espionage, he mistakes her for Raven's moll when he sees them seated together on the train to Los Angeles. Raven evades the police waiting at the station with Ellen's unwilling help. While Gates manipulates the police force in the manhunt for Raven – including Ellen's detective boyfriend Michael Crane (The Music Man's Robert Preston) who is unaware of his girlfriend's involvement – Nitro Chemical's seemingly benevolent but thoroughly corrupt and ruthless invalided president Alvin Brewster (The Cat and the Canary's Tully Marshall) has ordered Gates to get rid of Ellen who winds up walking right into a trap in the form of a dinner invitation where she hopes to inveigle Gates into incriminating himself.

Although the posters and the credits give preferential billing to Lake and the remarkably ineffectual Preston, Lake's real co-stars in This Gun for Hire – based on the novel by the prolific Graham Green – are the tragic Cregar and Ladd (given an "introducing" billing despite his having been in the business for over a decade). Indeed, were it not for Lake's star billing, it would be easy to treat Ladd as the Raven is the most compelling of all the characters: a cold-blooded killer who literally "saves the cat" and whose icy façade cracks and thaws under Ellen's half flirtatious self-preservation, half authentic motherly concern until we discover that he is indeed the only character with an emotional arc (with the usually cold Ladd surprisingly moving in his character's moments of grace). The viewer goes from simply rooting for Raven to wreak vengeance on Cregar's effete, violence-hating but opportunistic letch and his rotting-from-the-inside-out boss to viewing that mission through Lake's eyes as his patriotic duty to expose those working with the enemy (even if he may only be doing it out of a suppressed attraction to her). While the convergence of events seems narratively-contrived, it is all so efficiently conveyed in eighty minutes by director Frank Tuttle (Gunman in the Streets) and equally seasoned writers Albert Maltz (The Naked City) and W.R. Burnett (The Great Escape) without seeming in any way curtailed in terms of story flow or production values. Although he looked to be in his forties, Cregar was not even thirty here, and his attempt to rapidly drop weight and make himself over into a leading man following his success in The Lodger lead to his death just two years later. Other standouts include Marc Lawrence (Pigs) as Gates' chauffeur/henchman who muses about his perfected technique of making drownings look like suicides, and Pamela Blake (Kid Dynamite) as the brassy Annie, the cleaning woman in Raven's boarding house who has a run-in with him and ends up getting him into trouble when he tries to make it up to her. Greene's source novel "A Gun for Sale" was subsequently adapted as actor James Cagney's sole directorial effort Short Cut to Hell as well as a 1991 TV movie with Robert Wagner as Raven.

Video


Produced and released by Paramount Pictures, This Gun for Hire wound up with Universal along with several thirties and forties titles through a television sale package, coming out as an early VHS release from Universal's MCA Home Video followed by a 1987 Image Entertainment laserdisc. Universal released the film on DVD in 2004 as part of their Universal Noir Collection, and Shout! Factory availed themselves last year of Universal's recent 4K restoration for their Shout! Select Blu-ray edition. Eureka's 1080p24 MPEG-4 AVC 1.37:1 pillarboxed fullscreen Blu-ray makes use of the same 4K master, and the results are not pristine but still quite good; so much so that it is now easy to see the subtle dissolves that mark Lake's stage illusions during her singing act as achieved by way of Paramount contract photographic effects artist Farciot Edouart's opticals more so than any of the glass mattes or miniatures employed later in the film which hold up quite well. Also more apparent than in early transfers is the more angular lighting employed on Ladd's close-ups (particularly in contrast to Cregar's lighting in the same scenes).

Audio


While Universal likely had to do some clean-up work to the soundtrack as they did with the image, the LPCM 2.0 mono soundtrack sounds consistently clear. Optional English HoH subtitles are included.

Extras


While Shout! Select's Blu-ray had a commentary track by film historian's Alan K. Rode and Steve Mitchell, Eureka has a new audio commentary by film scholar Adrian Martin who contrasts the adaptation and the source novel, noting the American individualistic "This Gun for Hire" as opposed to "A Gun for Sale", the wartime setting of the film versus the novel, as well as the drastic changes to the character of Raven who is a hideously ugly character in the novel but played by handsome Ladd here (some discussion is also devoted to Ladd's earlier less-successful film career and his second go at Paramount). The disc also includes the exclusives of a Lux Radio Theater radio adaptation (episode #380; 25 January 1943) with the voices of Alan Ladd and Joan Blondell (59:59) and The Screen Guild Theater radio adaptation (2 April 1945) with the voices of Alan Ladd and Veronica Lake (28:30), as well as a theatrical trailer (2:09) and stills gallery.

Packaging


Regrettably, the collector's booklet featuring new writing by film writer and journalist Barry Forshaw, and film writer Craig Ian Mann was not provided for review.

Overall


Introduced after a prior ten year Hollywood career, here in the first of four collaborations with co-star Veronica Lake, Alan Ladd proves to be the true male lead of This Gun for Hire in terms of character and charisma.

---
DVD Compare is a participant in the Amazon Services LLC Associates Program and the Amazon Europe S.a.r.l. Associates Programme, an affiliate advertising program designed to provide a means for sites to earn advertising fees by advertising and linking to amazon.co.uk, amazon.com, amazon.ca, amazon.fr, amazon.de, amazon.it, amazon.es and amazon.se.