The Film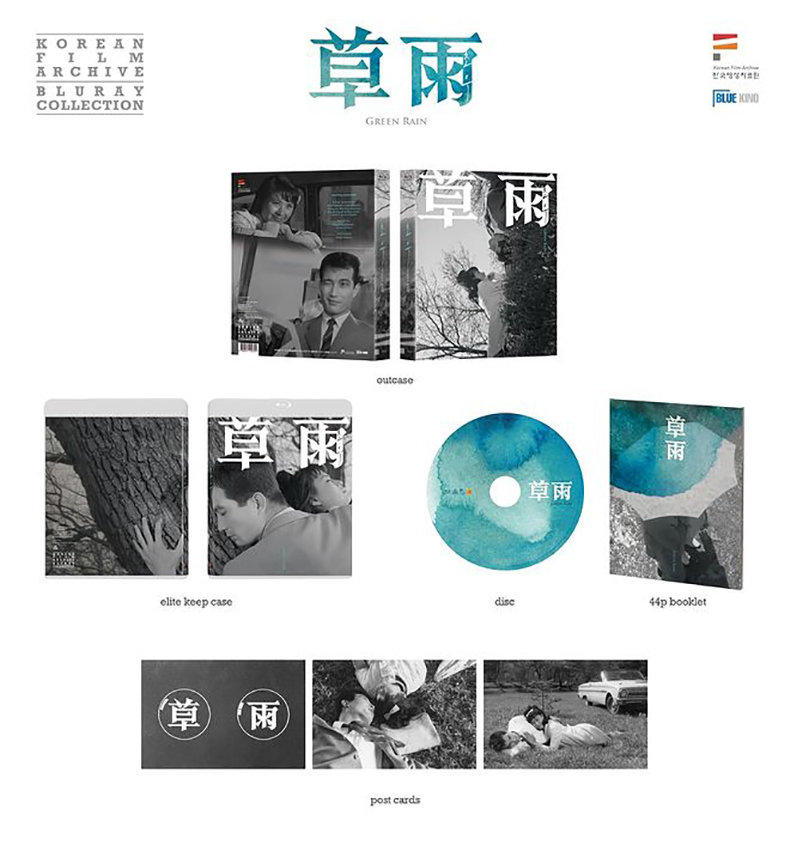 "Green Rain" <草雨> <초우> (1966)

Yeonghee (played by Moon Hee) works as a maid at the residence of the South Korean ambassador to France. After receiving a gorgeous fuscia colored raincoat as a gift, it excites her to be able to wear it on rainy days to show a bit more elegance than usual. One evening at a nightclub she gets into a scuffle, but is fortunately rescued by auto mechanic Chulsoo (played by Shin Seong-il) who drives her home. Dropping her off at the ambassador's residence, he mistakes her for the daughter and she decides to play along. Chulsoo feels that being a lowly mechanic would never be able to grab the heart of an upper class woman, so he decides to play himself off as the son of a wealthy businessman, driving different cars as borrowed from the auto garage, and racking up debts by borrowing from acquaintances and coworkers along the way. Both decide to meet on rainy days and their dates may have some awkward happenings, but they seem to make each other quite happy during their brief encounters. But with both of them lying to each other about their social backgrounds, it's only a matter of time that the truths have to be revealed...

Filmmaker Chung Jin-woo has the honorable distinction of being the youngest person to direct a feature film in South Korea during its golden age, being 25 years old when he debuted with "The Only Son" (1963). Acclaim came quick with his second film "Betrayal" (1964) receiving excellent reviews, and by 1966 he directed an astonishing six films, including "Green Rain", one of the most acclaimed works in South Korean cinema. The two main characters were in their twenties, part of the working class, and reflected in a changing period in South Korea. The nightclub scenes have rock music playing. Men and women mingle, drink, and dance together. Certainly a different view in comparison to the more conservative approaches or the more fantastical works of before. But in the post-war period, change was also there with social order. The middle class was growing and the economy was doing well, but there were people still on the outskirts doing menial work without much in opportunity to move up. For a maid to marry a businessman, or for a mechanic to marry an upper class woman were more like Cinderella stories than reality. With "Green Rain" it takes the idea of "The Price and the Pauper" of pretending to be someone else, but in this case someone richer and more well off, and for both characters to be doing that to each other, it could easily be an awkward comedy. But the film is not entirely a comedy and the ending is one that will certainly make viewers ask questions about relationship and morals.

The character of Yeonghee is basically Cinderella. She works as a maid and her raincoat represents the glass slippers. She isn't planning to fool anybody for a date, but with the sequences of her twirling her umbrella and dressing in matching rain boots and purse, she feels like royalty and is more about self worth than projecting an image onto others. With her character she is very innocent, as seen through her narrated scenes and playing with the ambassador's little dog Mary. But little is known about her, with family relations or otherwise. Then again it is not about where she came from exactly but how much one piece of wardrobe could change someone and that is entirely relatable for anyone. The character of Chulsoo on the other hand is far from innocent. He is in a odd relationship with a well off woman (played by Jeon Gye-hyeong), who is basically using him as a boy-toy. He has many acquaintances both male and female that he is in debt to, but all through his charm he is able to borrow and borrow, all for dates with Yeonghee, making him look like his is always loaded with money. In addition, his best buddy at the repair shop Tanggae (played by Twist Kim) is more of a bumbling fool but is willing to help out with date plans when possible. But the garage boss (played by Kim Chil-seong) is not looking lightly at how Chulsoo is using company time, taking cars without permission and returning with some damage at times. He is a swindler and a gambler, and has secrets and lies all over the place. He's easily on paper a character to hate, but as seen in scenes with Yeonghee on dates and when he thinks about her, he is genuinely in love for the first time. He wants to end the relationship with the controlling woman, and wants to make sure Yeonghee feels special. He's not out for sex but instead for happiness and it's the first time in his adult life that he felt this way about someone. He may be a dick, but there is sincerity that emerges from the character, and when the two are together, there is warmth between them. But obviously that cannot last as things lead to the climax.

Spoilers
The finale is one that is both memorable yet angering and depressing as the film sets off on a whimsical and sometimes comical ride. Chulsoo's debts lead to him to stealing in desperation, leading him to be beaten to a bloody pulp by people. His confession to Yeonghee about what he did is an emotional one, and when Yeonghee reveals her secret, the two do not laugh it off or hug with apologies, but instead Chulsoo beats her, drags her by her hair, and his violent outrage becomes uncontrollable. In a more surprising turn, the two finally do sleep together in what most likely was a sexual encounter filled with rage and sorrow, rather than what they or the audience would have been expecting. The whole film had the two meeting each other on various innocent dates but none led them to sex. But for the first time it happens, it is surely not with love. It even happens in the most unromantic place - an abandoned old shack. Sadly the hard truth the film is saying is that loving sex may indeed be a fairly tale like Cinderella, and in reality all the lies built up would not have a joyous end even with positive circumstances leading up to it. It's certainly not an optimistic ending and might frustrate audiences looking for a more innocent escape, but it is indeed one that can't be forgotten.
End Spoilers

Visually the film looks great with the cinematography by Lyou Jae-hyeong showcasing the street scenes of Seoul in the rain along with some interesting point of view shots of the sky looking for the rain to fall. Extreme closeups are used as well for some of the more intense sequences. Chung's direction is excellent with the pacing and the settings alongside the characterizations, even at a time so early in his career. Chung would go on to direct 53 feature films from the 60s to the 90s though his output would be less and less with each decade. As a producer he made over 90 productions, and his stature was even higher by establishing the first multiplex in South Korea, being one of the establishers of The Archive of Korean Films (now the Korean Film Archive), so it is a surprise to see that "Green Rain" is the first film of the director's lengthy filmography to receive a DVD or Blu-ray release from KOFA.

The film was theatrically released on June 10th, 1966 and had 50,000 admissions during its run. Critics and audiences reactions were extremely positive with the melodramatic story, the modern feel, and the conflicted characters at the center. Following a 4K restoration of the film in 2017, it has finally been transferred to Blu-ray by the Korean Film Archive.

Note this is a region ALL Blu-ray

Video


The Korean Film Archive/Blue Kino presents the film in the 2.35:1 aspect ratio in 1080p AVC MPEG-4. The film was restored in 4K in 2017 by KOFA from the original 35mm negative. Digital restoration techniques were applied to correct the heavily damaged portions and warped frames. The restoration was approved by director Chung Jin-woo. The black and white image looks excellent, with well balanced grey levels throughout. Damage is extremely minimal with some light flickering in sequences, but very few heavy damage marks to be found. Splices, scratches, and debris have been removed, while still keeping a healthy amount of film grain in the image. It's by no means perfect as there are damage marks still visible in certain sequences, but considering the period and the corrections they had to make (as seen in the restoration featurette), the restoration is incredible.

The film's runtime including the opening restoration text and KOFA logo is 100:31.

Audio


Korean LPCM 2.0 mono
The original audio track was remastered from the 17.5mm sound negative. Like the image, the sound was also restored, removing pops, hiss, and other damage, while keeping the dialogue, music, and effects stable. Like all Korean films of the period, everything was post-synchronized, which at times led to the sound and image being slightly out of sync. For the restoration, the sound was resynchronized with the image, so mouth movements and dialogue are now much better synched. The audio sounds great throughout, with the music by Park Chun-seok and vocals by the legendary Patti Kim sounding wonderful alongside the dialogue sequences.

There are optional English, Japanese, Korean subtitles for the main feature in a white font. There were a few minor spelling errors, such as "Assistant Director" being credited as "Assistnat Director" in the opening and even the opening text about the remastered film spelled as "Remasterd". As for the rest, the English subtitles are well timed and easy to read and understand.

Extras


Audio commentary with director Chung Jin-woon and journalist Kim Hyung-seok
This newly recorded commentary has the director sit with journalist Kim Hyung-seok to talk about the film. Unfortunately it is only in Korean without subtitles.
in Korean LPCM 2.0 with no subtitles

"Digital Restoration: Before & After" featurette (1:28)
This silent featurette has various side by side comparisons of before and after the restoration. As there is no sound, there are no examples of the sound restoration here.
in 1080p AVC MPEG-4, with English and Korean text

Image Gallery
A series of six behind the scenes stills in black and white plus the theatrical poster is included in this manual gallery.
in 1080p AVC MPEG-4

Booklet
A 48 page booklet is included, half in Korean and half in English. First there are cast and crew listings, a synopsis, a statement from the director, a biography and filmography of the director, and notes on the restoration. This is followed by the essay "Timeless Filmmaker: Chung Jin-woo" by journalist Kim Hyung-seok, focusing on Chung's career as a filmmaker plus a lengthy segment on "Green Rain". The next essay is "Green Rain: Romance of Betrayal" by film critic Jin Park on the impact of the film.


With almost all KOFA releases having English subtitled commentaries, it's unfortunate that this one was left unsubtitled.

Packaging


The Blu-ray is housed in a standard clear keep case, which also holds 3 postcards with stills from the film. The case and the booklet are housed in a slip box. The box is labeled #19 as this is the nineteenth Blu-ray release by the Korean Film Archive.

Overall


"Green Rain" is a masterwork of South Korean cinema, and outstanding to think that Chung Jin-woo directed it at the young age of only 28. Excellent characters, a mix of melodrama, comedy, and tragedy, it certainly is unforgettable more than half a century forward. The KOFA/Blue Kino Blu-ray features an excellent transfer from a 4K restoration alongside a new commentary track by the director, making this very recommended.

Note the 4K restoration version is available to see for free on KOFA's YouTube channel, with optional English subtitles.
| | | | | |
| --- | --- | --- | --- | --- |
| The Film: A | Video: A | Audio: A | Extras: C | Overall: B |