The Film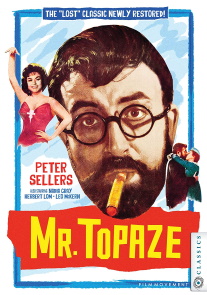 Mild-mannered, middle-aged provincial schoolteacher Auguste Topaze (Lolita's Peter Sellers) is a firm believer in the value of hard work and that laziness is "the mother of all vices." He pines for Ernestine (The Omen's Billie Whitelaw), school secretary and daughter of the headmaster Muche (A Man for All Seasons' Leo McKern), offers free lessons to the son of beautiful widow Suzy (Maniac's Nadia Gray) at her chateau, and is unaware that he is the butt of jokes to his students. Topaze's colleague and best friend Tamise (Horror of Dracula's Michael Gough) is content to live vicariously through him even if he requires a bit of nudging from the other man who is all but cowed by his wife (Room at the Top's Anne Leon). All of Topaze's illusions, however, come crashing down in the same day when Suzy reconsiders sending her son to the school because of its shoddy appearance – losing him a commission that would have covered the fee Muche charges for teachers giving private lessons even though Topaze has not charged for them – his refusal to change the bad conduct marks of the lazy son of a local baroness (Brides of Dracula's Martita Hunt) embarrasses Muche, and he realizes that students "take my kindness for weakness and my patience for blindness." When well-intentioned Tamise appeals to Muche on Topaze's behalf for the hand of Ernestine, however, Muche uses that as an excuse to fire Topaze for fraternization. His visit to the chateau to inform Suzy of his termination is opportune, however, since her municipal councilor lover Castel Benac (Murders in the Rue Morgue's Herbert Lom) has just broken off with aristocrat Roger de Bersac (The Adventures of Baron Munchausen's John Neville) who had been the middle man lending his reputation with the locals in order to land contracts. The pair wine and dine Topaze with the goal of making him the figurehead of a dummy company with which to move money around, and the only ulterior motive alcohol-addled Topaze can see in their machinations is charity for him. Topaze begins a rapid ascent in the world, gaining self-confidence and making social page headlines, pleasing Tamise and incurring the envy of Muche who is suddenly eager to see his daughter wed to the former teacher. De Bersac is at first incredulous at Topaze's seeming naivety when he confronts him, but Topaze soon bristles at being taken for a fool. When he means to confront Castel Benac, Suzy must use her feminine wiles and a bit of deception to keep her lover out of prison, even if that means making Topaze fall in love with her.

Already by 1960 the umpteenth adaptation of the 1928 stage play by filmmaker Marcel Pagnol (Marius), Mr. Topaze is more notable as the sole directorial effort of actor Sellers than as an unsung classic of British cinema or even a comic discovery for fans of his Pink Panther films to come. Mr. Topaze is more faithful than the earlier John Barrymore adaptation Topaze, almost stodgily so and only up to a point. While the former picture took many liberties with the source in the Production Code interests of giving a moral to the more cynical source, it did so with a narrative efficiency that is so lacking here. Although the setup is quite belabored – the best scenes are those between Sellers and Gough – the film then rushes through the developments of the plot. Whereas the older film made characters of the students, particularly the ill-behaved one whose well-placed family gets Topaze fired, here they are just child extras and we have no idea which one is being discussed in his confrontation with the baroness (Suzy's child is similarly a nonentity). The particulars of Topaze's business enterprise to be corrupted are an invention of the Barrymore film while the one Castel Bernac and Suzy conceive for him here remain ambiguous. After roughly forty-minutes of set-up, the film allows Topaze no more than five minutes at the top before he is apprised of his function as a dupe. No sooner has Topaze been seduced by Suzy than he happens to overhear her on the telephone airing her true feelings about him; and the turning of the tables is a climactic scene after an unspecified passage of time in which Topaze has since become a master of manipulation. At that point, the film then drops the cynical ending and strives for unearned poignancy. Handsomely lensed in Cinemascope by John Wilcox (The Skull) with the requisite production values of a British studio picture of the period with a supporting cast featuring the usual character actors of the period – among them Joan Sims (Carry On Screaming!) and John Le Mesurier (Dad's Army) – the film simply fails to amuse or charm in spite of the presence of Sellers in front of and behind the camera.

Video


Theatrically released by Twentieth Century Fox in both the U.S. and the U.K., Mr. Topaze pretty much disappeared after its box office. Sellers reportedly loved the film in spite of that and kept a 16mm reduction print among his belongings, but the only 35mm source available for restoration was a faded theatrical print belonging to the British Film Institute who made it available online for viewing recently before their Flipside series Blu-ray/DVD combo edition. Film Movement uses the same 2K restoration for their 1080p24 MPEG-4 AVC 2.35:1 widescreen Blu-ray and the results are handsome if a little faded, with efforts to reduce the magenta bias reported in the print's deterioration also contributing to the desaturated look of this Technicolor production.

Audio


No complaints about the LPCM 2.0 mono track, but it is not a particularly ambitious mix. Dialogue is clear but there is little in the way of ambient effects (appropriate to most of the settings). Unlike other Film Movement Classic British titles, Film Movement has included SDH subtitles for this release.

Extras


Some but not all of the extras have been ported over from the BFI edition starting with "Abigail McKern Remembers Her Father, Leo McKern" (20:16) in which the actress recalls her father's longtime friendship with Sellers, the actors' shared interests and battles with depression, and her opportunities as a child to be on location with her father and Sellers (as well as The Beatles on location for Help!). She also recalls that her father refrained from pulling strings for her career, waiting until she had won awards on her own merit before asking for a role to be created for her in the latter seasons of Rumpole of the Bailey. In "The Poetry of Realism" (13:18), Kat Ellinger discusses the career of Pagnol as actor, author, and filmmaker, including his own screen treatments of his stage play (particularly the 1951 adaptation adaptation with comedian Fernandel). Also included is the 1951 short "Let's Go Crazy" (33:15) which consists of a number of variety acts in a nightclub linked by comic sketches written by Sellers who essays a number of roles as patrons of the club (Sellers' "The Goon Show" colleague Spike Milligan also appears as a waiter). The disc closes out with the feature's theatrical trailer (1:01) and trailers for other Film Movement titles.

Packaging


House with the disc is a 21-page booklet with essays by Vic Pratt and Roger Lewis, both offering appreciations of the film and describing the state of Sellers' career in the period between his collaborations with the Boulting Brothers and Blake Edwards, with Pratt also covering the film's poor reception and its effect on Sellers whiel Lewis provides more anecdotal information about the production with input from producer/screenwriter Pierre Rouve (Cop-Out).

Overall


Handsomely-mounted and more faithful than some of the umpteen adaptations of the Marcel Pagnol play, Mr. Toopaze simply fails to amuse or charm in spite of the presence of Sellers in front of and behind the camera.