The Film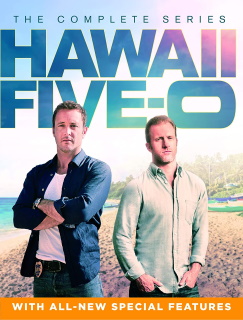 McGarrett and Danno hit the waves again in Hawaii Five-0; only this time it is Peter M. Lenkov's (R.I.P.D.: Rest in Peace Department) and Alex Kurtzman's (Transformers) reboot of the classic Leonard Freeman series Hawaii Five-O, and it's this time it's U.S. Navy SEAL Steve McGarrett (The Back-Up Plan's Alex O'Loughlin) – who initially returned to Oahu to investigate the murder of his father and was offered full immunity and means by the late governor to head the Five-0 task force – and police detective Danny Williams (Into the Blue's Scott Caan, son of James Caan), a New Jersey transplant who followed his remarried ex-wife to this "pineapple-infested hellhole" in order to be near his daughter Grace (Teilor Grubbs) – "Danno" now being Danny's nickname based on his daughter's childhood mimicry of her mother addressing him as "Daniel" and used as a term of endearment by McGarrett (with the series pushing the "bromance" angle and teasing -shipping heavily) – veteran Chin Ho Kelly (LOST's Daniel Dae Kim) is a disgraced former officer and colleague of McGarrett's father who he recruits using his influence with the governor, and Kono Kalakaua (Battlestar Galactica's Grace Park) becomes Chin's cousin, a former surfer taken out of professional competition by an injury who has just graduated from the police academy at the start of the series in 2010.

Subsequent members of the team include medical examiner Dr. Max Bergman (Heroes' Masi Oka), the son of a serial killer's victim – who departed at the end of the last season to join "Doctors Without Borders" and was replaced by Dr. Noelani Cunha (Hi-5's Kimee Balmilero) – Chicago PD transplant Captain Lou Grover (Boston Public's Chi McBride), conspiracy theorist/consultant Jerry Ortega (Alcatraz's Jorge Garcia), Abby Dunn (Dexter's Julie Benz) – an internal affairs officer who was spying on the Five-0 task force in season six who is now an HPD officer – Danny's comic relief nephew turned crime scene tech Eric Russo (Jack Frost's Andrew Lawrence), and ex-convict turned food truck entrepreneur Kamekona (Forgetting Sarah Marshall's Taylor Wily) who occasionally uses his former contacts to assist investigations. The end of season seven saw the departure of principal cast members Park and Kim over a salary dispute – their characters Kono Kalakaua and Chin Ho Kelly respectively written out as joining the mainland task force taking down a sex trafficking ring and starting his own task force in San Francisco – and replaced in the eighth season with Tani Rey (Being Human's Meaghan Rath), who was kicked out of the police academy for punching out her academy instructor, and former Navy SEAL Junior Reigns (Enemy Within's Beulah Koale). While these replacements inevitably drew comparison to their longtime predecessors, the development seems somewhat more believable than Ian Anthony Dale (The Event) as yakuza gang leader's son Adam Noshimuri and Kono's husband being kept on the show by heading up Five-0's organized crime division and making occasional references to how Kono is doing on the mainland. Although a steady ratings performer, the series came to an end after season ten, having lost some of its magic with the departures of Park and Kim as well as O'Loughlin expressing on more than one occasion through the years that the stunt work was taking a physical toll on him.

Season One Highlights: In between tracking down the killer of his father, Steve and Dany try to prevent a hacker from implementing a powerful encryption worm, negotiate a tense hostage crisis on the USS Missouri, try to prove the innocence of one of Danny's murdered HPD ex-partner, hunt a serial killer targeting newlywed couples, and try to foil a crime in the mass confusion of a false tsunami alarm that has the locals scrambling inland en masse. Danny deals with custody issues with his ex-wife Rachel (Game of Silence's Claire van der Boom) and her new husband Stan (Devious Maids' Mark Deklin) – not so affectionately nicknamed "StepStan" – over concerns for Grace's safety when a gang war during a day out. Both Danny and Chin have to deal with ne'er-do-well relatives, respectively William's Wall Street broker little brother Matt (Good Luck Chuck's Dane Cook) who is on the run from the feds and Chin's Uncle Sid (Bloodsport III's Sidney S. Liufau) who might have the police money Chin was accused of stealing. Steve and the team are assigned to protect a visiting foreign leader against an assassination attempt that may involve one of Steve's old SEAL buddies, Kono finds her old surf buddies and an old flame entangled in a murder case, and Steve's sister Mary Ann (Orange is the New Black's Taryn Manning) is kidnapped when Steve gets too close to the Yakuza in his investigation into his father's death.

Season Two Highlights: After being framed for the murder of corrupt Governor Jameson (Designing Women's Jean Smart), Steve escapes jail and goes after Wo Fat (Crying Freeman's Mark Dacascos) who he believes murdered his father and the team are distrustful when the governor appoints a new member in Lori Weston (Lucifer's Lauren German). Retired intelligence officer Joe White (The Stepfather's Terry O'Quinn) helps Steve investigate the murders of several SEAL colleagues and tries to figure out the identity of a CIA agent codenamed Shelburne who is also being pursued by Wo Fat. Danny must help his ex-wife when she goes into labor and then is forced to commit an illegal act when an old enemy kidnaps Grace. Chin plans to wed his love Malia (Scorpion's Reiko Aylesworth), Kono meets yakuza boss son Adam Noshimuri, and Steve's sister Mary gets caught up in a diamond smuggling operation. Meanwhile, Max reveals a link between his childhood and a serial killer on the rampage, and a retired NYPD cop (Caan's father James Caan) helps Danny and Steve track down the killer of a local shock jock (The Net's Dennis Miller).

Season Three Highlights: Steve discovers that his mother Doris (Chicago Hope's Christine Lahti) is not only alive but is the CIA agent Wo Fat is hunting while old flame Catherine Rollins (Shazam!'s Michelle Borth) complicates his life further while helping the team on cases. Steve and Danny wind up stranded in shark infested waters on a boat with a dead body, and a Satanic cult may be behind murders on the Halloween episode. While Steve and the team are investigating the real target of an apparently botched bank robbery – where Max and his love interest Sabrina (Sorority Row's Rumer Willis) were caught in the crossfire – Danny is assigned as bodyguard to a Victoria's Secret supermodel (Behati Prinsloo). Adam's brother (X-Men Origins: Wolverine's Daniel Henney) causes trouble for him and Kono while Danny and Steve are held hostage by diamond thieves. Danny's nephew from New Jersey hinders the team's investigation into the murder of a college professor (in a gimmick episode that had viewers vote for one of three alternate endings). Chin is drugged and wakes up trapped with inmates in a maximum security prison, Catherine goes undercover on the roller derby circuit, and Kono tries to clear her name when her gun is used in a murder, and Steve and Catherine might not return at all when they go to North Korea for a secret mission.

Season Four Highlights: Chicago transplant Captain Lou Grover joins the team just as Steve and Danny become hostages in a prison riot and terrorists takeover Five-0 headquarters, Catherine gets a hard-to-resist offer from colleague Lt. Commander Billy Harrington (All My Children's Justin Bruening), Adam and Kono are on the run when their secure location is compromised, a Texas ranger (Wings' Tim Daly) goes rogue searching for his missing daughter, a runaway bride and a murdered wedding crasher are not who they seem, Joe White comes back to the island to help Steve find his mother, and a real-life "zombie" crashes a Halloween party in the season's holiday episode.

Season Five Highlights: A hijacked weaponized drone attacks civilians in the season opener, the daughter of a Navy SEAL is kidnapped and held for ransom, Danny gets a lead to the whereabouts of the money his brother stole, Steve looks into an old unsolved case his father worked on, Steve's Aunt Deb (Noises Off's Carrol Burnett) visits the island with a surprise, and a serial killer reenacts murders from a cult horror film. Steve is kidnapped and drugged by Wo Fat, an art thief steals a Van Gogh painting, a surgeon's murder is linked to a forty-year-old missing persons case, a patient with a deadly form of avian flu is kidnapped and used to create a virus, and Kono is threatened when Adam tries to cut ties with his family.

Season Six Highlights: Chin's criminal brother-in-law Gabriel Waincroft (Days of Our Lives' Christopher Sean) holds Adam and Kono hostage, the team looks into the identity of a copycat bomber, sparks fly between Chin and Abby Dunn when she helps him investigate the murders of Chinese arms dealers, Danny goes undercover as a teacher and Eric as a student when the remains of an economics professor's body is found in a pigsty, Danny and Steve accidentally wind up in a couples' retreat when they are ordered to resolve their interpersonal issues, and Grover risks his professional reputation and the friendship of a colleague when he suspects the death of the man's wife was no accident.

Season Seven Highlights: Steve and former FBI profiler Alicia Brown (Love's Kitchen's Claire Forlani) suspects a manipulative psychiatrist (Angel: The Series's Elisabeth Röhm) when the bodies of two serial killers are discovered with chess pieces in their mouths, Steve and Danny meet the Queen when they help a British secret agent Harry Langford (Prison Break's Chris Vance) take on a terrorist, Kono helps a former surfing buddy who is now a homeless and disabled war vet (wheelchair athlete Kanya Sesser), and Danny, Grace, and Grover's son Will (It's Chosen Jacobs) become hostages when terrorists storm a school Spring Formal to ransom a foreign diplomat's son.

Season Eight Highlights: Tani Rey joins the task force just as boy hacker Aaron Wright (Blossom's Joey Lawrence) releases a dangerous arsonist from prison – the team must later gain Wright's trust when another hacker obtains the identities of the task force's civilian informants – an injured police dog helps the team find his partner's killer, Harry Langford returns to help the team investigate an expert hit on a Hawaiian gangster Jimmy Okada, and Tani and Junior are exposed to a dangerous bioweapon while the team have only eight hours to find an antidote.

Season Nine Highlights: Steve lets himself be kidnapped to discover the identity of a killer using a sensory deprivation treatment to extract top secret information from his victims, a vacationing dad turns out to be more than he appears when he is kidnapped in mid-air and parachuted off a plane, Jerry and his friends return to their childhood summer camp to solve a murder Jerry swears he witnessed back in 1982, and a couple thinks their daughter's imaginary friend is a ghost who is telling her about a string of real murders. Steve and Danny look into a 1940's cold case, Adam looks into the murder of his sister while Tani suspects he may have been involved in another murder, someone is stalking and killing Steve's SEAL teammates, and Danny and Rachel try to discover the truth when Grace and her friend are seriously injured in an apparent car accident coming home from a party.

Season Ten Highlights: Former CID agent Quinn Liu (Arrow's Katrina Law) joins the team when someone plants a bomb in Steve's house, Tani and Junior are trapped with several civilians in a tunnel collapse, Steve must find out the truth when the CIA tells him his mother has gone rogue and killed her partner, and Adam goes rogue when his girlfriend (Bleed's Brittany Ishibashi) is kidnapped, Thomas Magnum (Hostel's Jay Hernandez) – from the Magnum P.I. reboot series – works with the team to recover a stolen list of CIA undercover agents, Danny and his girlfriend Leslie (Ouija: Origin of Evil's Kate Siegel) are involved in a potentially-fatal collision on a lonely road, Noelani investigates the murder of her uncle, and Wo Fat's wife (Memoirs of a Geisha's Eugenia Yuan) wages war against the team in the series finale.

Video


Although the show was shot and finished in 1080p24 – utilizing Sony CineAlta F35 and Arri Alexa cameras (along with consumer DSLR like the Canon EOS5D for "hero shots") – and the domestic Blu-rays for the first three seasons (and the German Blu-rays of the entire series) are encoded as such, Paramount has frustratingly encoded their DVDs as interlaced anamorphic 1.78:1 widescreen with hard pulldown requiring your playback device to puts its processing power into getting something resembling a progressive image (whether it is simple deinterlacing or inverse telecine), possible because some upscaling Blu-ray players disregard standard definition progressive encodes altogether and play them back as 1080i60. While I have not seen the Blu-rays, presumably they are better able to contend with the contrasty grading where the sunny Hawaiian exteriors are sometimes just shy of blowing out the whites and skintones look more warm and tanned than neutral.

Audio


Audio options for all ten seasons include the primary English Dolby Digital 5.1 track and seasons one through four and eight through ten include Dolby Digital 2.0 surround-flagged downmixes while the 2.0 tracks on seasons five through seven are non flagged but do contain the matrixed information. It does without saying that the 5.1 track is the way to go, fully active in terms of directional effects and scoring while dialogue is always clear. Only season one includes a French Dolby Digital 2.0 surround track. All seasons include an English SDH track, seasons one through four also include Spanish subtitles, and one through six also have Portuguese subtitles, while only season one includes a French subtitle track.

Extras


Extras include thirteen audio commentaries spread over the ten seasons, the pilot commentary being one of the more interesting tracks as it reveals that Caan was the last of the leads cast since he was initially unavailable – presumably shooting episodes for his story arc on Entourage, Chin originally was still a cop bumped down to smalltime cases before they decided to make him an ex-cop, and consumer cameras like the Cannon EOS 5D were used in addition to the Sony professional cameras, with the lighter models being used to capture many of the action shots during collisions and explosions, and revealing that about twenty minutes cut from the film at a time when they were not sure whether it would be a one- or two hour pilot. We only get less than three minutes of deleted scenes from the pilot, but more than half of the episodes from all ten seasons include deleted, extended, and alternate scenes. Each season includes a gag reel, most seasons include a season overview featurette and action highlights reel, some character introduction pieces, looks at effects and action choreography, and some music videos. O'Loughlin appears in a interview on the final season DVD explaining his decision to leave the show. Season 10 was released separately as a five-disc set; however, purchasers of the complete series boxed set get an exclusive bonus DVD which includes a fifty-two minute, ten-chapter look back on each of the seasons featuring archival video and new footage.

Packaging


Paramount has a track record of poor packaging for complete series sets, particularly long series, and Hawaii Five-0: The Complete Series is no exception. The twenty-five discs for seasons one through four are included in one large case with hubs that nearly chip the disc rings when you try to take them out, and the other thirty-five discs for season five through ten are housed in an even thicker case with some hubs featuring three discs stacked on top of one another (while annoying, at least these discs come loose from the hub easier with less risk of damage). Paramount would have been better off with a slightly wider case featuring each season in its own case like the individual season releases.

Overall


It is unfortunate that Paramount did not use the opportunity of a complete series release to put the rest of the series out on Blu-ray since they have released all the seasons in Germany, but the complete series release is an ecomonical option for those who have not purchased earlier individual season sets.