The Film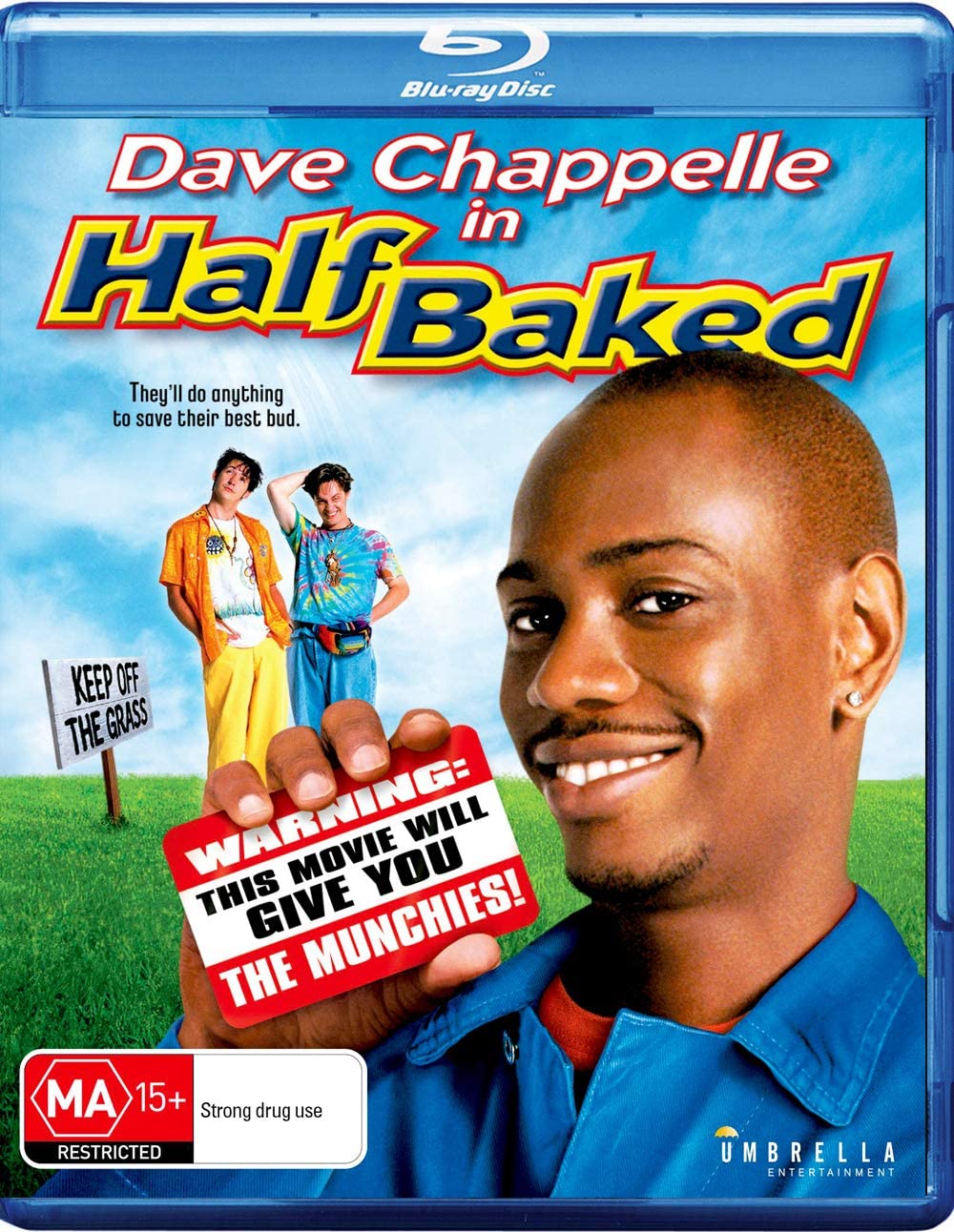 "Half Baked" (1998)

Thurgood (played by Dave Chappelle), Brian (played by Jim Breuer), Kenny (played by Harland Williams), and Scarface (played by Guillermo Diaz) are pot smoking roommates that have been best friends ever since their first encounter with marijuana as kids. But after Kenny is arrested for accidentally killing a diabetic police horse by feeding it snacks, the remaining three must somehow find a way to bail him out of jail. Broke and without skills, it seems impossible for them to raise enough money. But when Thurgood finds out that the pharmaceutical company he works at is experimenting with medical marijuana, the plan is set for the potheads to borrow some of the stash and become part of the dealers in the city.

Coming out at a time when pot smoking comedies were dried up (smoked?), "Half Baked" seemed like a fresh reboot of the Cheech and Chong formula from years prior, but also adds elements of the romantic comedy genre and raunchy 90s comedy in the mix. While nothing particularly seems new or original, it ends up being somewhat of an average comedy overall. Written by star Dave Chappelle and Neal Brennan who both created the highly successful and influential "Chappelle's Show" for television a few years later, it suffers the fate that many comedies seem to face: It may have been better as a sketch or a short rather than a full length film. With the R-rated dialogue and being a time that marijuana was still illegal in The United States, there probably would not have been a network wanting to tackle a show featuring potheads. Neither would have a sketch comedy series like SNL or MadTV likely to air anything dealing with drugged up leads. The pair had some minor success in comedy through stand-up and television appearances. Chapelle had a memorable role in "Robin Hood: Men in Tights" in 1993, but it didn't lead to bigger roles in films. "Half Baked" would be Chappelle's first in a lead role and the casting of the friends being real life friends gave the production a natural chemistry between the actors. But even with the positives, there were still some problematic issues with the film itself.

The plot device of Thurgood's character falling in love with the ironically named Mary Jane (played by Rachel True) is the weakest point of the film, with the character being anti-drug due to her jailed father. The chemistry between Thurgood and Mary Jane is not believable and the pair never seem to hit things off even though they end up being a couple for some time until she discovers his secret. Was she never able to smell it on him? Did she not suspect anything even though she met his crazy roommates? It all seems too good to be true and never feels as strong as the camaraderie between the four roommates.

Directed by music video veteran Tamra Davis, "Half Baked" followed her successes in the comedy film genre after "CB4" in 1993 and "Billy Madison" in 1995 which both became cult favorites over the years. With her background in music videos, there are examples of experimental shooting and editing, such as using splitscreen, wirework, colorful visuals with the costumes and interiors. Each of the characters have a color scheme, with Chappelle's character sporting blue representing his coolness and calmness, Breuer's character always having tie-dyed shirts representing his silly attitude, William's character being yellow and orange representing his caution and fear, and Diaz's character always wearing red representing his anger and energy. It's not only the main characters that are so colorful. The rapper Sir Smoke-a-Lot who is also played by Chappelle is always dressed vibrantly, and is a character that could easily be part of the "Chappelle's Show" universe. Other supporting actors such as the always intimidating Clarence Williams III" as druglord Samson, Tommy Chong as prisoner Squirrel Master, and Laura Silverman as the record store clerk, and many more. Also the amount of cameos in the film is endless. Jon Stewart, Snoop Dogg, Willie Nelson, Bob Saget, Steven Wright are just to name a few. There are plenty of laughs to be found throughout the film, but it never stands out enough to be an original work, and it doesn't feel like a consistent story. The love story angle is weak, the FBI involvement is also not believable, and the fact that they could steal so much marijuana from the company without anyone else noticing is not very believable either.

Universal Pictures financed the production, but after seeing the first cut of the film, producers were not very satisfied with the product. Not because of the tone or the quality, but because of the marijuana centered story. Seems like a strange time to be concerned considering the project was always a story centered on pot smokers and pot smoking. The film was released theatrically on January 16th, 1998 by Universal in the United States and grossed $17 million during its very short theatrical run of about a month. Apparently Universal pulled it from major theaters once the film made enough of a profit and that was that. In 2000, the film was released on DVD with basically no extras attached. Once Chappelle became a huge star with "Chappelle's Show", Universal went back and reissued the film on DVD as a "Fully Baked Edition" with extras in 2005. Two years later, it made its HD debut on the ill-fated HD-DVD format as a dual format flipper disc, with the film and commentary on the HD-DVD side and the "Fully Baked Edition" DVD on the opposite side. This 2020 Blu-ray from Umbrella Entertainment in Australia marks the film's debut on the Blu-ray format.

Note this is a region ALL Blu-ray

Video


Umbrella Entertainment presents the film in the theatrical 1.85:1 aspect ratio in 1080p AVC MPEG-4. The HD transfer looks good, though it's slightly dated from a decade ago. The colorful apartment interior and color coordinated wardrobes of the main characters look fair, but finer detail of each shade don't seem to pop in terms of vibrancy. Minor flickering can be seen in still shots though damage to the image is not to be seen at all. Grain is visible and there are no signs of digital artifacts or other problematic issues. It's not perfect, but viewers should be fairly pleased.

The runtime is 92:00.

Audio


English DTS-HD Master Audio 5.1
The original 5.1 track is presented lossless. Dialogue is always centered while the surrounds are used for music and effects. The music cues sound very good, well balanced against the dialogue. Dialogue is always clear and there are no issues with dropouts, hisses, pops, or other problems, keeping a clean track throughout.

There are optional English HoH subtitles in a white font for the main feature. This must be the smallest typeface I have seen on any Blu-ray, looking half the size of a subtitle track found on other discs.

Extras


Audio commentary with director Tamra Davis
In this solo commentary track, Davis recalls the production's roots and the making of, including shooting in Vancouver, the set design, the actors and cameo parts, and more. She also talks candidly about how Universal were not happy with the film itself and how demanding Williams III was being a serious actor on a wacky comedy. There are too many blank spaces in this track and she would have done much better if others were involved or a moderator was there to prompt questions. This track was previously on the "Fully Baked Edition" DVD.
in English Dolby Digital 2.0 with no subtitles

Deleted Scenes (10:08)
A series of extra scenes such as Thurgood explaining about different kinds of potheads, Kenny being extra worried in jail, Thurgood begging Mary Jane to give him another chance, Thurgood at work, and more. None of the scenes are particularly change things around, and some are just extended, such as the three guys talking to the detectives. The quality of the video is pretty bad, coming from a blurry windowboxed tape source. This was previously on the "Fully Baked Edition" DVD and HD-DVD.
in 720p AVC MPEG-4, in windowboxed 1.85:1, in English Dolby Digital 2.0 with no subtitles

Alternate Ending (5:33)
This alternate ending shows the Kenny character out of prison and returning home, plus Thurgood's differing decision on what to do on the bridge. This was previously on the "Fully Baked Edition" DVD and HD-DVD.
in 720p AVC MPEG-4, in windowboxed 1.85:1, in English Dolby Digital 2.0 with no subtitles

"Five Minutes with the Guy on the Couch" featurette (5:12)
A single shot of the character played by Stephen Wright sleeping, moaning, and farting on the sofa. This is not Stephen Wright as one can tell it is a body double whose hair is not as bald as Wright's. It's not a deleted scene from the movie or from the set and was newly created for the 2005 DVD. Why? Not particularly sure as it's not funny or interesting. This was previously on the "Fully Baked Edition" DVD and HD-DVD.
in 720p AVC MPEG-4, in 1.33:1, in English Dolby Digital 2.0 with no subtitles

"Different Types of Smokers" featurettes (2:23)
A series of animated shorts showcasing the different types of pot smokers are out there. Not as funny as the similar montage scene featured in the actual film. This was previously on the "Fully Baked Edition" DVD and HD-DVD.
in 720p AVC MPEG-4, in windowboxed 1.661, in English Dolby Digital 2.0 with no subtitles

"Granny's Guide to Bakin'" featurette (6:21)
This not-so-funny short has a woman dressed as an elderly lady cooking and baking food. This was previously on the "Fully Baked Edition" DVD and HD-DVD.
in 720p AVC MPEG-4, in 1.33:1, in English Dolby Digital 2.0 with no subtitles


All the extras from the "Fully Baked Edition" DVD and HD-DVD releases have been ported over, which is pleasing but the quality of the extras are, well, half baked. The commentary is spotty, the deleted scenes and alternate ending video quality are very bad, and the featurettes that were supposed to be funny weren't at all. Chappelle, Brennan, or the other actors were not involved with the extras for that edition and it suffered.

Packaging


The inlay is reversible, with the alternate artwork removing the Australian MA 15+ rating from the cover. The package also states "region B" only, but is in fact a region ALL disc.

Overall


"Half Baked" has some funny moments, but this stoner comedy doesn't quite ride as high (yup) as it could have, with genre cliches and weak plot points. Umbrella Entertainment's Blu-ray has a fine transfer in video and audio plus it carries over all the previous DVD extras.

The Blu-ray can be purchased at various retailers and also from Umbrella Entertainment directly.
| | | | | |
| --- | --- | --- | --- | --- |
| The Film: C | Video: B | Audio: A- | Extras: C | Overall: C+ |