Doctors (The): The Peter Davison Years
R0 - United Kingdom - Koch Media / Reeltime Pictures
Review written by and copyright: Rick Curzon (31st October 2020).
The Show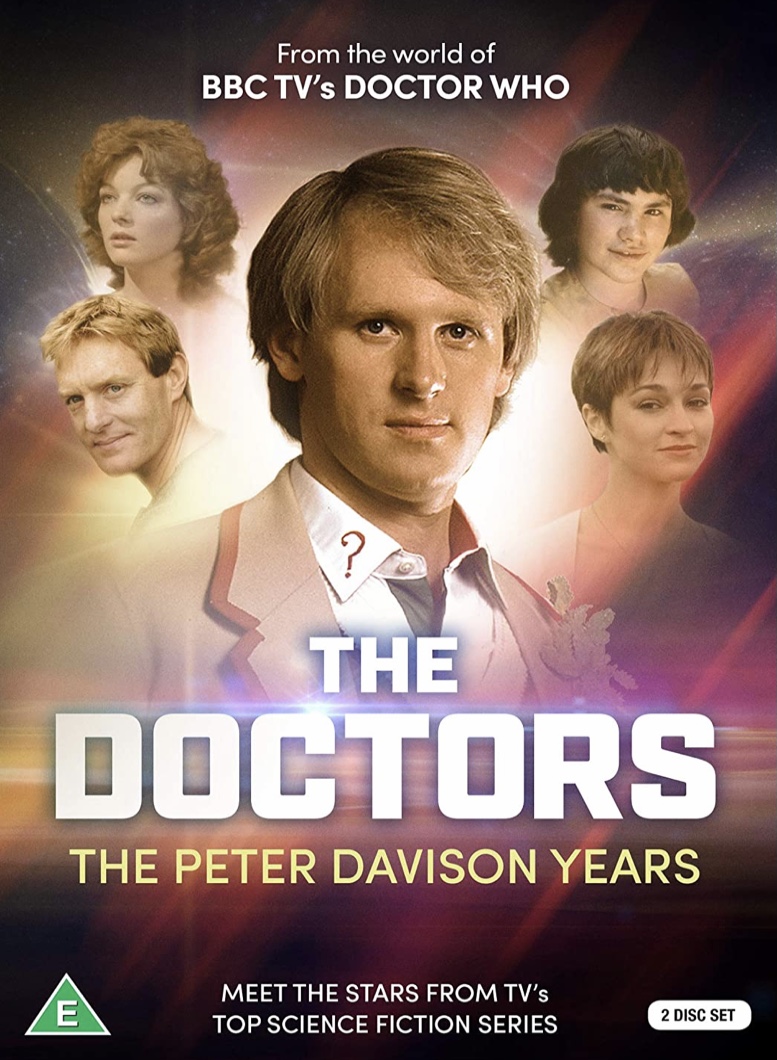 This is the definitive set of interviews with the team of actors who brought the PETER DAVISON era of DOCTOR WHO to life! In this special edition we feature the best in-depth interviews with JANET FIELDING (Tegan), SARAH SUTTON (Nyssa), MATTHEW WATERHOUSE (Adric), MARK STRICKSON (Turlough) and ANTONY AINLEY (The Master) ever undertaken.

Plus the fifth Doctor himself PETER DAVISON, with all his assistants including GERALD FLOOD (Kamelion) in two fascinating and entertaining hour-long programmes hosted by MATTHEW WATERHOUSE and featuring legendary PanoptiCon convention panels from the 1980s! Presented by MATTHEW WATERHOUSE, "voice of the Daleks" NICHOLAS BRIGGS and ROBERT DICK. For all DOCTOR Who fans, this 2 DISC special collector s edition is 6 hours of pure nostalgia, which will give you a whole new insight into the making of your favourite science fiction series! SPECIAL FEATURE: Introduction by NICHOLAS BRIGGS & Producer KEITH BARNFATHER

Video


"Myth Makers: The Peter Davison Team, Vol. 1" 2020 featurette (originally recorded 7-8.9.1986) (58:31)
"Myth Makers: Janet Fielding" 1988 / 2020 featurette (58:43)
"Myth Makers: Sarah Sutton" (55:41)
"Myth Makers: The Peter Davison Team, Vol. 2" 2020 featurette (originally recorded 12-13.9.1987) (62:06)
"Myth Makers: Matthew Waterhouse" 2017 featurette (66:01)
"Myth Makers: Mark Strickson" 1997 featurette (59:15)
"Myth Makers: Anthony Ainley" 2000 / 2020 featurette (63:26)

All of the material on this excellent two disc set is taken from videotape some of which is home video sourced some much more recent broadcast standard HD.

Colours are purely naturalistic with the occasional fuzzy edges and mild bleed, mainly on the older material. Black levels vary; sometimes very deep and rich at other times tending towards darker grey; there is some occasional crush but nothing too severe and typical of the fast and dirty production methods. Everything here is shot cheaply as either footage from convention panels or talking head interviews shot on the fly.

Contrast is fairly harsh at times and others low key. I saw no real blowouts and detail is par for the course for standard definition video. Obviously more recent HD lensed stuff is sharper and clearer. Detail is par for the course and the overall look is soft. There may be some digital tinkering, perhaps some noise reduction applied to older material and there's some noise in darker moments occasionally.

PAL / MPEG-2 / 1.78:1, 1.33:1 / 449:54

Audio


English Dolby Digital 2.0 Mono / Surround
Subtitles: None

Pretty standard and basic tracks that get the job done. Dialogue is all there really is and it's clear and easy to hear; even some of the older convention panel recordings recorded in less than optimal conditions..

Extras


2020 introduction with producers Keith Barnfather and Robert Dick (26:11)

In a sense this whole disc is filled with extras but this introduction is the only new piece. Barnfather and Dick cover the history of their endeavours in some detail and reminisce.

Packaging


Standard black, 2-disc DVD Keepcase.

Overall


Another package of Keith Barnfather's Doctor Who Myth Makers videos going back to the '80s. These are an invaluable record before the advent of DVDs and their extras. In effect, this set is a companion to the Peter Davison years (1981-84) on DVD and latterly on BD. As such the price is right and despite uneven technical credits are well worth getting. This is a proper pressed DVD and the price is very reasonable and therefore highly recommended to fans.
| | | | | |
| --- | --- | --- | --- | --- |
| The Show: A | Video: C+ | Audio: B- | Extras: C+ | Overall: C+ |

---
DVD Compare is a participant in the Amazon Services LLC Associates Program and the Amazon Europe S.a.r.l. Associates Programme, an affiliate advertising program designed to provide a means for sites to earn advertising fees by advertising and linking to amazon.co.uk, amazon.com, amazon.ca, amazon.fr, amazon.de, amazon.it, amazon.es and amazon.se.