Brian Regan: The Epitome of Hyperbole
R1 - America - Paramount Home Entertainment
Review written by and copyright: James Teitelbaum (28th September 2008).
The Show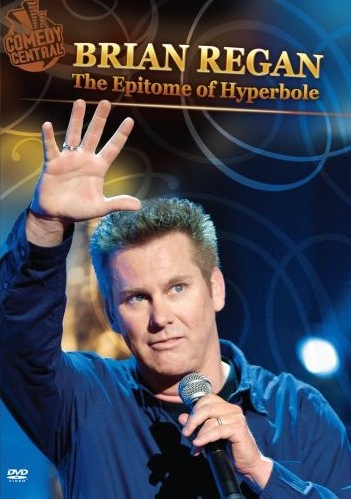 During this 2008 Comedy Central special, stand-up comedian Brian Regan tells jokes to a packed house at the amazing Paramount Theater in Colorado. This is the second of two back-to-back Brian Regan comedy specials commissioned by Comedy Central. The first of them was "Brian Regan: Standing Up" (2007, filmed at the Barclay Theater in Irvine, CA). Regan has previously appeared on DVD in "Brian Regan: I Walked on the Moon" (2004). "Brian Regan: The Epitome of Hyperbole", was aired by Comedy Central on September 6, 2008 and was released on DVD less than a week later.

Regan seems like an affable enough fellow. He keeps the large audience entertained with humor that is mostly free of profanity or shock value, and focuses largely on goofy self-deprecation. The fact that he doesn't continually resort to swearing or raunchy jokes is actually a bit refreshing. His jokes all seem to be about things like failing to understand art, reading the phone book wrong, a complete inability to comprehend Spanish or French, and forgetting what movie he is watching. In most of the material, he presents himself as the dullard, the dimwit, the dunce, or the dummy. A guy who is willing to position himself as the butt of his own jokes can't help but to be endearing.

Regan keeps social commentary to a minimum - the man is certainly no George Carlin. But that said, if the audience's enthusiastic and empathetic reaction to Regan's exceedingly dense persona is any indication, perhaps he actually is saying something.

I have to confess that I'd never even heard of this guy until this DVD dropped in my mailbox. Having done the due diligence before writing this review (i.e. doing a web search on Regan), it seems that he is exceedingly popular right now. So, if you are the sort of person who thinks that hearing the same forty-two minutes worth of moderately funny jokes over and over again is something you'd like to do, then proceed!

Video


The video is in 1.78:1 anamorphic widescreen. This shoot is fairly pro - it seems as though at least four cameras were in use. Colors are deep and extremely saturated. Regan's purple shirt and the black, blue, and gold backdrop all pop rather strongly. The image is very sharp. Running time is 41:29, with no chapter stops.

Audio


The show is presented in English Dolby Digital 5.1 surround and also in English Dolby Digital 2.0 stereo. His voice was tracked with his hand-held mic, so volume and tone can be uneven. This is typical for all live stand-up and is nothing to complain about. Audience mics are in fairly wide stereo and are sometimes turned up a bit louder than what seems natural. The rock music on the menu screens is way louder than the sound on rest of the disc. That is annoying.
This disc does not feature any optional subtitles.

Extras


Paramount have released this comedy special with only two featurettes as bonus materials on this disc. Below is a closer look at these supplements.

First up is "The Encore" featurette which runs for 3 minutes 54 seconds; Regan tells a few more jokes about things like maps and walkie talkies.

Rounding out the extras is "The Backstage Story" featurette 13 minutes 39 seconds; Footage of the crew setting up the show, mixed with a bit of interview.

Overall



| | | | | |
| --- | --- | --- | --- | --- |
| The Show: B- | Video: A | Audio: B- | Extras: C | Overall: B- |

---
DVD Compare is a participant in the Amazon Services LLC Associates Program and the Amazon Europe S.a.r.l. Associates Programme, an affiliate advertising program designed to provide a means for sites to earn advertising fees by advertising and linking to amazon.co.uk, amazon.com, amazon.ca, amazon.fr, and amazon.de.