The Film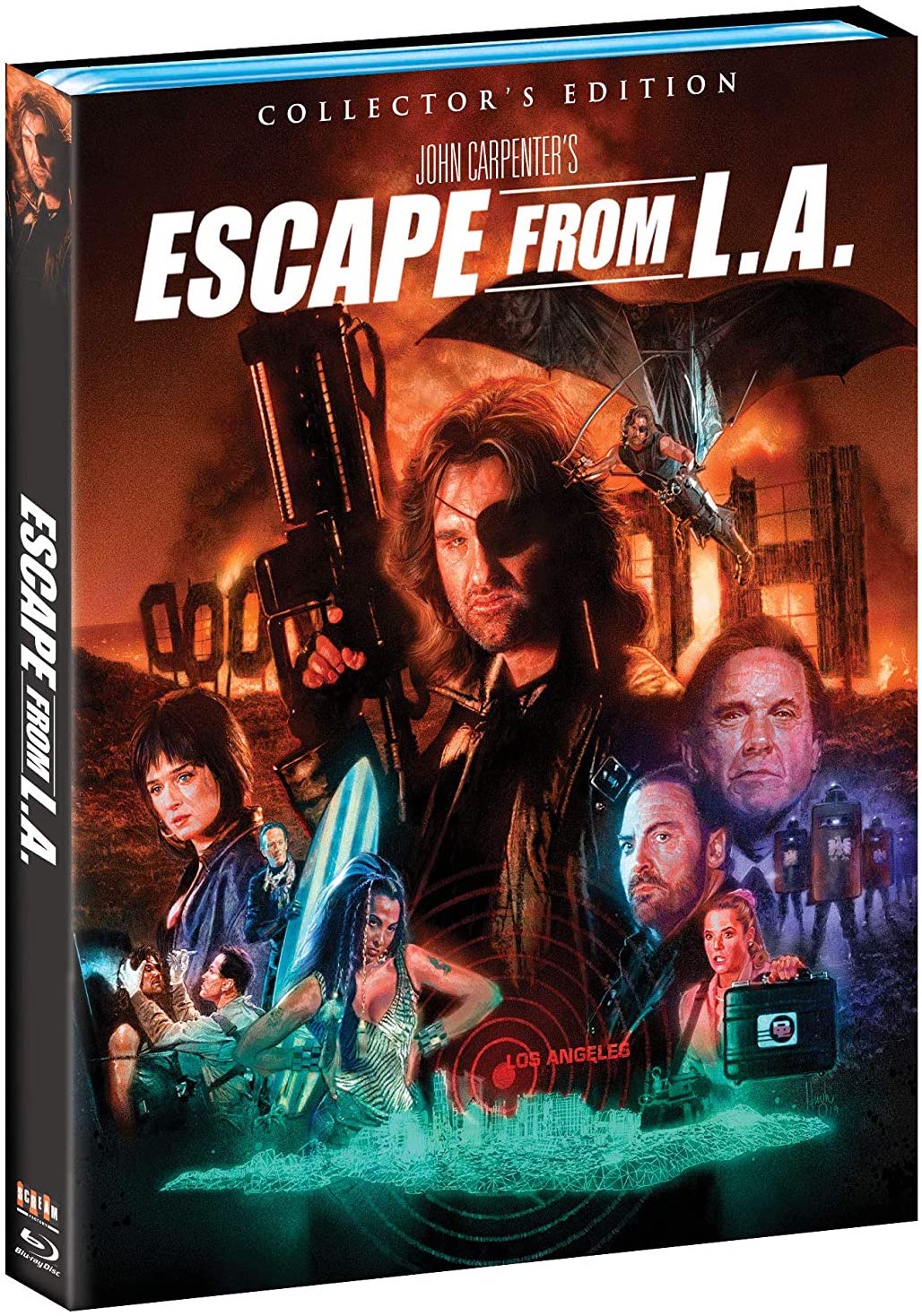 By 1996 it had been 15 years since audiences last saw Snake Plissken (Kurt Russell) on screen and the two men behind him – John Carpenter and Kurt Russell – both had inclinations to strap on the ol' eyepatch and set Snake loose on another adventure. "Escape from L.A." (1996) would be Carpenter's first sequel credit as a director and Russell's first feature sequel as an adult actor. Longtime Carpenter collaborator Debra Hill rounded out the trio and another story was hatched… looking a lot like the one viewers saw before in "Escape from New York" (1981).

I admit to having a soft spot for this film. It was released during my sophomore year of high school, when I was a certified fanatic of both horror and heavy metal, and Snake is truly one of cinema's great anti-heroes, so to have Carpenter bring back a dyed-in-the-wool badass set to numerous rockin' tunes… how could I not find things to love? That soundtrack still holds up today, too, with many killer non-LP tracks from bands like White Zombie, Butthole Surfers, Tool, and Deftones – not to mention the actual film score itself, by John Carpenter and Shirley Walker (who handled scoring duties on "Memoirs of an Invisible Man" (1992), is a potent blend of western motifs and epic themes brought to life with electric guitar and keyboard magic. The main theme in particular is catchy and up there with Carpenter's best.

The biggest problem I have with the film is it recycles myriad beats from Snake's last hurrah. Think of the relationship between "The Evil Dead" (1981) and "Evil Dead II: Dead by Dawn" (1987) – the story is mostly the same; it's the budget that got bigger. Here, Universal gave J.C. a fistful of dollars – fifty million of them, to be exact – and the resulting film is "Escape from New York" on another coast. Stacy Keach is the new Lee Van Cleef. Peter Jason takes over from Tom Atkins. This time it isn't a rescue of the President but his daughter. Snake is again given a lethal dose of something with a fancy name and he has finite time to complete his mission. And filling in for The Duke A-Number-One (the late Isaac Hayes) is a Che Guevara wannabe named after a brand of tequila. There's a lot recurrence in the minutia, too. Suffice it to say those who were hoping for an all-new trip with Snake will be a bit dejected.

The biggest saviors for this film are the crew behind the camera and the cast in front of it. Carpenter was nearly done with the Big Studio system by this point but he was also an incredible master of his craft in 1996 and it continued to show. Kurt Russell is the man in everything in which he stars, going all the way back to his days as a Disney star – and I'll be damned if he doesn't look nearly the same as he did 15 years earlier. Steve Buscemi inhabits a role that could've been seriously awful with someone less talented. Peter Fonda is in the film's worst scene – The Big Wave – but, man, that guy brings such a great vibe who cares how cheesy it is? I used to have a big crush on A.J. Langer and seeing her here made me wonder what happened to her. Turns out she married a Count, became a Countess, and now does Royal stuff in the U.K. Good for her.

Snake don't surf – but he does in the mid 90's. Due to unfortunate timing this film hit around an era that can be defined with one capitalized word: EXTREME. The action of the first film had a genuine quality that felt organic to the character of Snake without seeming unbelievable. Here, he rides a massive wave down a torn-up street and launches himself onto the trunk of a moving car. Later, he engages in a massive firefight while hang gliding and it looks like someone with a film camera recorded a stunt show on the Universal Studios tour. The bigger set pieces feel absurd. Snake isn't at his best when he's doing big things but when he's doing what he does best: being a tough son of a bitch.

It's a shame we'll never get that proposed third film, "Escape from Earth" or something like that. I heard that script eventually got reworked into "Ghosts of Mars" (2001), which honestly would have been a better movie with Snake in the lead.

Video


The previous Blu-ray for this film wasn't stellar by any means and Scream Factory used that room for improvement to deliver a striking new 4K scan from the original negative. The 2.35:1 HD 1080p 24/fps image shows more life and is encoded with AVC MPEG-4 compression, with stronger color reproduction, improved CGI backgrounds, increased contrast, and tighter definition. My least favorite era for cinematography is the 90's and the upgraded transfer injects some much-needed life into what was previously a middling image. Some of the CGI effects still look awful (like Snake's nuclear sub) but I was pleased to see the added resolution aided most of the computer imagery.

Audio


The English DTS-HD Master Audio 5.1 surround sound track is a beast from beginning to end, with plenty of rear channel action to immerse viewers while much of the film's first half is dominated by source music tracks that rotate in and out of every available speaker like a jukebox. Dialogue is always the focus, though, and the excellent mix never forgets that. No issues to be heard here. There's also a 2.0 stereo track included. Subtitles available in English.

Extras


"A Little Bit Offbeat – Interview with actor Stacy Keach" featurette (1080p) runs for 7 minutes and 55 seconds.

"Beverly Hills Workshed – Interview with actor Bruce Campbell (audio only) featurette runs for 9 minutes and 10 seconds.

"Part of the Family – Interview with actor Peter Jason" featurette (1080p) runs for 25 minutes and 55 seconds.

"Miss A Shot, You Get Shot – Interview with actor Georges Corraface" featurette (1080p) runs for 14 minutes and 37 seconds.

"One Eye is Better Than None – Interview with Special Effects Artist Jim McPherson" featurette (1080p) runs for 17 minutes and 58 seconds.

"The Renderman – Interview with Visual Effects Artist David Jones" featurette (1080p) runs for 19 minutes and 4 seconds.

A theatrical trailer (1080p) runs for 1 minute and 34 seconds.

Four TV spots (SD) run for 2 minutes and 26 seconds total.

A still gallery (1080p) runs for 7 minutes and 31 seconds.

Packaging


The single disc BD-50 comes housed in a standard Blu-ray keep case, with reversible cover art and a slip-cover featuring the new art on first pressings.

Overall


This is yet another 90's Carpenter film that has divided fans – some are happy to have another excursion with Snake, while others find it too derivative and too full of 90's garbage. I fall somewhere in the middle but, ultimately, having Snake back on screen is never a bad thing and I find myself enjoying everything around the few parts I dislike more and more with each viewing. Scream Factory's reissued Blu-ray is a big upgrade and the clear home video winner.
| | | | | |
| --- | --- | --- | --- | --- |
| The Film: B- | Video: A- | Audio: A+ | Extras: B | Overall: B- |