The Film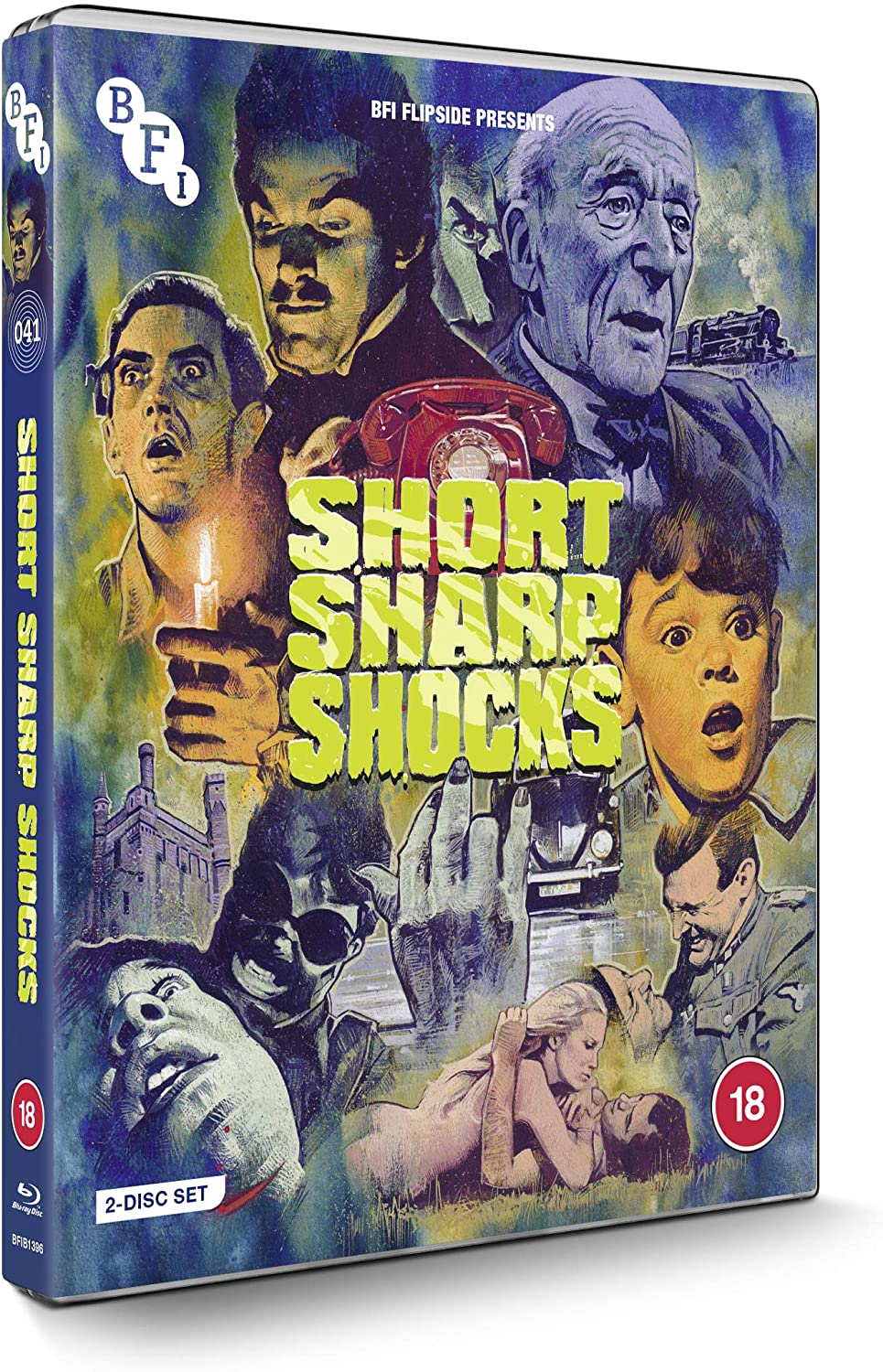 "Short Sharp Shocks"


When studying the art and history of cinema, the various top lists of greatest and important films all mostly comprise selections of feature films. It is rare to find a short film included on any top ten list. Sure, there are some shorts like "The Red Balloon" and "La jetée" that appear on some lists, but when most modern people think of "cinema", short films barely register in their thoughts. Considering short films were basically how cinema began through documentaries, experimental works and narrative stories, they were a mainstay in the cinemagoing experience for decades on as supporting features. In the modern age, feature films are accompanied by trailers for other films and commercials for about twenty minutes give or take, in the past the movie theater experience was much more than that. In addition to a few trailers, there would be a newsreel, short films, weekly serials, trailers and more to accompany a main feature film. In an age before television, it was an all-encompassing package to see a selection of different works in one sitting. But with television becoming a large market from the 1950s onward, newsreels were replaced with nightly television news broadcasts. Serial films were gone and instead replaced by weekly series on television. Short films were almost entirely gone with an exception of some select productions, with most of the pre-show content becoming trailers for other films and commercials for various products including concession stand snacks and drinks.

Some shorts were able to find new life in other mediums. Animated cartoons like Looney Tunes, Disney, and others became mainstays on television for kids in afternoons and Saturday mornings. Music clips that were fairly unique to Europe from the 1970s were broadcast on MTV. While the features have found longevity after theatrical screenings through television broadcasts, the home video market, and now the streaming market, many of the short films that accompanied the features have mostly been forgotten and abandoned pieces of cinema. Some have been well preserved such as Warner Brothers including shorts and newsreels from the 1930s and 1940s as bonus materials on accompanying feature films. They have also released some Vitaphone short film collections on DVD. Theatrical comedy shorts by The Three Stooges and others have also received various releases on home video. But for many one off shorts, they lie in obscurity. In this set from the BFI, "Short Sharp Shocks" collects nine theatrical British short films. They come from various periods spanning from the 1949 to 1980, with various cast and crew and differing themes. "Horror" seems to be the underlying theme for the set but not all of them would fit comfortably under the umbrella here, though the value is undeniable.



The following shorts are included in this two disc set.


DISC ONE
The Films (with Play All) (91:27)
- "Lock Your Door" (1949) (14:36)
- "The Reformation of St Jules" (1949) (13:31)
- "The Tell-Tale Heart" (1953) (20:39)
- "Death Was a Passenger" (1958) (18:14)
- "Portrait of a Matador" (1958) (24:26)

DISC TWO
The Films (with Play All) (125:17)
- "Twenty-Nine" (1969) (26:27)
- "The Sex Victims" (1973) (37:01)
- "The Lake" (1978) (33:07)
- "The Errand" (1980) (28:41)


"Lock Your Door" (1949) and "The Reformation of St Jules" (1949) star the 80-year old writer/journalist/narrator Algernon Blackwood, who was quite famous for his writing of ghost stories throughout his lengthy career. Rayant Pictures produced six short films in a series entitled "The Strange Experience With Algernon Blackwood", in which Blackwood would narrate a short scary story in front of a fireplace in a mansion's living room. Of the six shorts, only two survive and are both included here. Blackwood's cadence in storytelling is quite good, being not too fast or slow for the viewers and listeners, but the effectiveness of the shorts are a little mild considering that use of "cinema" is almost wasted. Rather than creating a dramatic short with actors and setpieces with Blackwood narrating, it's just Blackwood on camera the entire time on the set. Would it have made it better to see characters of Ms. Jenkin or Fatty on screen? Is it better left in our imaginations so each viewer would have a slightly differing experience? The two shorts do have some interesting moments but neither are particularly effective in getting scares out for modern viewers.

"The Tell-Tale Heart" (1953) is another short that features one person on screen in one setting narrating but it is quite different than the Blackwood shorts. Stanley Baker stars as Edgar Allan Poe, the 19th century American writer of "The Tell-Tale Heart" among many other classics that were recognized after his untimely young death at the age of 40. In this short, Poe narrates his recollections in a soliloquy in an attic setting, with the direction by JB Williams opting for angled and expressionistic shots in the dark and lonely setting. Baker is great with the solo effort with his delivery in the limited setting even if his accent wasn't particularly American-ized, and this short production by Adelphi Films was given an "H" certificate by the BBFC for "Horror", even if there were no particular horror visuals to be seen. For many years the short was considered lost, but miraculously in 2018 a print was found by a collector in Scotland and was preserved and restored by Adelphi Films and the BFI.

"Death Was a Passenger" (1958) and "Portrait of a Matador" (1958) were produced and directed by Hungarian-British Theodore Zichy, or simply credited as "Zichy", the son of a Hungarian count and a man with many hats on his resume. A race car driver, a pilot, an actor, a fetish photographer, and an all around playboy in the celebrity circles to name a few. In 1958 he directed his first film with the WWII train thriller "Death Was a Passenger", starring Terence Alexander as an English Airman on a French train heading for Spain during WWII. While evading the German Gestapo, a French nun (played by Harriette Johns) tries to help him through the ordeal. Much closer to a miniature Hitchcock thriller, the short is quite effective and entertaining with its tense and cramped environment. "Portrait of a Matador" is unrelated in theme but picks up in Spain, featuring a curse from a matador in a supernatural short. Starring Anthony Tancred as the artist David who is cursed by the bullfighter played by David Ritch, this is a fairly weak piece featuring a plot that doesn't strike much sense and an ending that doesn't feel tense or scary when it is supposed to. The actors and their characterization also feels campy and inconsistent, and may be closer to an unintentional comedy rather than a tense supernatural short. Zichy would direct one more short in 1958 followed by two features in 1962, though those films seem to be lost. Neither of these two surviving works directed by Zichy are masterpieces, but it is interesting to see these rare pieces together finally.

"Twenty-Nine" (1969) features Graham (played by Alexis Kanner), a 29-year old man who mysteriously wakes up in a flat near a football stadium. Not knowing whose place it is and how he got there, this mystery has him trying to piece back his memories through flashbacks of the night before and what led him there. Written and directed by television commercial director Brian Cummins, the short seems to have a resemblance to the theme of "The Hangover" film series of more recent years, but this short film is more of a flashback mystery rather than a comedic action film, relying on a non-linear structure and seeing various viewpoints of the Graham character's rather busy night. This short is certainly not anywhere near the theme of "horror" found elsewhere on this set, but does have more of an artistic merit to the short and is commendable for playing against expectations.

"The Sex Victims" (1973) stars Ben Howard as a truck driver that is keen on picking up young women during his work on the road. When he sees the beautiful Felicity Devonshire riding on a horse down the country road fully nude, his attention is immediate to drive and follow the luscious and mysterious woman. But who the woman is and what her intention is might be just as or even more sinister than what the truck driver is going for… Written, produced, and directed by Derek Robbins who directed only one other film following this, "The Sex Victims" has the tone of early 70s grindhouse works such as "Last House on the Left" and "The Texas Chain Saw Massacre" but also has touches of the Japanese classics "Kuroneko" and "Ugetsu" to spoil some of the mystery. It's certainly a gritty and disturbing little work plucked from obscurity, it also features full female nudity and obviously intended for adult audiences of the period. It does have some shock, but not particularly gruesome or visceral, more in terms of unease for the viewers.

"The Lake" (1978) features couple Barbara (played by Julie Peasgood) and Tony (played by Gene Foad), who drive up to a lake near an old countryside home from their youth for a nice quiet time with their dog Condor. They have a nice picnic and fun in the secluded area, but something around the corner seems to be disturbed by their presence. A very effective and mysterious supernatural short, "The Lake" is all about the creepiness of what is offscreen rather than what is in front, by never revealing the true monster of the area. Is there really a monster? Are all the disturbances and strange happenings by coincidence? This was the first film directed by Lindsey C Vickers, who was an assistant director for a number of horror films in the early 1970s and would only direct one other film later in his career. The gorgeous countryside location with a small budget and cast of two plus the dog (Condor, the dog that also played a pivotal role in "The Omen"), "The Lake" has some excellent sequences that certainly will disturb audiences and is one of the big highlights of this collection.

"The Errand" (1980) has Captain Garrett (played by J Edward Kalinski) is an injured soldier on the run, but he is unfamiliar with who the enemy is. Farmer Maurice (played by Ray Roberts) and his wife Sarah (played by Dorothy Alison) give him shelter, yet are disturbed by the incident as well as other recent happenings with the military base in the vicinity. This short was written by journalist and writer David McGillivray and also produced by him as a first, and directed by Nigel Finch. Made on a very small budget with a small crew, this effective mystery thriller was given distribution by Columbia-EMI-Warner as stated on the title card, but fell into obscurity, as 1980 was not particularly a huge time for short films on the big screen even if distributed by a major distributor. McGillivray has stated that the short made absolutely no money for him, and now the obscure title is finally resurrected for home video audiences. Tense, dark, and thought provoking, it certainly gives a lot within the very short runtime.

Note this is a region B Blu-ray set

Video


The BFI presents all nine film in this set in 1080p AVC MPEG-4. "Portrait of a Matador", "The Lake", and "The Errand" are presented in the 1.85:1 aspect ratio while all other shorts are in the 1.37:1 aspect ratio. All the films have been remastered at 2K resolution from the original film materials.

"Lock Your Door" and "The Reformation of St Jules" were mastered from the original 35mm fine-grain duplicating positives held at the BFI National Archive. Being the two oldest films in the set, the black and white image does have some wear, with light flickering and speckles. On the positive side, the greyscale is great, with good detail and being fairly stable.

"The Tell-Tale Heart" was mastered from the only known 16mm print found in 2018. Being a source from 16mm, there is more grain to be seen and less detail to be found. Scratches and other damage is prevalent throughout, but the black and white image has been well balanced with very minor flickering, giving a fairly pleasing image throughout.

"Death Was a Passenger" and "Portrait of a Matador" were mastered from the original 35mm negatives held at the BFI National Archive. Both shorts look especially good, with excellent detail, a very clean image, while still keeping film grain intact. Minor damage can be found on very close inspection, but nothing terrible to deter from viewing. The opening from "Passenger" has some extremely grainy stock footage, but besides that, both look excellent.

"Twenty-Nine" was mastered from the original 35mm negative held at the BFI Nation Archive. The color film does have excellent use of colors such as the bold reds, blues, and greens in the strip club and in the pub, and the colors look great throughout. Some minor damage can be spotted, but overall the image is very clean and very pleasing.

"The Sex Victims was mastered from the only known 35mm print held at the BFI National Archive. Colors are more on the washed out side, with faces looking fairly pale and greens of the woods losing their vibrancy. The BFI states that efforts were made to restore the colors as much as possible, but the fading does remain. Parts can look a little fuzzy with the detail, but film grain is intact and damage is actually fairly minimal.

"The Lake" was mastered from the original 35mm negative held at the BFI National Archive. One of the strongest films in the set has one of the best looking transfers, with the color photography of the rural areas the film was shot in coming to life very beautifully. The eerie look of the house, the dark green of the Volkswagen, and skin tones of the actors look excellent, with very little damage to speak of. Film grain is always intact, and there are no issues of bad stability.

"The Errand" was mastered from an original 35mm print. Colors are a bit on the darker side, with flickering and damage still visible, but there is little to be said about major marks such as scratches in the image, being fairly clean. It's certainly not the best looking film in the set, looking a little older than its actual age.

Audio


English LPCM 1.0
All the films in the set were shot in mono and are presented here in mono in uncompressed form. Each of the shorts tracks were mastered from the optical track negative, and there are some good and bad ones to be heard. "Lock Your Door" has slightly scratchy audio especially at the beginning which makes it hard to understand the narration, though it gets better a few minutes in. In comparison, "The Reformation of St Jules" has better audio, with the narration sounding clearer with better fidelity, but in both cases there are some minor crackle to be heard. "The Tell-Tale Heart" also has some fuzz in the audio but is fairly clean overall. "Death Was a Passenger" sounds excellent with both the dialogue against the train effects, but "Portrait of a Matador" does have a few issues with pops and crackle at points. "Twenty-Nine" and "The Lake" both sound excellent with well balanced dialogue and effects and music throughout, with very minimal if any damage in the sound. "The Sex Victims" and "The Errand" have some fidelity issues and minor damage in their soundtracks, but nothing serious to adhere or distract.

There are optional English HoH subtitles in a white font for each of the shorts. "Death Was a Passenger" has a few French and German portions and in these cases the French and German passages are captioned in their languages, rather than translated. They are well timed, easy to read, and free of errors.

Extras


DISC ONE

"Telling Tales" featurette (7:41)
Kate Lees, the current head of Adelphi Films discusses the long search for a print for the long lost "The Tell-Tale Heart" and its miraculous discovery in 2018 and its aftermath for restoration.
in 1080p AVC MPEG-4, in 1.78:1, in English Dolby Digital 2.0 with no subtitles

"Arthur Dent and Adelphi: Films in the Family" featurette (29:11)
Kate Lees discusses the life of her grandfather Arthur Dent, from his upbringing, working in film distribution, buying the fledging Adelphi Films, working with many famous people including Peter Sellers, and more.
in 1080p AVC MPEG-4, in 1.78:1, in English Dolby Digital 2.0 with no subtitles

"The Tell-Tale Heart" image gallery (3:30)
A series of rare stills in this automated slideshow gallery.
in 1080p AVC MPEG-4


DISC TWO

"Almost Thirty" interview with Renée Glynne (15:12)
Renée Glynne was the continuity girl on "Twenty-Nine, and here in this new interview she recalls the shooting of the short, including at the football stadium, the strip club, and working with actors. In addition she recalls some of her other work later in including working with many famous rock bands and other film projects.
in 1080p AVC MPEG-4, in 1.78:1, in English Dolby Digital 2.0 with no subtitles

"Man with a Movie Camera" interview with Peter Shillingford (41:47)
In this new interview, Peter Shillingford discusses about his life in cinema from an early age and his encounters with various people including Grace Kelly, Gerry Anderson, Richard Burton, Mick Jagger, and Peter Sellers, plus his memories of producing "Twenty-Nine", as well as working on a little production called "Star Wars" a few years later.
in 1080p AVC MPEG-4, in 1.78:1, in English Dolby Digital 2.0 with no subtitles

"A Crazy, Mixed Up Kid" interview with David McGillivray (42:46)
In this new interview, David McGillivray discusses in length about his varies career, including working at the BFI, his work as a gag writer, working on Pete Walker's productions, censorship, and more, including his time on "The Errand".
in 1080p AVC MPEG-4, in 1.78:1, in English Dolby Digital 2.0 with no subtitles

"Splashing Around" interview with Julie Peasgood (17:52)
In this new interview, actress Julie Peasgood discusses her life from dance stage to television and film, including her memorable turn in "The Lake". She recalls the production, the scarier moments, working with the small crew, and more.
in 1080p AVC MPEG-4, in 1.78:1, in English Dolby Digital 2.0 with no subtitles

Image Galleries
- Life Behind the Lens (3:50)
- Making "The Lake" (1:50)
- "The Lake" annotated script (0:13)
- Making "The Errand" (2:20)
- "The Errand" shooting script (0:12)
- "The Errand" original short story (0:03)
"Life Behind the Lens" is a gallery of photos taken by Peter Shillingford, with notes by Shillingford for each. "Making The Lake" has a series of stills from the production, courtesy of director Lindsey C Vickers' archive. "Making The Errand" has a series of stills and related photos from the production, courtesy of David McGillivray. All these galleries are automated slideshows with no music or narration. The scripts and short story extras on the other hand are all manual slideshows.
in 1080p AVC MPEG-4

Booklet
A 36 page booklet is included with the first pressing. First is "Brief Encounters", an essay written by the BFI's Vic Pratt, William Fowler and Josephine Botting about short films and their history. There is written comments on each of the short films, and with "Twenty-Nine", there are personal comments by producer Peter Shillingford, for "The Lake" there is a text interview with director Lindsey C Vickers by Vic Pratt, and "The Errand" has more personal comments by David McGillivray. There are also stills, transfer information, and acknowledgements.


Though not included on this set as an extra, here is the BFI's trailer for this Blu-ray set:


Packaging


This is the 41st title in the BFI Flipside series.

Overall


"Short Sharp Shocks" is a curious collection of hits and misses, or various forgotten short films over the course of a few decades. The BFI has given these films excellent transfers with excellent extras to compliment each of the shorts. Very recommended.

Note the ratings below are an average rating for all the films in the set.
| | | | | |
| --- | --- | --- | --- | --- |
| The Film: B | Video: B+ | Audio: B | Extras: B+ | Overall: B+ |