Ghost Hunting [Blu-ray]
Blu-ray ALL - United Kingdom - Second Run
Review written by and copyright: Eric Cotenas (29th December 2020).
The Film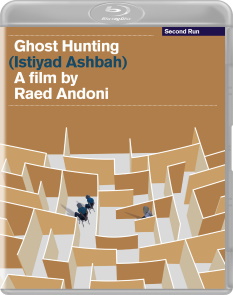 Glasshütte Original Documentary Award: Raed Andoni (winner) and Panorama Audience Award (Documentary Film): Raed Andoni (nominee) - Berlin International Film Festival, 2017

Following his documentary look at modern day Palestine Fix ME, filmmaker Raed Andoni delves into the country's collective past and his own with Ghost Hunting. Putting an advertisement in a Ramallah newspaper looking for former prisoners of the Moscobiya Detention Centre, Andoni recruits men from various walks of life to reconstruct in a warehouse soundstage from memory the detention centre and then to play the roles of interrogator and prisoner, among them: blacksmith Abdallah Moubarak, interior designer Wafa Mari, assistant director Wadee Hanani, prop master Bashar Hassuneh, set builders Adnan Al-Hatab, Mohammed Nimer, Mahmoud Abu Srour, and Firas Nasr-Allah. Some like set designer Atef Al-Akhras are reluctant to talk about their experience but looking for work, others like actor Ramzi Maqdisi are excited by the challenge; however, what seems for most of them like the first opportunity to talk frankly and intimately about their captivity and interrogation affects them in different ways. If they can laugh about their recollections, it is not so much making light of the situation in the abstract so much as the familiarity of experiences. However objective and sympathetic the director tries to be, he is seen as an authoritarian as he tries to impose structure on the unleashed and free-flowing experiences as he tries to pick out details (and perhaps his attempts to maintain distance prevents the others from relating to his own experience). The attempts to accurately reconstruct the centre seem to bring forth more memories than Andoni's interviews and workshop exercises, but we are never entirely sure how forthcoming actor Maqdisi really is or how much of his provocation is that of an actor as he drives others to violence with responses to interrogation that seem not so much defiance as personal attacks like the way he turns around a sexual proposition as manipulation by guard actor Anbar Ghannan by bringing up the young man's fiancée, or whether his willingness to urinate through his pants is a prisoner's refusal to be humiliated or the exhibitionism of a performer (or perhaps he is acting out over Andoni assigning him the role of a prisoner when he got too physical auditioning as an interrogator). Some of the performers cast as prisoners seem to exorcise some of their ghosts but it is not so clear about the former prisoners cast as interrogators and guards, including one who seems worried about getting carried away as he becomes frustrated with Maqdisi and his influence on the other prisoners (including the drawings on the cell walls by artist Monther Jawabreh perhaps visually highlighting the film's attempt to use art to address trauma). It may be late in the film before the viewer realizes that the film project is the filming of the process, with the finished set becoming an art installation visited by the families of prisoners and schoolchildren, and the viewer left with the realization that the director was never seeking closure in the first place. The end result is provocative and stimulating – touching upon the methods of manipulation by the interrogators and the means of defiance (even if some of it may possibly have been played up to the camera and not taken place in the past) – but it's all about the hunt not what is found.

Video


Second Run's 1080p24 MPEG-4 AVC 1.78:1 widescreen Blu-ray of this digitally-lensed film looks crisp with a deliberately drab appearance owing to the settings and the "sets" with a predominance of whites, grays, browns, and blacks with some moments of saturated color spiking some otherwise monochrome CGI sequences mean to imagine the experience of one performer's dead brother and another which appears to be a means of imaginary escape.

Audio


Audio is offered up in DTS-HD Master Audio 5.1 and LPCM 2.0 stereo tracks, with the discrete surround track coming to life during the aforementioned CGI bits but otherwise giving a sense of depth to the increasingly claustrophobic warehouse setting. Optional English subtitles are provided for the Arabic dialogue.

Extras


Extras are extremely sparse, consisting of an interview with director Raed Andoni (6:18) shot at the 2017 IDFA (International Documentary Film Festival Amsterdam) in which he reveals that the script he drew up to obtain funding became useless as soon as he met real people in the casting sessions, and a booklet featuring writing on the film by Gareth Evans who frustratingly does not so much engage with the film as talk around a recent viewing of it as an extension of his earlier curatorship of two programmes of films for the Jordanian "Spring Sessions" experimental learning program and arts residency. More telling is Andoni's included statement in which he describes the attempt to rebuild Moscobiya as "an attempt to take control of my former submission" (which may explain the distance felt between him and the performers).

Overall


Ghost Hunting is provocative and stimulating – touching upon the methods of manipulation by the interrogators and the means of defiance (even if some of it may possibly have been played up to the camera and not taken place in the past) – but it's all about the hunt not what is found.

---
DVD Compare is a participant in the Amazon Services LLC Associates Program and the Amazon Europe S.a.r.l. Associates Programme, an affiliate advertising program designed to provide a means for sites to earn advertising fees by advertising and linking to amazon.co.uk, amazon.com, amazon.ca, amazon.fr, amazon.de, amazon.it, amazon.es and amazon.se.