The Film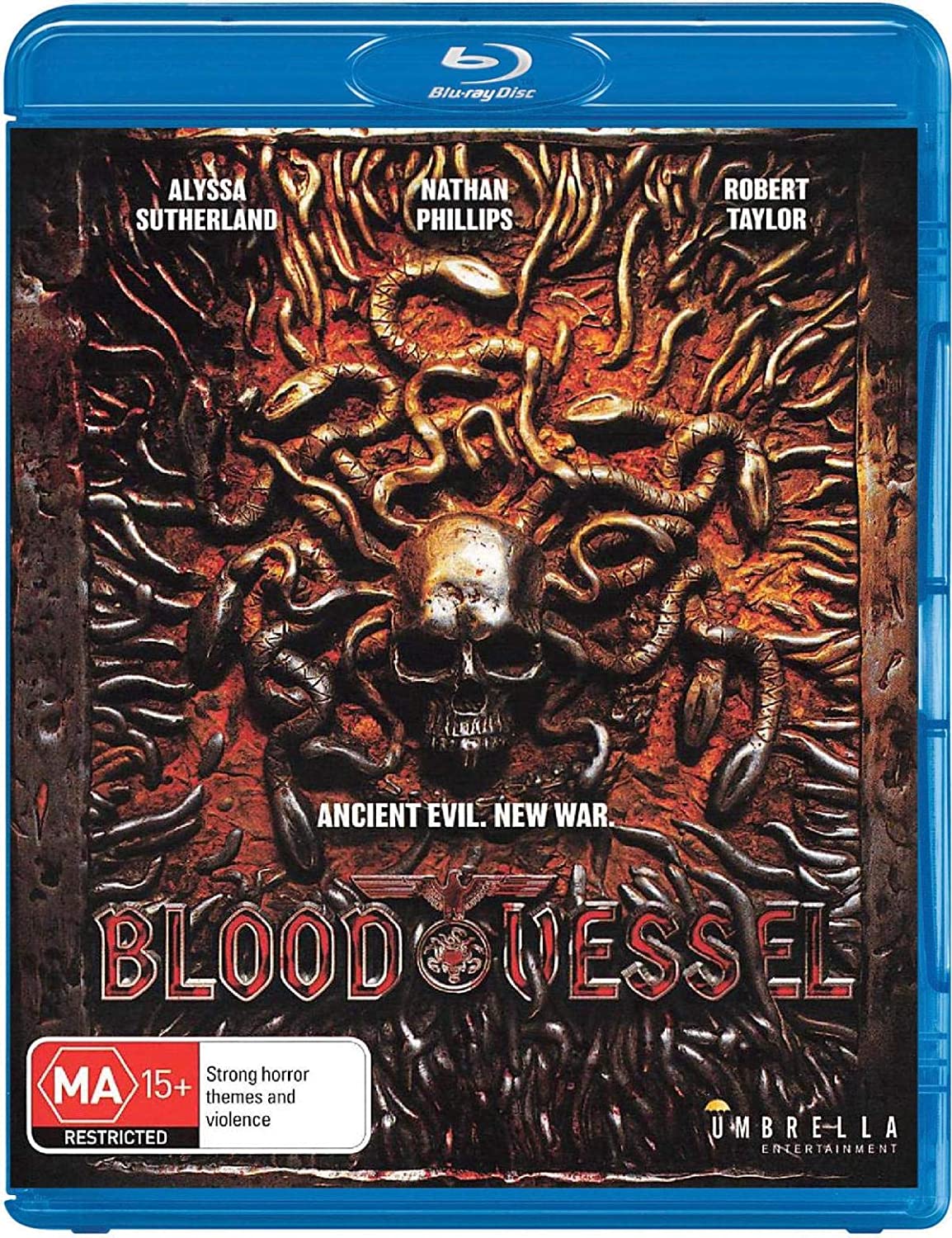 "Blood Vessel" (2019)

After floating adrift in the middle of the Atlantic in a lifeboat for some time during WWII, a small group of survivors finally encounter a large ship and climb aboard to be rescued. But the ship is a Nazi vessel, though it seems abandoned as no soldiers are there on deck or inside. But while searching inside the survivors find mauled and deformed bodies, as something very sinister is hiding in the decks below...

"Blood Vessel" is an ensemble piece that takes many cues from various horror and adventure films from the past. Like "The Thing" (1982) and "Aliens" they deal with a group of people trapped in a claustrophobic environment surviving danger. Like "The Guns of Navarrone" (1961) and "The Dirty Dozen" (1967) it is about an ensemble working together during the war. In addition, there are elements of "Lifeboat" (1944) in which a group of people of differing backgrounds must learn to trust each other in order to survive together. Also like "Lifeboat", "Blood Vessel" has a cast of characters from differing backgrounds. Malone (played by Robert Taylor) is an American Captain. Jackson (played by Christopher Kirby) and Bigelow (played by Mark Diaco) are also Americans, with Jackson being calmer and more logical than Bigelow who is more paranoid and frustrated with the tense situation. Jane Prescott (played by Alyssa Sutherland) is English and is the only female survivor, who is alongside her fellow Englishman codebreaker Faraday (played by John Lloyd Fillingham) who is injured and is on the cowardly side. Sinclair (played by Nathan Philips) is the lone Australian on board who has a strong will to survive. That also goes for the same for Teplov (played by Alex Cooke), the lone Russian who has a way with guns and combat. Tension does come through with the people of differing backgrounds and backstories having to come together within a very intense setting. The performances of the actors are quite good, with each character having their ticks and strengths, and some of the internal conflict between each of them brings out some great detail, such as Sinclair and Teplov's distrust or Jackson and Bigelow's not so friendly relationship before the attack of their ship.

The film was shot on a low budget, but that may not be evident due to the set design. Shot aboard an actual vessel from World War II, there is a feeling of authenticity and claustrophobia in the setting. The HMAS Castlemaine, built in 1941 for the war and currently docked at Williamstown, Victoria for years has been a tourist attraction and museum, and was gracious enough to let the filmmakers use the vessel for the horror film. Much of the interiors were shot on board, with the restored ship having to look slightly dirtied and unkept as well as have stains of blood in certain situations. Due to the constraints of the interiors there are not a lot of movement for the cameras to follow the characters, but careful framing and blocking is kept for the tight indoor settings. As the vessel was set to be abandoned and set at night when the survivors climb on board, lighting is very minimal with blues and reds from emergency lights and some lamps to light the characters in the dark environments. Visually it is interesting though placement of rooms and the schematics of the ship's decks are not entirely clear when the characters move from one location to another. But when things get to the lower decks where the stolen treasures are, things get much more interesting.

"Blood Vessel" is in fact a vampire film, which makes it yet another production to fall under the banner of the "Supernatural Horror + Nazis" subgenre that seems to be a strangely growing trend, with "Overlord", "Dead Snow", "Frankenstein's Army" and many more dealing with zombies, superhumans, and more, but "Blood Vessel" borrowing inspiration from "Nosferatu" especially in the creature design. As expected, the creatures, or the Patriarch (played by Troy Larkin and the Matriarch (played by Vivienne Perry) are revealed in the second half of the film with a tense buildup with their grotesque makeup and movements. While one might expect this to be a gorefest, the film in fact has only a few gory and bloody scenes to speak of. There are a few shots of aftermaths such as the bodies initially discovered, a satisfying decapitation sequence, and an intense shootout but considering the genre, there is much more time and effort into character development and rising tension between the scares rather than gallons of blood, and that is a positive point. What doesn't shine as brightly is how the film doesn't add too much to the overcrowded genre. The idea of ghost ships have been seen before in works like "Ghost Ship", a group of survivors of various backgrounds has been seen in "Lost". The events and happenings are fairly predictable, and there are not too many surprises for horror fans to feast on. It is still in fact an enjoyable experience with its visuals and scares, with good performances to set things higher than the average low budget indie horror film.

Premiering at the FilmQuest Film Festival in September 2019 and winning three out of eleven awards with further festival screenings at Grimmfest, Monster Fest Melbourne and others, the film was given a wide release on the streaming service Shudder in North America in July 2020. Reviews have been mixed with the visuals and performances being the standout. Umbrella Entertainment has given the film its first home video release in a very nice Blu-ray edition.

Note this is a region ALL Blu-ray

Video


Umbrella Entertainment presents the film in the theatrical 2.35:1 aspect ratio in 1080p AVC MPEG-4. Shot digitally with a lot of post production filters and effects, the production looks quite dark taking place at night and on an abandoned ship with little lighting. There are very few if any occasions of bright whites to be seen, but dark hues are very crisp throughout, and the neon lit colors of blues and reds also come in quite clearly. At times it may seem hard to see what is on screen due to the lowly lit conditions, but detail is quite good for the most part.

The film's runtime is 94:53.

Audio


English DTS-HD Master Audio 5.1
The 5.1 track is presented with lossless audio. It is a very full audio track, as with horror the surrounds are used effectively for music and effects. The creaks of the ship, the waves crashing, all come in very clearly but not too loudly to be well balanced with the dialogue. The dialogue is always centered, with no fidelity issues to speak of, sounding very clear throughout. An effective and excellent audio track for the film.

There are optional English HoH subtitles in a white font for the film. There are a few German and Romanian language moments, which are captioned as the characters speaking foreign languages, rather than translation, so there are no spoilers with the subtitle track. They are well timed and easy to read.

Extras


Audio commentary with director Justin Dix and cast members Nathan Philips, Christopher Kirby, Alex Cooke, Mark Diaco, John Lloyd Fillingham, and Troy Larkin
In this very crowded commentary track, the director Justin Dix along with six of the main male cast members have a blast together recalling the production. Unfortunately not a lot of great information can be extracted from this commentary as there is so much overlapping dialogue between everyone. Of course there are some interesting points such as giving each of their characters distinct personalities and some set hijinks, but nothing in depth here.
in English Dolby Digital 2.0 with no subtitles

Audio commentary with director Justin Dix and editor Dave Redman
This commentary track which was recorded a few days after the first commentary, the Dix and editor Dave Redman are able to discuss much more in detail about the production. They talk about changes from the original script to the finished product, technical issues faced with the low budget, film inspirations that shaped the characters and theme, having to deal with two main cast members who couldn't swim, and much more. This is a much more enjoyable and informative commentary track.
in English Dolby Digital 2.0 with no subtitles

"Blood Vessel: The Production Diary" documentary (49:36)
Dix gives an introduction to this lengthy documentary which is comprised of many aspects of the behind the scenes of the film. There are audition footage, rehearsals comparisons with the finished film, costume designing and fitting, set construction, making the creatures, footage from the shoot, and more. Taken from B-roll footage, iPhone camera, behind the scenes digital video and many more sources, it is well edited together with background music from the film without any narration or cutaways to interviews, yet it is very informative on the filmmaking process from start to finish.
in 1080p AVC MPEG-4, in 1.78:1, in English Dolby Digital 2.0 with no subtitles

"On Board Blood Vessel: The Making of the Film" featurette (29:20)
This featurette includes interviews with Dix and some of the cast and crew in retrospect to the finished film. It is intercut with behind the scenes footage, pre-production footage, and more as they discuss how the production started, the casting, the use of an actual WWII vessel, the use of miniatures, and much more.
in 1080p AVC MPEG-4, in 1.78:1 and 2.35:1, in English Dolby Digital 2.0 with no subtitles

"Interview with a Vampire" featurette (9:33)
Actor Troy Larkin who played the Patriarch is interviewed here, discussing about becoming the character along with behind the scenes footage.
in 1080p AVC MPEG-4, in 1.78:1 and 2.35:1, in English Dolby Digital 2.0 with no subtitles

"Nazi Newsreel" featurette (3:14)
As explained in the "Making Of", they shot behind the scenes footage of the photos seen in the film of German soldiers with stolen artifacts. For an extra bit of faux authenticity, it was shot with a Super 8 filter app on an iPhone. Though the footage was not planned to be for use in the final film, things were worked around to have a scene of the characters watching the footage on a projector. This is the full reel of the footage used in the film.
in 1080p AVC MPEG-4, in 1.33:1, Music Dolby Digital 2.0 with no subtitles

"VFX Breakdown Reel" featurette (3:39)
VFX supervisor Cameron Smith narrates this featurette which has comparisons of before and after digital visual effects.
in 1080p AVC MPEG-4, in 2.35:1, in English Dolby Digital 2.0 with no subtitles

"Morale-Boosting Animations" featurette (1:20)
John Lloyd Fillingham made some short animations during production, and this reel presents a montage of them.
in 1080p AVC MPEG-4, in 1.78:1, in English Dolby Digital 2.0 with no subtitles

Online Promos (4:38)
A series of featurettes that repeat some of the footage above from the main featurette and the documentary, condensed into bite size promos, with the casting process, the vampire, and the visual effects.
in 1080p AVC MPEG-4, in 1.78:1, in English Dolby Digital 2.0 with no subtitles

Trailer (1:42)
The original trailer is presented here. It has also been embedded below, courtesy of Umbrella Entertainment.
in 1080p AVC MPEG-4, in 2.35:1, in English Dolby Digital 2.0 with no subtitles




Considering many of Umbrella Entertainment's Blu-rays and DVDs have been sparse in extras with many including none at all, the extras collected here are very good in quality in quantity for the most part.

Packaging


The inner artwork is great, with one side being identical to the front cover minus the ratings logo, and the other side a full size version of the Drew Struzan inspired artwork.
The back cover mistakenly states the disc to be "Region B" only, when it is a region ALL disc.
In addition, it states standard English subtitles while the disc has English HoH subtitles, captioning sound effects.

Overall


"Blood Vessel" doesn't add too much to the overcrowded vampire genre, but does a good job with fine performances within a tense environment for the paranoid survivors. The Umbrella Entertainment Blu-ray features a great amount of extras with a great transfer for image and sound. Recommended.
| | | | | |
| --- | --- | --- | --- | --- |
| The Film: B- | Video: A | Audio: A | Extras: A- | Overall: B+ |