The Film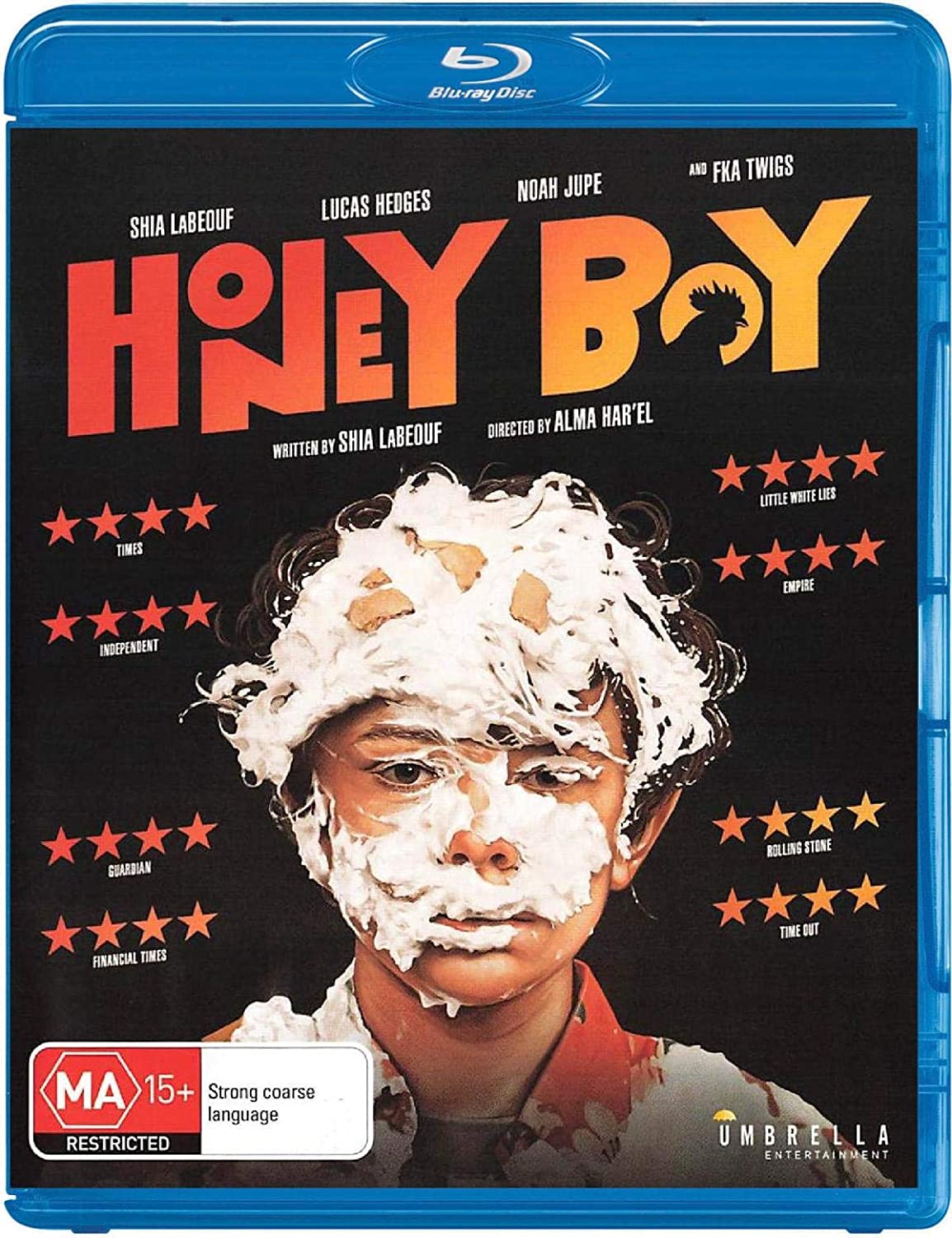 "Honey Boy" (2019)

Otis (played by Lucas Hedges) is a 22-year-old Hollywood actor who is losing control. After multiple drunken and disorderly incidents, a therapist at a rehab facility makes him look back and reflect on his childhood. At 12 years old, Otis (played by Noah Jupe) was a child actor. Flashbacks show young Otis' life in front of the camera, as well as his home life with his his father James (played by Shia LeBeouf). A strict and abuse father both mentally and physically, things are never quiet at home, with the constantly cursing father's habits directly affecting the young up and comer.

"Honey Boy" has many parallels with the life of actor Shia LeBeouf. He started acting in television and movies from 12 years old. He had an abusive father with PTSD from the Vietnam War and his parents were divorced. LeBeouf also had drunken mishaps and went to rehab as an adult while his career was at a high point. In fact, the script for the film was written by LeBeouf as a form of therapy to look back on his life and overcome his past demons. For all the people that criticized LeBeouf for sinking his own rising career, it wasn't as if he was purposefully doing that to himself. As to the how and the why, "Honey Boy" shows a painfully real experience of a young star's sad and angered state. From starting to smoke and curse at an early age, being in a situation where he didn't have full control, the character of Otis is a mirror of LeBeouf, and likewise LeBeouf playing a caricature of his own father is downright scary. Thematically there are parallels with "Mid90s", featuring 90s setting with a young boy who is a pre-teen boy facing domestic abuse and trying to find his own voice from elsewhere. While in "Mid90s" the abuse comes from the older brother character, the emotional damage comes from a differing blood relative, and it is just as devastating to see on screen.

Directed by Alma Har'el, the production truly lets the performers shine darkly with their characters, by focusing the action on the people at all times. The opening sequence shows the older character of Otis on a big budget film set, but for the most part when focusing on young Otis and his father, they are very intimate settings in their rented home or behind the scenes of a set. Cinematographer Natasha Braier's visuals showcase the night sequences and lowly lit indoors and at the same time highlight the closeups of the main characters during the intense dialogue scenes.

The character of Otis is easy to sympathize with, as the character is seen in situations out of his control, from being manipulated as an actor in front of the camera to being manipulated by his father at home. When he says curse words out loud or smokes cigarettes, they are slightly shocking considering his age. But once the father comes into the picture and the dynamic between them is shown, there is no denying where the influence comes from. The father has no qualms about cursing in front of and at his son. When Otis smokes, they are usually from cigarettes that his father gives him. To say, there is very little, if anything to like about the character of James. It is stated that he has a criminal background, yells not only at his son but his ex-wife over the phone, his neighbors and whoever else that may come around. This includes "Shy Girl" (played by FKA Twigs), who the young Otis has feelings for, even if she is a little older than he is. Young Otis sticks by his father and repeats that he wants him by his side while working. Whether it is because Otis has no thoughts on what a life without his father would be like, or because he truly has strong feelings for his father is not mentioned or discussed, most likely because the character himself (or LeBeouf himself) is and was unable to say clearly. Blood is thick and the film's fictional characters are both steeped in a sad reality of abusive cycles doomed to repeat itself by generation.

What may be fate or irony, LeBeouf started dating FKA Twigs from the making of the film. She broke up with him after citing emotional distress and assault in December 2020. LeBeouf admitted his mistakes and being abusive in many past relationships. It seems the therapeutic challenge of reflecting on his life, writing a screenplay about it and getting into the heart and soul of his father's character was still not enough. It is difficult for anyone with PTSD to fully recover, and LeBeouf is unfortunately an example of that rather than a success story.

"Honey Boy" first screened in January 2019 at the Sundance Film Festival where a special jury prize was awarded. It was further screened at various festivals throughout 2019, with multiple nominations and several wins for awards, with high praise coming from the performances and the direction. Amazon Studios secured the distribution rights for North America and released the film for streaming in November.

Note this is a region ALL Blu-ray

Video


Umbrella Entertainment presents the film in the 2.35:1 aspect ratio in 1080p AVC MPEG-4. A fairly darkly lit film with many sequences at night or indoors with low lighting, the colors from the dim lighting does come through fairly well. For a film shot on an Arri Alexa Mini digitally, there is quite a bit of digital noise on certain shots, leaving a filmic look but not necessarily clean. It could be part of the color correction but it seems like a noisy filter was applied. It's not ideal, but not particularly noticeable for the most part.

The film's runtime is 94:09.

Audio


English DTS-HD Master Audio 5.1
The 5.1 track starts very effectively in the opening sequence on the "Hollywood Set", with blazing guns from all speakers. Later on, it is a dialogue heavy production, with the surrounds used for music and some occasional other background sounds. Dialogue is always centered, with no problems with dropout or other issues. The film was mixed with Dolby Atmos, but an Atmos surround track is not included here.

There are optional English HoH subtitles in a white font for the feature. The subtitles are well timed, easy to read, with no particular errors to speak of.

Extras


Unfortunately no extras are included, not even the trailer. There is no menu for the disc, with the film starting when the disc is played and the disc stopping when the film ends. The Amazon Studios trailer has been embedded below.




The film was previously released on Blu-ray in the UK by Sony, and on that release it had four making-of featurettes. None of them have been ported here.

Packaging


The cover is reversible, with the only difference being the ratings logo being removed from the other side.
The packaging mistakenly states "region B" only, but in fact is region ALL.

Overall


"Honey Boy" features stellar performances in this very hard hitting and extremely personal drama from writer/actor Shia LeBeouf. It's not an easy watch as LeBeouf's character is fairly despicable as a father, but there is much more to the story than just the surface. The Umbrella Entertainment Blu-ray unfortunately has no extras which is a missed opportunity.

The Blu-ray is available at various retailers and also available to purchase at Umbrella Entertainment directly.
| | | | | |
| --- | --- | --- | --- | --- |
| The Film: B | Video: B | Audio: B | Extras: F- | Overall: C |