The Film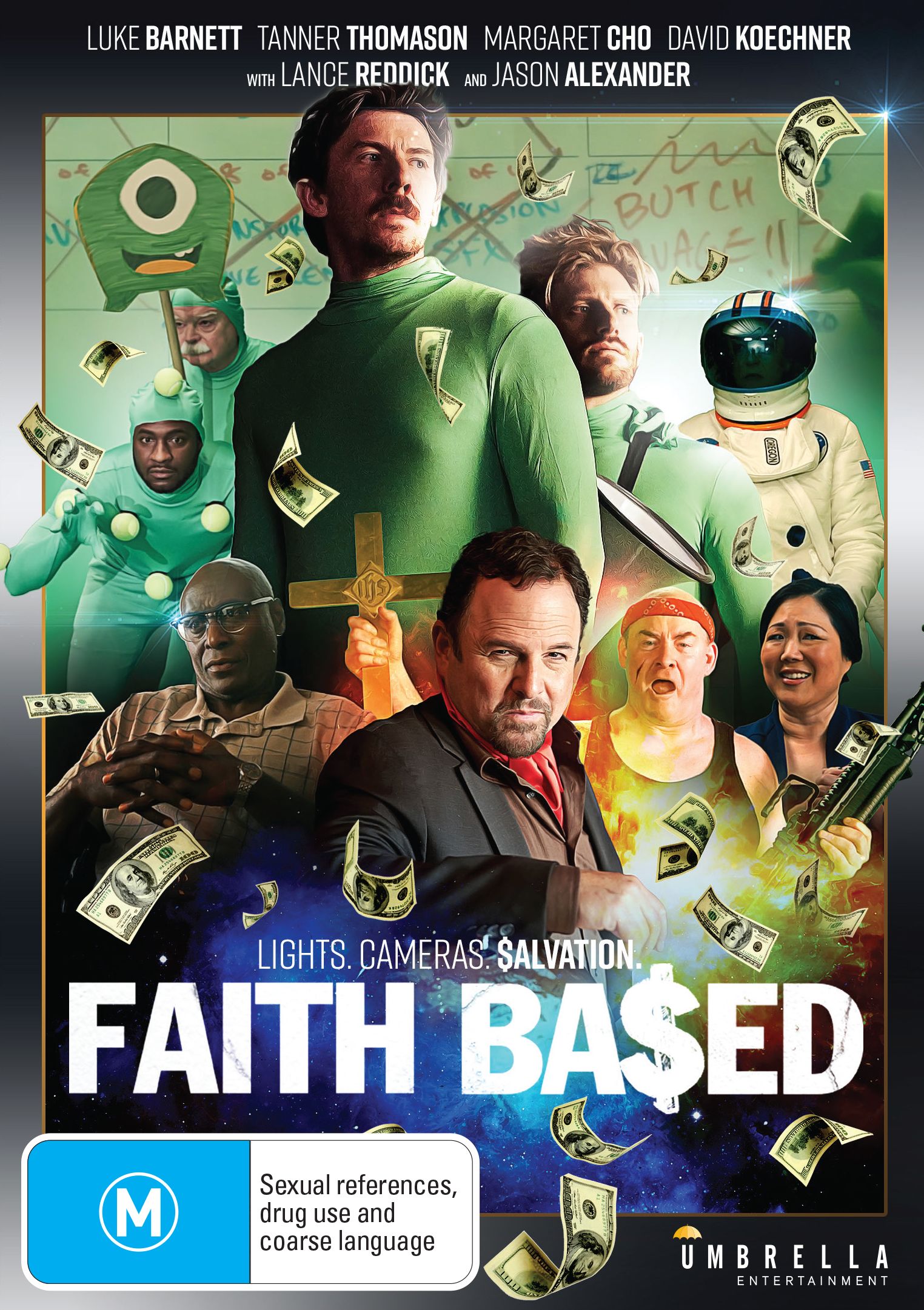 "Faith Based" (2020)

Luke (played by Luke Barrett) and Tanner (played by Tanner Thomason) have been friends since childhood and are now in their thirties. Luke is a part-time pool cleaner who is also caught up in a pyramid scheme trying to sell medicinal goods. Raised under the roof of a church pastor (played by Lance Reddick) through adoption, he has always felt like the black sheep (or white?) of the family, being less favored compared to his father's biological children. Luke and Tanner realize that Christian themed movies are making a killing at the box office in recent years, with fairly low budget productions gaining audiences. As the two have been huge movie fans all their lives, they decide together to write and direct a Christian themed move to capitalize on the faith cinema wave. And what is an idea that has not been done before? Faith in outer space is their idea, combining religion and science fiction. Unfortunately, neither have any idea how to make a movie...

Director Vincent Masciale and writer Luke Barrett's 2016 collaboration "Fear, Inc." was a horror comedy based on their short film from two years prior, but failed to gain much attention. Receiving funding for pitches for further ideas led nowhere and time made it more increasingly difficult for them to secure funds for any film production. Seeing that faith based films were getting attention at the box office, Barrett jokingly stated that if they made a faith based film, they could use that money to make their own feature film that they wanted. The light bulb turned on and Barrett quickly wrote a screenplay of just that - for two men trying to make a faith based film. Though in "Faith Based" the two main characters have no actual experience in front of or behind the camera, the two have worked on "Funny or Die" shorts and features. While the idea might sound like exploitation and making fun of the faith based film genre, "Faith Based" is not that at all. Barrett's father in real life is a pastor and grew up with faith around him. It is not making fun of the genre itself but making fun of characters who don't quite understand the genre as they should.

There is a sense of "Ed Wood" to the story, with the directors not exactly having the skills or the knowledge, but still having a group of people around them that stand by their side trying to make things work, such as Marlon (played by Marlon Young) who is eager to use explosives for the production, or drunkard Herman (played by Richard Riehle who's kindhearted...but drunk. While the comedy comes from the two leads and their lifelong friendship, the supporting cast adds a lot to the story to flesh out the two, like how Tanner has gotten by on his good looks for years while Luke has had much less success in love, and their conversations with the bar patrons at Tanner's workplace shows an odd hodgepodge of various people around their lives. Even with a tiny budget, Masciale and Barrett were able to grab a few high profile comedy names on board for the project. David Koechner plays Butch Savage, the 80s action star that the two main characters idolize, Jason Alexander plays Nicky Steele, the pyramid scheme con artist that Luke's character is hooked under, and Margaret Cho and Christoph Sanders as the industry executives at a Christian based production company who are not much on practicing and believing, but more about profits. Unfortunately the cameos are brief and don't exactly connect very well with the main story arc, especially with the Nicky Steele character. If they were just cameos, not pasting them on the center of the film advertising might have been a better choice, but it is part of the marketing and it does help to have more familiar faces to be part of it.

"Faith Based" does crack a few jokes about faith based films, having many of the same plotlines and happenings throughout, like facing death, a sudden ray of light, a dog or an animal that teaches the meaning of Jesus and other slightly absurd but fairly normal situations. But at the core of the film is actually the relationships and the tense situations. Being accepted by family, strain between best friends, identity crisis are all themes found in "Faith Based" and to an extent, they are all themes that can be found in "real" faith based films as well. The film disguises itself as a parody and comical look at the religious genre but ends up being at times a mirror of those films they are supposedly making fun of. It's by no means a masterpiece, but is an enjoyable small film that feels much bigger than it should be. There are some elements that don't work as well, such as the second half dragging a little bit before the satisfying finale and the cameo characters not having enough depth or connection.

The film premiered at Santa Barbara International Film Festival in January 2020. The film opened theatrically in Japan in October 2020 and went to various streaming platforms in other countries around the same period. Umbrella Entertainment in Australia has released the film on DVD, which is the first home video release for the title worldwide.

Note this is a region 4 NTSC DVD

Video


Umbrella Entertainment presents the film in the 2.00:1 aspect ratio in the NTSC format. Shot on a RED 8K digitally, the production looks much more expensive than its budget would suggest. Colors look great with deep hues, detail is also strong, and the overall look between the film and the later film-within-a-film is greatly separated in good quality. There are no errors to speak of in the transfer itself.

The film's runtime is 92:08.


Audio


English Dolby Digital 5.1
The original 5.1 track is presented here. While a talky piece, there are plenty of music and effects cues that take advantage of the left, right, and surround channels in appropriate places, especially near the end of the film. Dialogue is well balanced and always clear to hear. The music and effects are never overdone and works well with all the dialogue segments.

There are no subtitles for the feature.

Extras


Unfortunately no extras are provided. The trailer, not present on the disc is embedded below, courtesy of Umbrella Entertainment.



Packaging


The packaging states the aspect ratio is 2.35:1 but is actually 2.00:1.

Overall


"Faith Based" actually has a lot of heart for a comedy film about two filmmakers who know nothing about filmmaking. Fans of indie comedy and filmmaking will surely find a lot to appreciate, though don't expect a hidden gem of a masterpiece. The Umbrella Entertainment DVD presents a good transfer, but the lack of extras is a little unfortunate.

The DVD can be found at various retailers as well as from Umbrella Entertainment directly.
| | | | | |
| --- | --- | --- | --- | --- |
| The Film: B | Video: A | Audio: A | Extras: F- | Overall: C+ |