The Film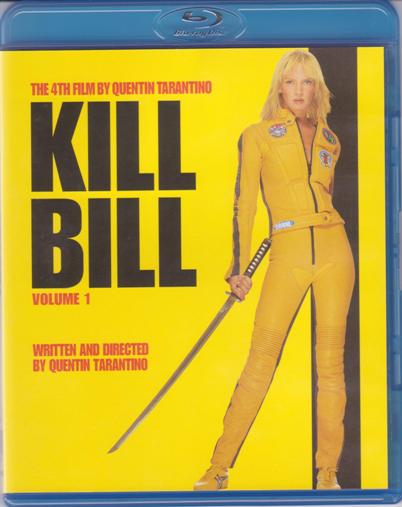 Whoa, this movie is so cool. Where do I start? The movie is basically The Bride, left for dead, beginning to take revenge on the people that took part in almost killing her. Quentin Tarantino's movie then takes a life of its own as the limbs fall off and the blood flies.

The action is basically what this movie is all about. The first thing you see is a fight, the last thing you see is a fight (more or less), and in between there are many other fights. The longest scene in the movie is a fight. The story is about revenge, and so, fighting is what happens. Well, when you have Yuen Woo-Ping working on your movie, you better go and use him (he's done "Magnificent Butcher" (1979), "Dreadnaught" (1981), "In the Line of Duty" (1986) and "Tiger Cage 2" (1990), all of which have some incredible fight sequences).

The style is just like what you'd expect from Tarantino. Some pretty nifty dialogue, although you have to go past the beginning for that. The situations and characters are just what you'd think his mind can come up with. There are a lot of zooms and camera styles just like the old Shaw Brothers movies used to have. There's a pretty nifty anime sequence that's incredibly animated. All the fights are edited very well. It's a nice blend of style and excitement. I mean, that last fight with all the snow is really just beautiful to watch.

I'm sure every scene in the movie is some kind of reference to another movie Tarantino has seen some time in his life and loved. I, on the other hand, only saw a few references. The first obvious reference is the big "ShawScope" opening. The next most obvious one is that some of the music/sound is definitely inspired by various old kung-fu movies. That sound you hear when Uma Thurman sees the people and remembers who they are, it's from a ton of old movies. The next most obvious reference (chronologically, I mean) is the Deadly Viper Assassination Squad: how about the Deadly Venoms from those movies. Next up, the yellow rider suit from "Game of Death" (1978). The blood splattering comes from any number of Japanese samurai movies (that, along with the strong woman bent on revenge, makes "Lady Snowblood" (1973) a big reference/influence). Some of the style of the fights come from the same. Tarantino even references his own film "Pulp Fiction" (1994).

Then you get into story elements, like the revenge story. That's in just about every single kung-fu movie every made. If I wanted to stretch it a big, I could say that the metal ball Gogo Yubari (Chiaki Kuriyama) swings around is a weird variation on the flying guillotine weapon, or the weapon from "The Iron-Fisted Monk" (1977) or "The Flying Guillotine" (1974). Although, those ideas go down the drain because I've read that the Gogo Yubari character is inspired by a manga series called "Sukeban Deka". That fight scene shot all in blue reminds me a lot of a scene from "Goodbye Mr. Cool" (2001), although I know I'm stretching with that one because the scene in that movie was with a red/orange background. (Actually, in one of the trailers, there's a training sequence all in silhouette, with a bright orange background, which seems to me like a pretty direct reference to "The Assassin" (1993) (unless I remember things strangely).

Sonny Chiba "The Storm Riders" (1998), "The Bodyguard" (1976) and Gordon Liu "The 36th Chamber of Shaolin" (1978), "8 Diagram Pole Fighter" (1983), "Legendary Weapons of China" (1982) have parts in the movie. These guys are pros. They've been doing movies for longer than I've been alive so I can't say anything else. Mr. Liu doesn't really do anything except fight. Mr. Chiba has a bit more to say and handles himself very sell. Of the other Japanese actors, I readily remembered Jun Kunimura, who's in Takashi Miike's "Audition" (1999) and Chiaki Kuriyama (who plays Gogo Yubari) is one of the kids in Kinji Fukasaku's "Battle Royale" (2000). "Kill Bill Volume 1" by the way, is dedicated to Mr. Fukasaku, at least in the Japanese print of the movie) There are obviously more, but I'll stop here (if you look hard enough you can find some actors in "Azumi" (2003), "Taboo" (1999), "Ju-On" (2004), "Suicide Circle" (2002) and many others). Thurman does a good job fighting and acting. I wouldn't want to cross her. Lucy Liu, who's the major bad girl in the movie, is also very fun. Of all the characters, I want to know more about her. I mean, all the characters are great, and all the actors really bring the characters to life. You remember these people after the movie's over.

The music. Well, the music deserves its own paragraph. Oh, man, does it ever rock! My favorite bit is the music in the first part of the fight between Thurman and Liu. It's just awesome. (Of course, my favorite bit of music is nowhere to be found on the soundtrack!) Such an incredible mix. The music, editing and action are in such perfect combination. I have no idea where Tarantino gets this music. No other director can choose such perfect music for the scene (although Cameron Crowe does that perfectly also).

Video


Presented in a widescreen ratio of 2.40:1 this transfer comes to fans in high-definition 1080p 24/fps and has been mastered using AVC MPEG-4 compression. This image was sourced from the same master as was used for the DVD release. While the original DVD release was marred by edge-enhancement and annoying compression noise, this HD version eliminates these problems as there doesn't seem to be any compression related noise nor is there any edge-enhancement that I could see. The image was also sharp, detailed and very colorful, in fact the colors looked much better here than on DVD. Blacks were nice and rich and grain was light, although some scenes which were stylized a certain way have heavier grain which adds to the texture of the film's presentation and makes it look more like true film than the DVD transfer did. I'm pleased with this effort considering the past few catalogue titles of Miramax films were not the best in terms of their transfer.

Audio


There are three audio track options available, one in English uncompressed PCM 5.1 surround presented at 48 kHz/24-bit as well as standard Dolby Digital 5.1 tracks in both English or French. For the purposes of this review I chose to view the film with its PCM track. These movies are filled with incredible soundtracks, primarily music and also some nifty sound effects that help transport the viewer into the Japanese/Chinese/Spaghetti Western style feel. This audio tracks brings these elements to the table and delivers with a balanced and powerful sound mix. Dialogue is crisp, clean and distortion free, ambient surrounds are subtle and well placed, action scenes pop and most importantly the music blasts through the sound space with a force that only Tarantino can accomplish.
Optional subtitles are included in English, Chinese, French, Japanese, Korean and Spanish.

Extras


This Blu-ray disc ports over all of the extras from the long in release DVD edition, this includes a featurette additional performances and a series of theatrical trailers. Below is a closer look at these supplements.

First up is "The Making of Kill Bill" featurette which runs for 22 minutes 5 seconds, this is a fairly basic EPK clip made for the promotion of the film and circulated to various TV channels. It covers the basic premise of the film, including the creation of the characters, the revenge plot and goes into the production of the film. The clip features some interviews and behind-the-scenes footage as normally seen in this sort of stuff. It's light and brief, I wish a much longer and more in-depth making-of was included... hopefully fans will get that wish whenever Tarantino decides to release the long-awaited "The Whole Bloody Affair" edition which has been promised now for a couple of years!

Next up is "The 5, 6, 7, 8's" bonus musical performances which runs for 5 minutes 51 seconds, this is more footage from the band's performances as part of the House of Blue Leaves club sequence.

There's also Tarantino Trailer Gallery which includes the teaser trailer for the film which runs for 1 minute 50 seconds as well as the "Bootleg" trailer that runs for 2 minutes 34 seconds. In addition to these there are also some bonus trailers in this gallery for:

- "Reservoir Dogs" which runs for 1 minute 36 seconds.
- "Pulp Fiction" which runs for 2 minutes 40 seconds.
- "Jackie Brown" which runs for 2 minutes 17 seconds.
- "Kill Bill Vol. 2" teaser which runs for 57 seconds.

Overall


The movie is just so much fun. The fights are very fun and rather exciting. All the elements come together to make one hell of a ride. I mean, not many movies are worth watching just for the music. This is one of them, and the rest of the movie is very good also. It was one hell of a hiatus Tarantino took 6 years between films, but it was certainly worth the wait.
| | | | | |
| --- | --- | --- | --- | --- |
| The Film: A+ | Video: A | Audio: A+ | Extras: C | Overall: A- |